Our favorite (not just because we know him) NPR reporter, Adam Burke updated parts of a piece he did on the Mid Mods and Historic Neighborhoods of Las Vegas. The original piece played locally on KNPR, but this new piece played nationally. The original story was incorporated into a whole hour of roundtable discussions with Alan Hess, Robert Fielden and others "on just how did stucco come to replace the mid-mod in the Las Vegas Valley and why are many hipsters moving to downtown Las Vegas to live in mid-mods.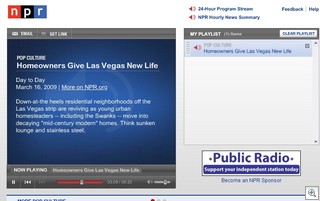 Heidi and Scott Swank are the subjects of yesterday's piece, and were prominently featured in the original story. They're our neighors in the The Beverly Green neighborhood, and started the Flamingo Club Coctail Party Circuit as a way for downtown neighbors to get to know each other.
I'm not mentioned in today's piece, but every time someone finds out that there's something different in Las Vegas that doesn't look or feel like Summerlin, it's good for all of us.
In the original piece, there's lots more about Heidi and Scott, and I take Adam on a tour of the downtown neighborhoods. In it, I tell him about what makes Mid Mod so special and appealing, though I don't distinguish between "Desert Modern" and "Ranch Modern", as I did in the View article that we told you about the other day.
Today's piece, called "Homeowners Give Las Vegas New Life", focuses on the excitement and energy of downtown and Mid Mod that's still alive and doing it's best to weather the storm. I only want to raise one objection, however. It's not going to take 30 years for us to recover. I fervantly believe that the historic and mid century modern neighborhoods will lead the way out of the downturn, and will recover sooner and stronger than the suburbs will. These homes and neighborhoods only represent about 2% of the housing in Las Vegas, and I think there will be more demand for them than we have homes. Every piece of publicity, such as this story, helps to create a demand from people that otherwise would have no idea that such a place even exists.