Mulberry Season To End Soon – Please!
Hi folks,
I'm having trouble being creative and funny and even getting caught up on all my paperwork. It's hard to focus when there's a basketball inside my head.
So hang in there with me.
What I was going to write about today was:
The First Thursday Preview on Thursday. 6–9 pm. Most of the First Friday Venues, but peaceful.
The "Morelli and His Music" event on Thursday. RSVP REQUIRED, but there are still seats available.
First Friday is FRIDAY, since it's the FIRST FRIDAY of March.
Academy of Country Music FREE CONCERTS AT Fremont Street Experience March 3 and 4
The "Pedalphiles" bicycle bar hop on Saturday MARCH 11 here's NOTE THE DATE IS CHANGED to MARCH 11. This month it's a bunny hop. Bunny outfits and easter bonnets. the facebook page
A new opening at Naomi Arins Gallery in the Soho Lofts starts Friday with an artist's reception on Saturday Night March 4th 6–8 pm.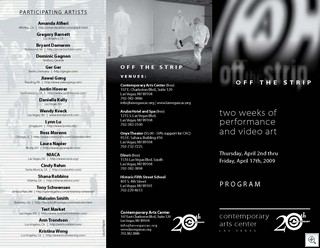 A MAJOR event called "OFF THE STRIP" (produced by CAC) that will be happening April 2 thru 17th at various places.
TWO SOLID WEEKS OF VIDEO AND PERFORMANCE ART
Opening Reception Thursday 3/2 6 to 8 pm.
Click the images to see the brochures full sized.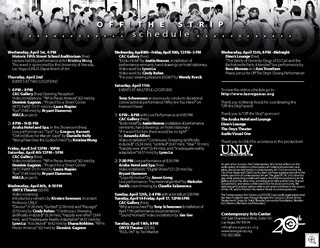 And this event that I had started to type last night before the headache set in:
Bird Watching 101 – It's not downtown or in VintageVegas, but I thought some of you might want to know about it. It's sponsored by the RedRock Audubon. My friend Pam Nickels is putting it on, and I promised her I'd plug it. Here's the link to the facebook page and a link the the RedRock Audubon for more information. Wednesday, April 1, 7 to 8:30pm at the REI Store in Henderson.
Birding 101, presented by Pam Nickels, Red Rock Audubon Society – Come and learn the fundamentals about the most popular spectator sport currently in America. Topics will include basic bird identification with a focus on species common to Southern Nevada, using field guides, binocular tips, bird feeders, and birds & the environment. Activities include a slide presentation with bird sounds, hands on techniques with your own binoculars (make sure you bring
them!), and a Q&A session after the talk. You are encouraged to bring your nature-minded children, too.
I'll fill in the links and the graphics tonight and try to get back on my routine as soon as my head stops exploding.
Yours, UncleJack