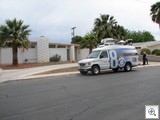 The first time homebuyer tax credit of up to $8,000 was featured on Tuesday's Channel 8 News. Alyson McCarthy allowed me to set up the story with Kevin Bowman who recently closed on his butterfly roof home in Paradise Palms.
If you'll remember, Kevin got his keys on the day we were shooting the documentary about Bill Krisel, the famed architect that designed many of the homes in Paradise Palms.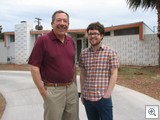 I'm was surprised at the amount of time it takes to shoot a 90 second piece for the news. Alyson interviewed us each for about 20 minutes. I told her all about Paradise Palms, Bill Krisel, the convergience of multiple forces that are attracted to the Vintage Las Vegas homes, and a whole lot more. Naturally, I only got about 5 seconds of air time, but seeing my face on TV – priceless! There's also hours of footage that got shot – both inside and outside – that didn't get used. I'm hoping to get the file of her interview with me.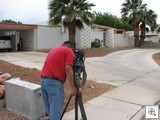 Kevin described the process of saving for a downpayment, watching the prices fall for over a year, and then the gravy….an 8000 Tax Credit that is bigger than the down payment he made to become a homeowner. Kevin's new payment will be less than he was paying for rent.
I tried all day yesterday to be able to put the piece into the blog, but the Channel 8 site wasn't cooperating until today.
For even more on the Tax Credit, see the post and the video that I posted last week that explains it in detail.
If you missed it, here's the piece that played on the 6pm News.