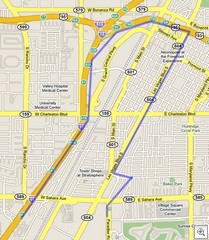 We thought we'd beaten this bill down months ago at the start of the session of the Nevada Legislature. They're now wrapping things up, and now is the time that the dirty mixing of Business and Politics comes to play.
Here's another back door attempt of speculator/developers to get the gaming district overlay expanded to allow for an entire neighborhood to be threatened. I testified, along with some of the Neighborhood Association presidents about how destructive this would be to the Historic Downtown Neighborhoods of Las Vegas. It was voted down early, but as Greg Brown states in his email:
Dear Downtown Neighbors,
Assemblyman Segerblom has just written that Amendment 938 to Senate Bill 354 restores the provision that would expand the Las Vegas Boulevard Gaming district north of Sahara, as far north as St Louis and as far east as Santa Rita. This is the same bill we defeated earlier in the session but which has come back from the dead at the last minute. (It was added as an amendment in the Assembly to an unrelated bill; the Assembly had voted on the other bill and then the vote was reopened, the amendment inserted, and then the vote closed; its a classic insider move by developers to keep our input from being felt.)

Pls contact Senator Terry Care ([email protected], 775-684-6503)

and urge him to keep Amendment 938 of Senate Bill 354 from reaching the Senate Floor. Its simply unfair to make such a major change to our neighborhood without any public input. Please act today.