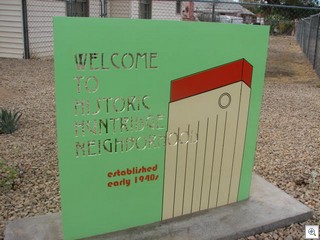 The Huntridge West Neighborhood Association applied for and received a Neighborhood Block Grant from the City. The money was used to install new landscaping and beautiful "Welcome To Historic Huntridge" signs at the corners of Oakey and 11th and Franklin and 11th.
The new signs are a welcome and exciting addition to the historic neighborhood monuments on St. Louis for the Southridge and Beverly Green Neighborhoods; The Huntridge East and Marycrest monuments on Oakey at 13th; The Alta Drive Monument at Rancho, and the Rancho Manor sign on Shadow Lane.
I can think of a couple of dozen other historic neighborhoods that would benifit greatly by following the lead of Huntridge West.
Lance Kirk and the dedicated members of Huntridge West are to be congratulated not only for getting the signs installed, but because they are so well designed. Take a look at the corner of 11 and Oakey and 11th and Franklin.