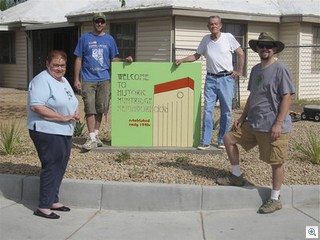 I actually scooped the newspapers when we covered the new "Welcome to" signs that have been installed on Oakey and Franklin by the Huntridge West Neighborhood Association.
The story got picked up by the Downtown View which comes to your mailbox if you don't subscribe to the Review Journal. If you do, then you get it in your Tuesday Newspaper. There's  13 different versions of the view, covering different parts of the valley. They're divided by zipcodes, so the coverage isn't always totally localized.
The Downtown View and The SE View have always been willing to cover the re-birth of the historic neighborhoods of Las Vegas and we're very grateful for the coverage. If you're new to VeryVintageVegas, you can see some of the past coverage that the view has given to historic neighborhoods and Mid Century Modern homes here and here.
Here's a link to the article "Displaying Huntridge Pride" by Amanda Llewellen
Again, as I did last week, I want to thank the Huntridge West Neighborhood Association for the their efforts and dedication to preserving the character and charm of the oldest tract developments in Las Vegas.