Westleigh Neighborhood Of Vintage Las Vegas Seeks Historic District Designation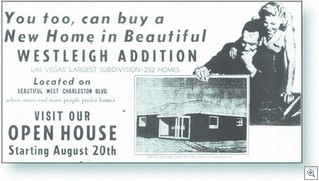 Westleigh is one of the cutest little bungalow neighborhoods. It's just to the west of McNeil. The boundaries are Valley View to the West, Charleston on the north, Oakey on the South and Cashman on the East. It's one of the neighborhoods that I wrote about in the earliest days of VeryVintageVegas.
The Westleigh Neighborhood Association, with the cooperation of the City of Las Vegas Historic Preservation Office and Neighborhood services have completed all the preliminary steps and are ready to make their case to the Las Vegas Planning Commission and City Council. They go before the planning commission on September 24.
Alan Choate covered the story in today's RJ.