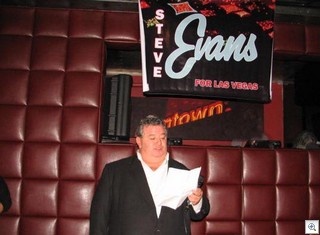 I was most gratified to see a huge turnout for the first fundraiser event for Steve Evans' campaign for Las Vegas City Council. The event was Friday Night at the Downtown Cocktail Room. The election is a long way off, but this is very important to so many of us that Steve Evans gets elected.
It's important that we stake out the territory early. An open seat on The Las Vegas City Council is mighty tempting to any career politician or carpetbagging wannabe. There's certainly enough rental inventory to make it easy for someone to jump into the district in order to run.
Steve made a few very interesting observations in his first speech as a candidate.
First, this isn't his idea. This campaign is NOT the result of political ambition. I've been begging him for a couple of years to consider it. So has Cindy Funkhouser, and Gregg Brown, and Bob Bellis. There's a whole huge list of early supporters. Many of them are the most visible, and most vocal of downtown residents. Many new names were added to the list at Friday night's kickoff Fundraiser.
Second: Steve recognizes that ward 3 is probably the most vulnerable and fragile of the City's wards. It contains the historic downtown neighborhoods. It also contains some of the lowest income, as well as some of the most predominantly Hispanic sections of the city. Ward 3 HAS to continue to have a councilperson who puts the needs of people and neighborhoods ahead of the interests of the developers.
In his remarks, (some of which are from his notes and some from the memory of a few of us who helped me with this piece) Steve said:
Wow. Talk about the success of Grassroots! What a great response to just a few short weeks of deciding to run for City Council to represent Ward 3

I find myself standing here a little amazed. Amazed because I never in my life wanted to be a politician. My friends Vicki Quinn, Bob Bellis, Jack LeVine, and many others, kept pestering me to run when the seat became open. I always said….I would rather put a thousand needles in my eye, than run in a race. Well, here we are, an unlikely candidacy, but already clearly rooted. People came together and offered their help. Wes Myles did a photo shoot, Jessica Brown and Scott Swank are creating a web-site, Cindy Funkhouser set up a Facebook page. Pam Hartley, Jack LeVine, Brian Paco Alvarez, and many others have been out there doing their magic. My neighbor, Greg Brown has been tireless in his support and help. And, Jerry Misko has created a campaign logo.

Countless others have stepped-up to help. WHY? Well it isn't me. It's the idea. It's a shared vision. A commitment to the integrity of our neighborhoods. It's a vision of a vibrant downtown, anchored by an Arts and Entertainment District. The hope that we can enable good business to gamble on us. Businesses like Gaia Flowers. Heidi and Peter selling pesticide free flowers in vases made by local artists. What could be greater than that? The belief that it can and will happen is what's powering this campaign. I guess I'm just the chosen vessel.

Elections aren't for another 18 of so months. But we have to stake out our territory early. Because as many know, ALL OF OUR SHARED GOALS are framed, and usually achieved or not, by the Councilperson. Our future is just too important to be left to career politicians, or people new to the dance.

Those of you who have known me…….know that the ecstasy of advocacy is what drives me. When I moved back into my childhood neighborhood 16 years ago, I realized that there was a downhill spiral, caused by a flight to the suburbs. I was angry. Angry to the point of action. I realized that I was going to explode if I didn't do something. Advocating for Historic Preservation, advocating for neighborhood cleanliness, advocating for adequate police surveillance was what was needed. So I just did it. I soon learned there were a few others feeling and acting the same way. Eventually it became a ground swell of people. Many of you are here tonight, and I am most grateful to all of you.

Last night I was standing on the 23rd floor balcony of Brett Sperry's gallery space in the Newport Lofts. I could see the entire ward. As I gazed out at the skyline, I realized that, in this moment in time, I was looking at the genesis of what will become, with a little nurturing, an incredible area, teeming with activity and excitement. If you consider all the great cities – their renewal has always come from the center and is almost always inspired by a Bohemian Arts Community. And like everywhere, we may be temporarily stalled. But, it will happen. It just needs to be supported and guided. We need to ensure that we and the policy makers are all on the same page and explore ways we can work together to achieve our dreams.

With our shared Passion, I think that can occur.

But I'll need your help and your money. There's a lot of monied interests who are going to try to grab control of this council seat. We can't let that happen.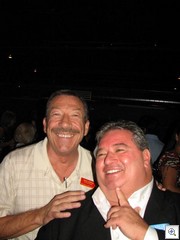 VeryVintageVegas is but one voice. All the press that the arts and music scene is getting is another. EACH of you telling your friends and neighbors and coworkers and family about that community that's growing in the center of Las Vegas is equally important. A political campaign where the shared ideals and common goals for a vibrant, dynamic community in the heart of Las Vegas is a key topic will also help to spread the word. This campaign of Steve Evans for City Council will be equally important to our efforts.
I hope Steve can count on you to support him. I do!
All of the pictures that I took at the fundraiser are in an album on my facebook profile page