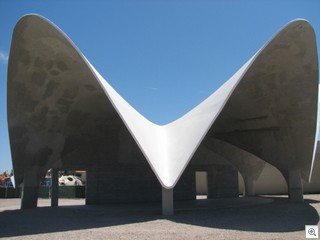 I've just found out that Alan Hess has agreed at the last minute to stay over after the Zick and Sharp Panel Discussion and Tour.
The Neon Museum has booked him for a talk on Monday Evening at the Historic 5th Street School.
We'll update with links or a flyer if they become available, since this is happening with such short notice. At the moment, all we have is an email from Eric Strain of Assemblage Studios.
The Las Vegas Neon Museum, the City of Las Vegas and assemblageSTUDIO will be sponsoring Alan Hess on Monday October 5th at the 5th Street School at 7PM. The presentation is the kickoff of the design for the Neon Museum Visitors Center.

Alan's presentation will cover the work of Paul Williams including the La Concha which has been relocated to the Boneyard of the Neon Museum as well as the architectural style of Googie.

Presentation is open to the public and everyone is welcome
Alan Hess practically wrote the book on Mid Century Modern architecture. In fact he wrote many of the books. His presentations are accurate and well researched and most important, they're NEVER Dull.
If you can't make it to SATURDAY's Panel Discussion at the Nevada State Museum (noon), then you have a second chance to hear Alan Hess lecture at the Historic 5th Street School on Monday evening.