Thru the magic of Google, VeryVintageVegas was discovered by the folks at Collector's Weekly, an online resource for collectors of every stripe.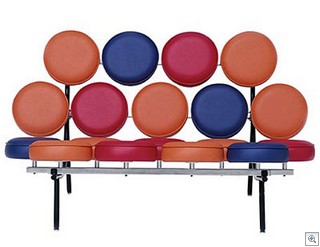 One predominant stripe is Mid Century Modern. They recently published an an interview with noted collector and dealer of Mid Century Modern furniture, Frank Marschiello, which I'm delighted to share with you.
I think you'll have as much fun on their website as i did.
Bill and Mark the owners of RETRO VEGAS on Main Street check in often at Collector's Weekly. I was talking to them this morning and they mentioned all the terrific mid mod furnishings that they have in their store. They've put out a lot of new inventory if you haven't stopped in recently.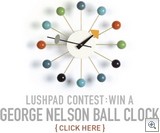 They also mentioned another site that I didn't know about called LushPad. Along with Modernism Magazine, They're giving away re-issued George Nelson Ball Clock by Vitra.
Speaking of Modernism Magazine, Jake Gorst the documentary film maker (who's new film on William Krisel, was previewed last night in Denver,) sent me a link to an article he did for Modernism on Betty Reese, the publicist for Raymond Lowery
Collecting Mid Century Modern Homes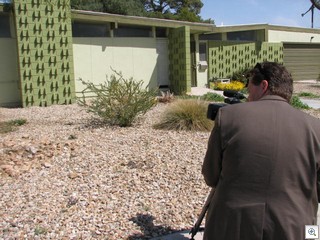 And even MORE IMPORTANT, we're now moving into the phase where people are collecting not only the furnishings of Modernism, we're also collecting the Mid Century Modern homes, themselves. The very houses themselves have now become collectible. Many of the people who I'm helping to buy homes right now feel that way.
Jake Gorst has just finished the documentary on William Krisel, the architect of many of the homes in Paradise Palms. Paradise Palms and yours truly is featured in the film. Here's the link to the article about the day we spent filming with Jake in Paradise Palms, while he was filming the movie.
I'm extremely excited to report that the trailer for the William Krisel documentary has just moments ago become available, and except for Jake's facebook friends, VeryVintageVegas readers get to see it first. Even in this short 4 minute trailer, you'll see lots of examples of the kinds of furnishings that I've been talking about above, and you'll get to see whole communities that have become collectible. Vintage Vegas is next.