A Sports Arena For Downtown Las Vegas? Again.
Another Sports Arena proposal from Mayor Oscar Goodman, who's just back from his trip to London. I'm presuming the 18 acres that the city owns is just to the east of City Hall at Stewart and Las Vegas Boulevard, where the Helldorado Rodeo was held. According to Fox 5 news, the 18 acres INCLUDES THE SITE OF CITY HALL, which is part of the great Zick and Sharp Architectural Legacy of Mid Century Modernism.
Dr. Lonnie Hammargren And The Hammargren Home Of Nevada History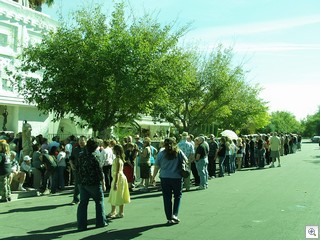 I'm being asked a lot lately if Dr. Lonnie Hammargren will be holding his traditional Nevada Day Open House at his private "Home Of Nevada History".
SADLY, the answer is NO.
However, Dr. Lonnie, is applying to the County for a special use permit for occasional functions. He'll be asking for our help and support when he goes before the county commission on that. We'll keep you posted on how you can help.
TIE ONE ON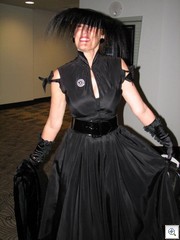 Fifi LaBooshnik, Las Vegas's First Lady of Vintage Couture presents some of her fabulous collection of wearable and frame-able ties, scarves, and gloves and jewelry from the 1920's through the 1970's, at Retro Vegas.
First Friday – Nov. 6, 6pm-10pm
Dress for success, stay warm, be stylish, colorful, and daring by wearing highly crafted vintage accessories for men and women.
Average prices from $5-$10 (tie bars, clips, pins, cuff links, and collar pins too!) Vintage is "green", inexpensive, a good investment, and great for giving!
For more info call Fifi at 702-234-3269
And what better place for Fifi to show her fabulous stuff than our favorite Mid Mod Home Furnishings Store? www.retro-vegas.com
1211 S. Main St. Las Vegas, NV 89104 702.384.2700
She's got a few special ties picked out for me. Fifi's responsible for my collection of Vintage Sport Coats, and I'm anxious to score some new vintage ties to match. I don't think I'll go so far as buying shirts that require cufflinks, however. There's only so far that I'm willing to go to play dress-up.
NV ENERGY Offers Free Thermostat Upgrade Through The Cool Share Program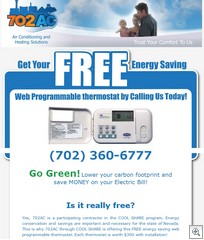 This is a really cool program to install web based thermostats that NV ENERGY can control on the hottest of summer days. The program is called "Cool Share". It allows them to raise the temperature in your house by 4 degrees to help reduce the overall energy demand.
There's several contractors who will install them absolutely free if you have a ground mounted AC unit. 702AC is one of them that I've used before. Their website tells all about it. For the other contractors, visit the NV ENERGY website, for the Cool Share program FAQ.
I've been told, but have not confirmed that they're also available for rooftop units. I've tried several times today to get thru to the NV ENERGY phone number for the program, but it's always busy. 702–402–1111