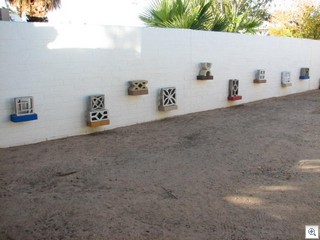 Somehow, I think I've ended up with the only collection in the world of Decorative Concrete Blocks. At least I don't know of another. Lots of you have (or want) a wall of them on your Mid Century Modern home in Las Vegas, but I don't consider that to be a collection if you've got 40 of the same block put together to create a "Stone Screen"
Most of the ones I've collected came from walls that were demolished in car accidents. Some were gifts from friends that are of questionable origin (the blocks, not the friends).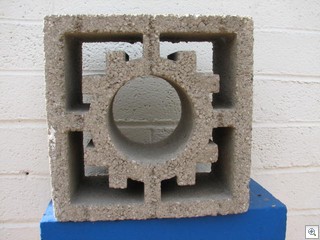 It started with a single loose one laying in the backyard of a bank owned vacant home in Huntridge. Lately, I've acquired 2 patterns that have never been seen in Las Vegas. I documented all of the patterns that I could find in Vintage Vegas. You can see that whole series here.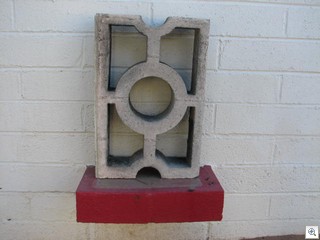 One of the funniest things in the "law of unintended consequences" category is that I get 2 or 3 calls or emails a week from people all over the country calling me to order a dozen of this pattern or a hundred of that pattern. Google has a long memory. Try it yourself. Google "Decorative Concrete Block" or "Mid Century Modern Block design" etc, and various posts from the series will come up first.
One such call had a happy ending. Raida emailed me from Denver:
I am interested in obtaining about 10 Cordova blocks to replace the broken ones after some construciton work that was completed on our house. I live in Colorado and was hoping you know someone here that carries them, if not will need to look at shipping costs. Hope to hear from you soon.

Raida
I wrote back:
I'm sure you've misunderstood. I'm a REALTOR in Las Vegas.

I merely documented all of the patterns that I've found in Las Vegas. I'm sorry to say that I don't sell them, However, Allied Building Materials in LV carries the Cordova.

My personal collection is a dozen different patterns that I've found laying around after car crashes etc. I attached a picture of my collection.

I hope allied can help you.

Jack
I didn't hear back from her, and didn't expect to either. However, the other day she wrote:
I knew you were a realtor but wasn't sure if you sold building materials on the side. Just wanted to make sure.


Anyway everything worked out great. Your web page on your brick collection helped me find the bricks I wanted.
I called Allied Building materials and they had the 15 bricks I needed. When I asked how much it was going to cost to ship them to me it was going to be $500 in shipping cost. If I'm going to spend $500 I would like to be doing something fun with it rather than give it away sort of speak.

So Las Vegas is about 12 hours from here so we decided to make a quick trip and have some fun on the way. Made some reservations then drove all day to get to Las Vegas, the weather was great, got in at 6:00pm. We got a room at Bellagio's, over looking the fountains, got tickets to the "O" show there( the show was fabulous, highly recommend it to anyone)and had a delicious meal at Circo with a good bottle of Italian wine. Got up the next morning headed over to Allied (they were all very nice over there)and picked up bricks and back to Colorado. Again weather was great. The bricks matched the ones I had perfectly and they have been installed in the retaining wall in the front yard.
Have had many compliments on how it turned out.


So thanks again for responding to my emails and directing me to the right place.Hope all is well with you and that you have a good holiday season. Take care.


Raida
I've emailed her and asked for pictures of the finished wall. I'll add them to the post if she sends them. I just thought it a cute story, and hope you did as well.