There's 2 of them. Side By Side. Neglected and forlorn.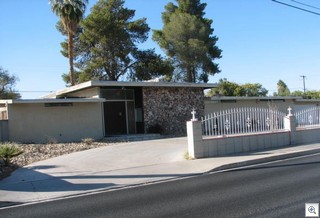 I had a chance to get inside the Mid Mod to the north a few years ago. The tenant had the place on a lease option and said he was going to restore it. Nothing ever changed from the outside. Now it's abandoned. I have no idea as to what the inside is now like, or what it's current status is.
The home was built by Tom and Wilma Panos in 1962. The Panos were restraunteers who ran the coffee shop at Nellis AFB and from 1941 to 1961 owned the Melodie Lane coffee shop at 3rd and Fremont. They were leaders in the Greek Orthodox Community, and the church hall off of Jones and Hacienda is named for them. A brief history of them is in an article in the Summerlin View from June 20, 2003. There's no mention of the house, however.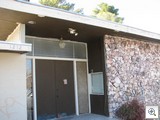 Las Vegas Mid Mod In McNeil For Sale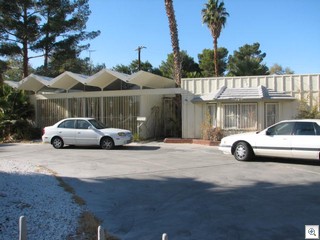 The other most intriguing Mid Century Modern home in McNeil, came on the market this weekend. It's on the corner of Mason and Rancho in McNeil. You've driven by a hundred times and wondered, as I have. Kirsten Shafer of Realty One Group has the listing. I don't yet have permission to show the interior pictures i took, and there's none in the MLS. I'll update if I get permission.
Trust me, the walls of glass, triangular clerestory windows, and folded plate ceilings are killer! It's been added onto several times in the 1980's. It appears to have originally been a 2 bedroom and 2 bath. Now it's just shy of 3000 sf, on a 16,500 sf lot. The folded plate roof only exists in a very few homes in Vintage Vegas. There's a few in Paradise Palms, one on Maria Elena, and this one. There's some loving that's needed, but architecturally…It's a mid mod gem. $150,000, subject to short sale.
McNeil is one of the favorite middle class neighborhoods of Vintage Vegas. It's boundaries are Rancho, Charleston, Cashman and Oakey. One of the funny things about McNeil is that the 1/3 and 1/2 acre custom homes in McNeil are labeled as "McNeil Tract". There's another part of McNeil on 8000 to 10000 foot lots that are labeled "McNeil Estates".
Most of the homes are Ranch styled Mid Mods. But there's also some great "Desert Modern" such as the 2 I've mentioned today, especially in the 3 cul-de-sacs (Laurie, Llewellen and Karli) that are accessible from Rancho. There's also some really nice desert modern along Ashby Drive. There's many dozens of posts that I've done over the last few years that mention McNeil, or that feature various homes, decorative block walls and privacy screens, and other great things about McNeil. You can see them all here.
I'm truly hopeful that both of these homes can once again be beautiful examples of the best of Las Vegas's Mid Century Modernism.