Below you'll find Plan Three of our series on the group of houses in Paradise Palms that were commissioned by Irwin Molasky. They were designed by the famed architectural team of Palmer and Krisel. NOT all of the houses of Paradise Palms are Palmer and Krisel's however. The series we're running now are, though.
Next week is Palm Springs Modern week. I'm still working out the details, but I'm planning on attending the premiere of the new Documentary on William Krisel. It was filmed by JG Gorst, and Design OnScreen. The documentary series they're doing is about noted regional architects of the Modern Era. This is one of them  It's being shown for the first time on Sunday Night the 14th as part of Palm Springs Modern Week.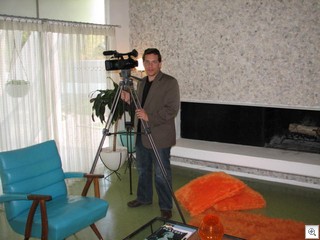 If you recall, last March, we contributed to the film with a major segment on the Palmer and Krisel houses of Paradise Palms in Las Vegas. I'm told that I didn't make it to the cutting room floor, and that the interview with me is several minutes of the film.

Here's the trailer for the film.   
 
William Krisel, Architect from Design Onscreen on Vimeo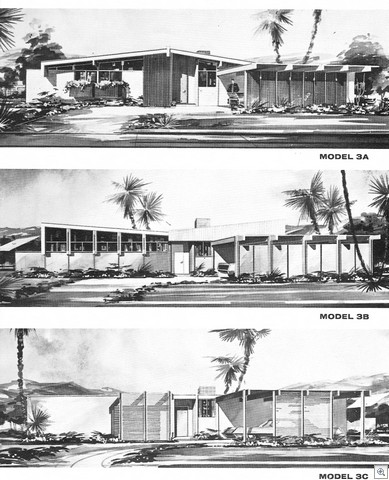 Model 3 in our series has me confused at the moment. I recognize the floorplan, but not the front elevations.
I'm going to do a drive around and see if I can remember which houses I've been in that have that floorplan, and compare the fronts.
Plan 3A seems similar to one that I know that has a soaring vaulted carport
I don't ever recall seeing a 3B that would have the butterfly roof with 5 sets of clearstory windows to the left. Or maybe my memory isn't what it used to be.
3C is even more perplexing.
Anyone else able to help on this mystery?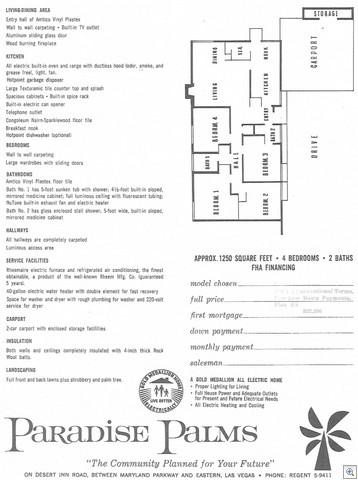 Tags: palmer+and+krisel, jake+gorst