The Classic Las Vegas Road Show Presents:
Entertainers of Classic Las Vegas
Join the man of a 1,000 voices, Bill Acosta and the legendary Pete Barbutti along with some very special guests as they talk about playing Vegas from the 1950s to today. Find out how things have changed and why they loved playing Vegas back in the day!
Wednesday 10/24/2007 Nevada State Museum 700 Twin Lakes Drive Lorenzi Park
Admission $4.00 (Free to Museum Members) Reception is at 6:00 pm Roundtable is at 7:00
Friday Fundraiser, rooftop of SoHO Lofts this Thursday
10/25/2007 Click Here to see the Flyer and buy a ticket. $50. advance tickets or $75 at the door.
Free Tour of Dr. Lonnie Hammargren's "Home Of Nevada History"
The VVV crew is going to be tour guides, and we'd love to meet you.
Sunday 10/28/2007 from 1 to 5 pm.
Click here for our previous post of the flyer for directions and links to other websites about this remarkable collection.
Moonlight Bus Tour Of Downtown Las Vegas' Collection Of Mid Century Modern Buildings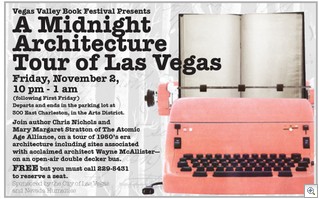 City of Las Vegas Cultural Affairs and the Atomic Age Alliance host this mid evening event after First Friday on November 2. We spoke to Richard Hooker and at this moment, there are 20 seats left. We'd love to have some more VVV readers join us. Paco, Ben, Mary, Pam, Steve and Jack will all be on the bus.
In our previous post on the subject, we didn't have a flyer yet, but here it is! If you want to go, you'll have to call ASAP!
Click on the flyer above for more information.
Celebrating the Written, Spoken, & Illustrated Word
A whole library full of events at the Vegas Valley Book Festival November 2 and 3. The bus tour above is actually part of it.
Alan Hess, the world renown architectural historian is among the many featured authors and lecturers.
The tour of the Morelli House on November 10, 2007
It's the next post down we we announced the tour of the Morelli House so I won't repeat myself. If you love Mid Mod, or want to become a lover of Mid Mod, this is a must see.
.