This is my own response to the travel and leisure article, the LV Sun response from Kristen Peterson, and Paco's letter to the editor.
Tonight from 6–8 is the Opening reception for the Vegas Valley Book Festival
Tonight from 6:30–0 is the regular monthly history series from Classic Las Vegas.
Tonight from 6–8 is the opening reception for the new show at the Contemporary Arts Gallery.
Tomorrow Night is First Friday.
After 1st Friday, we're going on the bus tour of downtown's historic Mid Mod buildings (sold out, sorry).
I haven't published yet the notice for the Nevada Ballet Theater Their winter season started in October.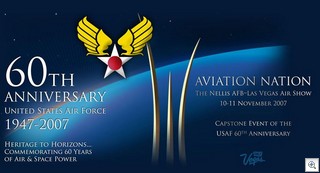 AVIATION NATION Week long celebration of the 60th Anniversary of the USAF
The City of Las Vegas Department of Cultural Affairs November and December newsletter is here.
Clark County Parks and Recreation Calendar of Events is HERE
I try to do my part in promoting art history and culture. Of course we're promoting the Vintage Vegas Neighborhoods and homes, and the urban core lifestyle, also. We're down here living it and working it, and enjoying it.
We invite you to give it a try, even for a single event nevertheless living it. .