Lots Of You Spent The Gloomy Sunday At Your Computers And Provided A Lot Of Feedback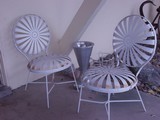 Renee at Not Just Antiques Mart was disappointed in the RJ for dropping the category of "Best Antique Mall". It was the staff choice winner in 2007 for that category. The really cool spring steel chairs on my front porch came from NJAM. Since we can't give them a vote, we'll give them a plug instead!
Helene, a real estate agent who I mentored and trained a few years ago asked the following.
Hi Jack,

Wanted to let you know I love the web site . Great information . I have a question for you, why do you think Paradise Palms is a great location to purchase properties? Is this a good location to rehab and if so what should one look for when thinking of a purchase and rehab in this neighborhood? also where are the buyers for this neighborhood coming from? Here in Vegas or out of state?
Thanks for your help

as always your friend,
Helene
I responded in the comments: Hi Helene, Thanks for being a reader. I love PP and it will continue to get better and better. The rehabbers HAVE to stop trying to "Summerlinize" the classic mid mod homes of PP. With the growing interest, most of the people looking at mid mod (because it's mid mod) will turn up their noses at granite counters, and French doors and stained glass mcmansion doors. If you can buy it at home depot, it probably is wrong for a mid mod.
Buyers specifically attracted to mid mod are coming out of the woodwork from all over the country and even here in LV.

Cary emailed some kind words:
"Thanks for being a voice in the desert. I appreciate your focus on old vegas. It is important and without people like you, forgotten."
and also made a poignant comment on on of our favorite charities:
While we are looking at history, please look at Opportunity Village…a 100% local not for profit that has given people with intellectual disabilities the chance to discover their talents, their friends and their purposes in life for almost 55 years. This IS part of Las Vegas history, a part that doesn't depend on hotels, gambling or tourists. It's a part of the more intimate, community history of Las Vegas.
Dave said (regarding our "best of Las Vegas" voting recommendation):
Great Idea to push for favorites that further the "agenda". Even if they don't win, it will help the RJ get an idea of our point of view.
Homes for Hipsters (an LA agent specializing in mid century modern who also has a great blog about LA modernism) said in response to the Paradise Palms Fixer:

Someone please buy this home and return it to it's former glory! 250K, and on the golf course? I want to move to Vegas.
Andy J. emailed us about the proposed 47 story condo/office project at 6th and Sahara:
"are they kidding? Is the neighborhood organizing against this?"
Supposedly the developer has called a neighborhood meeting for Tomorrow, but I've not gotten, or heard of anyone getting an official notice or invite. I've been told they're now revising it down to 30 stories, but not changing the parking or traffic flow which will have a massive impact on 6th Street.