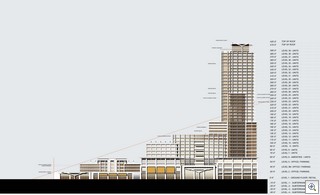 Should the city give them waivers, and variances, and change the zoning, and allow a major commercial intrusion into a single family neighborhood?
That's the big question on the table for the PLANNING COMMISSION MEETING on 3/13 at 6pm
The Developer of the project at 6th and Sahara is asking for a neighborhood meeting THIS TUESDAY, March 4 6pm with neighborhood. The meeting will be at Trinity Life Center at 1000 E. St. Louis. VeryVintageVegas has received advance copies of the "3rd" newly revised site plan and elevations.
If you're a regular at Tony Romas or Marie Calendar or the Heidelburg, you'll be affected, as the tower will take their place.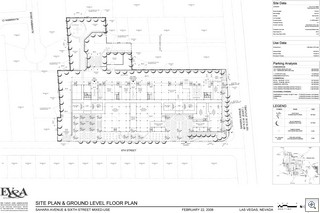 You'll be most affected if you're in the Southridge or Beverly Green Neighborhood Association.
BUT EVERYONE IN VINTAGE VEGAS IS AFFECTED because there's also developers with grand plans to buy up:
A) THE LAS VEGAS COUNTRY CLUB, As Norm Clark Reports In Saturday's RJ
B)the entire 3 blocks east of Las Vegas Blvd. between Oakey and St. Louis, (which would include the fabulous REXFORD COOP at Oakey and Rexford. (And here from The OLD VeryVintageVegas Blog)
C)The Entire 6 blocks east of paradise south of St Louis.
D)They also want to tear down the Huntridge Theatre.
E) WHAT'S NEXT???
County Commissioner Chris Giunchigliani has had developers tell her that EVERYTHING between Charleston and Sahara is a SLUM and should be torn down for new hi rises.
WE OBJECT!
AND WE NEED YOUR HELP! If you can come to the "neighborhood meeting" on the 3rd or the planning commission on the 13th, we need bodies and voices.
There's also the SAVE THE HUNTRIDGE! meeting on Saturday the 8th at 5pm.