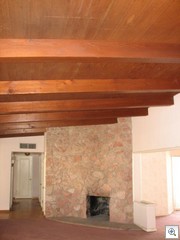 If you'll remember way back in July, I started the Fun Features Found In Foreclosures series with the mid century modern home at 704 Canosa. Harold stepped to the plate and started a very long escrow with the bank seller.
I only bring up the bank seller and the long escrow because the bank dragged their feet at every step and turn of the whole process. Harold and I want to remind you that patience is a virtue when dealing with the foreclosed homes. They took 2 weeks to give us the first counter offer, which Harold accepted. They took 10 days to return to us the signed final contract which actually allowed me to open the escrow. We were ready to close 10 days ago. It took the bank 8 days to sign off on the final paperwork from the escrow company.
That put us a full week late in closing, and Friday we got notice that the bank/seller wanted to charge the BUYER a late fee for not closing on time when the hold up was caused by the bank. 2 hours of angry phone calls later, I got them to drop the late fee demand and to authorize the closing. Of course by then, it was 4pm on Friday, so Harold finally became a homeowner today at 8am.
There's some tremendous opportunities sitting out there for those with patience and the time energy and resources to fix these homes back up once you're the owner. Rarely have I ever seen a bank owned foreclosure repo that was in move in ready condition.
Out in the suburbs, however, there are foreclosures that have never even been lived in, and and except for the weeds and dead landscape, look just like they did the day the builder delivered it to the speculator. I've got Realtor friends who are just as busy as I am selling practically new homes for 1/2 price to people who like cookie cutter homes on tiny lots.
Harold has great plans for the property, and we'll be watching as he puts it back together. Congratulations.