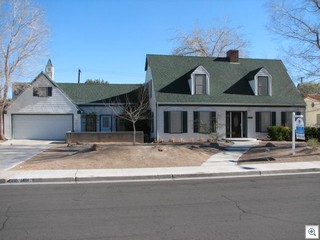 Well it's definitely NOT a mid mod. It's actually one of the very few "Cap Cod" styled homes in all of Las Vegas. This one is totally out of character for the Mid Mod RANCH neighborhood of McNeil.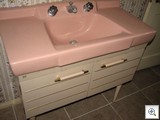 Yesterday, I showed you the pink bathroom sink and floating vanity in the downstairs bathroom. Today we can see the rest of this unusual home.
However, I did write an offer for the clients that I was showing it to, so until that deal is finished negotiating, it's off the table as far as I'm concerned. But that doesn't mean you won't get a kick out of the pictures.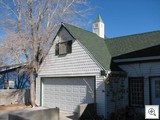 Are there any windmill artisans in Las Vegas? We'll be needing one for the top of the cupola. Click on the pictures to see them full sized. The scalloped siding is in character with the cape cod design.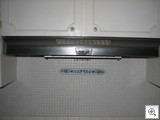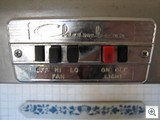 The chambers hood vent is brushed aluminum, with push button controls. The backsplash is in white one inch ceramics that are showing up once again in retro bathrooms and kitchens all over VeryVintageVegas.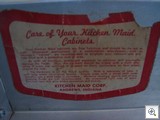 The kitchen cabinets are "kitchen maid" with metal drawers. 2 of them still have their original labels.
"your Kitchen Maid cabinets are fine furniture and should be treated as such"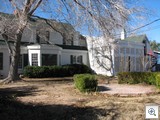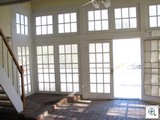 The garage used to be a totally detached structure. The neighbor that I spoke to remembers that the shorter part of the house (between the house and the garage) was added in the 70's. This is the back of that add-on from inside and from the far end of the yard.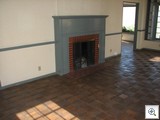 The fireplace, chair rail and parquet flooring are all retro back to the 1800's. Retro Mid Mod Homes date back only to the 1950's and 60's and would have had a full wall fireplace of natural stone or masonry. Chair rails and  crown moldings were NOT used in Mid Mod because Mid Mod was all about clean lines.
Currently, the property is pretty run down, and will require a LOT of cosmetic restoration. As much as I'm a fan of xeroscape, it's totally wrong on a cape cod home. Hopefully we'll see this restored to it's former glory.
The video below is my VERY FIRST EVER attempt at walking and filming and talking at the same time. If any of you have a suggestion as to where I can take some beginner videography lessons, suggest away.