We lost a lot of one of the desert mods in McNeil last night. My phone started ringing about 10:05 pm when it hit the 10 pm Fox5 news. I only talked to 2 of the callers, and by the time I got to the TV, I'd missed it.
Nikky, who lives next door in the house I sold her this last summer posted it on my facebook page about 9:30, so she actually gets credit for breaking the story.
I'll plug in the links to the news stories once the video is posted online.
I've mentioned this house several times on the VVV. I've been trying to find a buyer for it for over a year now, as I thought it had terrific bones, and all the re-muddling that had been done could be corrected. Maybe with insurance money, the owner will be able to make the house right.
I'll plug in the links to the news stories once the video is posted online.
Here's a reprint of the story I did a year ago.
Uncle Jack And Jack LeVine Is Flattered When He Gets Imitated… And It's Very Good For The Classic Homes And Historic Neighborhoods Of Vintage Las Vegas

There's a new Mid Century Modern listing in McNeil that caught my eye. I'm going to go see it this afternoon, to find out if it's right for any of the people on my list.

Here's the remarks:

"VINTAGE VEGAS!!!! Convenient to everything!!!! Great home for entertaining or simply relaxing in a peaceful quiet community.Berber carpets & Ceramic tile floors.The family room has all glass walls & doors to pool area. Master has it's own sauna, spa & door to pool area.This home won a national design award. This property is surrounded by Vegas history makers. Jerry Lewis is 3 blocks away, The Binion homes are blocks away. This is truly Vintage Vegas!!!"

If you're not on "the list" it's real easy to get there. All you have to do is start communicating with me. Send me an email, give me a call, or use the search the MLS feature and save your searches.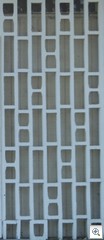 I'd previously shown you the decorative concrete blocks on the front of this home (as I understand it, they were blown apart by the explosion). They were pattern number 35 in the series I ran last summer about the Mid Mod Decorative Concrete Blocks of Vintage Vegas (this link gives you the entire series).
I'm going to see if I can get one of them for my collection. I'll be going over there tomorrow to take pictures.