It's a dilemma we've all faced at one time or another. Sometimes it's just personal. Sometimes it's family. Occasionally it is a community as a whole.
I've hinted that December was a rough month for me. Two major bouts of cold/flu, a wrecked car, Mom was in the hospital for 20 days, and a "Holiday Loneliness" that I've never, ever, experienced before.
I've been searching for the one right word that best sums it all up. I've settled on "DELAY". Delayed recoveries, delayed grieving, delayed blogging, delayed closings, delayed parts for the car. Far too many nights of delayed sleep, delayed eating, and on and on.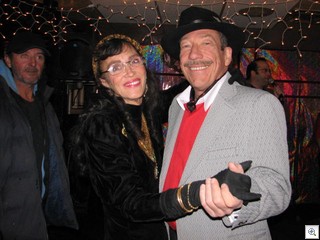 I spent most of December begging for it to be January. A "New Year" was just what the doctor ordered. I managed to get out of the house with best friend Mary Joy for New Years Eve. It was the first time EVER that I was to go out on that night. JJ had adamantly always refused for his own reasons and because the beagles have always been terrified of fireworks. But this year I made it. A special party night spent with special people. A hugely fun success, except for the ascot which just wouldn't stay in place. Cary Grant made ascots look easy.
New Years Day brought First Friday. The cold shower at 4pm delivered the good news that the water heater had "burst". The flood only delayed FF by a few hours, but I made it. I'd planned on spending Saturday and Sunday writing THIS blogpost, re-organizing my computer and getting the year going. I spent it shopping and installing the new water heater. TWICE! The first one leaked from the drain valve. Only THREE trips to Lowes/Depot. Delay Delay.
But that's all over now. The water is hot, the storage room is clean, the desk is clear, I slept 7 hours straight thru, and I'm sitting here typing! Oh, happy 6th of January.
It hasn't been just me that was on delay…
There were some other delays going on that caused you to be left hanging. We've got a house in Paradise Palms that's being re-built and greened up for the International Home Builders Show. The project has been officially named "The ReVision House". They're weeks behind schedule. Delayed by the county building department. The engineering had to be re-done several times. The clerestory window had to get re-ordered to be able to be fit into the newly engineered window spaces. The plumbing and heat/ac permits took longer than expected as well. At least it's all being permitted! I'll do a post tomorrow to catch you up on the progress that is being made. They say they'll get it done on time.
The TV show "Desperate Landscapes" will be announcing it's "cast" this week. To my knowledge, 9 of you applied. In fact, almost every single applicant they have heard about it from VeryVintageVegas. THEY'VE NOW ASKED ME to line up a "fabulous landscape" that they can showcase at the same time. Any volunteers? Don't delay. They need to pick one this week.
The BIGGEST DELAY…
The biggest DELAY of all has been the delayed "regentrification" of the historic neighborhoods and Mid Century Modern Homes of VeryVintageVegas. At least it seems that way. The economy has not been good for us. Many once beautiful landscapes have died. Too many homes that converted from owner to tenant. Carpetbagger investors are trying to make a killing without making any improvements. Frustrated would-be owners who have been shut out by the investors. Business closings. Vacant storefronts. Vacant homes. Draconian Lending Guidelines. New rules by Fannie Mae should make it easier for the first time buyers to get first preference for the bank owned homes, and new short sale rules should help as well. New rules are now in place to help underwater homeowners to keep their homes. We've spent a year waiting for the banking industry to figure out what the hell their doing. The Feds are stepping in and forcing the banks to get their act together.
And even still, countless new residents of Vintage Vegas are busy painting and landscaping and fixing and encouraging their neighbors to do the same. There's new blood, and new hope and new energy arriving daily.
WE'RE STARTING OVER! Much of the spirit of VeryVintageVegas has survived. Barely. We need to pay tribute to the shopkeepers that have managed to stay open. To the new entrepreneurs that opened up during the recession. To name a few: The "Las Vegas Rocks" in Neonopolis, Firefly and Omelet House at the Union Plaza, Namaste at Commercial Center. Tinoco's at the Las Vegas Club, Paymon's at the Arts Factory.
New Stores and Galleries are opening as well. Gaia Flowers and Gifts took a big gamble to all of our benefit. Brett Wesley Gallery opened it's fabulous new Mid Mod Gallery. The newly relocated Southern Nevada Center for the Arts is looking great. Michael Cornthwaite and Jennifer Harrington are opening a new artists lofts and "creative space" on Fremont Street next week. "Place" and "Space" and many more.
The Mayor SWEARS we're getting a new city hall and a new arena and a new NBA basketball franchise. Smith Center for the Performing Arts is under construction, Lou Ruvo Brain Center and Cleveland Clinic is soon to open. The ACE RAPID TRANSIT system thru downtown is almost finished. The Mob Museum, Neon Museum, Las Vegas Scenic Byway Neon Project are coming along as well. Fremont Street Experience is packing them in. The Fremont Street Entertainment District is a late night hot spot. "Don't Tell Mama" is a huge success. The Griffith and Beauty Bar, and Downtown Cocktail Room are packed every night. The Electronic Music Cafe opened this week on Main Street.
And one of my most ardent supporters, and best friend, Brian Paco Alvarez has started a new blog that will round out the whole spectrum of Urban Cultural Life in Las Vegas. "EnculturateLasVegas" will bring together all the cultural news, events, and commentary in Urban Las Vegas. I've tried to cover 4 key topics during the 3 years we've been blogging here. I'm passing the "cultural torch" to Paco. Lynn Zook at "Classic Las Vegas" took over the Las Vegas History several years ago. That leaves "VeryVintageVegas" with the "Historic Neighborhoods" and "Mid Century Modern Homes". Between these 3 blogs, I think we've got it all covered extremely well. And if you want to know about the FUTURE of Las Vegas, Mark Adams is back and blogging again at "VegasTodayAndTomorrow". ALL FOUR blogs should be on your daily reading list.
Unless I'm "delayed", this should be the first of a several part series. I'm going to tell you the story of how I came to be the biggest supporter and promoter of a new urban lifestyle in Las Vegas. I'll be telling you about the Historic neighborhoods surrounding downtown, as well as the Mid Century Modern Revival Movement that's sweeping the world. We'll keep you linked to the culture and the history and the future. I'll get out of the damn house and take pictures of everything I see and tell you all about the people we meet, and keep you up to date on the Las Vegas Real Estate Market. I think TWENTY TEN could be a very exciting year.
I'm SO happy it's January.