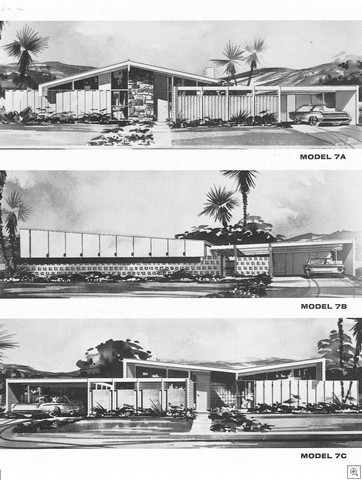 Plan 7 is on of my favorites.
Plan 7B is so easily recognizable. There's only 4 of them that were built. All are south of Desert Inn. The Caddy Shack is the most easy to spot with it's lime green and white color scheme. It's the home of Mary-Margaret and Cary Stratton, and was on our Paradise Palms Homes Tour in October 2008. It was also featured in the documentary film that was premiered last week at the Palm Springs Modern Weekend. There's some interior photos in that link. If you haven't seen driven by it, you haven't really driven around in Paradise Palms. It's on Seneca Drive, just south of Desert Inn. You can't miss it.
Zane and Jenny are the proud new owners of one of them. I helped them snag it away from the bank this last fall. They're busy working away on the inside, but at least the weeds are gone now from when they bought it. Their's is in a similar location on Pawnee, just south of Desert Inn.
There's also on on Pawnee Circle, next to Clay's new house, which is one of the plan 5 tri-levels. The Fourth one is on Ottawa Drive, just east of Spencer.
All four of the 7B's were built in a mirror image of the drawing.
Plan 7A and Plan 7C are turned 90 degrees so that the front door faces the street instead of the side of the house as it does on the 7B.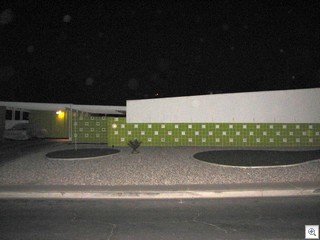 This is the "Caddy Shack" at night. It's just as eye-popping during the day!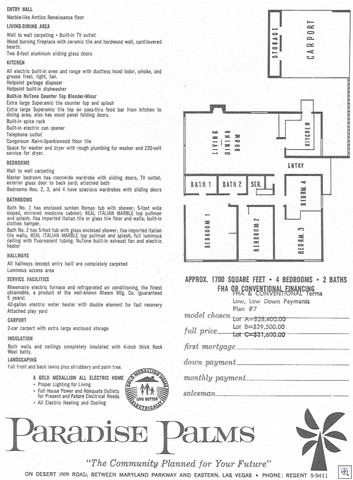 They started to get a little pricey as we moved into the bigger of the model.
Lot A = $28,400
Lot B = $29,500
Lot C = $31,600
Still I have no clue as to what was the difference between a the 3 lot choices.