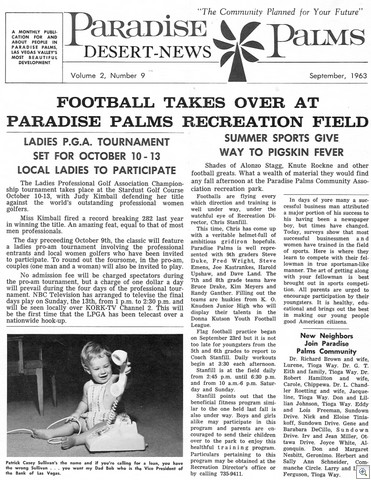 Alas, the last of the 1963 Paradise Palms Desert-News newsletters. I sure was hoping more of them would surface. No luck!
Today we find babies, children, a Jackie K hairdo, and a very fabulous dinette set.
I've also picked up another clue as to the which were the Secrest Construction Company "Americana Series" homes that were mentioned in the first edition that we published. In that February 63 newsletter, the unit 12 Americana Series was erroneously described as Tioga, Cochise and Geronimo, west of Spencer. Those streets are East of Spencer, and are actually Unit 10, The Tioga finger which runs westward from Eastern. Yes, I was confused by their error, and the swimming pool picture below helped to clear that up.
But wait.
There's one more piece of Ephemera that came in this collection, but you'll have to wait for tomorrow!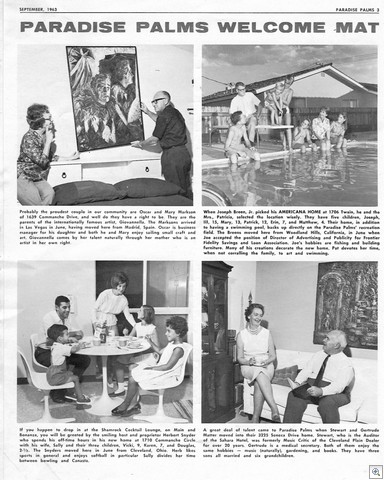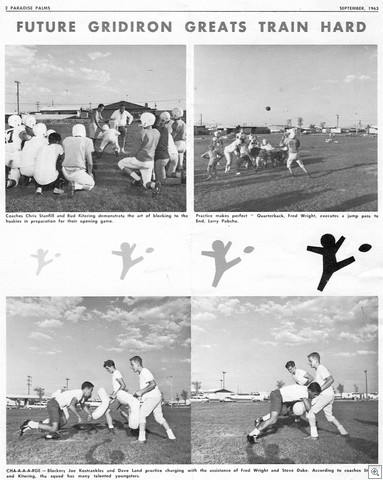 And some football, And then there's…….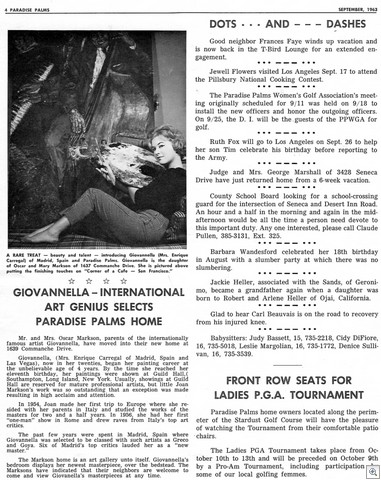 "Giovannella". Anyone have any clue about her later years? Nothing on Google under Giovannella, but searching "Joan Marks" got to me to a 1957 article in Time Magazine, as well as a 1957 article from the Sarasota Herald Tribune.
How about it art history guys/gals. Who can did up some more?
(UPDATE: 10 minutes after publishing this last newsletter, new Paradise Palms resident Clay put this link into the comments section. A 1970's painting by Giovannella of Linus Pauling. Thanks, Clay!