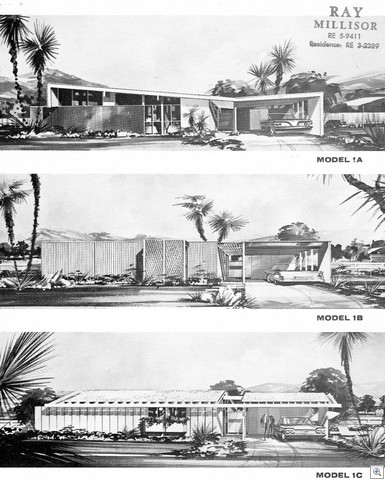 One of the coincidental outcomes of the ReVision House (the deep green retrofit that was done for last weeks International Homebuilders show) was that I got to meet a few of the original Paradise Palms owners on Pueblo Drive. One of them made me an incredible offer.
Maisie Ronnow, and her late husband Garland bought their Palmer and Krisel -Jet  Modern house in 1963. The Ronnow family were the owners of Superior Tire.
During her tour of the ReVision House, she told me that she had all the original floor plan brochures from 1963!
I now have them in my possession and am busy busy scanning them for you. Here's plan number 1. Previously, we had some photo copies of an abbreviated version that we had published one of them here. Alan Sandquist had a few of them on his flicker page, but they are no longer there, and I can't remember why I was requested to not show them.
But now we have our own set of originals so they'll be permanently archived for everyone during the next few weeks.
But wait! There's more. I also have 8 of the original Paradise Palms Community Newsletters that were part of the marketing of the neighborhood. The were handed out to potential new homeowners, and mailed to the existing owners. They're full of fun pictures of Mid Century Modern furniture, hairdo's, clothing styles, as well as a TON of previously lost knowledge about the Paradise Palms community of Las Vegas.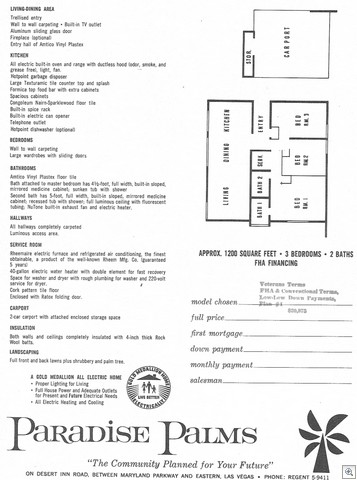 These are clickable thumbnails. They'll open in a new window, at their full 8.5×11 size. You're welcome to Save As or whatever you'd like. If you have friends in Paradise Palms that are regular readers of VeryVintageVegas, I hope you'll share these with them as I publish the whole set.
One of the most interesting things about the floor plans, and why it's so easy to believe that there's actually dozens of different models is because of the multiple elevations and roof lines. Besides that, some of the models could be turned 90 degrees left or right and then combined with a different roof line.
That is the same floor plan could get built with the front door facing the street, or turned with the door facing to the side. Depending on that, you always got the rear living room wall of glass  facing the side the back of the house. Depending on the rotation of the house, the fireplace wall and the glass wall were interchangeable.
So there really are dozens of variations thru out The Mid Century Modern Neighborhood of Paradise Palms.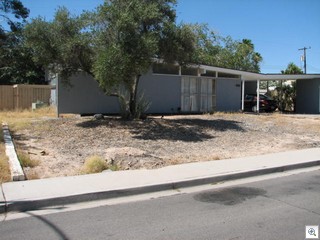 One of the Plan 1's is the short sale listing of mine (it's already sold) at 1977 Caballero.
Now, armed with these brochures, I'm going to go find us 1B and 1C.