We're starting a new series today. It's about Walter Zick, and an extraordinary career building Mid Century Modern Buildings in Las Vegas.  That career spanned 3 decades and was considerably more prolific than I ever imagined. But first, I want to tell you how we got started on this.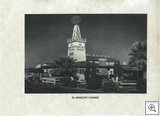 Walter is best known, and his name has been most often mentioned when there's talk about the original El Rancho Vegas, which was the first hotel on the Las Vegas "Strip" and about the Dunes, which later became one of the most famous of the early resort/casinos.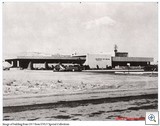 Walter Zick also designed Maude Frazier Hall, The very first building on the UNLV campus. We all know that Maude Frazier Hall is slated to be demolished soon. We held protest rallies. We petitioned. The County Commission passed a resolution in support of it. We however failed to convince the Board of Regents to save the building. Most of us moved on to battles that we think we can win.
Mary Martinez, to her credit is still fighting the fight, and still trying to find a way to save Maude Frazier Hall. In Mary's continued effort to find support, she came upon a CD that was created by Walter's children.  Their goal was to get the Clark County School District to name a school in his honor.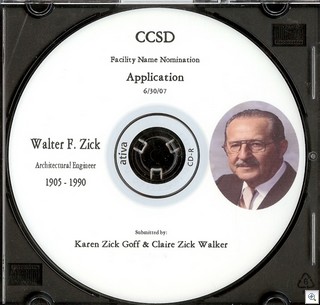 Last year, the school board passed him over, and his kids thought it was a lost cause. We're picking up the cause, and we are about to try to make Walter Zick become known well beyond the confines of us who actually sit with other people and talk about Historic Preservation. That's the best way for us to help his familty to re-petition the CCSD to rightfully give him the honor he deserves.
  
What we found on the CD was a powerpoint presentation with over a hundred slides. I have permission to share them with you. I'll be using them for however long this series lasts to tell you the story of Walter Zick. You'll be as surprised as I am to learn that most – honestly, I mean most– of my favorite Mid Century Modern Commercial Buildings in Las Vegas turn out to be Walter Zick Designs.  It turns out that there were also more than a dozen homes that are only labeled by the name of the family that first commissioned the home. One of them turns out to be my "secret" listing on 15th Street as well as MaryJoy's "Mayme Stocker Home". I'm going to do my best to provide links to the various history, museum and UNLV websites to provide you with more information on each posts topic if you want it. Zane Donaldson is already helping with the photography, and we're going to photograph the buildings, and when slides from the CD exist, we'll give you the early photos or drawings of the buildings.
There are letters of commendation, awards, proclamations and lots of pictures and drawings. There's also some lists of buildings that definitely no longer exist. And some of them that are mentioned may or may not exist anymore. We're going to try to research as much of it as possible. Any large gaps between posts might well be caused by gaps in the necessary research. I do intend to do this series with posts every 3 or four pages. I've never actually researched or written up a history project before, so fortunately, I will be getting help from Brian Paco Alvarez and Lynn Zook among others.
Our next chapter will be about the early hotel projects.