I wanted to do a special welcome shout out to some new residents of Vintage Vegas.
Kevin's signing his papers tomorrow for his Palmer And Krisel home in Paradise Palms. He was ready with his loan, committed to making it happen and was ready to pounce when the right home came on the market. We had the offer written 5 hours after it was listed. Except for the 2 bathroom vanities, it's one of the most absolute original Paradise Palms homes I've ever seen. Way to go, Kevin.
Anya's only a day or two away from signing. She's also buying in Paradise Palms. She commented on yesterday's post about the NPR Radio piece. It's in the comments, but I wanted to share it with you since lots of you never read the comments. Anya said:
This is SO GREAT!!! I actually think I got a tear in my eye when I listened to this, I was so touched.  Like I told you once, I don't think that I actually would have ever bought a house here in Vegas had it not been for you and the mid mods.  I am so crazy about what all of this stands for and what all of this means for the city.  I am so excited that people like me are choosing the middle of the city and the historic neighborhoods instead of the cookie cutter homes in the newer neighborhoods way out on the edge of town.  I am utterly thrilled to close on my house 🙂
Tim and I managed to do the impossible. We got the BANK to put a new roof on the house he's buying in Rancho Manor (without changing the price from what we had agreed on). The new roof got installed today, and the appraiser needs to sign off on it in the morning so we can get his loan docs cut.
Steve and Tami, the writers for Living-Las-Vegas are waiting for the appraisal to come back. They're buying the beige on beige on beige home in Paradise Palms that was a "fun features found in foreclosure" post a few weeks ago.
Manny's just gone to contract for a townhouse in Tiberon. He's only 22 and buying his first home. I've known him since he was 14 and he's always made me proud. Congratulations!
Nick and Jamie are waiting impatiently for the seller's bank to approve their short-sale contract on a totally cool, beamed ceiling mid mod in Glen Heather.
Benjamyn and Erin grabbed a much bigger house than they ever expected to get. It's in the Hillside Terrace Neighborhood off of 17th and Franklin.  It wasn't a foreclosure and the seller gladly fixed the things we discovered in the inspection. We're doing the appraisal tomorrow. It's got original hardwood floors that are covered in carpet. I don't think anyone else bothered to look, or it would have sold long ago.
My little "elvis" brother Joe closed a few weeks ago on one of the most unique Huntridge homes I'd ever seen. He's got his work cut out for him, since it was in pretty bad shape, but he's got good ideas and a real good mentor.
I've even done a couple of rentals lately. Michael scored my rental listing in Paradise Palms and is thrilled to finally be living the mid mod experience he's been dreaming about for years. David grabbed the mid mod rental on Delaware in Paradise Palms and is totally into the mid mod thing now.

And finally, Frank closed last week on a  home I found when my neighbor Angela called to tell me about an estate sale in McNeil. I scooted over and just knew it was going to be Frank's new house. It wasn't listed yet, and we scooped in and grabbed it before it hit the MLS.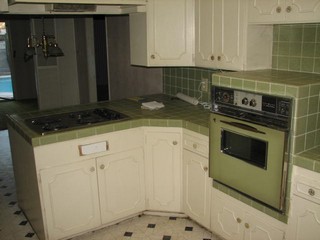 Original kitchen, pink bathrooms, killer wall of glass out to the pool, and one of the most unique wall of brick fireplaces I've ever seen.
Frank's just grinning from ear to ear!

Welcome to all of this months new residents of Very Vintage Vegas. We wish you much happiness in your new homes.