A) A regular reader that I met a few weeks ago told me they had bought a foreclosure. He commenced to tell me the horror story of dealing directly with the banks listing agent. I asked why they hadn't called me. I was SHOCKED to be told that I didn't do foreclosures and that I only sold the really nice homes.
NOT! I decided I'd better make that point clear.
B) I still get a kick out of the alliteration that I made up for the topic. "Fun Fixtures Found In Foreclosures" can also be "Fun FEATURES Found in Foreclosures". I find myself chuckling when I type either one.
C) There's terrific features and fixtures buried in all the dirt and clutter and abuse and neglect. And occasionally I actually find a real treasure because of the architecture, or the ridiculously low price or because the agent doesn't "get it" about Vintage Vegas.
Most buyers start out with the fantasy of the "bargain priced bank owned repo". Some actually have the stomach (as well as the money) for doing a home over from top to bottom. Most don't, but have to get to that realization for themselves.
9 out of 10 bank owned foreclosures have only one photo which is usually worthy of being a WMLSPOTHD. Most of you will never get to see the insides of them unless I show you.
D) I have absolutely no sympathy for the banks, and the beating that they're taking to get these homes off of their books. They created the mess, and the buyers who are buying now are getting the benefit of the mess. And the sooner they're gone, the better it will be for all homeowners.
E) I don't have to get permission to publish the pictures. It's not like I'm showing the owners kids in the pictures.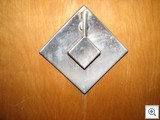 There's redeeming qualities in even the worst of homes. Well, I saw one today that I laughed about when I left because the ONLY fun feature or fixture I could find was the door knocker.
F) Hopefully, the Tuesday Open House thing will continue to be as successful as last weeks. I went to contract with a reader today who came to last weeks open house at 704 Canosa. TODAY we're doing one in McNeil from 3 to 6pm. I posted the announcement the other day.
G) I hear it all the time that everyone seems to love it when I post pictures of fun fixtures and terrific features that can only be found Vintage Las Vegas Homes and Historic Neighborhoods. Since the foreclosures are full of them, why not kill two birds etc.
H) They're easy to access. No phone calls, no appointments, no sellers following me around pointing out things that aren't important. I can see every foreclosure in a neighborhood in an hour, and come away with dozens of great pictures. AND I'm totally on top of knowing the inventory, whether they're bank owned or not.
I) I'm committed to keeping VeryVintageVegas fresh and entertaining. The average real estate blogger posts something every 4 or 5 days, and it's mostly statistics. I'm about as prolific as you can get. That way you'll tell people about me and about Vintage Vegas in general. You'll want to call me instead of an agent that thinks anything that's not summerlin is a gang infested slum. Whether you're buying or selling, I want you to remember that guy who spends 2 to 3 hours of each day writing one of the best read real estate blogs in America (not my words). He's the one who's fully committed to saving or reviving our historic neighborhoods, and your referrals helps to fund that goal.
J) Beat up foreclosures, as well as the nicest homes in Vintage Vegas are ALL THAT I DO, and I realized that I hadn't balanced the two extremes very well as far as my coverage is concerned. For the moment, I've tipped the scales the other way.
That's why all the recent emphasis on foreclosures. Tomorrow, I'll talk again about some of the nicest of homes.