Welcome To Uncle Jack's Very Vintage Vegas!
Vintage Las Vegas Homes,
Historic Las Vegas Neighborhoods,
Las Vegas History,
Urban Living In Las Vegas.
If it's great, cool, fantastic, artistic, annoying, amusing, unique, or surprising.. you'll find it at VeryVintageVegas.com.
Check out what we're doing and add your two cents! Your comments & ideas are welcome. We update daily, so come back tomorrow!
Blogroll
Farmer's Insurance
Paul Hesselgesser
702-434-1230
The Hesselgesser Insurance Agency Website
Classic Las Vegas - Lynn Zook's Preservation of 20th Century Las Vegas
Curbed LA - WOW!
Mid-Century Modernist
RETRO RENOVATION - Pam's Excellent Effort At Re-creating A Retro Life
Carnival Of Real Estate - Minus Elephant Ears, But Still Mighty Tasty
Lotta Livin' - A Celebration Of Really Cool Things Mid Century
Bawld Guy Talking - Minus The Hair; Plenty Insightful
CoolnessIsTimeles - ALL "RAT PACK" ALL THE TIME!
SEE ALL OUR FAVORITES HERE

Archive for October, 2011
October 21st, 2011 Categories: Mid Century Modern
There's still limited tickets available for the remaining events of the Las Vegas Mid Century Modern Weekend.
This year, the weekend is called "POP, BOOM – A LIFESTYLE REVOLUTION". It's being put on by ADAS the Architectural and Decorative Arts Society of Las Vegas.
I will be personally conducting and narrating the Mid Century Modern BUS TOUR on Sunday Afternoon, and I'd love for you to go with us. This year – we'll be touring thru the historic Mid Century Modern Neighborhoods of Las Vegas.
Tickets for the bus tour are $30.00 and you can get yours at the ADAS-LV website.
Saturday's panel discussions and the Cuban inspired reception at the MORELLI HOUSE are FREE and are co-sponsored by the Vegas Valley Book Festival.
Again – TICKETS ARE AVAILABLE AT THE ADAS WEBSITE – ORDER YOUR TICKETS NOW! Last year the bus tour sold out on the day before the tour.
Below is the agenda of the remaining events that start tonight.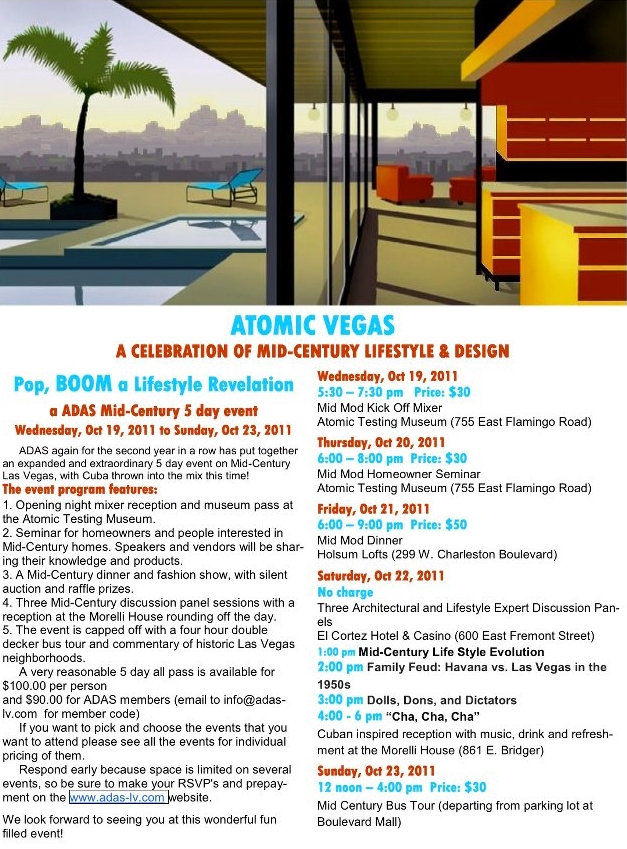 Posted by Jack LeVine | Currently Comments Off on Las Vegas Mid Century Modern Weekend – Tickets Are Still Available
October 15th, 2011 Categories: Las Vegas History, Las Vegas Real Estate News
Dr. Lonnie Hammargren once again will hold his world famous open house on Sunday, October 30, from Noon to 5pm at the "Hammargren Home Of Nevada History"
If you've kicked yourself in the past for having missed it, or want to see it again, this could be the last chance. Neighbors and County Commission have tried to shut it down (and succeeded for the last 2 years). A recent court ruling has cleared the path for it to happen once again.
This year there will be a donation of $10.00 per person. Shuttle bus service is available from the shopping centers at Flamingo and Sandhill.
The address is 4318 Ridgecrest Drive. 1 block south of the corner of Sandhill and Flamingo
Lonnie made a little video to give you a taste of what it's all about.
I'll be volunteering, once again as a docent – Â so seek me out and say hello.
j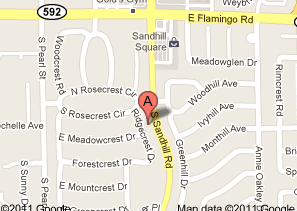 Here's the map. Even the street view is fun 
Posted by Jack LeVine | Currently 1 Comment »
October 6th, 2011 Categories: Arts District, First Friday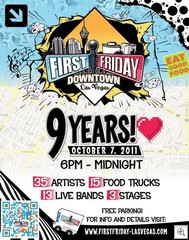 It's the 9th anniversary of First Friday. With new leadership, the monthly flagship event of Downtown Las Vegas is expanded to include the Fremont East Entertainment District, as well as the traditional 18B Arts District.
Besides the expanded area into all of Downtown Las Vegas, there's also expanded parking, expanded shuttle service, expanded food service, music stages, and much much more.
The "2 month hiatus", though nerve-wracking at first gave everyone he breathing room to rethink what could be possible. Tomorrow night should be one of the most exciting First Fridays ever.
It looks like everyone is co-operating. Maybe even the weather will do it's part.
For all of the information – visit the newly re-designed First Friday Website.
Posted by Jack LeVine | Currently Comments Off on First Friday Expands To Cover More Of Downtown Las Vegas