L'Octaine Topics
Welcome To Uncle Jack's Very Vintage Vegas!
Vintage Las Vegas Homes,
Historic Las Vegas Neighborhoods,
Las Vegas History,
Urban Living In Las Vegas.
If it's great, cool, fantastic, artistic, annoying, amusing, unique, or surprising.. you'll find it at VeryVintageVegas.com.
Check out what we're doing and add your two cents! Your comments & ideas are welcome. We update daily, so come back tomorrow!
Blogroll
Farmer's Insurance
Paul Hesselgesser
702-434-1230
The Hesselgesser Insurance Agency Website
Classic Las Vegas - Lynn Zook's Preservation of 20th Century Las Vegas
Curbed LA - WOW!
Mid-Century Modernist
RETRO RENOVATION - Pam's Excellent Effort At Re-creating A Retro Life
Carnival Of Real Estate - Minus Elephant Ears, But Still Mighty Tasty
Lotta Livin' - A Celebration Of Really Cool Things Mid Century
Bawld Guy Talking - Minus The Hair; Plenty Insightful
CoolnessIsTimeles - ALL "RAT PACK" ALL THE TIME!
SEE ALL OUR FAVORITES HERE

L'Octaine
September 24th, 2007 Categories: Architecture, Arts District, Cool Stuff, Decorating Tips, Downtown Businesses, L'Octaine, The Las Vegas Strip
I've been living in the L'Octaine apartments for almost a month now, and it continues to get nothing but better! I'm meeting my neighbors, a wonderfully diverse and perfect example of the creative and cultural melting pot that an 'Urban Core' should be all about.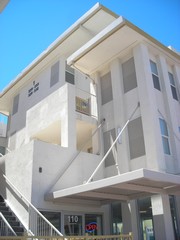 English is an amazingly positive and energetic young school teacher, putting in her daily grind at some of the most challenging classrooms our valley has to offer. Ironically, she is not an English teacher, but rather educates the young urbanites on the subject of art. Speaking of art, besides our good friend/artist Brian Paco Alvarez; I've spotted another neighbor hefting a tripod from her VW Jetta & word has it there are all sorts of creatives in the 51 unit complex owned by Tom Hom Group, who in my understanding developed most of the 'Gas Lamp' District in San Diego, to correct my first post on the development.
Two more of my neighbors are Steve and Elsa, she is Dominican, and he's German. Together they are such a wonderful and beautiful couple, you can feel the love for life & each other radiating off of them. They were grilling out & eating dinner in one of the common areas in the complex. They invited me to join them to eat. Even though I'd already agreed to wander down Las Vegas Blvd. pedestrian style w/ Paco to Original Thai BBQ (oh, look who wrote the review I found while googling the establishment; it's James P. Reza from Vurb) for dinner, the sense of community I gleaned from the experience left me so full of appreciation for having found what had seemed so absent while residing in 7 Hills for the last year and a half. They invited me to their next cook out & I'm looking forward to a 'breaking of the neighborly bread.' By the way Steve is a local sound engineer (talk about my kind of people)!
Also in L'Octaine news, my Apt. is continuing it's slow progression in regard to furnishing, placement, & homeliness. On Saturday just before running out to volunteer for an amazing event, the Rock N' Roll Wine Amp '07 Festival on 'that other end of the Strip' (Mandalay Bay) I managed to meet up with Ernie and secure his couch I've been lusting after: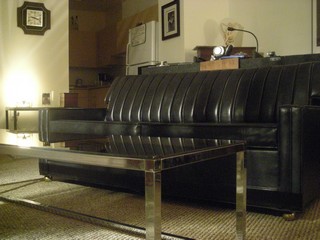 The clock on the wall, was a house warming gift from Jack LeVine, and was acquired from Modify on Charleston & Main, and the smoked glass & chrome coffee & end tables came from Main st. Antiques,

(Where I also found this lamp)
and at quite a deal too I might add. If you're looking to furnish you new digs in a hot-mod way, I'd recommend wandering Main st., both North and South of Charleston. The two establishments named were some of my favorites, but there are plenty of others!
I'll keep you updated as I uncover more of the cultural gold in L'Octaine & 'The Urban Core' in general, and continue to find great furnishings & places to acquire them!
Posted by Stephen P Christmas | Currently 4 Comments »