Welcome To Uncle Jack's Very Vintage Vegas!
Vintage Las Vegas Homes,
Historic Las Vegas Neighborhoods,
Las Vegas History,
Urban Living In Las Vegas.
If it's great, cool, fantastic, artistic, annoying, amusing, unique, or surprising.. you'll find it at VeryVintageVegas.com.
Check out what we're doing and add your two cents! Your comments & ideas are welcome. We update daily, so come back tomorrow!
Blogroll
Farmer's Insurance
Paul Hesselgesser
702-434-1230
The Hesselgesser Insurance Agency Website
Classic Las Vegas - Lynn Zook's Preservation of 20th Century Las Vegas
Curbed LA - WOW!
Mid-Century Modernist
RETRO RENOVATION - Pam's Excellent Effort At Re-creating A Retro Life
Carnival Of Real Estate - Minus Elephant Ears, But Still Mighty Tasty
Lotta Livin' - A Celebration Of Really Cool Things Mid Century
Bawld Guy Talking - Minus The Hair; Plenty Insightful
CoolnessIsTimeles - ALL "RAT PACK" ALL THE TIME!
SEE ALL OUR FAVORITES HERE

Archive for April, 2010
April 14th, 2010 Categories: Huntridge
I kinda lost the bet. JB said I couldn't get a Huntridge Cottage remodeled in less than a month. I thought I could.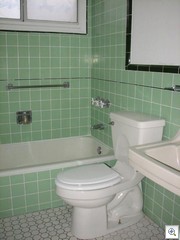 It would have been easy if I'd just done a "blow and go", or "slap up a coat of paint" job. If I'd ripped out the original 1944 bathroom and kitchen. I could have put in new "off the shelf" crap from one of the big box home improvement stores and called it a day.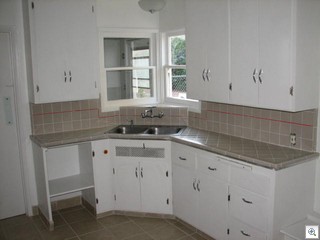 I could have left some of the hidden plumbing issues, or some minor and major electric, stucco, concrete and roofing issues for someone else down the road. Sure….there were some compromises that had to be made in trying to keep things as authentically original as possible, but I'm sure happy with how it's turning out now that it's finally coming together.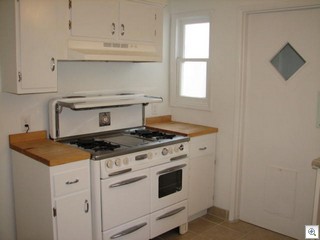 We'll be renting the property. The intention is to hold it for many years. That's one of the reasons we went to the lengths we did to do it right the first time. I'm offering it up to VeryVintageVegas readers or their friends first.
Since it has a huge 2 car detached garage, I'm figuring it would be perfect for an artist to use as a studio. There'll be some cute red curtains in the kitchen, polished parquet flooring, and a terrific den which could be a third bedroom or great office or music room. I'll put up more pictures as we wrap up the final details.
We're offering it at $1000/month. If you know someone who really wants to live vintage, then give me a call or drop me an email. [email protected] 378–7055
I learned or re-learned a lot of lessons in the last 6 weeks. Here's a few of them:
I'm not 25 anymore. There's nothing like a lot of hard physical work to remind you how much arthritis you have, or how sore your muscles can get. But I did lose 10 pounds in the last 6 weeks!
If the electric is screwed up, CALL AN ELECTRICIAN! You can only make it worse.
Cast Iron water supply lines have to be removed and replaced!
40 year old wallpaper is not fun to remove.
Copper pipes (and especially the brass fittings) should not be buried underground. The real lesson is to watch where you dig. I barely touched the main water line with the shovel……
EVERY plumbing job will require 3 trips to the hardware store….no matter how much you think you got everything you needed the first time.
90% of the time spent on a paint job should be spent on the preparation. Cumulative layer upon layer of sloppy paint jobs takes a lot of time to undo.
2 full time jobs is a bitch. Doesn't leave much time for blogging, never-the-less 8 episodes of American Idol that haven't been watched yet.
I hope you missed my daily blogging as much as I missed doing it. I should be back to a daily schedule now.
Posted by Jack LeVine | Currently 13 Comments »
April 3rd, 2010 Categories: Mid Century Modern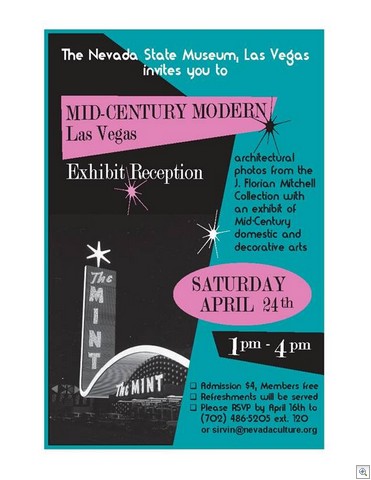 The opening reception for the new exhibit at the Nevada State Museum – "Mid Century Modern Las Vegas" will be on April 24th.
VeryVintageVegas readers are invited, and need to RSVP to [email protected]
J. Florian Mitchell was a photographer in Las Vegas during the 50's and 60's. When he passed away recently, his heirs found dozens of boxes of photos taken during the heyday of Mid Century Modern everything. The first few boxes were thrown away before they realized what they had.
The remaining boxes of the collection were donated to the Nevada State Museum, and my friends Lynn Zook and Dennis McBride have been going through the collection for over a year. There's photos of just about every building in Las Vegas during that era. The best of the Mid Mod will be on display along with Mid Century Modern domestic and decorative arts.
Even if you can't attend the reception, this is an exhibit that you won't want to miss. I'm checking on the run dates for the "Mid Century Modern Las Vegas" exhibit and will update this post and do another when we have more information.
The Museum is located in historic Lorenzi Park
700 Twin Lakes Drive
Las Vegas, Nevada 89107
Phone: (702) 486-5205
Posted by Jack LeVine | Currently 1 Comment »