Buyers Topics
Welcome To Uncle Jack's Very Vintage Vegas!
Vintage Las Vegas Homes,
Historic Las Vegas Neighborhoods,
Las Vegas History,
Urban Living In Las Vegas.
If it's great, cool, fantastic, artistic, annoying, amusing, unique, or surprising.. you'll find it at VeryVintageVegas.com.
Check out what we're doing and add your two cents! Your comments & ideas are welcome. We update daily, so come back tomorrow!
Blogroll
Farmer's Insurance
Paul Hesselgesser
702-434-1230
The Hesselgesser Insurance Agency Website
Classic Las Vegas - Lynn Zook's Preservation of 20th Century Las Vegas
Curbed LA - WOW!
Mid-Century Modernist
RETRO RENOVATION - Pam's Excellent Effort At Re-creating A Retro Life
Carnival Of Real Estate - Minus Elephant Ears, But Still Mighty Tasty
Lotta Livin' - A Celebration Of Really Cool Things Mid Century
Bawld Guy Talking - Minus The Hair; Plenty Insightful
CoolnessIsTimeles - ALL "RAT PACK" ALL THE TIME!
SEE ALL OUR FAVORITES HERE

Buyers
April 22nd, 2008 Categories: Buyers, Las Vegas Real Estate News, Mortgage
Lets start with The Rave.
There's a pioneering ripple of people who are trying to buy a home right NOW. Each of them is in their own personal step along the process. Each and everyone of them that I can think of are among these 3 different types of buyers and each has a personal reason to buy.
Group One is the investor. They're not looking for a home to live in. They'll probably make a lot of money doing it. At least they're willing to bet on it.
Group Two are the people who are selling or renting out their old home in order to buy a different home. They're the sellers who took or are taking their lumps involving the loss of previously perceived wealth. Renting any place to live would never be a first or even a next to last option. Their lives will be better in the new home.
Group Three first started thinking about buying a home about 4 or 5 years ago. For whatever reason, they never ended up buying. And MOST importantly, they never gave up thinking or feeling for a moment that home ownership is good for them and their family. That is, as long as they don't do anything stupid like their cousin or co-worker did. Prices have come down to where they can afford to buy again, and they don't want to wait much longer. They're really looking forward to become owners instead of renters.
So My RAVE and a pat on the back is for the early pioneers who are bravely wading into the water. They're the ones who've noticed that the "24 Hour News Cycle" has gone from DOOM, GLOOM and ARMAGEDDON to merely just GLOOM.
No, I didn't forget the rants
They're already written, and I'll post them on Thursday, Friday and Saturday, right after our regularly scheduled WMLSPOTD and the DMCMBWD (Decorative Mid Century Modern Block Wall Design). You'll have to crawl over them to get to the pictures.
Posted by Jack LeVine | Currently 5 Comments »
April 8th, 2008 Categories: Buyers, Las Vegas Real Estate News, Market Conditions, Mortgage
The BalwdGuy says it best:
Liar Liar Pants On Fire! and just for fun, watch the video he uses to make the point. Someone we all know and love got pretty chunky.
I'm here to tell you in plain English — In real estate you'll get rich with a lot of hard work, some anxiety, a lot of capital, a ton of paperwork, and risk. There will be ups and downs. But in the end, if you're not greedy, and you follow the principles of investment physics and the physics of economics — Lord willin' and the creek don't rise — you will become wealthy and live to experience a magnificently abundant retirement.

You'll get rich alright — but you'll do it slowly.

Those who tell you otherwise?

Liar! Liar! Pants on fire!
Bawld Guy specializes in investment real estate. He hasn't sold a dream house or a house to live in for over 100 years. If you want quick and easy real estate investment course that's based IN REALITY, I suggest you read the investment physics and physics of economics posts and a thousand other good ones on BALWDGUYTALKING.
AND, you've probably seen the infomercial running for one of the several REAL ESTATE AUCTIONS. They show pretty pictures of the few prettiest of properties. Buried in the fine print is that if you win a bid at the auction…
It's not subject to your ability to get a loan. You'd better have that 110% locked down.
It's "AS IS" with NO OPPORTUNITY for an inspection and no "OUT CLAUSES" what-so-ever!
If you don't have a game plan when you go to the auction, you'll probably get burned.
If you ever learn anything, please learn this. Owning a home to live in is NOT the same as real estate investing.
Posted by Jack LeVine | Currently 2 Comments »
April 7th, 2008 Categories: Buyers, Las Vegas Real Estate News, Mortgage
I got a call Sunday from a home buyer who I had showed one of my listings to a few months ago. She was in tears. She wanted to know if I could step in and fix all the problems with a transaction she entered into with a cocktail waitress/Realtor she knew from work.
The Waitress/Realtor works during the day. The lender she recommended is a blackjack dealer on graveyard, and tends to sleep during the day when her kids are at school. She was told she didn't need an inspection. She was told that she had to offer the list price to be sure she got the home. No one returns her calls. No one is looking out for her interests.
The last conversation she had with the dealer/lender was that she was still looking for a loan program that would accept her credit scores, even though she generated a pre-approval letter. She was told that she might need more down payment than she has. That was a week ago.
She gave notice to her landlord that she would be moving on April 15th. Now she's not sure if she can get a loan, and the landlord says she has to move, as they've got new tenants lined up already.
There's 5 or 6 problems going on at the same time, and she's not gotten any help in solving them. All of those issues should have been addressed up front, with back up plans in place for each of them. Unfortunately, there's nothing I can do.
Things do go wrong in real estate transactions. Lending guidelines change. Defects with the property get discovered in the inspection/due diligence phase. Buyers and sellers get nervous and anxious. People don't do their jobs in a timely fashion. Family emergencies happen to even the most conscientious and dedicated lenders and agents. But all of this was avoidable.
I attended one of the Hot Pink Mamas "business mixers" the other night, and jokingly introduced myself to everyone as the "last agent in town who's still working full time as a Realtor". Of course that's not true, but it sometimes feels like it. Every day I'm confronted with things such as calling on a listing with a question and the call never gets returned. A buyer says they're approved for a loan and they're not…they're really only prequalifed which is another whole thing. Any agent who'd publish one of our infamous worst MLS photo of the day, is probably just as sloppy with their contracts and their follow thru. You can fire your agent right up to the moment you enter a contract. Then you're stuck with them for better or for worse.
Kris Berg, who has been called the "Erma Bombeck of Real Estate Bloggers" begs the question very pointedly:
For the home buyer, you will in fact be dealing with two sellers. One is obvious; he has a home he would like you to purchase. The other "seller" is your real estate agent. He is selling his services to you, and once you have agreed to allow this agent you represent you, you have bought what he is selling. You inspect your other purchases before you make them – the home and even the shirt off the mark-down table at the cool surf shop. Inspect your agent before you buy!

Sellers routinely put us through interview processes which have us feeling like participants in the Iditarod and the Science Olympiad all at once. Many selling clients come to us through referrals and many require us to compete and earn their business. Why, then, have buyers come to assume that their representation needs no introduction or screening, that the first perky, warm body they find at an open house or street corner will do?
The following is from The Keller Williams Realty Website. It's a very generic list of what we're supposed to do and know and how we should act. But not all agents are the same. Buyers need to hold the agents responsible, and buyer's have an extremely self-serving obligation to choose an agent who has their act together.
WHY YOU NEED A REALTOR®
A licensed real estate professional provides much more than the service of helping you find your ideal home. Realtors® are expert negotiators with other agents, seasoned financial advisors with customers, and superb navigators around the local neighborhood. They are members of the National Association of Realtors® (NAR) and must abide by a Code of Ethics and Standards of Practice enforced by the NAR. A professional Realtor is your best resource when buying your home.

LET A REALTOR BE YOUR GUIDE
• A knowledgeable Realtor can save you endless amounts of time, money, and frustration.
• A knowledgeable Realtor knows the housing market inside and out and can help you avoid the "wild goose chase."
• A knowledgeable Realtor can help you with any home, even if it is listed elsewhere or if it is being sold directly by the owner.
• A knowledgeable Realtor knows the best lenders in the area and can help you understand the importance of being preapproved for a mortgage. He or she can also discuss down payments, closing costs, and monthly payment options that suit you.
• A knowledgeable Realtor is an excellent source for both general and specific information about the community such as schools, churches, shopping, and transportation—plus tips on home inspections and pricing.
• A knowledgeable Realtor is experienced at presenting your offer to the seller and can help you through the process of negotiating the best price. By bring objectivity to the buying transaction, he or she can point out the advantages and the disadvantages of a particular property.

And the best thing about your Realtor is that all this help normally won't cost you a cent. Generally speaking, the seller pays the commission to the Realtor.
Posted by Jack LeVine | Currently Comments Off on Why Buyers Need A Realtor® And Why You Should Be Picky About Which One You Select
February 5th, 2008 Categories: Buyers, Mortgage
Well, it's no secret that the mortgage rates and basis points adjustments have been up and down & all over the board. They're pretty much as volatile as the stock market these days. If you haven't yet been shown the connection, the stock market and bond market often move in opposite directions from each other. Why is that?
Well, because if you've got a lot of money, you might like to invest it. If stocks are doing crappy, the 10 yr Bond market (which is closely tied with the rates you have available from any lender on any given day) might be a good place for you to invest it.
When stocks took another dive this morning following a services sector report that looked about as dismal as the manufacturing report from a bit ago. Lots of people saw that as a sign it may be time to invest in something other than stocks (bonds). So for the time being the bond market is the best it's been since the middle of 2005.
However; we're all seeing the ups & downs of the stock market, the bond market, mortgage rates, unemployment, and new jobs. Today I got an email update from one of the lenders we broker loans to at wholesale rates. They are reacting to the volatility of all these economic indicators with a new restriction.
30 days. You can't lock your rate for more than 30 days, they're telling us. I believe this to be because they have no idea what will happen further out than 30 days. With all the economic reports coming in significantly off the best estimation of financial experts, I can't say I blame them. It may well be that further than 30 days out, mortgage rates will be much higher than they are today.
What does that mean for you? If you're looking at buying or refinancing, make sure you have your loan approved and your documentation together before you go looking for a home. It may also mean that the banks lending money think rates will go up soon, so… if you're going to do it, do it now!
Posted by Stephen P Christmas | Currently Comments Off on Mortgage Industry Update
January 30th, 2008 Categories: Buyers, Mortgage
Long term interest rates will stabilize around where they are now, but this cut will also affect inflation, so don't expect 30 year rates to come down significantly(they actually just worsened by .25 basis points for the moment). Heloc's will come down, and existing adjustable loans won't reset quite so high. Combine that with Stimulus Package being debated in Congress this week, and the dramatic change in the volume and quality of phone calls we're receiving from buyers who are ABLE to buy, and we're probably starting to build a bottom.
Most of the buyers I'm talking to now are trying to decide whether they are WILLING to buy now, and since Jack's written 2 offers this week, and gotten an offer on a listing, (all of which are still being negotiated), we're definitely seeing a shift.
Today's talking heads on CNBC (video worth watching) and CNN are suggesting that we've managed to stave off a recession, and that we're probably at the bottom of the interest rate cycle. That should signal the bottom of the housing cycle. We've also seen a huge surge in refinance loan applications, as the more savvy home owners are realizing locking in a 30 year fixed rate now will likely be their best time to do so. If you're one of those people, give me a call at 702-686-2036 & we'll help you today.
Posted by Stephen P Christmas | Currently Comments Off on Fed Rate Cut & What It Means
January 22nd, 2008 Categories: Buyers, Mortgage
The Fed this morning cut the Federal Funds Rate by .75%. The cut which comes as a surprise move before their scheduled meeting on the 30th of this month brings the Fed Funds Rate to 3.50%. The Discount Rate, or the rate at which member banks can borrow from the Federal Reserve was also cut, down to 4%. With the government offering money to banks at lower rates we should continue to see favorable available mortgage rates offered to consumers.
The Libor, (London Interbank Offered Rate), which regulates the movement of many Adjustable Rate Mortgages is currently 3.71%, down from 5.15% a few weeks ago. This drop makes adjustable rate mortgages tied to this index a great deal in the mortgage market right now. Fed Funds Futures are still pricing in another 50 basis point cut at the Fed meeting still scheduled for next week, despite rising inflation.
With the Government's best solution to keep things stable being dramatic rate cuts, many homeowners are finding this a perfect opportunity to refinance their mortgage rates that have adjusted up over the last year or two. Others who haven't yet bought a home are finding that with the rates available today, moving in to an ownership position now would be more affordable than they thought. We should continue to see things maintain a low position or dip lower before rising. Remember to get the best rate you want to have your loan application process already underway before the rates begin to shift upward. Call me today 702-686-2036 to get started. We just need about twenty minutes to get you going.
Posted by Stephen P Christmas | Currently Comments Off on Surprise Rate Cut By The Fed
December 22nd, 2007 Categories: Buyers, Francisco Park Three (Mid Mod)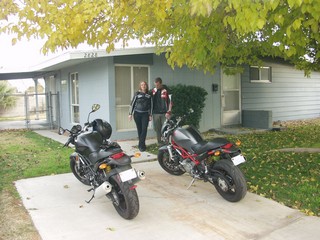 Our final closing for the year was a cute little mini-mod in Francisco Park 3. Maribeth and Chris plan on adding a garage, and are real excited to finally get to be home owners.
They wanted to buy over a year ago, but were slightly priced out of owning a single family home. With the price reductions and 2 year lows in interest rates, they were able to get into a home for the same monthly cost that they would have had for a condo a year ago.
Congratulations and Welcome To Vintage Vegas.
Posted by Jack LeVine | Currently Comments Off on Very Vintage Vegas Welcomes New Neighbors
December 6th, 2007 Categories: Buyers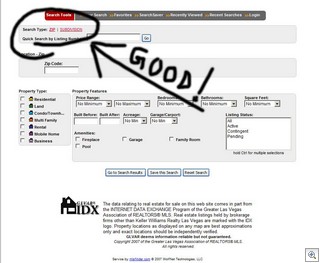 You can now search the MLS by Subdivision.
We've changed the provider for our MLS search capabity on VeryVintageVegas. You now have the option of searching by a specific subdivision, or by zip code. As before, you can still search by price or size or bedrooms.
Another feature that caused us to make the upgrade is that you can now save your searches, and automatically request an email if a new property gets listed that fits your search requirements.
Give it a try, especially if there's one or more subdivisions that you're interested in, or use the zip code search if you're interested in just one part of Vintage Vegas. It will even work for the suburbs if you have to.
Posted by Jack LeVine | Currently 2 Comments »
November 18th, 2007 Categories: Buyers, Events, Las Vegas Real Estate News, Market Conditions, Mortgage
Yesterday, I introduced the fact that there's going to be 2 big auctions coming up of bank owned foreclosure homes. Most likely, there will be more of them further out.
If you've dreamed of scoring a deal or 2 or 3 and making some money in the future from the "Foreclosure Problem", this is an excellent opportunity. However, you're going to have to put some money, time, energy and thought into the process. And you're probably going to have to put some paint, and landscaping and who knows what else into the home if you're the successful bidder. Huge Profits in the future will require investing time, money and energy now.
Here's how to play the game. (It's eerily similar to the normal home buying process)
First: You're going to need to know yourself, and the limits of your money, time and energy. You need to know what your goal is. Are you going to try to "flip" the house? Are you going to rent it? Are you going to live in it? Are you going to narrow down the homes to just ones that need no work? a little work? a whole rehab? Are you going to do the work yourself? Do you know contractors, painters, handymen etc. to do it for you?
The best way succeed in step one is to sit down with me and have a consultation. Let me ask you the right questions, so that we're working only with the right answers. Those answers will determine your success or your failure, or whether you even want to move to step 2 at all.
Second: You're going to have scour the list for homes that seem to meet your criteria. You'll have to narrow it down by zip codes or areas. By size and shape style and amenities for your goals. For example, I don't recommend family sized rental homes that have swimming pools. I don't recommend properties on the other side of town from where you live.
Third: You're going to have to devote at least one day to PREVIEWING the homes that you've put on your MEDIUM LIST. You should narrow the list to the 10 homes that you're going to preview. When you've seen ALL 10, you need to whittle it down to the 3, 4, or 5 at most for the SHORT LIST that you're going to be willing to bid on. All homes will be open the weekend or 2 before the auction, and most of them I will have access to during the week.
Fourth: You're going to need to do the homework for EVERY property on the short list. What was it worth in 2005? What will it cost to get it livable, rentable or salable? How much does the bank have into it? WHAT'S THE MAXIMUM YOU'RE GOING TO BE WILLING TO PAY FOR IT? We'll need to run comparables, search the tax records, calculate the repairs if any. We'll figure out what it will rent for, and what the costs to purchase and to carry it. MY JOB IS TO HELP YOU FIGURE ALL THAT OUT.
Fifth: (which should probably be 2nd) The very MINUTE you've decided you're going to try to play this game, YOU NEED TO TALK TO YOUR LENDER (or have me refer you to one) AND GET YOUR FINANCING IN ORDER. You'll only have 30 Days to close on the purchase. Your winning bid will NOT BE CONTINGENT ON YOUR ABILITY TO GET FINANCING. You'd better know up front, and very early in the process if you're bankable.
Sixth: On the day of the auction, you're going to spend the whole day watching and learning from the homes that come to bid before they get around to the ones on your short list. You're going to bid on the first one on your list that comes up for auction AS IF IT WAS THE ONLY ONE ON YOUR LIST. If you're going to get one on your list, it shouldn't matter to you which one you get. If you get the first one, and you're only buying one, then you're done! If you don't get it, then follow the same strategy for your second one, and then the 3rd one, etc.
UNDER NO CIRCUMSTANCE SHOULD YOU BID ON ANY PROPERTY THAT YOU'VE NOT TAKEN THRU ALL OF THESE STEPS. Adrenalin fueled mistakes can turn a potential win into a probable loss.
Seventh: If you're the winning bidder on a property, you're going to give them the earnest money check that you brought with you. You're going to sign a purchase contract. Then we're going to go thru all the normal steps of an escrow during the next 30 days. As your agent, I'll be supervising and co-ordinating all the different steps.
Eighth: You'll finish the day with a real bargain, or a real lesson in real estate investing.
If you don't get a property at the auction, you'll have a terrific idea of what to do the next time an auction comes up, or you'll be set up to actually try for one of the thousands of bank owned properties that aren't in auction. You know the ones I mean. There's probably 1 or 2 of them on your own street or block.
All you have to do is invest some time and energy to get your ducks in a row, and then test your luck against a whole lot of others who are doing the same thing.
To get started, call me at 702–378–7055 to schedule an appointment for us to consult with you, and tell you some more of the fine points. There's no cost or obligation to sit down with me. I'll even buy the coffee.
Here's the links to the Auction Websites, where you'll find the rules, schedules and properties
The Hudson and Marshall Auction Will be held on December 2, 2007
The Hudson Marshall Auction will be held at the Ritz Carlton at Lake Las Vegas. Auction starts at 12 noon.
There are 333 properties to be auctioned. Hudson and Marshall will look at offers prior to the auction, and if they accept one, the property will be removed from the auction list. Almost all of the properties will be open for viewing on Saturday and Sunday 11/24 and 11/25 from 1 to 3 pm and most of them are on lockbox and I have access to show them to you at other times.
The Real Estate Disposition Corporation Auction Will Be Held On December 8 and 9, 2007
This Auction is so Big, with over 500 properties that it has been divided into 2 days/groups:
GROUP ONE: is for the southern half of the valley on Saturday December 8, 2007
GROUP TWO: is for the northern half of the valley on Sunday December 9, 2007
ALL HOMES OPEN FOR INSPECTION from 10AM to 5PM on 11/25/07, 12/01/07 and 12/02/07 and most of them are on lockbox and I have access to show them to you at other times.
The rules for them are similar, but slightly different, and you have to read them, and follow them closely. Give me a call at 378–7055 and let's see if a little bargain hunting might create a big bump in your net worth.
Posted by Jack LeVine | Currently 9 Comments »
November 17th, 2007 Categories: Buyers, Events, Las Vegas Real Estate News, Market Conditions, Mortgage
Banks Will Be Giving Away Homes At 2 Upcoming Real Estate Auctions
Qualified Bargain Hunters Will Score Big Buying Bank Owned Foreclosures At Auction
Here's The Easiest Way To Buy REO Bank Foreclosures
Your Real Estate Agent Can Help Take The Guess Work Out Of Buying Bank Owned Foreclosures
Banks Are Desperate To Get These Foreclosures Off Of Their Books Before The Year End
I couldn't decide which headline to use. So I'm using them all.
There's going to be 2 huge auctions in the next few weeks. These properties have been sitting on the market for a long time. The banks need to clear their books before year end.
Let me tell you a little story about the last one we attended. There was a Huntridge Cottage that was listed by the bank for 240,000. We put in an offer for 210k and the bank turned it down. We upped our offer to 220k and the bank turned it down too. Then the bank put it in one of these auctions. We went to the auction and got it for 187,000 just 4 weeks later. The Banks Are Crazy! But buying Foreclosures isn't crazy at all!
I haven't finished this post yet, and need to go on an appointment.
I'll be adding links and rules and an offer that anyone who still believes in Las Vegas and in Real Estate as the ultimate best investment vehicle shouldn't pass up.
Posted by Jack LeVine | Currently 4 Comments »
November 15th, 2007 Categories: Buyers, Mortgage
There is a lot of parameters that make up your Fico, or credit score. When trying to look at your situation and what possible changes may help you improve your Fico prior to a financed transaction its always a good idea to get a reputable credit repair company involved if you need serious help. These companies can be expensive, and its best to get a referral from a good mortgage broker as to who's actually going to repair your credit instead of just rip you off.
I'd like to take a minute and share with you some Fico Tips that were faxed to me as a result of working with Factual Data while helping a client prepare for her first home loan. Many of these tips are available at myfico.com.
The Date of Last Activity – is the most important date on your credit report. Derogatory accounts will be reported on your history for 7 years from that date (profit & loss, collection, etc.). Accounts in good standing will report for 10 years beyond the date of last activity.
The Date of Last Activity is a factor that determines how much consideration the account has on your score. The more recent the DOLA, the more impact that account has on your score.
The Difference Between Paying off and Deleting an Account – Paying off an old collection will lower your Fico Score. Negotiating a Letter of Deletion in exchange for payment in full can raise your score. The difference has to do with the DOLA. If you pay it off, all of a sudden that $200.00 collection from 2001 becomes a $200.00 collection from NOW (remember, the more recent the account, the more it affects you). If you can negotiate a letter of deletion, and can have it forwarded to the bureaus that have been receiving information that you are derogatory, IT NO LONGER EXISTS! Please note these accounts must be deleted at the bureau level.
Posted by Stephen P Christmas | Currently 1 Comment »
November 13th, 2007 Categories: Buyers, Las Vegas Real Estate News, Market Conditions, Sellers
I've discussed many times that there's really 3 groups of sellers. The pre-foreclosure, bank owned and desperate sellers have done a lot of price dropping and there's give away property all over, not just in Vintage Vegas. But they're usually pretty crappy houses. Group 3 are overpriced, not motivated at all, and shouldn't be on the market at all.
But the Group 2 seller is the topic today. These are the normal everyday people who aren't in trouble. But they DO want to sell and the only thing wrong is their timing. Grandma needs to live with them. The new job in another city is about to start. They need more or less room. Illness forces them to sell. Each one has a different story, but the stories are the ones that make them normal.
For the last few months, most of these sellers were behind the curve of pricing while we digest all the foreclosures and crappy homes. But now we're seeing some modest price adjustments on their part. These are often the best homes, and now that things are starting to stabilize, new buyers are coming to the market looking for the best homes.
A few good examples are some of our listings which definitely fall into group 2.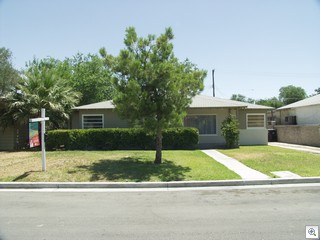 1249 8th Place sold for almost the original list price of 329,000 in just 3 weeks when it first came to market. It was due to close the day the whole lending melt down happened. We gave the buyers another 60 days to get it together. Finally we put it back on the market, dropped the price 10,000, and now we've dropped it another 10,000 to 310,000. It's one of the finest examples of post war bungalow in the John S. Park Historic District. We have more pictures of it in our Gallery in the left column.
Price Reduced to $310,000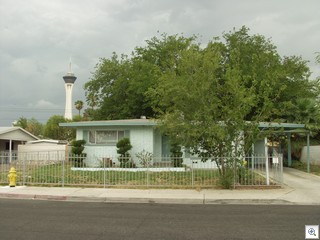 1704 S. 9th Street is a really cute weeping brick home. The seller has gone to a nursing home, and is looking for offers. The price has been dropped to 218,000. The wood floors are in great shape and the roof and AC are very recent. Huge shade trees keep the sun off the house in the afternoons. It's fully fenced with wrought iron in the front and block in the rear.
There's more pictures in our gallery and if you're looking for really cute and affordable, this one should be looked at.
Price Reduced to $218,000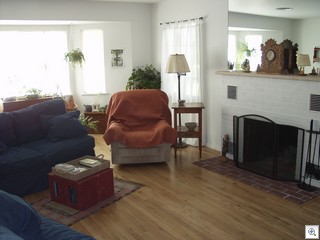 1279 9th Street is a sweetheart. The back yard is serene and peaceful and beautifully landscaped. The kitchen is fun and inviting and has lots of counter space. Original hardwood floors are polished and beautiful. The sellers are dividing their time between their new home in Albuquerque and want to get this sold. They've dropped the price to under 300,000. It definitely deserves a look. There's lots of pictures in our gallery
Reduced to $299,000.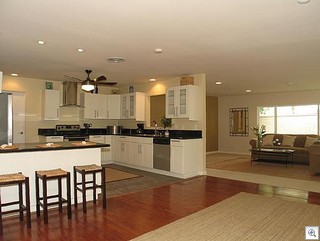 1720 15th Street is simply stunning. 15th Street between Oakey and St. Louis is one of the Premier Streets of all of Downtown. Frantz and Stephanie have done a magnificent job restoring this home. It's functionally modern, yet nostalgicly charming. We've never had a problem getting top dollar for one of their redeuxs. Still, we've reduced the price by 20,000 and they're willing to look at all offers.
You'll see from the pictures that this is a very special home.
Reduced to $459,000.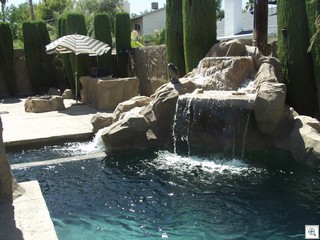 2594 Capistrano in Francisco Park is a gorgeous home that's had so much money spent on it to make it that way that someone's going to get a real screaming cool home. The beach entry pool with rock wall waterfalls, the full bar and antique fireplace are done in gorgeous hand crafted hardwoods. All flooring is tumbled travertine. The list of unique features and upgrades just keeps going on and on. It's a real sad story. Illness that forces the sale of their dream home. But they do need to sell, and we've dropped the price by 30,000. It's as nice as the pictures. Reduced to $369,000.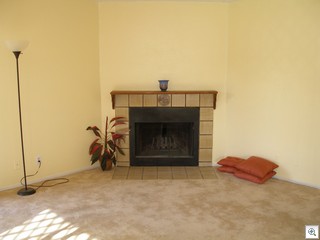 5012 Newport Cove #A is condo near UNLV. No it's not "Vintage", but it's cute, affordable and the seller knows that the Condo Market sucks. He's dropped the price 30,000 less than he bought it for. He's open to ANY reasonable offer. He doesn't have a mortgage on it, just wants to put the money to a better use. $130,000 is a ridiculous price since every other unit in the complex is 150k or more. The pictures are here, but at this price, who cares what it looks like.
Reduced to a ridiculous $130,000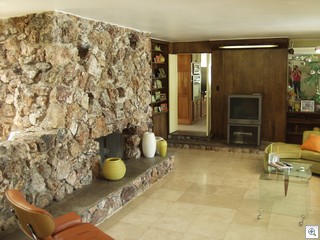 1701 15th Street IS UNDER CONTRACT. This is a real good example of what we're talking about. No we didn't quite get the asking price, but the buyers love the home, know it's unique and one of a kind (as are almost ALL Vintage Vegas homes). There are homes selling, and if you're not bargain hunting for a crappy fixer upper, there's probably the best selection that we'll ever get to see again of the really nice homes that I'm showcasing here.
Someone already scooped it up.
Posted by Jack LeVine | Currently 2 Comments »
October 27th, 2007 Categories: Buyers, Las Vegas Real Estate News, Market Conditions, Worst MLS Photo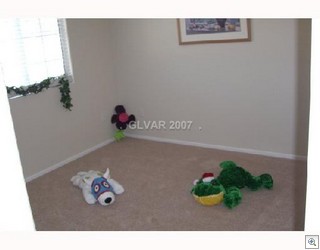 I just got a giggle out of these two. Nothing earth shattering or truly awful. Just amusing.
I just finished flashing quickly thru a couple of hundred listings for a client. One of the criteria was to only look at property that has been on the market for over 6 months.
Here's the search criteria I was using:,  his minimum size, (3br, over 1400sf) the  area (vintage vegas of course), older than 1970, his price range (up to 325k) and over 6 months on the market.
Results of the search? 241 homes. 107 have no pictures at all. 57 only have only one picture.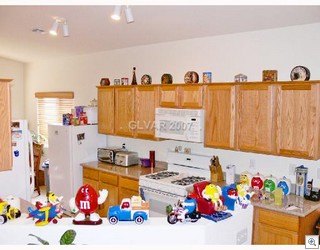 From those that had pictures, I saved 73 new pictures that could qualify for a "worst MLS photo" post.
Truly astounding. And truly telling. I won't be showing him a single home tomorrow morning that has no pictures. Based on pricing, my neighborhood knowledge, and what I could tell from the pictures, I picked a dozen homes for tomorrow.
2 years ago, that same search would have only returned 2 or 3 homes. I'd have shown him them all whether they had pictures or not. I wouldn't show 241 homes even to my mother!
The only thing worse than a bad picture is NO PICTURE AT ALL!
Posted by Jack LeVine | Currently Comments Off on Worst MLS Photo Of The Day – How To Stage And Decorate A Vacant Home Without Spending A Fortune
October 24th, 2007 Categories: Buyers, Mortgage
This is part of an on-going Lending Comprehension Series. Part 1 can be found here.
We all know that your credit score is one of the biggest factors that determines your available mortgage rate and terms. Your credit score can range from 350–850. There are many factors that are calculated when compiling your three digit ability to purchase a home, car, or toaster. While the formula is so complex that even the folks at Fair Isaac & Co (the company who developed the almost universal calculation scheme) probably don't understand it all, there are some things that we mortgage professionals have come to understand. I'd like to share them with you in hopes that you can build (or repair) your personal score in time to still get a great deal on some real estate before you miss the next wave of appreciation.
1. Credit history
This part refers to how long you've had established credit. Did you know that having a credit card that is 2 or more years old (and well managed) is better for your score than a brand new one? If you're looking at getting into a mortgage and someone tells you they think you have too many credit cards & you should cancel some of them, the worst thing you can do is keep those new ones with 'teaser' 1st year rates and cut up the oldest ones you've got? The reason is this, part of the formula looks at how long you've had established trade lines. If you've had a few cards for a few years and still manage them well, you're a much safer lending risk.
2. Credit depth
This refers to the different sort of credit you've been extended. Credit cards, or what's known as 'Revolving Trade lines are only one such type. You've also got what are know as 'Installment Loans.' Rather than a revolving credit where you can borrow, pay down, turn around & borrow again; Installment Loans are lent in one big installment and paid down over time. A good example of an installment loan would be a car loan. Having about three or four well managed revolving accounts and one installment loan on your credit report is a good start in developing credit depth, which will raise your score.
Of course, what is usually the biggest loan, and which you get big ups from the lenders for acquiring and managing well is your mortgage loan. In an ideal world you'll want to get your credit cards first, your installment loan second, and your mortgage loan third because they are usually increasingly large amounts, and having each prior category well managed will save you money on the next tier of credit extension. (with all that money you save you can pay down your debt, right?)
Mortgage lenders like it best when you have a combination of at least 3 or 4 trade lines, with some variety as to the type of credit. This doesn't mean if you've never had a credit card or car loan we can't finance your home. Some lenders I broker home loans to will accept an alternative trade line. This could be your power bill, cell phone bill, etc. re-structured to report on your credit report.
Posted by Stephen P Christmas | Currently 1 Comment »
October 20th, 2007 Categories: Buyers, Las Vegas Real Estate News, Market Conditions, Sellers
An amusing look at things from fellow blogger in Sacremento Gena Riede:
Home Buyers, are asking the question…
When is the Best Time to Buy a House?
When is the Best Time to Buy a Condo?
Do you feel like this donkey?
Are you confused and wondering if you will buy a house or condo at the wrong time?
Do you think you will get stuck and pay too much for a home or condo? Do you think the Real Estate market will go down more?
These are just a few of the many questions that Home Buyers today in the Sacramento area are asking and wondering. The big question is, "when is the BOTTOM of the Real Estate market?"
Think of donkey tails. One side is going down
and
one side is going up. No one REALLY knows when the bottom is the REAL bottom until real estate prices change and start going up. That's when everyone will be an expert and say, "the Real Estate Market has changed … last month was the official bottom of the Real Estate Market."
You can't pin the tail on the Bottom of the Real Estate Market until it has passed!
Click here to read the rest of Gena's great Article
Posted by Jack LeVine | Currently 1 Comment »