Urban Lofts Topics
Welcome To Uncle Jack's Very Vintage Vegas!
Vintage Las Vegas Homes,
Historic Las Vegas Neighborhoods,
Las Vegas History,
Urban Living In Las Vegas.
If it's great, cool, fantastic, artistic, annoying, amusing, unique, or surprising.. you'll find it at VeryVintageVegas.com.
Check out what we're doing and add your two cents! Your comments & ideas are welcome. We update daily, so come back tomorrow!
Blogroll
Farmer's Insurance
Paul Hesselgesser
702-434-1230
The Hesselgesser Insurance Agency Website
Classic Las Vegas - Lynn Zook's Preservation of 20th Century Las Vegas
Curbed LA - WOW!
Mid-Century Modernist
RETRO RENOVATION - Pam's Excellent Effort At Re-creating A Retro Life
Carnival Of Real Estate - Minus Elephant Ears, But Still Mighty Tasty
Lotta Livin' - A Celebration Of Really Cool Things Mid Century
Bawld Guy Talking - Minus The Hair; Plenty Insightful
CoolnessIsTimeles - ALL "RAT PACK" ALL THE TIME!
SEE ALL OUR FAVORITES HERE

Urban Lofts
July 29th, 2008 Categories: Atomic Age Alliance, Historic Preservation, Urban Lofts
Today's guest editorial is by MaryMargaret Stratton of the Atomic Age Alliance. There have been many posts on VVV about Maude Frazier Hall, and the efforts that have been made to preserve it instead of demolish it. If you'd like to get up to speed on the subject you can find them all here.
UNLV Goes Brown – Not Green by MaryMargaret Stratton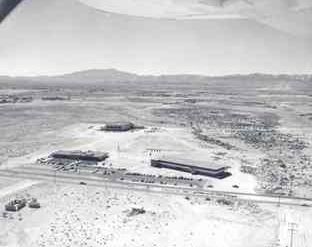 As of this week, Maude Frazier Hall on the University of Nevada, Las Vegas is surrounded by chain link fence. UNLV in the face of highly publicized budgetary cutbacks wants to waste more money by tearing down its first historic building and plant a lawn in the desert.
College officials keep reporting that the building will cost too much to renovate, but as of this date no financial feasibility study has ever been made public.
Scarce Las Vegas History
Frazier Hall (1957) qualifies on numerous counts for National Register Status. The pickings for such an honor in Las Vegas are incredibly slim. Maude Frasier Hall was built by an award winning architecture firm, Zick and Sharp, who have few buildings left standing. It was dedicated to a pioneering woman, Maude Frazier, the first female Lieutenant Governor of Nevada and the person responsible for bringing educational facilities to Southern Nevada.&nbs
In some strange way, it seems oddly understandable that Las Vegas reinvents the Strip with demolitions. But for a city with no overwhelming evidence of its past, to tamper with its educational heritage is plain perverted. It certainly sets UNLV apart from almost every other respected major educational institution in the country.
The nation is full of universities proud to flaunt their first buildings, knowing it engenders a prestige that nothing new can ever bestow.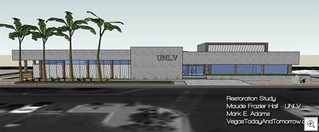 In November 2007 the Clark County Planning Commission voted unanimously to preserve Maude Frazier Hall. A majority of university regents showed support for looking at the possibility of preserving Maude Frazier Hall. The Atomic Age Alliance online petition showed overwhelming local and nationwide support for this building.
Yet before the year is over, UNLV will demolish its first building to put in grass and an arch? Something doesn't add up.
Ivy League History by Comparison

At Harvard, oldest institution of higher learning in the , the university president has his offices in Massachusetts Hall (1720). Founding fathers who walked through Massachusetts Hall include John Adams, John Hancock and Samuel Adams. One may ask, what notable Las Vegas citizens walked through the halls of Maude Frazier over the past fifty years?
Posted by Jack LeVine | Currently 11 Comments »