Welcome To Uncle Jack's Very Vintage Vegas!
Vintage Las Vegas Homes,
Historic Las Vegas Neighborhoods,
Las Vegas History,
Urban Living In Las Vegas.
If it's great, cool, fantastic, artistic, annoying, amusing, unique, or surprising.. you'll find it at VeryVintageVegas.com.
Check out what we're doing and add your two cents! Your comments & ideas are welcome. We update daily, so come back tomorrow!
Blogroll
Farmer's Insurance
Paul Hesselgesser
702-434-1230
The Hesselgesser Insurance Agency Website
Classic Las Vegas - Lynn Zook's Preservation of 20th Century Las Vegas
Curbed LA - WOW!
Mid-Century Modernist
RETRO RENOVATION - Pam's Excellent Effort At Re-creating A Retro Life
Carnival Of Real Estate - Minus Elephant Ears, But Still Mighty Tasty
Lotta Livin' - A Celebration Of Really Cool Things Mid Century
Bawld Guy Talking - Minus The Hair; Plenty Insightful
CoolnessIsTimeles - ALL "RAT PACK" ALL THE TIME!
SEE ALL OUR FAVORITES HERE

Archive for May, 2010
May 15th, 2010 Categories: Fun Features Found In Foreclosures, Paradise Palms
I wasn't going to do anything on Paradise Palms for a while after our big long series on the 1963 newsletters and William Krisel designs.
However, there's still a mysterious shortage of bank owned homes that are available, and a doozy of a good one popped up in Paradise Palms the other day. One of the things we learned from the 1963 newsletters as that all the homes on Mohigan, Papago, Hoopa, Omaha and Delaware were unique – one (or a few) of a kind custom homes.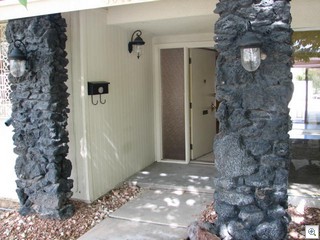 This one at 3846 Hoopa Lane, on the corner of Mohigan has always been one of my favorites in the area because of the columns of Lava Rock in the front, and the 36 inch crinkle-cut-pattern front door.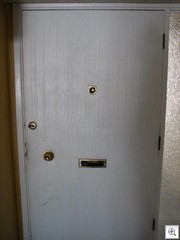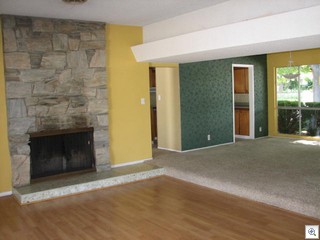 I'd never been inside until yesterday when it came to market as a bank owned foreclosure. I knew the floor plan – and loved it from a similar design on Mohigan that sold last year. Inside I found a wall of glass and extra wide sliders to the back yard, as well as the sliding glass doors from the dining room to the front of the house. The step down living room features the rock fireplace with terrazo hearth and the lighting soffit/ledge.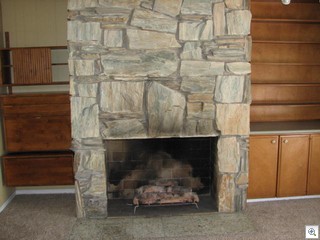 It's actually a 2 sided fireplace column, and the family room side of the fireplace is even more dramatic with it's built in book cases.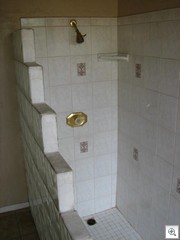 The other great original feature of the house is the step down – sunken shower in the master. Looking out from the shower you'll find a private little rock-walled patio space with sliders leading to to it.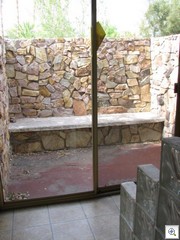 There's a few other really cool features, such as the back yard and pool. The house is in remarkably good condition for a bank owned foreclosure. Here's the MLS pictures, and the amusing comment from the listing agent: "A quaint and mature 3 bedroom". No one who reads this blog would use the word "quaint" to describe it. I'd have said: "A fabulous example of a Mid Century Modern Ranch".
Of course, the bank listed it at a ridiculously low price of $119,900. There's already multiple offers, but the window is still open this weekend. The best thing is that it's a Fannie Mae owned home, and NO INVESTOR offers will be considered unless it's been on the market for more than 30 days. If you've been sitting on the fence, there's a great opportunity here. Give me a call, or tell someone about about it and have them call me.
Posted by Jack LeVine | Currently 2 Comments »
May 13th, 2010 Categories: Mid Century Modern
Mid Century Modern Landscaping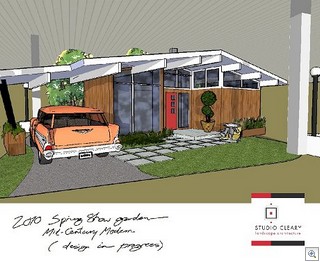 Our favorite Mid Mod Blogger — Pam at RetroRenovation.com has started a series on Mid Century Modern Landscaping. I totally pleased that she's going to do this topic. It's one I've always wanted to do, but the emphasis in Las Vegas has been on xeroscape/desert/low water landscaping. Hopefully we can learn some fundamentals of the era, and blend it with the requirements of desert landscaping.
In her interview with Ted Clearly, a Landscape Architect, she asks about those fundamentals…..
For this first story, can you tell us, in general, what are the key, foundational elements or drivers of mid-century landscape design. Like… the theory behind it… that residential homeowners should be thinking of?
Well, I think we can look at it in a couple of ways; traditional homes had one 'look', but mid-century modern ones quite another. With the latter, a seamless quality between inside and outside was an integral aspect of mid-century modern architecture, and there's a very recognizable vocabulary of rectilinear patios, clean lines, and bold curving shapes with no focal point or symmetry. Influential landscape architects such as Garrett Eckbo were strongly influenced by the abstract painters of the mid-century.

But as Pam has pointed out, most of these modest post-war homes instead reflected a traditional style, whether we're talking about a Cape Cod, a neo-Colonial, or a rambler. If you carefully study garden books of the '40s and '50s, when you scrutinize the black and white or fading color photos, you'll see that the better landscaping really was not a lot different than what we garden designers today think of as basic, sound design principles: overlapping plant masses, interesting specimens, a sense of 'movement and rest', and entertaining areas using hardscaping materials and geometries in sympathy with their house's style. We could speculate that our parents and grandparents, having weathered a deep, sobering Depression and the full-on sacrifices of a second World War, were looking for the comfort of traditional styles in both their homes and the landscaping that surrounded it, but in a simpler and more affordable version geared toward the middle class. There seemed to be a bit more emphasis on bright circus-like colors with big Dahlias, Hollyhocks and high-maintenance Hybrid Tea Roses, yet designs tended to be a bit more 'tight'. Today's trend, by comparison, introduces somewhat relaxed, native perennials and shrubs, which have become more mainstream not just for the aesthetics but the environmental aspects of water conservation and so on, which of course was virtually a non-existent concern back then. One easily-overlooked aspect of mid-century garden design is what's not included: the sorts of materials like stackable concrete block walls or vinyl fencing that weren't around back then, and an absence of the over-the-top luxury added to so many expensive backyards in recent pre-Recession times. It's interesting to me how the influences of Modern design crept into the look of many otherwise-traditional gardens, no doubt because of popular magazines like Sunset, in a similar way to the merchant builders who cobbled together different features they admired into their hybrid home styles.
As Pam is famous for saying….."Heck Yea there is more" and still more to come.
SEVEN Magazine's 50 Beautiful Things In Las Vegas
Vintage, Retro and Downtown things that get a nod include:
Luv-It Custard, The Neon Boneyard, Cleveland Clinic/Lou Ruvo/Frank Geary, The 5th Street School, The Holiday Motel Sign, The Jersey Boys, The Golden Gate Hotel, World Market Center,
Here's the whole list from SEVEN magazine
Posted by Jack LeVine | Currently 3 Comments »
May 12th, 2010 Categories: Las Vegas Real Estate News
Mary Joy handcuffed me. Then she tied me to the chair in front of the keyboard and said "TYPE!!!!"
I'm only just barely kidding, since I asked her to do that last Sunday as joke. I can't explain why I missed 3 whole weeks of blogging, and with a minor exception, it's actually more than a month. There's a ton of excuses, but no good reason for not blogging regularly except – maybe burnout. It's been over 3 years of blogging daily at VeryVintageVegas, and quite frankly, I'd become brain-dead.
During my "vacation" an important (to me) anniversary date came and went without comment or mention. April 1st was my 20th anniversary of being a Realtor, Back then, you spent a month in school, then waited a month or so for the next monthly exam date, then a couple of weeks till you found out if you passed or not. Then you'd apply for the real estate license and wait till it came in the mail. It arrived on April Fools Day, which probably set the tone for the next 20 years.
It's been a VERY interesting 20 years! But I'm still here, and still helping people buy or sell real estate. If you or someone you know needs to talk real estate, don't hesitate to call or email me. Referrals are STILL always welcome.
There's plenty of stuff I should have reported or told you about, but here's 3 that deserve mentioning:
Helldorado Parade!
This year, I'll be with the Flamingo Club on it's first ever Heldorado Float. It's going to be way at the end of the line, so stick around till the end to wave at us. The Parade is Saturday, May 15 at 7pm. The parade route is 4th Street between Charleston and Fremont Street. Fireworks at Fremont Street Experience start at 9 pm, and the 3rd night of the rodeo also starts at 9pm.
Helldorado is a 4 day event in Downtown Las Vegas. It's been a Las Vegas tradition since 1935. The complete schedule and all the details are on the Elks Club's Website
Helldorado Days this May 13-16, is an outdoor community event celebrating Las Vegas's tribute to the wild west and produced by the Benevolent and Protective Order of the Elks Lodge No.1468. Helldorado Days which began in 1935, is the longest running civic event in the history of Las Vegas, originally created as a means to encourage tourism to the city upon completion of the Boulder Dam. With over 40,000 people in attendance, Helldorado Days offers a 4 day pro rodeo, a parade, carnival, treasure hunt for gold, whiskerino contest, golf tournament, poker tournament, art show and auction, trail ride, exhibits and food. For 4 days Downtown Las Vegas is transformed into Helldorado Days as the event takes over several vacant downtown blocks and builds a rodeo arena and carnival from the ground up. Helldorado Days is a non-profit community event. The members of Elks Lodge No. 1468 are committed to assisting children and veterans in need and have given back over $75,000 in 2009 and over $4 million to the community since 1935. Las Vegas Helldorado Days, May 13-16, 2010. Downtown Las Vegas 2 blocks from the Fremont Street Experience. For tickets and information visit www.ElksHelldorado.com or call 702-870-1221
First Year-To-Year Increase In Home Prices Since 2007
Is it significant that prices rose .2 percent over April of 2009? Time will tell. Can it be explained by the Tax Credit, which expired at the end of April? By the shortage of Inventory? All good questions that Hubble Smith reports on in Monday's Review Journal.
105 Years Old And Still Going…..
I'd like to recommend an excellent essay by my dear friend Brian Paco Alvarez. It celebrates the 105th Anniversary of Las Vegas, but more importantly – it discusses the opportunities that lie ahead for Las Vegas, and how we can learn from our past.
Whether our staying in Las Vegas was a choice or not, this is a perfect time to see where Las Vegas came from and where we can take it. Las Vegas is a city that developed out of necessity whether it was to supply the trains with water or to create a place that people can visit. Now that we are well aware of our communities vulnerabilities we must look to our past and reflect at how our community reset itself during challenging times. The time is now to use our ingenuity and reshape our community for its future and this can only happen if you are willing to embrace it.
You can read the entire essay at EnculturateLasVegas – The daily blog of all things cultural in Las Vegas.
Posted by Jack LeVine | Currently Comments Off on It's Hard To Type When You Are Handcuffed