Downtown Las Vegas Topics
Welcome To Uncle Jack's Very Vintage Vegas!
Vintage Las Vegas Homes,
Historic Las Vegas Neighborhoods,
Las Vegas History,
Urban Living In Las Vegas.
If it's great, cool, fantastic, artistic, annoying, amusing, unique, or surprising.. you'll find it at VeryVintageVegas.com.
Check out what we're doing and add your two cents! Your comments & ideas are welcome. We update daily, so come back tomorrow!
Blogroll
Farmer's Insurance
Paul Hesselgesser
702-434-1230
The Hesselgesser Insurance Agency Website
Classic Las Vegas - Lynn Zook's Preservation of 20th Century Las Vegas
Curbed LA - WOW!
Mid-Century Modernist
RETRO RENOVATION - Pam's Excellent Effort At Re-creating A Retro Life
Carnival Of Real Estate - Minus Elephant Ears, But Still Mighty Tasty
Lotta Livin' - A Celebration Of Really Cool Things Mid Century
Bawld Guy Talking - Minus The Hair; Plenty Insightful
CoolnessIsTimeles - ALL "RAT PACK" ALL THE TIME!
SEE ALL OUR FAVORITES HERE

Arts District
Downtown Las Vegas
May 29th, 2009 Categories: Arts District, Downtown Las Vegas
Organizers of Las Vegas' only ongoing monthly arts festival takes
necessary steps to preserve its future during tough economic times
(May 29, 2009) Whirlygig Inc., the nonprofit group that organizes the monthly arts festival now in its seventh year in the Las Vegas Arts District in Downtown Las Vegas, announced today that it will scale back First Friday's offerings during the summer months in order to ensure the art festival's future.
While neighborhood art galleries and artist studios, antique and clothing stores, and restaurants and bars will remain open from 6 to 10 p.m. on June 5, July 3 and August 7, welcoming the thousands of locals whose patronage of Downtown businesses is perhaps more important now than ever before, the outdoor portion of the event on Casino Center and Colorado Street with its artists booths, live music and street performances will be placed on a temporary hiatus due to lack of funding for the event. There will be visual and performing aritsts on the sidewalks and at surrounding venues.
Whirlygig Inc. relies heavily on generosity of sponsors and its annual fundraiser to provide the funding necessary to put on the event each month, especially the outdoor portion which costs upwards of $10,000 per month for such necessities as fencing, barricading and the presence of Metro officers to secure the safety of First Friday's patrons. In recent months, sponsorship of the arts festival has gone down 40 percent, and the annual fundraiser (held in October 2008) raised 20 percent less than previous years' events.
"It has always been the board's goal to host First Friday every month, whether it's an art walk and street festival or only an art walk," says Whirlygig President Cindy Funkhouser. "It's a challenging time for non-profits everywhere and we have chosen to be creative, to make a change that allows us to keep First Friday alive and to keep the Arts District the place to be on the First Friday of each month."
Festival-goers will still find parking at the Clark County Government Center, where they can hop aboard a First Friday trolley and tour the Arts District or hop aboard the El Cortez trolley and visit the Farmer's Market and neighborhood watering holes in the nearby Fremont East District.
For more information, please call 384-0092 or visit First Friday online at www.firstfriday-lasvegas.org, where you'll find a complete listing of exhibition openings and special events.
ABOUT FIRST FRIDAY:
Since it began in October of 2002, FIRST FRIDAY has only continued to grow. It is now considered the premier arts event in Las Vegas. From the shops and galleries on Charleston (the Arts Factory, S2 and more) to the new galleries on Main Street (Atomic Todd and others) to the spaces on Commerce Street (Commerce Street Studios), down to the whimsical offerings of The Funk House antique store, and the art galleries and vintage shops in the cottages on Colorado Street. While many people love to walk the neighborhood particularly now with our new beautiful streetscape on Casino Center, we provide arts tour trolleys that make rounds throughout the area and make pick ups every 15 to 20 minutes throughout the evening. And no matter how you decide to get around, you can always expect a diverse crowd, cool local art and plenty of surprises.
Here's a good idea! Become a "Friend of First Friday" or make a donation so that this scaling back DOESN'T BECOME PERMANENT!
Posted by Jack LeVine | Currently 1 Comment »
May 4th, 2009 Categories: Arts District, Downtown Las Vegas, Mid Century Modern
Atomic Passage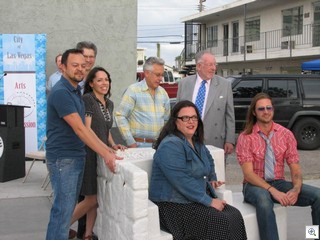 I attended the unveiling of some some of the street art that's been incorporated into the design elements of the new Casino Center Streetscape in the Downtown Las Vegas Arts District.
The 4 artists, Aaron Sheppard, Erin Stellmon, Danielle Kelly, Adam Morey all mentioned in their comments the timeless Mid Century Modern Heritage of Las Vegas, and it's influence on their designs for the Streetscape.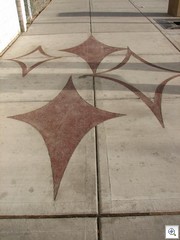 Atomic Passage is the first public art project in the history of the city of Las Vegas where artists' concepts have been integrated into the engineering infrastructure of a Public Works Streetscape enhancement. Please join us for the dedication of this unique and original work of art that embraces and references the city of Las Vegas signage and nuclear history.
ACE Transit Shelters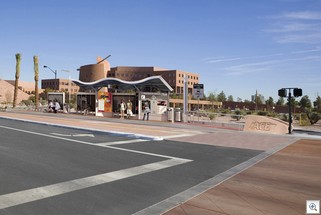 Another major improvement to the downtown will be the ACE Transit System. Maps and details are here, but this month you can see the artists concepts in the Stop and Glo exhibit at the Contemporary Arts Center which is located in the Arts Factory at Main and Charleston. All the shelters and the wind screens will me Mid Century Modern in their basic design.
The Regional Transportation Commission of Southern Nevada, in conjunction with the City of Las Vegas and Clark County, worked with local artists to add artistic enhancements to the new ACE transit shelters at seven locations in the City of Las Vegas, and one in Clark County (a total of eight locations) for the Las Vegas Resort Corridor Downtown Connector project.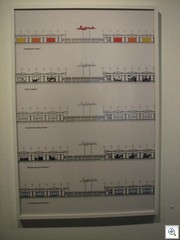 Each stop consists of two shelters, one on each side of the street, so that together they serve buses traveling in both directions. Eight artists created work: Catherine Borg, Evan Dent, Stephen Hendee, Danielle Kelly, Sean Russell, Eric Pawloski, Brian Porray, and Todd Von Bastiaans. Their imagery evokes ideas about Las Vegas history and iconography and is being implemented into the wind screens of each transit shelter and will be lit.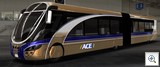 Posted by Jack LeVine | Currently 1 Comment »
December 11th, 2008 Categories: ART, Arts District, Downtown Las Vegas
The 2nd Annual Downtown Las Vegas Neighborhoods get-together is from 6–8 (no host) at PT's Pub on Sahara at 6th Street. Everyone's invited, whether you live downtown or merely want to. We'd love to see you. It's a great opportunity to meet a lot of really interesting people.
Brett Wesley Gallery in the Newport Lofts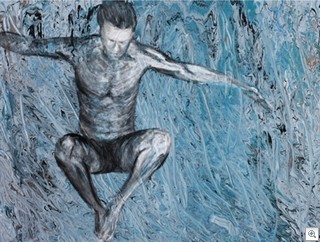 Thursday evening there will be an artist opening reception at the new Brett Wesley Gallery. It's located in a penthouse suite at Newport Lofts. 200 E. Hoover Ave. 6:30 to 9 pm.
I haven't been there yet, so…..
I'll probably try to get everyone to go over there after the Downtown Neighbors get-together. at PT's Pub on Sahara at 6th.
There's four artists showing there, including Andrew Douglas, Nathan Fischer, Matthew Hansel, and Heather Protz. Some of the Artists will be in attendance to discuss their work. Based on the photos from the website, it looks like a great exhibit, and I'm anxious to see it.
Santos Shelton – "Behind the Curtain" Opens Friday at Henri and Odette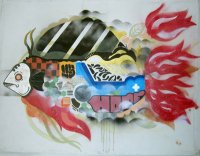 In this exhibition, California native Santos Shelton takes the world behind the curtain of society's "puppet show" to display the inner workings of government and explore human nature. With graffiti and comic book influences, Shelton brilliantly and colorfully mixes media to break the façade shielding society from reality, exposing the raw social issues that plague our government, world, and selves. His work offers a cultural and worldly perspective with symbols from his mixed Mexican and African American background, while still maintaining a Lowbrow aesthetic. His work reminds the viewer that what is out of sight should not be out of mind.
Henri & Odette
Friday December 12, 2008 6–9 PM 124 S. 6
th
Street at Carson. Suite 130.
Posted by Jack LeVine | Currently Comments Off on Downtown Las Vegas Art And Networking Events
June 30th, 2008 Categories: ART, Arts District, Downtown Las Vegas, First Friday
THE BEST LOCATION IN LAS VEGAS TO CATCH ALL THE FIREWORKS DISPLAYS
First, YOU'RE INVITED to a very special and very unique cocktail party at the top of the WORLD MARKET CENTER. Very Vintage Vegas is one of the many sponsors of this fundraiser for Nevada Aids Project.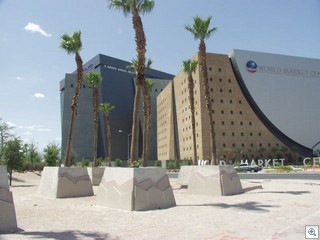 It's being held in the Penthouse from 8 to 11 pm. Admission is free. The proceeds from the no host bar are all being donated to NAP. Complimentary hors d'oeuvres are being donated by Trader Joe's and Renaissance Catering .
Short of going to the strip to watch the tourists, this may well be the best opportunity ever to mix it up with an amazingly diverse group of people. Las Vegas Home and Design Magazine has invited their list. The Sin City Q Social Network will have a couple of hundred gay guys attending. Employees, customers and staff of the WMC are all invited, and SO ARE YOU!
Since I'm a minor sponsor, my Very Vintage Vegas Readers as well as all residents of the historic neighborhoods of Las Vegas are also invited.
(UPDATE – ADULTS ONLY– Reservations ARE NOT REQUIRED, But You will need ID at the door. )
Views of all the 9pm and 9:30 pm fireworks displays should be spectacular from the 16th floor patios.
The new parking garage is open, but you can park in the First Friday lot in the Clark County Government Center, take the shuttle bus to First Friday for an hour or 2 and come back to the cocktail party.
FIREWORKS DISPLAYS WILL BE ALL AROUND LAS VEGAS
Classic Las Vegas has been compiling a list of the various fireworks displays. Many of them will be best viewed from the cocktail party. Many of them will be visible from your front or back yard if you live in Vintage Vegas.
The list has been updated to include The Las Vegas Hilton and Caesar's Palace as well as six of the Station Casino locations.

I'll be at the top of the WMC with the whole VVV gang. MaryJoy, Pam, Steve, Susan and I will all be there. Come out and meet us. It'll be a blast.
However, Maggie, Shadow and Bayley, will be at home having their annual nervous breakdown,
First Friday In The Downtown Las Vegas Arts District Will Be A Spectacular Event This Month
There's always something special at First Friday. Click the link to get the whole run down. This month the new Casino Center Street Scape is finished and there's 10 new galleries, bars and venues that have opened in the last month.
Live entertainment this month includes:
The LAND ROVER STAGE features
6-6:30pm Mike Graves Trio (Vintage Rock)
6:30-8pm – Dr Popsicle and the hair painted opera (Solo Acoustic) Matthew Winters (Solo Acoustic) Brandon Rojas (Solo Acoustic)
8-9pm The Let Up (Indy Rock)
9-10pm Inhale (Reggae, Rock, Ska)
Vista IV performing at Casino Center and California next to the Box Office; Break dancers provide more entertainment on Colorado near Main St. and the Tango Dancers on Casino Center near California.
3 things that we've been promoting should not be missed. Beneath The Neon, the Exhibit is at the Contemporary Arts Collective in the Arts Factory. Next Door in the AF is Lost Vegas with it's vintage clothing, and Retro Vegas on Main Street has an amazing collection of Vintage home furnishings.
WHETHER YOU'RE A REGULAR, OR YOU'VE NEVER BEEN TO FIRST FRIDAY, MAKE IT A POINT TO GO THIS MONTH
Posted by Jack LeVine | Currently 3 Comments »
June 6th, 2008 Categories: ART, Arts District, Downtown Businesses, Downtown Las Vegas, First Friday
The first public airing of the new Documentary about the creation and development of the First Friday Art Event in Downtown Las Vegas will be this Sunday on Channel 1 and Cox Channel 19.
I saw the first cut, and am hoping that the segment with me still made the final cut.
On Sunday 6/15 @ 4:00 PM Channel One and Cox Cable Channel 19
The First 4 Years of First Friday: A Documentary examining the
people and economic forces that created this monthly
phenomenon.
First Friday has revitalized one urban neighborhood and has
provided a cultural and artistic heart to the Entertainment
Capitol of the World. The documentary, directed by Marlene J.
Adrian and produced by Women of Diversity Productions, Inc.,
includes interviews of local artists, gallery and restaurant
owners, retailers, civic leaders, performers, vendors, sponsors,
founders and others involved with First Friday.
It explores the evolution of this event and the people and forces that prepared
the way and peers into the possibilities for surrounding area.
Marlene J. Adrian states that this "art festival began with only
200 attendees and now exceeds 10,000. This event has
impacted not only the businesses and people residing in that
neighborhood, but the city of Las Vegas itself. This organic
movement and its overflow needed to be documented for the
benefit of all Las Vegans."

.
Posted by Jack LeVine | Currently Comments Off on Documentary Film: The First 4 Years Of First Friday
April 21st, 2008 Categories: ART, Arts District, Downtown Businesses, Downtown Las Vegas, Lawyer's Row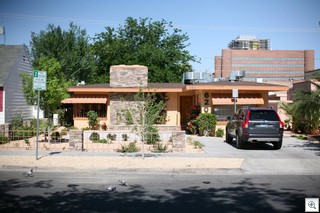 Michelle Quinn, The forrmer director of the Godt-Cleary Gallery has opened shop in "lawyer's row". Once again, Kristen Peterson of The Las Vegas Sun tells the story.
More good press for the new downtown that we love so much.
If you've never driven thru "lawyer's row" you're in for a pleasant surprise.
You'll find it on the north side of Charleston East of Las Vegas Blvd. Technically, its part of the "Las Vegas High School Historic Neighborhood". Most of the homes on 6th, 7th and 8th streets are now commercial. From 9th to 11th, the neighborhood is still transistioning to Commercial.
We mentioned the area a few weeks ago when we showed one of my favorite little apartment buildings on 11th Street.
Posted by Jack LeVine | Currently Comments Off on "Lawyer's Row" In Downtown Las Vegas Is Now Part Of The Arts Scene As Well
April 8th, 2008 Categories: ART, Arts District, Decorative Concrete Block Designs, Downtown Las Vegas, Mid Century Modern
UPDATE: Dedication is 5:30 pm to 7:00 pm (sorry for the typo)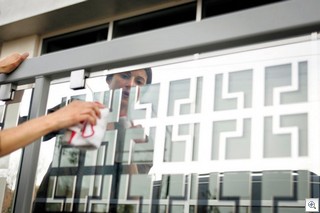 Kristen Peterson tells the story in this mornings Las Vegas Sun:
Photo by Leila Navidi for the Sun
The ornamental concrete walls that accent midcentury modern architecture in old Las Vegas neighborhoods was a stylish option for shading and security during the 1950s and '60s.

Today the decorative walls, conjuring up visions of martini evenings and jet-age architecture, are revered by fans of old-school Vegas.

So when designing a public art project on Hoover Street at Las Vegas Boulevard, downtown resident and artist Catherine Borg tapped into the patterns as a way to integrate old and new Las Vegas.
THE DEDICATION CEREMONY is open to the public on Wednesday at 5:30pm at the corner of Las Vegas Blvd. and Hoover, on the north side of the Soho Lofts Tower.
As most of my long time readers know, I've been collecting photographs of these patterns for several years. I've found 57 different ones, and am still trying to get around to publishing them all. Some day soon, since I now have a new inspiration to get it done.
Here's links to several posts I've done on the subject
Posted by Jack LeVine | Currently 2 Comments »
February 28th, 2008 Categories: ART, Arts District, Downtown Las Vegas, Enchanted Village

The dedication ceremony is 4pm, at the corner of Fremont and Las Vegas Blvd. The artist reception starts at 4:30 at the Downtown Cocktail Room.
We hang out there most every Thursday anyway, so if you'd like to meet Jack, and some of the gang that keeps me from going crazy, it's a great time to meet Mary and Steve, and Paco, and Pam and Susan.
We found this preview of the 50 Serialized Banners called "THIRST" atBlog Flume, a blog about Comics and cartoons and culture.
A picture can't do them justice. We drove Las Vegas Blvd from Charleston to city hall yesterday.
If you can't make the dedication, take the drive, have some lunch or dinner at any of the many ethnic restaurants, stop at the downtown cocktail lounge for a drink, or see the light show at Fremont Street Experience, or listen to some music at Beauty Bar, or Griffin, etc etc etc. There's a whole new experience for you in Downtown Las Vegas.
You don't have to wait for First Friday. Downtowns open all day and night every day of the week.
Posted by Jack LeVine | Currently Comments Off on Aerial Gallery Dedication In Downtown Las Vegas – Today.
February 22nd, 2008 Categories: ART, Arts District, Downtown Las Vegas
"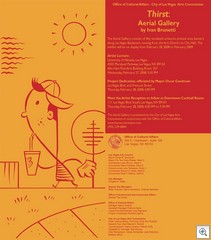 Another important "save the date" post, and an invitation to attend the dedication ceremony of the new installation of the:
Downtown Las Vegas Aerial Gallery
"The Aerial Gallery consists of fifty serialized artworks printed onto banners along Las Vegas Boulevard, running from the Arts District to City Hall. The exhibit will be on display from February 28, 2008 to February 2009."
Artist Lecture: Wednesday 2/27/08 5:30 pm at UNLV
Project Dedication: Thursday 2/28/08 4pm at Las Vegas Boulevard and Fremont
Meet The Artist Reception: Immediately following the dedication until 7:30pm at the Downtown Cocktail Room.
The whole VVV gang will be there, and we invite you to join us. Brian Paco Alvarez, the VVV cultural historian, and art editor was on the selection committee.
Posted by Jack LeVine | Currently 1 Comment »
January 10th, 2008 Categories: Arts District, Downtown Las Vegas
Hot off the presses, thanks to Brian Paco Alvarez for forwarding it to us.

The Solterra Group of Companies Receives Approval from the Las Vegas City Council to Build Residences in Downtown Las Vegas
LAS VEGAS, Nev. – January 9, 2008 – The Solterra Group of Companies has been approved by the Las Vegas City Council to build two residential projects in downtown Las Vegas. The loft residence is slated to be a 14-story, mixed-use development with 130 condominium units and commercial space, at the northeast corner of 1st Street and Hoover Avenue. The second project, the tower residence, is planned to be a twin 50-story, mixed-use development with 350 condominium units per tower including commercial space, at the southeast corner of 1st Street and Gass Avenue. The City of Las Vegas Planning Commission approved these projects during two separate meetings. The Las Vegas City Council approved entitlements for building today.

The Solterra Group of Companies, a Vancouver, British Columbia-based developer, specializes in building top-quality townhomes and highrise residences across North America. With over 15 years of experience and numerous award-winning multi-residential communities to their credit, Solterra plans to bring a distinct level of quality to the Las Vegas residential market. From design to construction, the Solterra team is recognized for creating world-class architectural landmarks that stand out among thriving urban communities and suburban neighborhoods.

"We've been working on the plans for these Las Vegas projects for a while now and receiving these approvals was an important step in moving forward," said Michael Bosa, Vice President of Acquisitions and Development for the Solterra Group of Companies. "We're pleased that this stage has been completed and we will now focus on finalizing architectural plans for the projects."

The Solterra Group of Companies prides itself on creating residences that feature exceptional design, solid construction and quality finishes. The Solterra Group of Companies can be found online at www.solterradev.com.
Posted by Jack LeVine | Currently Comments Off on City Council Approves Two New HiRise Projects In The Arts District
December 24th, 2007 Categories: ART, Arts District, Downtown Businesses, Downtown Las Vegas
Our Downtown neighbor, past client, and favorite reporter Joe Schoenmann published two articles this week in the Las Vegas Sun that are worth mentioning.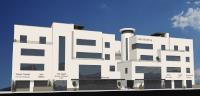 First, he tells us of a new development in the arts district that matches our wish list of what we'd like to see a lot more of. Work Space lofts in an real and viable art community.
Quoting from the article: "Now the owner of S2 and Jack Gallery is about to do something he says will help the downtown Arts District turn the corner. With investors, he's planning to pour $27.1 million into Vegas Moderne, which will include museum, gallery and live-work-sell space for artists. He expects to take renderings to the city Planning Commission and City Council in February."
Todays Sun has a report by Joe on some new additions to the neon museum among other projects.
More art is on the way, outdoors. The City Council on Wednesday approved plans to refurbish two vintage neon signs, the Binion's Horseshoe rotating sign and the Silver Slipper shoe sign, both of which will be erected on Las Vegas Boulevard next year.
Also, in the Sun this week, Kristen Peterson tells us that Dust Gallery is moving north of Charleston, and will be on the ground floor of the Soho Loft tower. We love the subtle crack she makes on the REI neon fiasco, "As REI Neon/Warburg Pincus continues to toy with downtown tenants and property owners, some businesses are packing up and leaving."
Posted by Jack LeVine | Currently 1 Comment »
December 14th, 2007 Categories: ART, Arts District, Downtown Las Vegas
-Submitted by Brian Paco Alvarez
Last night the Las Vegas Arts Commission approved the final gateway for the Las Vegas Arts District. The sculpture, designed by World Famous Uber Artist Dennis Oppenheim, will be two large 50ft paintbrushes reaching into the sky at varying angles over the street. One of the sculptures will be placed at Charleston and Las Vegas Boulevard and the other at Commerce Street and Charleston. Each sculpture will be placed on opposite sides of the street.
The giant paintbrushes will be made of galvanized steel and covered with LED lights that will be sequenced at varying speeds of motion. The top of each paint brush will have multiple beams of light protruding from the brush at an angle equal to the angle of the sculpture on the street. Eventually each beam of light will cross at a point several hundred feet above Charleston Boulevard.
The Arts Commission also approved the new Aerial Gallery for Las Vegas Boulevard. The Aerial Gallery consists of 50 Banners placed on polls high above Las Vegas Boulevard from Charleston to Fremont Street. Each banner will be 8ft by 3ft and will feature special inks that will glow in the dark for several hours at night. The well known artist that was chosen to design the banners is Ivan Brunetti whose work has been featured on the cover of the New Yorker Magazine.
The theme of the 2008 Aerial Gallery is "Thirst." Brunetti captured the essence of the word by creating a collection of images that feature the life of water and how it travels from the clouds and through our urban environment. The collection is whimsical and satirical which are common themes of Brunetti's work. I was proud to have been chosen to sit on the Arts Commission sub-committee that chose the work for next years Aerial Gallery.
With these two new and exciting projects by important internationally recognized artists Las Vegas is well on its way of becoming a Mecca for Culture and the Arts in the region and beyond.
Posted by Stephen P Christmas | Currently 3 Comments »
December 14th, 2007 Categories: Arts District, Culture, Downtown Las Vegas
Letter: Downtown arena project is doomed
As a downtown resident and a native of Las Vegas, I have seen many developers like REI Neon plan big projects and not follow through. Remember the Minami Tower?
Though I have always been opposed to the arena project because it is not in character with the surrounding area or the fledgling arts district, which I have supported, it does not surprise me that REI Neon is asking Las Vegas for yet another extension. I think it would be best to say the project is dead and will never be built.
It frustrates me to no end that REI continues to waste the invaluable time of Mayor Oscar Goodman, members of the City Council and the Planning Commission, city staff and, most important, taxpayers. I have always said that just because you can run a gambling barge on the Mississippi does not mean you can run a casino on the Strip.
Besides, no bank or financial institution would dare lend more than $10 billion to a company that has never built such a project, especially in this current credit crisis.
My recommendation is for REI to step aside and let experienced Las Vegas gamers, such as Harrah's and MGM Mirage, do what they do best.
Brian Paco Alvarez, Las Vegas
Posted by Stephen P Christmas | Currently 1 Comment »
October 26th, 2007 Categories: Arts District, Downtown Las Vegas, Everywhere We Look, Las Vegas Real Estate News, Soho Lofts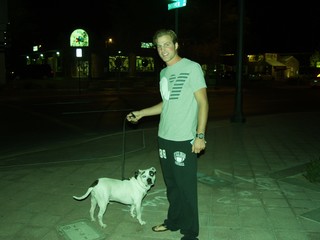 I ran back to the car in the middle of last night's First Friday Fundraiser at Soho Lofts. That's when I met Kevin and Bebe(sp?). We chatted briefly about living in Soho, and without any prompting, he blurted out "It would be better if we had a grocery store!".
Another couple of hundred Kevins would truly help downtown be everything we pretend we want it to be.
Posted by Jack LeVine | Currently 1 Comment »
October 23rd, 2007 Categories: Arts District, Downtown Las Vegas, Events, The Las Vegas Strip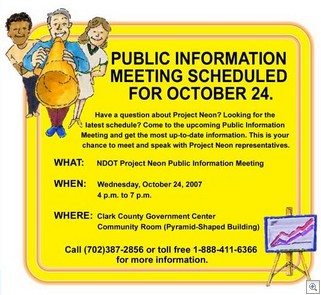 There's a public information meeting tomorrow, 10/24 from 4 to 7 pm. If you want to find out more or give them your 2 cents, the public is invited
I've been told that a total rebuild of the Charleston Ave. and I-15 Interchange would be first on the list.
Posted by Jack LeVine | Currently Comments Off on Project Neon Is About Redesigning The Spaghetti Bowl In Downtown Las Vegas