Soho Lofts Topics
Welcome To Uncle Jack's Very Vintage Vegas!
Vintage Las Vegas Homes,
Historic Las Vegas Neighborhoods,
Las Vegas History,
Urban Living In Las Vegas.
If it's great, cool, fantastic, artistic, annoying, amusing, unique, or surprising.. you'll find it at VeryVintageVegas.com.
Check out what we're doing and add your two cents! Your comments & ideas are welcome. We update daily, so come back tomorrow!
Blogroll
Farmer's Insurance
Paul Hesselgesser
702-434-1230
The Hesselgesser Insurance Agency Website
Classic Las Vegas - Lynn Zook's Preservation of 20th Century Las Vegas
Curbed LA - WOW!
Mid-Century Modernist
RETRO RENOVATION - Pam's Excellent Effort At Re-creating A Retro Life
Carnival Of Real Estate - Minus Elephant Ears, But Still Mighty Tasty
Lotta Livin' - A Celebration Of Really Cool Things Mid Century
Bawld Guy Talking - Minus The Hair; Plenty Insightful
CoolnessIsTimeles - ALL "RAT PACK" ALL THE TIME!
SEE ALL OUR FAVORITES HERE

Soho Lofts
June 25th, 2008 Categories: ART, Arts District, Soho Lofts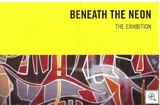 Thursday night June 26, from 6–9 pm is a special night of gallery openings. If you'd like to avoid the crowds of First Friday, then come downtown Thursday Night for 4 receptions and grand openings.
BENEATH THE NEON: The exhibition
Grand opening reception and meet and greet with Matt O'Brien, the author of the BENEATH THE NEON book which inspired the exhibition by Brian Paco Alvarez. Some of the teenage artists who provided the art will be on hand.
I had a sneak peek of the exhibition yesterday. I was overwhelmed with the authenticity and the talent of the artists. Brian Paco Alvarez has re-created a segment of the "underground gallery" that exists in the storm drains beneath the strip. The book itself got lots of press coverage last year, and the Exhibition got promoted last night and this morning on Channel 1.
The artists and author and the CAC hopes that the exhibit will spark a new dialogue among the politicians and public about the grafitti problem. There's a huge difference between Grafitti Art and gang tagging to mark territories. Grafitti Art could and should be encouraged and supported in designated places. The storm tunnels have provided one outlet for the artists, but it's not safe, and it doesn't get seen by the public. Grafitti Art needs to be recognized at ART. Gang bangers who tag our neighborhoods to mark their territory should be arrested. Maybe some of the taggers would find a better way to spend their time if there were safe, legal places for them to create their art.
The new WEST WING of The Arts Factory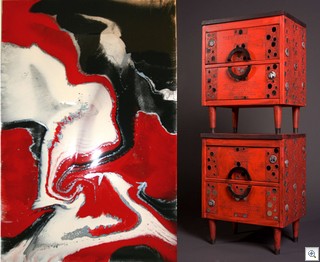 Leslie Rowland has named her new gallery L. ROWLAND ART. Leslie, Mark Diederichsen, and Steven Spann now have their own gallery spaces in the new west wing of the Arts Factory.
Their opening reception coincides with the CAC reception, and is just down the hall and around the corner from the CAC space. Make sure to drop by and congratulate them as well.
Dust Galley
Dust is holding a NEIGHBORHOOD RECEPTION at the same time on Thursday. My definition of neighborhood, of course includes all of my readers, so you're invited as well. Dust is the ground floor of the SOHO LOFTS tower at 900 S. Las Vegas Blvd.
"Make It Rain" is the current exhibit by Curtis Fairman and Jeffrey Gibson.
Posted by Jack LeVine | Currently Comments Off on You're Invited ! Spend An Evening In The Arts District Of Downtown Las Vegas
October 26th, 2007 Categories: ART, Downtown Businesses, Downtown Las Vegas, Events, First Friday, Las Vegas Real Estate News, Soho Lofts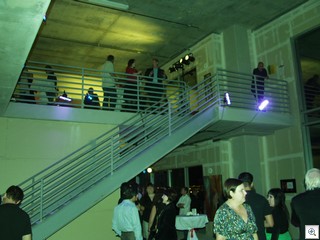 About 200 ardent supporters of First Friday came out to socialize. Most of the best known artist, gallery and shop owners were there. David Figler, a downtown resident and KNPR commentator MC'd the event.
The 2 story penthouse loft of Soho Lofts was a great venue for a party. You'll see from the pictures it's in what we call "gray shell" condition, ready for the finishing decor.
Grocery Stores, and REI and the fate of the Arts District, and of course First Friday were the hot topics of the conversations I had with Tony Bondi, my best friend and travel agent Terry Wilsey, Denise Duarte and Marlene Adrian. We ran into Steve Ligouri, Marty Walsh, Phil Hagen, Amy Schmidt and Kristin from Vurb Magazine, Cindy Funkhouser, Naomi Arin, Stephen Jackson the architect, and many others.
Posted by Jack LeVine | Currently Comments Off on First Friday Fundraiser Is Huge Success
October 26th, 2007 Categories: Arts District, Downtown Las Vegas, Everywhere We Look, Las Vegas Real Estate News, Soho Lofts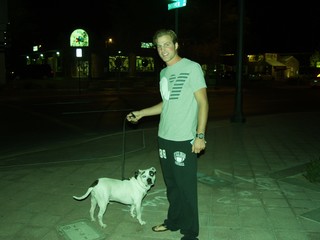 I ran back to the car in the middle of last night's First Friday Fundraiser at Soho Lofts. That's when I met Kevin and Bebe(sp?). We chatted briefly about living in Soho, and without any prompting, he blurted out "It would be better if we had a grocery store!".
Another couple of hundred Kevins would truly help downtown be everything we pretend we want it to be.
Posted by Jack LeVine | Currently 1 Comment »
October 15th, 2007 Categories: Downtown Las Vegas, Events, First Friday, Soho Lofts
You're invited to this this great fundraiser event. Tickets are $50. if purchased on line at the first friday website, or $75. at the door.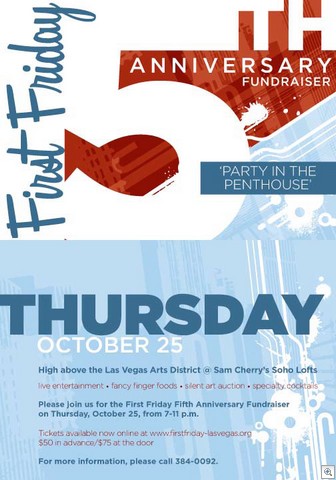 I'll be there, of course. Make sure to say hello.
Posted by Jack LeVine | Currently Comments Off on Fundraiser For First Friday – Rooftop At The Soho Lofts