Architecture Topics
Welcome To Uncle Jack's Very Vintage Vegas!
Vintage Las Vegas Homes,
Historic Las Vegas Neighborhoods,
Las Vegas History,
Urban Living In Las Vegas.
If it's great, cool, fantastic, artistic, annoying, amusing, unique, or surprising.. you'll find it at VeryVintageVegas.com.
Check out what we're doing and add your two cents! Your comments & ideas are welcome. We update daily, so come back tomorrow!
Blogroll
Farmer's Insurance
Paul Hesselgesser
702-434-1230
The Hesselgesser Insurance Agency Website
Classic Las Vegas - Lynn Zook's Preservation of 20th Century Las Vegas
Curbed LA - WOW!
Mid-Century Modernist
RETRO RENOVATION - Pam's Excellent Effort At Re-creating A Retro Life
Carnival Of Real Estate - Minus Elephant Ears, But Still Mighty Tasty
Lotta Livin' - A Celebration Of Really Cool Things Mid Century
Bawld Guy Talking - Minus The Hair; Plenty Insightful
CoolnessIsTimeles - ALL "RAT PACK" ALL THE TIME!
SEE ALL OUR FAVORITES HERE

Architecture
October 6th, 2010 Categories: Architecture, Events, Mid Century Modern

I'm very proud to be one of the corporate sponsors – as well as having been on the planning committee with the fabulous folks at Classic Las Vegas and the Architecural and Decorative Arts Society of Las Vegas
William Krisel AIA is the guest of honor for the Mid Mod Madness Weekend
SPECIAL guest of honor is Mr. William Krisel – noted architect of more than 40,000 mid century modern homes and commercial buildings in California. Approximately 300 of his designs are in the Paradise Palms Neighborhood of Las Vegas. We've posted the movie trailer before, but here it is again.
Design On Screen is responsible for this and other documentaries about noted regional architects of the modernist movement. I'm featured in the film from when I organized the Las Vegas segment.
The Las Vegas Premier of this documentary is Saturday Night October 23 as part of the Mid Mod Madness weekend. Mr. Krisel will also be on the 1pm Saturday afternoon panel; will attend the Friday evening cocktail party at the Morelli house; and will do a private Q and A following the movie. The complete schedule of events and links to buy tickets are in this post, or scroll down several posts.
William Krisel, Architect from Design Onscreen on Vimeo.
Fall Open House of the Morelli House.
There's something for everyone this weekend. The Morelli house will be open to the public for a free tour on SUNDAY, OCTOBER 24 from 1pm to 4pm. Phone or email reservations are suggested at 822–6536 or [email protected] .
A special show "Remains of the Day" is on exhibit at the Morelli House
"Remains of the Day" is an exhibit featuring photographs of mid-century modern buildings in Las Vegas that have escaped the wrecking ball and still exist as a reminder of our city's rich mid-century architectural heritage. The Nevada State Museum Las Vegas has loaned Junior League selected images from its archives, most of which come from the collection of renowned photographer Jay Florian Mitchell. Mitchell moved to Las Vegas from New York in the mid-1950s, and for the following 25 years carefully documented the growth and development of his adopted home. The Nevada State Museum Las Vegas, located in Lorenzi Park, is currently showcasing a special exhibit on Mid-Century Modern Las Vegas which includes several dozen of Mitchell's most distinguished images, as well as period domestic and aesthetic artifacts.
The Mid Century Modern Bus Tour Of Vintage Las Vegas Homes And Historic Neighborhoods

I've written and arranged the itinary of the bus tour. This year the primary focus will be the mid century modern homes of Vintage Las Vegas as well as the historic neighborhoods. We've arranged to tour the insides of two very special homes, and one of the finest examples of unique Mid Century Modern commercial – the club house at the Las Vegas Country Club.
3 Day Event Pass
$50.00

Friday Evening's Reception
$25.00
All Saturday's Events
$20.00
Sunday Bus Tour
$20.00
Mondo Lounge Returns To Las Vegas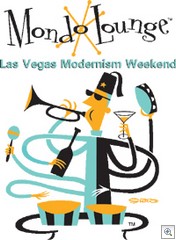 The same weekend – At The Palms Hotel – MONDO LOUNGE
There's plenty of time to bounce back and forth so you can catch all the events at both Mid Mod Madness and Mondo Lounge.
Mondo Lounge goes on into the late night for some raucous partying!
Famed Mid Mod Artist SHAG is the special guest host for the entire weekend at Mondo Lounge.
Here's the direct link to the Mondo Lounge Schedule and to Paypal to buy your ticket.
Between Mid Mod Madness and Mondo Lounge we've planned a full blown Las Vegas Modernism weekend. We hope to see you at both events.
Posted by Jack LeVine | Currently 2 Comments »
February 16th, 2010 Categories: Architecture
I did a 36 hour whirlwind trip to Palm Springs this weekend for a very small part of Palm Springs Modernism Week. My last visit was 12 years ago. I should have planned for three or four days, as there's so much to see. Next time!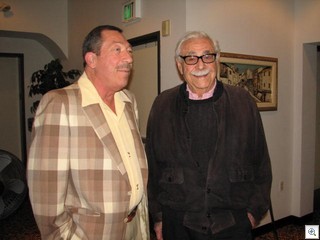 Sunday night was the world premier of the new documentary on William Krisel, Architect.
It turns out, I got to play a role in the film. The film does a great job of telling Bill Krisel's story, and telling of his philosophy of architecture, and at the end, there's segment about his Paradise Palms homes in Las Vegas, and the new wave of appreciation for them. That's where I came in. The "Alexanders" – 1000's of home in California that were designed by Bill Krisel are already hot commodities among the modernist revival movement. The better preserved, or better restored, the more valuable. Las Vegas has the only group of them that are relatively undiscovered, and that was one of the points I was able to make in the film. The other point is that the houses are desirable for both the baby boomers coming back to our childhood homes, or the kids and grandkids of the boomers who have discovered that there's something else besides Tuscan Tile Roofs and Suburban Stucco.
I had the opportunity to meet him and speak to Bill, both before after the movie. which is significant to me, because he's the architect who actually drew the floor plans and elevations that we are currently publishing in the Paradise Palms Brochure Series.
From my brief conversation, I learned that he never came to Las Vegas. Irwin Molasky, the developer of Paradise Palms was friends with Bob Alexander, who was building in Palm Springs. When Irwin saw the Krisel homes, he commissioned Bill to create a set of them for Las Vegas.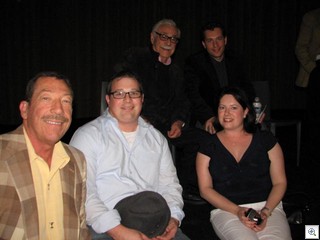 Probably the most important thing I learned from the film, and the conversation, is that the consumer public NEVER heard of the architects of tract housing. A few famous architects who did custom work had their name in the public – Lautner, Neutra, etc – but it was the builders names that were attached to the tract products. Bill Krisel was famous in California among the builders and developers, and he produced plans for more that 40,000 buildings during his career. It's only in the last 10 years that his name surfaced in the modernist revival community. That's when he acquired the cult following of affectionados of his work.
After the question and answer period, I was able to grab a picture with Paradise Palms residents Zane and Jenny Donaldson who had also driven down for the premiere. In the background next to William Krisel is Jake Gorst, the director of the film who was on the panel. I'm not sure where Alan Hess was at the moment, but he was on the panel as well.
The DVD of the documentary will be available in about a month, after the Los Angeles Premier at the Getty Museum. We have the wheels in motion for a "LAS VEGAS MODERNISM" weekend in October, which will feature a screening of the film here.
Posted by Jack LeVine | Currently 1 Comment »
March 27th, 2009 Categories: Architecture
There's few people in Las Vegas as knowledgeable and qualified to lecture about design and architecture than Libby Lumpkin. There's plenty written about her, but this week's edition of Las Vegas Weel Magazine tells her story very well.
She's lecturing Friday Night, 7pm at the Historic 5th Street School. The event is part of the bi-annual conference for the American Institute of Architecture Students (AIAS).
Any time Libby Lumpkin is teaching, or lecturing, regardless of the topic, it's well worth your time. Our friend and official VeryVintageVegas historian, Brian Paco Alvarez will be introducing her to the audience. Admission is $10. at the door.
Posted by Jack LeVine | Currently Comments Off on Libby Lumpkin Lectures On Design And Architecture Tonight At 5th Street School
March 17th, 2009 Categories: Architecture, Mid Century Modern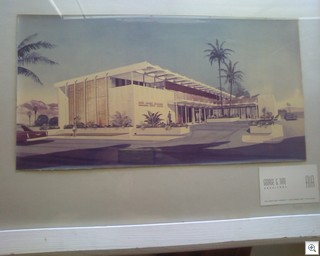 One of our readers found this Architect's drawing at a garage sale in Westleigh the other day.
I can't for the life of me recall ever seeing this building. Do any of you have a clue?
Maybe it never got built? Maybe it's in some other city?
I'm hoping it didn't get torn down before we were paying attention to such things.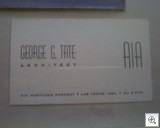 George G. Tate is the architect. I started googling and found that his firm was founded in 1960 in Las Vegas. It later became Tate Snyder Kimsey and is still in operation. George's Biography on the website is worth looking at also, but it's a flash site so I can't copy and paste it. It does say that he retired in 1995.
I'm also curious as to what the phone number exchang DU– stood for. When I was kid our number was Belmont 5–1169. Anyone remember the exchange abreviations for Las Vegas?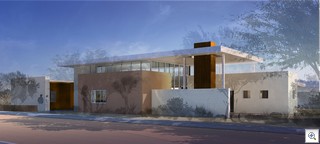 It's always fun to look at the websites of the various architects as there's alway interesting things to see and history to be uncovered. On the TSK site I found the coolest modernist project that's dated 2007. This was just as the market was turning, and I've never heard of "The Enchantment Way" as ever having been built. Even the website for it seems to be frozen in time at 2007.
So once again, I just spent a pleasant hour googling, when I was supposed to be catching up on paperwork.
Posted by Jack LeVine | Currently 11 Comments »
February 26th, 2009 Categories: Architecture
This last weeks Las Vegas Weekly magazine had some interesting discussion of Architecture. If you didn't see it, here's the link to it online.
4 local architects were interviewed. The opening question and answer from Eric Strain tells it all from my point of view. It's a good read.
Weekly: Will the flagging economy offer any long-term opportunities to rethink how we develop the city, or do you think it's merely just a pause in the usual kind of approach to development that has allowed Vegas to grow so spectacularly over the last 10, 20 or more years?

Eric Strain: There are some hidden opportunities in this. To be perfectly blunt, I think that over the past couple of decades we've been fat, dumb and lazy, and we've put out some real shit, architecturally, in this community. And I think this is an opportunity to look at what we really value and what we really should be building and how we should be building. We've continued for so many years putting up white stucco and red tile, and is that really the appropriate response for this environment? So I think this is an opportunity that, if we take it seriously, we can really start to decide what this valley was and use that as clues to where we can go. I think Phoenix has done it much better than we have. They have a rich history, and we have themes.
Read the Rest Of The Discussion at Las Vegas Weekly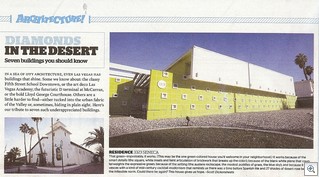 Also, they had a side feature called "Diamonds In The Desert – Seven Buildings You Should Know".
It doesn't appear to be online, so I've scanned it for you in 2 parts. I hope they're readable. Just click on the thumbnail.
You'll note that all but one are located in what I refer to as "VeryVintageVegas". Nuff said!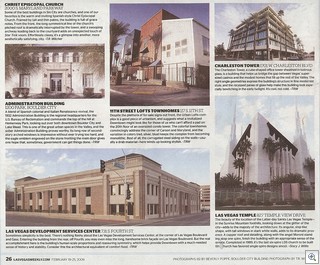 LVW, like most blogs, didn't get very many comments. Maybe we can do better. What do you think?
Posted by Jack LeVine | Currently 1 Comment »
February 24th, 2009 Categories: Architecture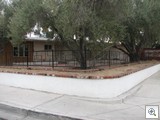 We're pleased as can be with the swell design of the new fencing on the corner of 15th and Griffith. The whole house is getting a do-over, and the fencing is frosting on this cake!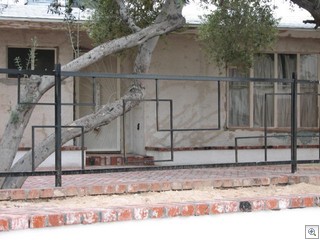 Posted by Jack LeVine | Currently Comments Off on Wrought Iron Fencing Can Be Unique And Original
December 10th, 2008 Categories: Architecture, Mid Century Modern
Lynn Zook and I took a little field trip the other day. We were up and down Maryland Parkway looking at the many bank buildings from the 60's. Could this be a Zick and Sharp? Is that one the same as in the drawing we have? We're still doing our research on the bank buildings.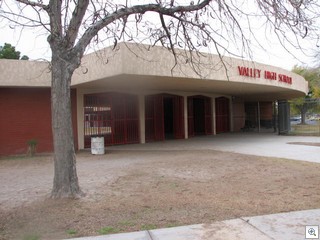 But the real fun part of our outing was the time-warp down memory lane as we went back to High School for a few minutes. We visited Valley High School on Eastern Avenue at Vegas Valley Drive. It was the first of several "Pod Schools".
I've driven by Valley a couple hundred thousand times over the years, and never really paid it much attention. What's visible from Eastern isn't all that interesting, and I don't pay attention to schools in general.
But I just had to find out what the famed architects Zick and Sharp and created back in the 60's, and that meant I had to get onto the campus one way or another.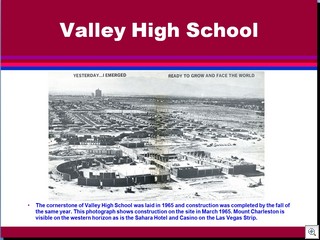 We timidly (yes) pulled into the parking lot thinking we'd get a one or two pictures taken before we were chased away.
We were armed only with the camera and 3 slides from the CD application to have a school named after Walter Zick. We quickly tried to get our bearings, and grab a photo or two, but…..
No one showed up, so we got our long shots and started trying to figure out what was what based on the slides.
Slide 56 above is a terrific study in itself, and started to give us a clue as to what was meant by "pod".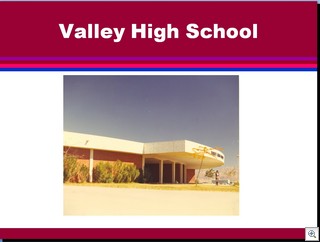 When we went around the corner so that we were on the Vegas Valley Drive side, we found the same spot as this photo from 1966.
The building is curved! The suspended awning faces Vegas Valley, and the peaked supports create a grand entryway.
It's certainly Mid Century Modernism. No doubt about it, and none of it is visible from Eastern Avenue.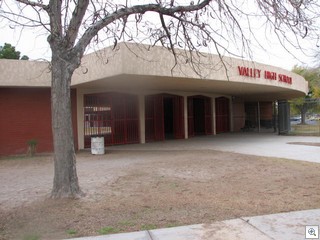 Today it looks like this. The fences aren't an improvement. My back is to a long fence that now surrounds the school. The Gates that have been installed between the columns mess it up completely from an aesthetic point of view. We got this close, were inside the fence and still hadn't seen an adult yet. The fence didn't seem to be there to keep me out, so it must be to keep the kids in.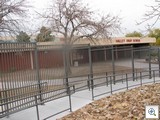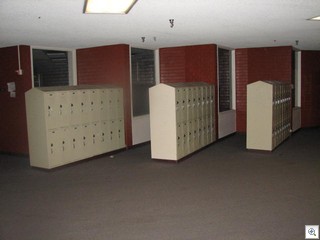 We stopped and talked to some gangly 15 year olds. They weren't even curious about why I was taking pictures. They didn't know what architecture really meant. They didn't care that they didn't know. That was baffling. Maybe I was only baffled because I've never had a teen-ager. If I was one of those kids, I'd have been asking questions a mile-a-minute.
We followed them right into the school and figured we'd get thrown out immediately. I don't recall ever being called into the principal's office 40 years ago, and was imagining it happening to me now.
Once again, though, not an adult in sight. Lynn suddenly realized that this was exactly the layout of Clark High School from when she was a student. Now I had a tour guide, and we decided to press on. I found my self wandering further and further into the dark recesses of my own high school memories, while Lynn was busy figuring out which locker would have been hers if we were over at Clark. The light went on and Lynn realized what she'd always known, but never thought about before. The school was arranged like the spokes of a wheel. The center pod was open space with all the lockers, and it was surrounded by other pods which contained the classrooms.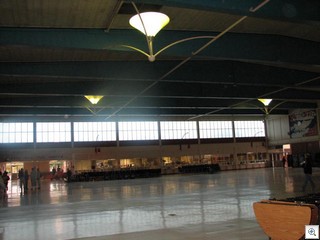 "Let's go down the ramp and see the cafeteria". I followed and found myself in a cavernous room with a barrel ceiling, exposed steel beams, high clerestory windows and stunning suspended light fixtures.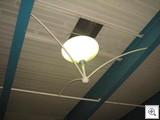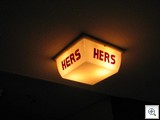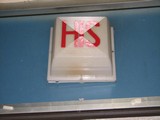 I got a real kick out of the lit signs for the boys and girls bathrooms. Why the boys room one was mounted to flush to the wall, and the girl's room was ceiling mounted didn't make sense.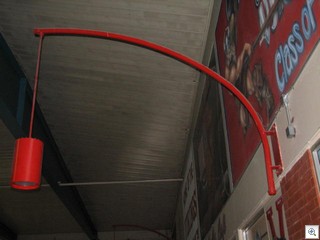 One of my favorite elements of all however were the arch supported pendant lights that surrounded the cafeteria.
So once again, I didn't end up in jail; had a great afternoon with a great friend; and got to see some of the wonderful Mid Century Modern Architecture and Design of Walter Zick and Harris Sharp.
With a legacy like this, how could the Clark County School District have ever passed up Walter Zick for a school to be named after him.
We'll be helping Walter's family to apply again, and I think by the time we finish this series, we'll have generated plenty of support.
Below the fold are Slide 58 with a broad view facing north, and the rest of the pictures that I didn't use in the body of this post. All of the pictures in this series (and almost every picture on this blog) is a clickable thumbnail, if you'd like to look at them in a larger format.
Posted by Jack LeVine | Currently 5 Comments »
September 13th, 2008 Categories: Architecture, Historic Preservation, Las Vegas History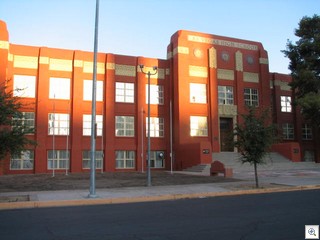 I turned the corner last evening and almost wrecked the car.
The original Historic Las Vegas High School has been re-painted to match it's original 1930's color scheme! Even I don't drive around downtown often enough, I guess.
I'd been watching the prep work all summer, but didn't know that it would be returned to it's original rust color. It's simply stunning, and all the art deco motifs and carvings really pop.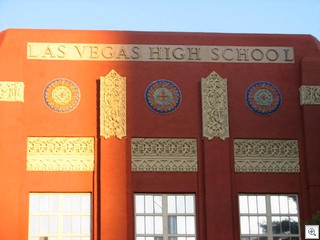 It looks like there's still a few finishing touches left to do, but it's well worth taking a drive to see one of the few Art Deco buildings in Las Vegas. It's a registered landmark since 1986 in the National Register Of Historic Places as well as for the state and the city.
The campus is now called the Las Vegas Academy Of International Studies, Performing and Visual Arts. It's one of the premier magnet High Schools in the nation. They're holding their annual open house on Tuesday Sept 23 at 6:30 pm according to the CCSD website for the Academy.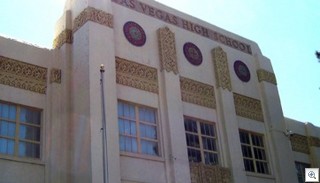 I found this "before" picture on the about page of the Las Vegas Academy website just so you can see the difference the original colors make.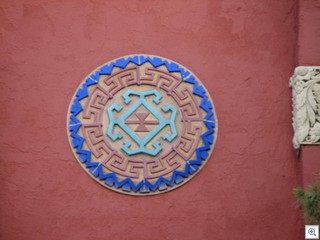 The High School itself acts as the cornerstone of the aptly named Las Vegas High School Historic District which was added to the National Register in 1991. All of the places in Clark County that are on the register can be found on the National Register Of Historic Places website.
Posted by Jack LeVine | Currently 1 Comment »
August 20th, 2008 Categories: Architecture, Pillars Posts And Columns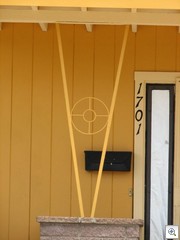 I'd mentioned last week that we're starting a new series about the posts and columns that hold up our patios and porches and carports.
I'm sure there's lots of great post and pillars in the backyards of Vintage Vegas as well. If you know of a great one, I invite you to email me a picture or tell me where to find it.
Here's number 2 in the series. It's from the boldly colored mid mod on the corner of Oakey and 8th Place.
Posted by Jack LeVine | Currently Comments Off on The Pillars And Posts Of Vintage Vegas
August 20th, 2008 Categories: Architecture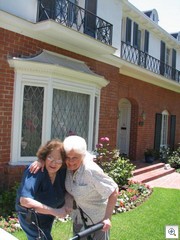 There's sure a lot of colonial architecture in Los Angeles however. This is Mazie and Eddie's home. It was built in 1937 as I mentioned the other day. It's not a style of home I'd enjoy living in, but I'll certainly give them credit for the amazing attention to detail that they gave to the restoration process.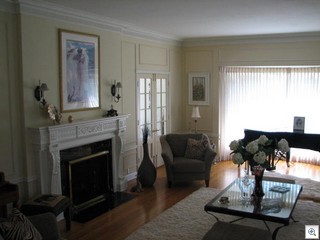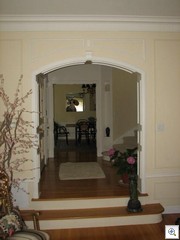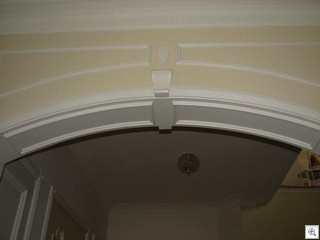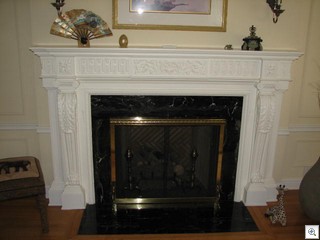 All of the woodwork in the home is hand crafted and simply exquisite. I don't think there's very many people left in the world who would be able to create all the woodwork on site. They don't sell moldings and trim like this at LowesDepot.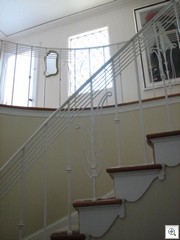 What did surprise me was the art deco style railings on the staircase. Eddie says that according to a neighbor, they are truly original to the house.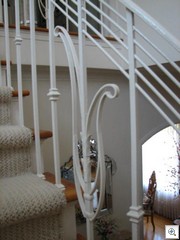 Mazie wouldn't allow me to take pictures of the kitchen, because she was cooking non stop throughout the weekend, and didn't want anyone to see the non mess. They did a mix of concrete counters with colonial cabinets that surprisingly looked terrific.
Posted by Jack LeVine | Currently 1 Comment »
August 18th, 2008 Categories: Architecture, Mid Century Modern
It may have been a short trip, but we certainly packed a lot in. Of course, business never stops and we negotiated a deal and am opening escrow on the new Papago listing in Paradise Palms, and on Friday we closed the 15th street deal. Hard to believe that 15 years ago I was selling real estate without a cell phone, text messaging, or email.
I'm just going to give you a little introduction, and each of these pictures has a whole story behind it. I'll use them as a starting point and give you details thru the week.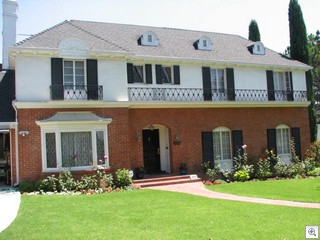 My mother stayed at this 1937 Colonial in Los Feliz, which is where Mazie and Eddie live. Mazie is her best friend since they were 3 years old. They lived back to back with an alley in between in Columbus Ohio.
My mother is turning 80, which was the purpose of the trip, doing the math, we find they've been friends since 1931.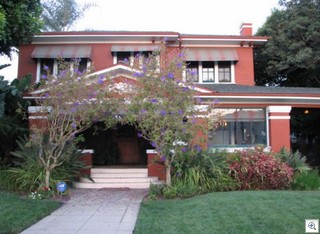 Joey and I stayed in this 1917 Craftsman styled home in Hollywood. My friend Harry and I met in 1978 and are celebrating 30 years of friendship.
One of the many jokes about VeryVintageVegas is that Vintage in Las Vegas is 1950. There's literally NOTHING left of the pre-war style homes in Las Vegas.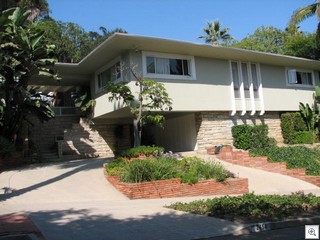 On my own, I discovered the Los Feliz Estates which is an amazing mid century modern neighborhood at the base of the Hollywood Hills. Griffith Park and the famous Hollywood sign are up above them. Erin and Rachel texted me during the weekend to tell me to make sure to find LFE, but I beat them to it.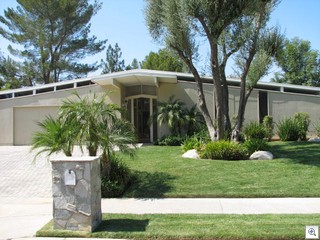 MaryMargaret gave me directions to one of the famous Eichler Neighborhoods of California. The contrasts and parallels to Paradise Palms are striking.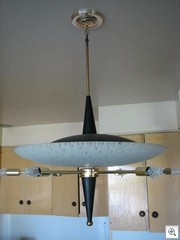 Leslie and Aaron who had asked us last month to tell them what to see in the way of Mid Mod in Las Vegas were kind enough to have us over with extreme short notice.
You'll just love what I tell you about their home when I do the full post about it later this week.
This is just a little taste of it, but let me tell you there's an amazing Mid Mod wrapped around this little gem.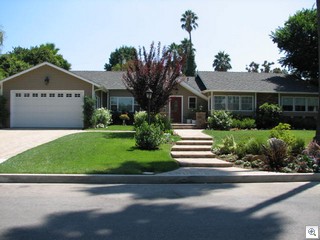 Our last stop out of town was to visit my mother's friend Alice. She left Las Vegas about 4 years ago to live with her daughter in the San Fernando Valley. I found that they live in an entire neighborhood of Cinderella Ranches (though they don't seem to use that term) similar to Bel Air, except that they're all on 1/2 acre lots.
I've got a lot to tell you about, but I've got even more work to do today, so I'll blog more about my trip all week.
Posted by Jack LeVine | Currently 3 Comments »
July 28th, 2008 Categories: Architecture, Beverly Green, Mid Century Modern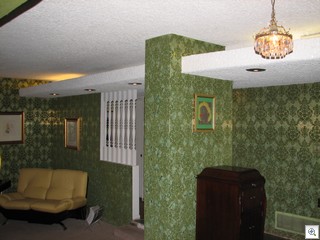 A very fun debate the other night at the Flamingo Club Cocktail Party.
We were at Downtown Steve's house in Beverly Green. It's a recurring monthly cocktail party at a different home each month. It's the official meet and greet your neighbors that helps to make the Beverly Green Neighborhood Association so successful.
Anyway, Steve's got a terrific Mid Mod ranch with all kinds of cool vintage features including the "floating soffit", or is it a "hanging uplight thingy" or a "flying ???" Carl and Lorraine, who bought our mid mod listing on 14th Street have a similar feature under their beamed ceilings. Two of the homes on my street have it. Two of the floor plans in Paradise Palms has it prominently featured as well. No one at the party, including me or MaryMargaret knows what to call it. If you do, please let us know.  There just has to be a real architectural term for it.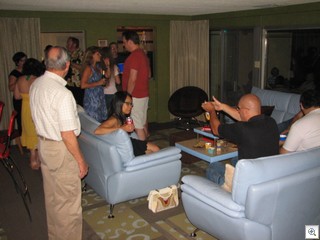 Saturday night's Flamingo Club Party had about 50 people, which was one of the largest turnouts in it's one year history.
One of the most striking things was the diversity of the neighborhood. Young and old, newcomers and original owners, gay and straight, married and single, but almost entirely liberal/progressive, and almost everyone is trying to be as "green" as they can be.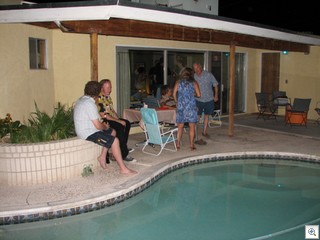 Lots of REAL conversation about politics, architecture, historic preservation, neighborhood improvement, the economy as well as the ubiquitous what do you do, where are you from and who do you know and what are you doing to your home.
Why not start a similar group for YOUR Vintage Vegas Neighborhood.  All it takes is one person to get it going.
Posted by Jack LeVine | Currently 2 Comments »
March 28th, 2008 Categories: Architecture, ART, Culture
Thank you to Brian Paco Alvarez for sending us this information! As you can see, it's based on one of Jack's favorite obsessions,
decorative block
. There's lots more of them on
our old blog.
Please join us for the dedication of
Ornamental,
a public artwork by Catherine Borg on Wednesday, April 9th.
Ornamental
is a project by the City of Las Vegas Arts Commission percent for the arts program.
For more information, please visit our fabulous new website at:
www.lvartscommission.com
ornamental
by Catherine Borg
The patterns incorporated in ornamental are based on photographs by the artist documenting brick walls in older Las Vegas neighborhoods. Reduced from the photographic to essential patterns and presented on a mirrored material, the intent of this project is to suggest connection among all downtown dwellers, old and new.
Project Dedication:
Wednesday, April 9, 2008 at 5:30 p.m.
Hoover Avenue and Las Vegas Boulevard, on the north side of Soho Lofts
Reception immediately following in the lobby of the Soho Lofts, 900 Las Vegas Blvd. South.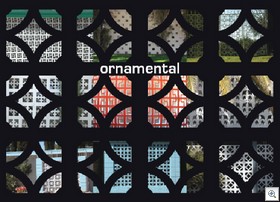 ornamental is a 120′ long public artwork commissioned in association with the Hoover Street Improvement Project.
Cover graphic/photography, Catherine Borg
Special thanks to Sam Cherry for his support of the project.
ornamental is a project by the City of Las Vegas Arts Commission. For more information, visit our website: www.lvartscommission.com or call (702) 229-6844.
Posted by Stephen P Christmas | Currently 1 Comment »
January 11th, 2008 Categories: Architecture, Downtown Las Vegas, Las Vegas History, Mid Century Modern
Thank you Kristen Routh Silberman, JLLV PR for the press release and Brian Paco Alvarez for passing it along to us!
Las Vegas, NV – 11 JAN, 2008: Mayor Oscar Goodman awarded the Mayor's Urban Design Award (MUDA) for Historical Preservation to the Junior League of Las Vegas (JLLV) for their notable restoration of the Morelli House. The award recognizes projects that foster the city's commitment to sustainability and livability, including those that have made a profound historical perspective to the city of Las Vegas and its' residents. The award was presented at an official ceremony at the Springs Preserve on January 8, 2008. Stephanie Vogel, the JLLV President and Sherry Colquitt, Project Director of the Morelli House Restoration accepted the Mayor's award on behalf of the JLLV non-profit organization.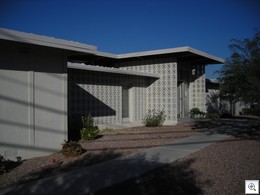 "We are both proud and honored to be included with such a prestigious and accomplished group of nominees and recipients. A large group of people dedicated their time and effort to this project, and we wish to thank them both for their support of the Junior League of Las Vegas, but also for their support to our community." said Stephanie Vogel, JLLV President.
The Morelli House has been on the city's historic property register since March of 2007 based on its architectural and cultural importance to the city of Las Vegas. Since that time, designers, carpenters, architects, and volunteers have donated countless hours to the careful preservation of the city landmark.
About The Morelli House & Restoration
Posted by Stephen P Christmas | Currently Comments Off on Mayor Goodman Awards Junior League of Las Vegas Mayor's Urban Design Award
January 11th, 2008 Categories: Architecture, Las Vegas History, The Las Vegas Strip
Via Urban Historian – Brian Paco Alvarez
Las Vegas' first Travel Lodge on Las Vegas Boulevard and Circus Circus is being demolished as we speak. The motel rooms are still standing for now.

Regards – Brian Paco…
Posted by Stephen P Christmas | Currently Comments Off on Urban Development Update