ART Topics
Welcome To Uncle Jack's Very Vintage Vegas!
Vintage Las Vegas Homes,
Historic Las Vegas Neighborhoods,
Las Vegas History,
Urban Living In Las Vegas.
If it's great, cool, fantastic, artistic, annoying, amusing, unique, or surprising.. you'll find it at VeryVintageVegas.com.
Check out what we're doing and add your two cents! Your comments & ideas are welcome. We update daily, so come back tomorrow!
Blogroll
Farmer's Insurance
Paul Hesselgesser
702-434-1230
The Hesselgesser Insurance Agency Website
Classic Las Vegas - Lynn Zook's Preservation of 20th Century Las Vegas
Curbed LA - WOW!
Mid-Century Modernist
RETRO RENOVATION - Pam's Excellent Effort At Re-creating A Retro Life
Carnival Of Real Estate - Minus Elephant Ears, But Still Mighty Tasty
Lotta Livin' - A Celebration Of Really Cool Things Mid Century
Bawld Guy Talking - Minus The Hair; Plenty Insightful
CoolnessIsTimeles - ALL "RAT PACK" ALL THE TIME!
SEE ALL OUR FAVORITES HERE

ART
December 2nd, 2009 Categories: ART, First Friday
Bundle up and do some Holiday Shopping. Great art from local artists is the best gift you can give.
First Friday is the monthly art fair in the Downtown Las Vegas Arts District.
I'm absolutely running late in getting you some of the openings and special events for the December First Friday. Remember, most of the venues are open on Thursday Evening as well for Preview Thursday. Most of the opening parties take place on Thursday.
Gaia – Flowers Gifts Art 4 E. Charleston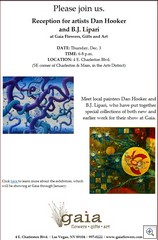 Gaia features paintings by Dan Hooker in our flower shop, as well as an exhibit of mixed media works by B.J. Lipari in our tea lounge. A reception for Dan and B.J. will take place at Gaia during Preview Thursday, 6-8 p.m. Dec. 3.
During First Friday Las Vegas at Gaia, Susanna Brent will be playing with fire! Using her torch, the local jewelry maker will give a dramatic demonstration of her torch techniques. Susanna will also be showing her latest line and talking to visitors about the environmental impact of the jewelry industry. This is a must-attend event for anyone who loves both jewelry and the Earth.
Phenomenal Photography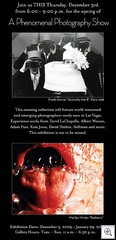 Brett Wesley Gallery – Casino Center At Charleston
This amazing collection will feature world renowned and emerging photographers rarely seen in Las Vegas. Experience works from David LaChapelle, Albert Watson, Adam Fuss, Kim Joon, David Drebin, Stillmand and More.
Brett says this exhibition is not to be missed!
The opening is during Preview Thursday 6 to 10 pm.
A small glimse of the show is here.
Exhibition Dates: December 3rd thru January 29th. 11am to 6:30 Tuesday Thru Sunday. And First Friday and Preview Thursday.
Your Future Starts Here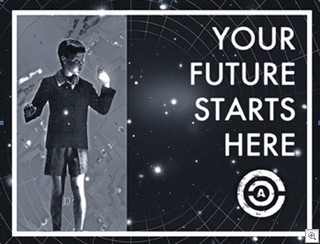 Contemporary Arts Center – In the Arts Factory
This exhibit will showcase the lives, work, and experiences of artists who were once members and primarily involved during the "Golden Age," of CAC. The exhibit will highlight the CAC's influence on the careers of artists and the beneficial impact the artists had on the CAC.
By presenting the work of CAC members and founders the exhibit seeks to provoke inspiration and inform Las Vegas of the importance of the CAC as a community based organization. The works and deeds of the exhibitors continue to have a great impact on the present and future careers of artists. Their efforts and successes have made a great contribution to the Contemporary Arts Center and the Las Vegas Art Community. For a list of Artists and about the CAC, click here. Opening Reception during Preview Thursday.
NO VACANCIES
This one's a mystery. Atomic Todd has something extra special hidden behind the rolladens. 1217 S. Main Street. The big reveal happens from 6:15 to 6:20 pm. during First Friday. Quoting from the invite:
Alios announces the arrival of our holiday window. The grand reveal will occur at 6:15 with the raising of the Rolladen door.

In the spirit of the holiday windows of Marshall Fields in Chicago and the beauty of the Lights of Las Vegas…

Alios presents NO VACANCY
ALL FIRST FRIDAY EVENTS
As usual, here's the link for all the events, venues, and music lineup for First Friday in the Downtown Las Vegas Arts District
Holiday Toy Drive At The Arts Factory
The good folks from Olive Crest are running a toy drive for abused and at risk children from low income families in Las Vegas. Donation boxes here at the Arts Factory and we hope our visitors will fill them with toys which will be distributed before the Christmas/Kwanzaa/Chanukkah holidays. This community event which will directly benefit Las Vegan families of all denominations and the toys will be distributed through the "Lark Williams Toy Drive" event and to several youth centers around the city. The boxes will be all around the building for next few weeks.
Posted by Jack LeVine | Currently Comments Off on First Friday And Preview Thursday In The Downtown Las Vegas Arts District
October 20th, 2009 Categories: ART, Arts District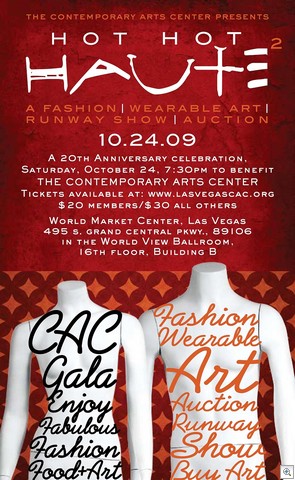 Not only is CONTEMPORARY ARTS CENTER my favorite non-profit arts organization……..
Most of my favorite downtown "characters" are involved in putting this 20th Anniversary Celebration.
For example, this is the email Princess Anne put out to her peeps:
Hello Fabulous Friends…..Please pass this along to everyone you know! Its going to be a fantastic night full of incredible works of Fashion Art…and YES!…it IS going to be a real RUNWAY Fashion Show ……..

(move over Tim Gunn!) to celebrate the 20th birthday of Contemporary Arts Center of Las Vegas

LOCATION: 16th floor of Building B at the World Market Center Las Vegas…Food by Firefly (downtowns' favorite!)….and a veritable plethora of beverages that will make you want to buy more ART!

Get your tickets online at caclasvegas.com so you wont have to stand in line…see you at the party

xos P.A.

PS: Bring your Posse!
What a great opportunity to help a great organization, and if you've never been inside the WORLD MARKET CENTER, this is a great opportunity!
Here's the official press release:
Wearable Art Runway Show and Auction /Gala
The World Market Center, 16th floor, Bldg. "B"
495 S Grand Central Parkway
Las Vegas, NV 89106
On October 24, 2009, at 7:30 pm The Contemporary Arts Center is presenting its second Hot Hot Haute wearable art auction to celebrate its 20th Anniversary by presenting the art / fashion benefit event of the year. CAC members will be asked to donate $20, and non-members will be asked to donate $30 to have the privilege to sample wine, food, and fashion, while mingling with a wild variety of art /fashion afficianados and practicioners, celebrities and wannabes.
Artists, both visual and performing (Cirque du Soleil) will be creating one of a kind wearable creations that will be presented and worn by the artists or agile models, to be auctioned off to the highest bidder. Music, food, and adult beverages will round out the experience of seeing painted bodies, haughty hats, gorgeous gowns, bizarre bustiers, sultry smoking jackets, and wearable art made of any and all materials known to man.
A plethora of celebrities and well-knowns will be competing for under and over garments, and the possibility of buying body painting services by the talented Mary Warner UNLV painting professor, whose talents will be modeled by exquisite physiques celebrating the merger of nature and art.
The Contemporary Arts Collective is a significant resource in Las Vegas representing new contemporary art by emerging and established artists. The C.A.C.'s goal is to provide a venue for artists, collectors, and all art enthusiasts to meet, get engaged with and enjoy contemporary art. Numerous creations have been submitted by local and far away artists, and the CAC Exhibition committee will soon be selecting between 40-50 works to be auctioned.
This event is an important fundraiser for the 20 year old arts organization, now the only surviving independent, non-profit art gallery organization dedicated to contemporary art in Las Vegas.
Tickets for this event will be $20 for all CAC members and $30 for non-members. For ticket information contact [email protected] or call 702-798-1819.
If interested in exhibiting work for this event you may still contact Wes Myles at [email protected]
Posted by Jack LeVine | Currently Comments Off on HOT HOT HAUTE 2 – Contemporary Arts Center 20th Anniversary Celebration
October 6th, 2009 Categories: ART, Arts District

The first I want to tell you about has my blood boiling in a good way. Brett Wesley Gallery is now in it's BRAND NEW BUILDING at 1112 S. Casino Center at the corner of Charleston. You can't miss it because it's the FIRST BRAND NEW Mid Century Modern Building in Las Vegas since……let's say…..the middle of the last century.
I'm not even going to tell about the artists that are showing. Previews of the works to be displayed are on the Brett Wesley Gallery Website. I will tell you, however, that Brett designed the building himself. It beautifully encompasses all the elements of Mid Mod and Googie that Alan Hess spoke about this last few days. Since thousands of you missed the bus tour and the lecture, here's a good opportunity to see a terrific example for yourself.
The Grand Opening is Thursday Night, October 8th from 6 to 9:30pm.
We've been regularly attending openings at Brett Wesley Gallery at the Newport Lofts for the last year. We've never been disappointed in the artists or their work.
Now, with the first entirely new gallery (and we hope there will be many more), there will be regular hours and many more emerging artists that can be showcased than was possible in the temporary space at Newport. Brett and Victoria have a great eye for spotting talented artists.
VeryVintageVegas is wishing them huge success. Come out and join the festivities for the Grand Opening this Thursday. If you can't, I'm hoping you'll drive into the parking lot and take a gander. That's one of the best features of Googie!
Brett and the new Gallery have recently been featured in KNPR's Desert Companion as #20 in the "25 Reasons For Art Optimism" article in last month's edition. As well, there's a terrific article "Investing In The District" by Kristen Peterson in the Las Vegas Sun.
MaryJoy says the outfit she put together for the opening is "DQOTT". You'll have to ask her yourself what that means. I'll wear my best Fedora and try to keep up. We hope to see you there.
TINOCO'S KITCHEN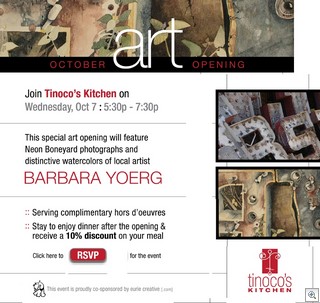 Our favorite downtown Italian eatery is Tinoco's Kitchen. This summer they relocated to The Las Vegas Club at 18 East Fremont.
Not only is the food great, but they've made the restaurant into an art gallery.
The show has just changed and the opening reception is TODAY October 7th from 5:30 to 7:30 pm.
Photographs from the Neon Boneyard and the distinctive watercolors of local artist Barbara Yoerg will be on display for the next month.
Stay for dinner and receive a 10% Discount.
Posted by Jack LeVine | Currently Comments Off on Two Art Openings In Downtown Las Vegas
September 15th, 2009 Categories: ART, Downtown Las Vegas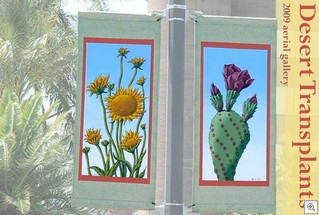 The Las Vegas Arts Commission selected Dennis Angel, a Las Vegas based artist, for a solo exhibition in the world's only mile-long gallery that is open twenty-four hors a day – The Aerial Gallery. Angel's Exhibit for the Aerial Gallery was expertly hand painted on twenty-foru 3' x 8' rolls of unstritched military tent canvas.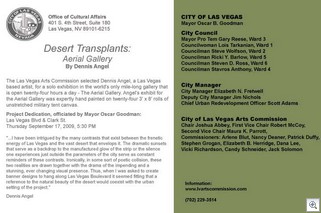 You're invited to attend the dedication ceremony, officiated by Mayor Oscar Goodman:
Thursday, Septermber 17,2009, 5:30 PM
Las Vegas Blvd and Clark Street
Posted by Jack LeVine | Currently Comments Off on Desert Transplants: The Las Vegas Aerial Gallery
August 11th, 2009 Categories: ART
The city of Las Vegas is pleased to announce the winners of the 2009 "Celebrating Life!" juried fine art competition. The "winner's circle" award recipients will be displayed at the Bridge Gallery located at Las Vegas City Hall, 400 Stewart Ave., on the second floor, from July 10 to Sept. 18, 2009.
This is the ninth year for this popular fine art competition, which is open to all Southern Nevada artists age 50 or better. It was also a record breaking year for both the number of works entered and selected this year, with 83 artworks out of 185 entries chosen for the juried exhibit.
At the May 22, awards ceremony held at the Charleston Heights Arts Center, 25 works of art in six media categories were presented. Drina Fried's mixed media piece, Red Couch, received the Best of Show Award of $500.
The Bridge Gallery is open Monday through Friday from 8 a.m. to 5 p.m. and is closed Saturday, Sunday and holidays. Parking is by meter only. This exhibit is free and open to the public. "Celebrating Life!" 2009 is presented by the Office of Cultural Affairs and sponsored by the city of Las Vegas Arts Commission. For questions related to this exhibit call 229 -1012.
Other winners in the mixed media category include:
Posted by Jack LeVine | Currently Comments Off on "Celebrating Life" Winners On Display In City Hall's Bridge Gallery
June 24th, 2009 Categories: ART, Downtown Las Vegas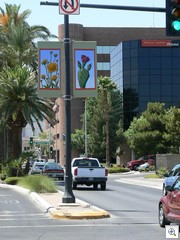 A series of 24 hand-painted images by Dennis Angel, entitled "Desert Transplants," now is displayed for public enjoyment in the city of Las Vegas Aerial Gallery downtown on Las Vegas Boulevard. The Aerial Gallery is a public art "streetscape enhancement" project designed to bring more visibility to the arts downtown. The project features a mile-long banner display on six poles along the median of Las Vegas Boulevard from Charleston Boulevard north to Stewart Avenue. Streetlights on the poles illuminate the three-foot-by-eight-foot banners at night.
Commissioned by the Las Vegas Arts Commission, the works feature flowering desert plants. The banners are unstretched military tent canvas, painted with high-quality, outdoor acrylic paint that is resistant to fading and ultraviolet light. The current banners are scheduled to remain on display through January 2010.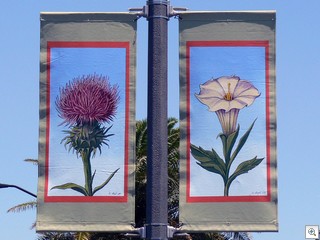 Angel moved to Southern Nevada in 1991, and currently is a professor at the College of Southern Nevada. He maintains a studio in downtown Las Vegas and specializes in original mixed media paintings. His works have been featured in more than 200 exhibitions and acquired for private, public and corporate collections throughout the United States. Angel earned his Master of Fine Arts degree at Indiana University and his Bachelor of Fine Arts degree at the University of Oklahoma.
Now in its ninth year, the Aerial Gallery has exhibited works of many local artists who are part of the Las Vegas Arts Commission's Artist Registry and who have been involved in working in the downtown arts neighborhoods. To see some of the images online, go to www.lvartscommission.com/projects/aerial-gallery-2009. For more information on Dennis Angel, visit his Web site at www.dennisangelstudio.com. For more information about the Aerial Gallery, please call (702) 229-5256
Posted by Jack LeVine | Currently Comments Off on New Downtown Aerial Gallery Banners On Las Vegas Boulevard
June 16th, 2009 Categories: ART
I've never mentioned the Charleston Heights Arts Center before. It deserves more recognition, so I bring it to your attention. Besides the gallery, there's a 375 seat theatre which is home to the Rainbow Company. Check out their website for more about them.
The Charleston Heights Arts Center is just one of the many cultural centers operated by the Department of Cultural Affairs of the City of Las Vegas. I invite you browse their website to see all that is offered. I think you'll be pleasantly surprised by all that is offered.
The upcoming CHAC gallery exhibit is:
Paintings
Erin Anfinson
June 19 – August 27, 2009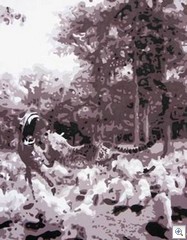 Erin Anfinson designed her paintings for "Confrontations" by digitally combining and abstracting images of flora and fauna derived from computer clip art, pictures found on the internet, and digital photos she took of landscapes from her home in Northeastern Iowa and areas of Middle Tennessee. The types of images she uses are those that capture the often unseen and dramatic events in the natural world, such as animal confrontations.

Charleston Heights Art Center
800 S. Brush Street

Gallery hours: Tues – Fri 11 a.m. – 9 p.m.
Sat 10 a.m. – 6 p.m.
Closed Sundays, Mondays, and holidays
Posted by Jack LeVine | Currently Comments Off on Charleston Heights Arts Center
May 21st, 2009 Categories: ART, Las Vegas History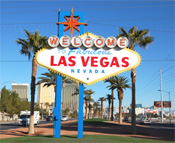 The "Welcome to Fabulous Las Vegas" sign has been listed in the National Register of Historic Places, a significant milestone in the sign's 50-year history, county and state officials announced today.
"We nominated the sign as part of our centennial celebration, believing wholeheartedly in this Las Vegas icon's historic value," said County Commission Chairman Rory Reid, whose district includes the sign. "This designation demonstrates that the keepers of the National Register agree. The sign has been not only an important symbol for our community but a magnet for untold thousands who have had their pictures taken in front of it."
Nevada Historic Preservation Officer Ron James, whose office forwarded the county's application to the National Park Service for consideration, said the Register is the nation's official list of cultural resources worthy of recognition and preservation.
"This sign is one of the most recognizable images associated with Nevada and its tourism industry," said James. "This national honor underscores the historic value of the sign."
The Welcome sign is located on the median of Las Vegas Boulevard in unincorporated Clark County, just south of the Russell Road exit on Interstate 15. It reads, "Welcome to Fabulous Las Vegas, Nevada" on the front and "Drive Carefully" and "Come Back Soon" on the back.
The sign is owned by Young Electric Sign Company (YESCO) and leased to Clark County. "As owner of the Welcome to Fabulous Las Vegas sign, YESCO is proud to be the stewards of this important cultural resource which has done so much to promote a positive, vibrant image for Las Vegas and Clark County for the past 50 years," said John Williams, the company's vice president and general manager.

The sign was designed by Betty Whitehead Willis of Western Neon, at the time one of a few women in the nation working as sign designers. In 1959 a group of Strip hotel owners asked the Clark County Commission to fund the design and construction of a sign to welcome visitors to Las Vegas. The winning bid, from Western Neon, was for $4,000. Later, YESCO bought out Western Neon and became the sign's owner.
(THERE'S MORE HISTORY about the sign after the jump)
Posted by Jack LeVine | Currently 2 Comments »
May 20th, 2009 Categories: ART, Fremont Street Experience
WHAT:
Fremont Street Experience will offer an exclusive sneak preview of the upcoming "Summer of '69: Vegas or Bust" concert and event series on Friday, May 22. The event kicks off with the unveiling of a custom work of art by renowned artist, John Van Hamersveld in celebration of Fremont Street Experience's free headlining concerts and entertainment that will be held in celebration of 1969.

Artist John Van Hamersveld, most known for his prominent 1960s iconic image of the Pinnacle Indian and The Beatles cover for the "Magical Mystery Tour" album, joins Fremont Street Experience and Mayor Goodman in celebration of the "Summer of '69: Vegas or Bust" summer extravaganza. The completed art piece, a custom-painted vintage school bus, will be unveiled to the media for the first time on Friday, May 22 by Van Hamersveld. In addition to the unveiling, Fremont Street Experience will give media a sneak-preview of the Summer of '69 street show, "Psychedelic Ride: A Hippie Bus Street Party."

Summer of '69: Vegas or Bust kicks off Memorial Day weekend at Fremont Street Experience and comes to a close Labor Day weekend. The summer-long campaign will feature major headlining entertainment and events reminiscent of the year 1969.

WHEN:
Friday, May 22
11 a.m. – Media Check-In
11:30 a.m. – Press conference with Mayor Oscar Goodman, artist John Van Hamersveld, Jeff Victor, President of Fremont Street Experience and Rossi Ralenkotter, President/CEO of Las Vegas Convention and Visitors Authority.
11:45 a.m. – Bus unveiling/Psychedelic Ride performance


WHERE:
Fremont Street Experience
At Main Street between Golden Gate and Vegas Club hotel and casinos.
The entire schedule of events for this all summer long extravaganza is here.
AND AS A SPECIAL OFFER: Chef Enrique Tinocco is offering a 15% discount to all readers of VeryVintageVegas. Tinoco's Bistro is located in the Vegas Club Hotel and Casino. All you have to do is say "Uncle Jack Sent Me!"
Posted by Jack LeVine | Currently Comments Off on "Summer of '69: Vegas Or Bust" – Sneak Preview This Friday
May 20th, 2009 Categories: ART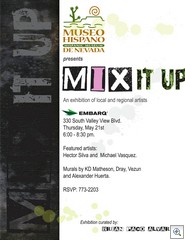 Las Vegas – The Hispanic Museum of Nevada – El Museo Hispano de Nevada presents MIX it UP an exhibition featuring local and regional artists.
The MIX it UP exhibit will feature the works of diverse artists such as Hector Silva, Michael Vasquez, Alexander Huerta, Vezun, Dray Wilmore, and K.D. Matheson.
Inspired by the idea of focusing on the 'primal forces of human instinct' Curator Brian Paco Alvarez chose these featured artists for their own unique styles of expression from the urban to the classic.
Focusing on themes such as Culture, History, Time, and Art each artist has been inspired to create pieces reflective of their own individual experience, as well as to portray the experiences of those around them. The dramatic and colorful murals created by Alexander Huerta, Vezun, Dray Wilmore and K.D. Matheson offer insights and pathways into the larger, more global conversations of culture, and identity among Hispanics and all cultures.
It will be on view at The Hispanic Museum of Nevada, located at Embarq Corporate Offices, 330 S. Valley View Blvd., through August 21. An opening reception will be held on May 21 from 6 p.m. to 8 p.m.
This exhibit is made possible through the generous support of Embarq.
Posted by Jack LeVine | Currently Comments Off on The Hispanic Museum Of Nevada Presents "MIX it UP"
April 17th, 2009 Categories: ART
Visual Artists, Filmmakers Will Showcase Their Stop-Motion Techniques
Kissing hats, elephants driving, a man who turns into the sun, and dinosaurs roaming the countryside rarely happen in real life, but at the stop-motion film screening called Stop & Go at the Historic Fifth Street School in April, all of this will become ordinary. Established filmmakers and visual artists will use stop-motion techniques to tell stories, examine visual phenomena and make political statements in a collection of short videos.

The city of Las Vegas will play host to the Stop & Go screening at 7 p.m. on Friday, April 17, at this Historic Fifth Street School located at 401 S. Fourth St. in downtown Las Vegas. The screening is free and open to the public.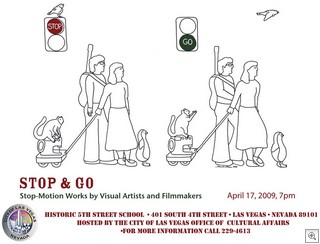 The line-up of videos includes national and international artists and is curated by San Francisco Bay Area artist and animator Sarah Klein. Klein, who uses hand-drawn images and stop-motion animation in her own work, chose pieces that explore the possibilities of stop-motion processes. The animators breathe life into magazine cutouts, homemade drawings, everyday objects and even the body itself.

Selected videos in the Stop & Go screening include "The Manipulators" by Clare Rojas and Andrew Jeffrey Wright, who alter and collage images from fashion magazines to create an entirely different story. Intricate paper-cutout circles by sculptor Jen Stark become a series of regurgitating rainbows and mysterious organic structures in "Papermation." Quilt-maker Sherri Wood and animator Ignacio Alcantara collaborate on "Sewing for Jesus" as they animate the making of a quilt that honors the missing American and Iraqi citizens who have died in the Iraq War. Young students from the Croatian animators workshop SAF Cakovec Studio create a darkly funny animation of two characters and their mishaps in "We've All Fallen From Mars." Comic illustrator Lilli Carré creates a high-wire act of sleepy time bears, black crows and senior folk in "For the Birds."

The complete list of artists includes Ignacio Alcantara, Tommy Becker, Lilli Carré, Pete Davies, Samara Halperin, Meredith Holch, Sean Horchy, Stephanie Hutin, Andrew Kelleher, Lana Kim, Sarah Klein, Mike Leavitt, Michael McHam, Laurie O'Brian, Saelee Oh, Mel Prest, Clare Rojas, Judith Selby, SAF Cakovec Studio, Jen Stark, Melinda Stone, Claudia Tennyson, Sherri Wood, Aeneas Wilder and Andrew Jeffery Wright.

Call 229-3515 for more information or visit www.artslasvegas.org.

Posted by Jack LeVine | Currently Comments Off on Stop & Go' Screening At Historic Fifth Street School
April 6th, 2009 Categories: ART, Arts District
Here's the agenda for the next chapter in the "Off The Strip" Series that's being produced by the Contemporary Arts Center
Wednesday, April 8th, 2009
Onyx Theater*($5 with 50% support for CAC):
8 PM – 10:00 PM
Video Screenings:
"Devour" (1:28 min), "Gutted" (2:18 min) and "Passage" by Cindy Rehm;
"Continuous Sneezing (artificially induced)" (5:24 min), 'happily ever after" (3:49 min) and "Inadequate Reality Adaptation" (4:51 min) by Lynn Lu;
"Axis Mundi" (6:42) by Shana Robbins;
RIP in Pieces America" (62 min) by Dominic Gagnon.
*Onyx Theater is located at: 953 E. Sahara | Las Vegas, NV 89104 | phone: 702-732-7225
map: http://www.onyxtheatre.com/contact.htm
CAC Gallery (free):
12 PM – 5 PM (Wednesday, April 8th – Friday, April 10th)
Video Installations:
"For your viewing pleasure (GGW)" by Wendy Kveck;
Devour" (1:28 min), "Gutted" (2:18 min) and "Passage" by Cindy Rehm;
"Continuous Sneezing (artificially induced)" (5:24 min), 'happily ever after" (3:49 min) and "Inadequate Reality Adaptation" (4:51 min) by Lynn Lu;
Off the Strip: Performance and Video Event
April 2nd 2009 – April 17th 2009
HERE'S THE COMPLETE SCHEDULE AND RUNDOWN OF EVENTS AND ARTISTS
Posted by Jack LeVine | Currently 1 Comment »
March 12th, 2009 Categories: ART, Arts District
The Contemporary Arts Center's Juried show is on display thru March 27. at the Art's Factory on Charleston between Main Street and Casino Center.
Here's their Spring Newsletter, and SincityArtGroup's video just in case you don't get a chance to visit the gallery in person.

Las Vegas CAC 20th Annual Juried Show from sincityartgroup on Vimeo.
Posted by Jack LeVine | Currently Comments Off on Contemporary Art Center Juried Show
March 6th, 2009 Categories: ART, Arts District, First Friday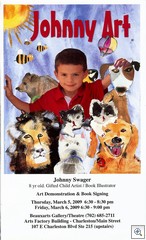 8 year old gifted child artist, Johnny Swager is doing a demonstration and book signing TONIGHT ONLY during the First Friday Extravaganza.
He'll be at the Beauxarts Gallery/Theatre in the upper level of the Arts Factory.
I found his work quite fun. I think you will also.
At his publisher's website, I found the following blurb about his book, which is called "Johnny Art – the Art of Johnny Swager"
Johnny Art is about the life and art-making of seven year old Johnny Swager. Johnny is an extremely gifted boy who is not intimidated by any subject. His work exhibits a confidence rarely seen in children and a freshness that only a child can bring to the canvas. Collectors, art teachers, and critics are captivated with Johnny's ability to render subjects with such maturity and painterly skills.
Posted by Jack LeVine | Currently Comments Off on "Johnny Art" TONIGHT Only At Beauxarts Gallery
February 17th, 2009 Categories: ART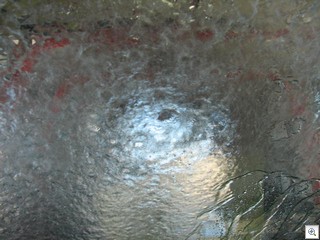 Seriously. I'd never stayed in a car as it went thru the wash tunnel – ever– until yesterday. I didn't even know it was going to happen when I got in line. I thought it was going to be full service wash, like I usually get. Nothing ever stays the same.
I did happen to take a picture I really like. Thought you might enjoy it as well.
Naturally, it's called "light at the end of the tunnel".
It completely represents my life during the last month.
Posted by Jack LeVine | Currently 1 Comment »