Citizens Leadership Academy Topics
Welcome To Uncle Jack's Very Vintage Vegas!
Vintage Las Vegas Homes,
Historic Las Vegas Neighborhoods,
Las Vegas History,
Urban Living In Las Vegas.
If it's great, cool, fantastic, artistic, annoying, amusing, unique, or surprising.. you'll find it at VeryVintageVegas.com.
Check out what we're doing and add your two cents! Your comments & ideas are welcome. We update daily, so come back tomorrow!
Blogroll
Farmer's Insurance
Paul Hesselgesser
702-434-1230
The Hesselgesser Insurance Agency Website
Classic Las Vegas - Lynn Zook's Preservation of 20th Century Las Vegas
Curbed LA - WOW!
Mid-Century Modernist
RETRO RENOVATION - Pam's Excellent Effort At Re-creating A Retro Life
Carnival Of Real Estate - Minus Elephant Ears, But Still Mighty Tasty
Lotta Livin' - A Celebration Of Really Cool Things Mid Century
Bawld Guy Talking - Minus The Hair; Plenty Insightful
CoolnessIsTimeles - ALL "RAT PACK" ALL THE TIME!
SEE ALL OUR FAVORITES HERE

Citizens Leadership Academy
November 8th, 2007 Categories: Citizens Leadership Academy, Las Vegas Real Estate News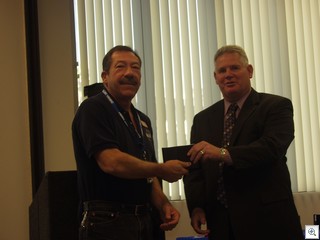 I was honored and privileged to be one of the 25 Las Vegas citizens to have been picked to be in this year's Citizen Leadership Academy. The CLA is an intensive introduction to the behind the scenes workings of the City of Las Vegas.
It's funny how we watch a massive thing like a city function around us and never give a thought as to what it does take to make it run. We all know the things we hate, and the things that bother or annoy us, but never give a single thought, never the less a second thought to all the parts of a government that don't directly affect us or that we don't take advantage of. And, I'm as guilty of anyone of taking for granted the things that are so right about Las Vegas.
If you never go to one of the parks, or participate in any of the sports or activities, you don't realize that that there's actually world class facilities being run by dedicated, excited and enthusiastic city employees.
Our streets get swept, and the pot holes get filled and the graffiti gets removed and the new homes and buildings get inspected, and the state and federal governments get lobbied, and new business gets enticed to move here.
The water flows from the tap, the sewage gets cleaned, the trash gets picked up, the tv station provides access to the public. The Arts get encouraged and presented. The city and county websites make it easy for the public to find their way to the services that they're looking for.
And all of that happens around the clock. It happens with thousands of employees who don't run for office, don't get seen on tv, and don't get the recognition they deserve. We didn't meet with or hear any speeches from the elected officials. I'm grateful for that. I'm sure that if that was all we were presented, that it would have been gratuitous and bogus.
During the various CLA classes that we attended, we only met with the city's employees. They were organized, enthusiastic, and devoted to providing the services to the public. They're dedicated to making Las Vegas a world class city. They're empowered to get the citizenry involved. They too have children and parents and family who deserve to live in a great city.
And most important of all, they didn't try to hide the problems. We discussed the good and the bad. Nothing was being swept under the rug. Every Department that made us presentations showed us their successes as well as their failures. They pointed out what they're doing right, and what they need to improve upon.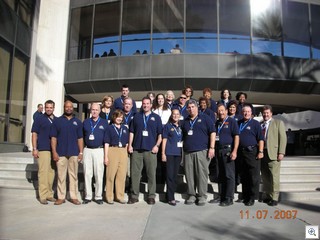 One of the most striking things about the 25 members of this years class was the diversity of who was picked. This speaks well of the 62 who applied, and to the selection process itself. Ages ranged from the mid 20's to the mid 70's. We had racial diversity, with whites, blacks and hispanics. We had lawyers and housewives and realtors, and retirees, and school teachers, and social service professionals. Most were married, most had children. Some were single, some were gay, some were disabled. And all of us were committed to making the world and the city a better place to live. Each of us plan to take what we learned back to our own micro world and do some small part to better the lives of those around us.
We met every Tuesday night for the last 2 months, as well as two Saturdays in between. Wednesday morning was the graduation ceremony in front of the the city council. AJ Powell, spoke to the council on our behalf.
Now there's 3 members of the VeryVintageVegas team that have attended. Mary Joy Alderman was a member of this years class, and Pam Kowalski was a member of the first class in 2004. All of us are devoted to preserving the classic neighborhoods, educating the public about the housing and architectural styles of the 30's, 40's 50's and 60's, and to keeping alive the history of how Las Vegas came to be.
Posted by Jack LeVine | Currently 1 Comment »
October 30th, 2007 Categories: Citizens Leadership Academy, Las Vegas Real Estate News, Market Conditions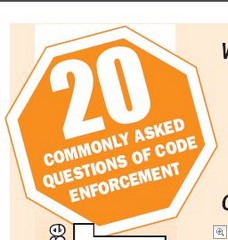 I'll be doing my ride along this week with a Las Vegas Code Enforcement Officer. This will be the last of my "extra credit" field trips as part of the Citizens Leadership Academy. In preparation, I found this nifty little handout from the city. As far as I know, the rules in the county are almost identical. 20 Frequently Asked Questions From Code Enforcement The distressing thing, and the one thing that I'd change in a heartbeat is that the enforcement of our zoning codes is strictly a "complaint driven system". If you have a neighbor that's driving you crazy, you can anonymously start the city or county on the path of doing something about it.
In the city of Las Vegas call :229–6615 In Clark County call 455–4191 The same numbers are ALSO FOR REPORTING GRAFITTI!
Posted by Jack LeVine | Currently 3 Comments »
October 25th, 2007 Categories: Citizens Leadership Academy, Downtown Businesses, Downtown Las Vegas, Juhl, Las Vegas Real Estate News
One of our readers raises a question that I posed to the Business and Development Folks at the Citizens Leadership Academy just last week.
Jack,
I was curious if you have heard where the people that are living downtown in all those beautiful lofts, condo's etc. are going to grocery shop? I live in McNeil and would love to think they may bring a Whole Foods to the center of town. What do you know…?
By the way I am the mother of the two brothers who own Lovebird Apparel!
Sincerely,
Suzan Benett
First Suzan, I've plugged your son's really great collection of art as apparel several times. You should be real proud of them.
As to the groceries, it's really a chicken and egg question of what comes first. RDA (Las Vegas Redevelopment Agency).
For the longest time, no one in the "specialty"grocery industry wanted to believe that that people like you would drive past a Smiths at Rancho and Charleston for example, or that the 1000's of us who live east of the strip would drive past the Albertsons to get to a Whole Foods or a Trader Joe's or a Sunflower Market.
According to our discussion with Scott Adams, the director of RDA, "it's one of our highest priorities". He told me they've had ongoing, practically begging conversations and presentations to every major and minor chain in the country to get a store located in or adjacent to the Arts District.
He says he has one truly interested party that would satisfy us, though he was absolutely unwilling to name names. He believes that by the time Juhl opens for occupancy, that there will be one. I argued that the demand was already there. I get this question from people on both the east and west side of Vintage Vegas all the time.
So the bottom line answer is hold tight, it's coming eventually.
Posted by Jack LeVine | Currently 10 Comments »
October 24th, 2007 Categories: Citizens Leadership Academy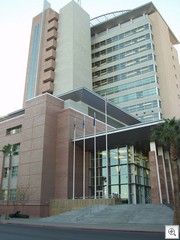 I am honored to be one of the 25 participants this year in the City's Citizen Leadership Academy. It's an 8 week course on the inner workings of government. It has been an amazing and eye opening opportunity.
Last night was one of our most interesting classes. The criminal justice system was the topic. We met at the Regional Justice Center for a tour of the justice courts, the Supreme Court, prisoner holding cells, and then took a field trip to the Las Vegas Jail.
I've tried and mostly succeeded my whole life in staying away from anywhere that lawyers, police and bad guys hang out. Therefore, of all the topics we've covered, criminal justice was the subject I knew the least about.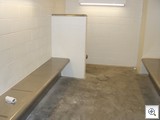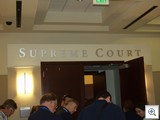 I didn't know that there's a supreme court courtroom in Las Vegas as well as Carson City. The Regional Justice Center is a stunning building.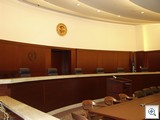 There's an under ground tunnel between it and the Clark County Detention Center.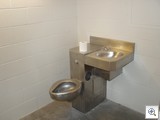 The prisoners and accused are isolated from the public and staff. All the courts for Clark County and Las Vegas are housed now in this one building for the convenience of the public, and as a huge cost savings to the public.
Within the Municipal Court System, several of the judges have created "specialty" courts that they supervise. There's one for prostitution, repeat offenders, domestic violence for example.
When we went to the LV Jail on Stewart Ave and Mojove, we learned that the guards, police and staff do not carry guns. I also learned to my dismay that there's NO CAMERAS ALLOWED. Sorry. There's room for 1050 inmates. The average stay is 12 days, at a cost of 98. per day per inmate. They house overflow from the Clark County Detention Center, have contracts with the Feds and FBI to house prisoners, and mostly they house misdemeanor prisoners. Gross Misdemeanor and Felony prisoners go to Clark County, or into the state prison system. All prisoners wear orange jumpsuits all the time, sleep 4 to cell, and the only separation is between men and women, who are housed in different cell blocks. Otherwise young, old, black, white, Hispanic, gay, straight or whatever are all jumbled together. Most of the prisoners are there because of drugs in one way or another. Most of the women there are there for prostitution.
All in All, it was the most interesting and educational and saddening of all the classes at the Citizens Leadership Academy
Posted by Jack LeVine | Currently Comments Off on Citizens Leadership Academy – I Used My "Get Out Of Jail Free" Card
October 21st, 2007 Categories: Citizens Leadership Academy, Downtown Businesses, Downtown Las Vegas, Fremont St., Las Vegas Real Estate News
Saturday Morning was the last field trip of the Citizens Leadership Academy. We were led by Scott Adams, the Director of the Las Vegas Redevelopment Agency. The RDA is charged with recruiting new business and development into the downtown.
Our bus trip took us thru the Arts District, Union Park, The New Fremont East Entertainment District, sites of various existing, planned, under construction, and wishful thinking high rise condos, the REI Stadium Project, and many of the 160 different projects that are on the books.
There's a lot of new jobs coming to downtown as a result of these projects. The Brain Center, the Cancer Center, The Water District and Water Authority, The expansion of the outlet mall, A new city hall, Lady Luck and 3rd Street are back on track with new owners, 15 new venues on the books for Fremont East, and maybe even a grocery store!
New jobs, bring new people, and living close to work and eliminating both the time and gas of the long commute is also a driving force that will help with the restoration of our Vintage Urban Core neighborhoods. Of course, it's their job to give us the good news, and the only project that he didn't sound thrilled with was the REI Stadium, which made me very happy to hear.
Of course, I know several of the 90 parcel owners within the REI boundaries, and they all seem to have mixed feelings. Yes they want to get their 7 million an acre, but also feel it won't be good for the arts district. A project like that pushes the value of all downtown land to the point that only an MGM or Harrah's or similar size organization will ever be able to use it. They won't be building the 4 or 5 story boutique and affordable loft and apartment type projects with ground floor cafes, shops and galleries that I always envisioned for the area. Time will tell, whether REI can pull off their dream without taking down the arts district in the process.
My dream has always been housing for hip, fun urban dwellers. NOT tourist hotel rooms, and creating a whole new leg for the strip was certainly not part of my dream.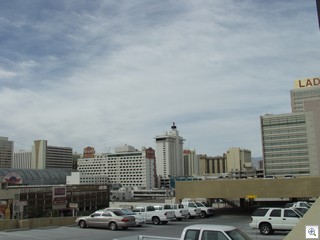 Las Vegas Redevelopment Agency Has Many Tools To Help Us Keep Up With Rebirth of Downtown Las Vegas
The RDA has a great tool if you want to find out about all the different projects regardless of where they are in the development process. Check it out. It's fun and educational. Interactive Downtown Projects Map
Here's another tool I use a lot in preparing to meet with buyers and sellers, and to research all kinds of things. You're welcome to use it also. You can quickly zoom to any property, get the ownership and assessor information, see the birds eye view,get the parcel number etc. Interactive MAP OF LAS VEGAS It works for all 3 cities and unincorporated Clark County.
Posted by Jack LeVine | Currently Comments Off on Creating An Urban Core and Downtown That We Can Call Home
October 17th, 2007 Categories: Citizens Leadership Academy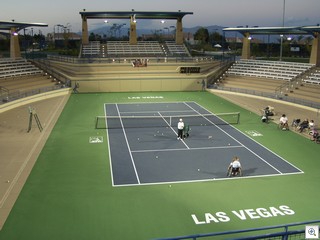 The Citizens Leadership Academy spent the evening with the Department of Leisure Services. Dinner was served at the Darling Tennis Center, which truly astounded me. There are things out in suburbs that we deserve to know about.
Darling is one small part of the 120 acre regional sports park which runs alongside Sum**lin Parkway from Buffalo to Durango. There's 20 tennis courts and the tennis stadium, 11 Soccer Fields, playgrounds, picnic areas, and plenty of parking.
We had short presentations from Senior Services, Youth Program, Arts and Entertainment and a variety of other departments within Leisure Services.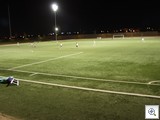 I learned a lot about artificial verses natural turf. For example, 7 of the soccer fields are artificial. It appeared to be a huge cost and time savings decision for the city, but following the laws of unintended consequences, it was soon discovered that the artificial turf radiates heat and creates air temperatures air the 150 degree range for the players. Those fields can now only be used in the morning and evening during the summer.
Natural turf takes more water, and can be over seeded in the fall with Winter Rye Grass when the underlying Bermuda grass browns out and goes dormant once night time temperatures fall below 60 degrees. Year round green lawns require this type of overseeding. If your neighbor's lawn is green year round, that's what they're doing. We got a demonstration of the 2 types of lawnmowers that are used. You'd think that if I could drive the million dollar Honda FCX last week, they'd let me drive a lawnmower, but NO! I did get to sit in it.
Besides finding out that there's this huge sports park complex out in the suburbs, I think it's best to just give you the link to the Leisure Services department and a few pictures of what we saw.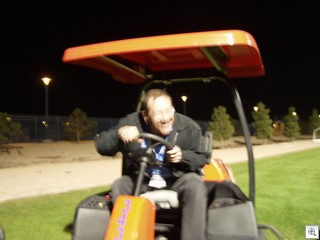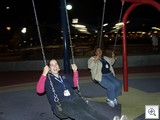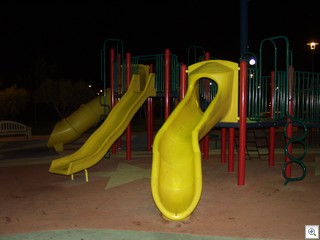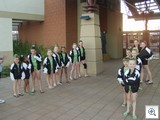 Posted by Jack LeVine | Currently 1 Comment »
October 14th, 2007 Categories: Citizens Leadership Academy, Las Vegas Real Estate News, Market Conditions
Growth Watch, The City of Las Vegas Planning and Development Fall Newsletter
At least it's new to me, and I probably got on the list for being in the Citizens Leadership Academy this year. I'm happy to share it with you.
Posted by Jack LeVine | Currently Comments Off on The City Of Las Vegas Planning and Development Department Publishes New Newsletter
October 12th, 2007 Categories: Citizens Leadership Academy, Cool Stuff, Downtown Las Vegas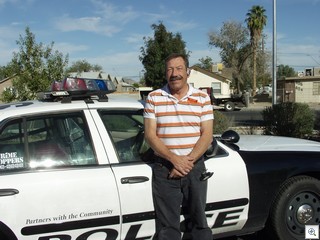 The Citizens Leadership Academy is an annual 8 week course offered by the City of Las Vegas. I was honored to be one of the 25 Las Vegas residents chosen for this years class. I've still not posted our field trip to the waste treatment plant, but all the other posts I've written can be found here.
Yesterday was my "extra credit" Ride-along with a Metro officer from the Downtown Area Command. Mary Alderman did a similar ride-along with a City Marshal the other day.
I'm notorious for always being in learning mode. Ask any auto mechanic, or a/c repair guy, or anyone else that ever let me watch them do their job. I ask a million questions, and keep digging deeper and deeper with the "why". Officer Pierre did a great job answering my 100's of questions. I stumped him a few times in the why department, though.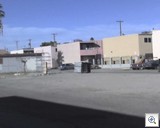 Our first call was a teen who got mugged and had his IPOD stolen on the way home from school at 28th and Searles. It was a real sleeper watching a report get written, but I did have an opportunity to look around in a part of town I rarely ever venture into. Way too much of it looked like this.
About half the time was spent just cruising around looking for trouble. That's my kind of job! I didn't realize that at every stop light, most metro officers run the license plates of every vehicle in front of them. They find lots of people with warrants, stolen cars, etc by doing so. No luck last night, but I heard some great stories.
I did get to give Officer Pierre a short tour of the downtown VeryVintageVegas neighborhoods. He had no idea of the history, the housing styles or the tremendous effort that has gone into turning around these great neighborhoods. We stopped by my house so I could show Steve and JJ the police car. I'm sure there's gossip on the street as to why I got taken away in a police car.
Posted by Jack LeVine | Currently 2 Comments »
October 10th, 2007 Categories: Citizens Leadership Academy, Las Vegas Real Estate News
Yesterday as part of the Citizen's Leadership Academy, I got to ride along all day with City Marshal Brent Bucy. We started at 7 a.m. The marshal's offices are at 417 N. 7th St., downtown, just a couple blocks from City Hall. Our first stop was Starbucks. I offered to buy his but he insisted on getting mine.
He told me that he basically patrolled the whole east part of the city. At that time we went out to one of the code response centers where a complaint had been lodged citing harassment of a co-worker. There was a separate discussion with each of the parties involved. One felt that it was just a misunderstanding and conflict of personality, however the other said that he had been threatened and wanted to press charges.
What resulted was a citizen's arrest. The accused party was given a citation and a court date. It was similar to a traffic ticket. He wasn't happy, but told the marshal that he would be talking to his union attorney which he was encouraged to do. Both of them seemed like nice guys and I couldn't help wishing they had been able to settle the problem between themselves.
We checked out some parks in the area and then went back to the downtown station where Officer Bucy filed his report. After that we went to the human relations office at City Hall where a discussion was had with the diversity relations director. While there I noticed a fabulous poster on diversity and suggested that they provide the code office where the incident occurred with a similar one as it clearly stated the goals for the workers.
Posted by | Currently 2 Comments »
October 10th, 2007 Categories: Alta Rancho Historic District, Citizens Leadership Academy, Cool Stuff, Downtown Las Vegas, Green/Alternative Energy
There's only 30 of them in the world. There's only 16 in the US. There's only one in Las Vegas. We're happy to report that the city only leases it for only 5000 a month, and didn't actually buy it. What is it, you ask?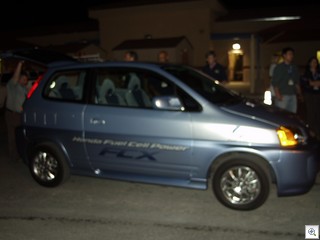 It's the Honda Hydrogen Fuel Cell Concept Car called the FCX. It runs on Hydrogen. Some people think it's THE future technology to solve our oil dependence. Some are skeptical that the cost can ever come down enough to make it practical for the masses. I'll stay optimistic.
The city has it as a pilot test program. It's being used daily by the Parking Enforcement Supervisor, so it's always running around downtown, where it can get the most visibility.
Don't tell anyone, but I got to to take it for a very very short spin around the parking lot. I swear it had the fastest acceleration of anything I've ever driven. They're working on getting the range improved, but right now it's only good for about 120 miles on a fill-up.
Anyway, last nights Citizen Leadership Academy was held at the west maintainance facility near Buffalo and Cheyenne. There's also one on the East side at Bonanza and Mojave. We learned all about street paving, and traffic signals, and future road design, and traffic calming schemes such as round-abouts, and snakes like Alta Drive in the Rancho Alta Historic District.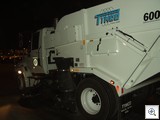 We got a demonstration of the sewer cleaning trucks and the street sweepers. Both of these vehicles are brand new, and just arrived into the cities fleet this week. Street Sweepers have a lifespan of only 5 years, and cost $130,000. The Sewer Trucks cost 250k and last about 10 years, since they're stationary a lot, which the sweepers never are.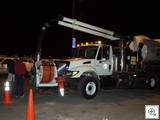 I'm behind in getting the post written up from last Saturday's tour of the sewage treatment plant, but I'll get to it soon.
Tomorrow should be fun, as I'm going on a 8 hour ride around with a Metro Officer from the downtown area command. I'll probably be more excited to get that report to you than I was for the sewer plant.
I'm one of the 25 Las Vegas residents who were chosen to be part of the "Citizens Leadership Academy" for this year. The CLA is an 8 week program on the behind the scenes workings of the City. I'm astounded at how much I didn't know.
Posted by Jack LeVine | Currently 2 Comments »
October 7th, 2007 Categories: Citizens Leadership Academy, Cool Stuff, Green/Alternative Energy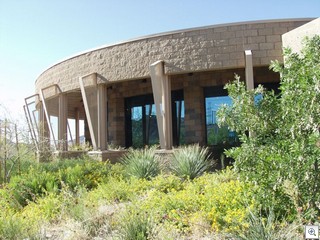 Thanks to the tour I took this morning as one of the 25 Las Vegas Citizens who were chosen to be in this year's "Citizen Leadership Academy". It's a 10 part course on the behind the scenes activity of running a major city. My biggest observation after 3 classes is that I'm astounded at how little I really knew.
The Las Vegas Water District and the Southern Nevada Water Authority deliver clean water to our homes and businesses. We toured the River Mountain Water Treatment Facility. They say it's the finest and newest state of the art water treatment plant in the country.
There's lots of steps involved to get the water out of Lake Mead and into our toilets and sinks and washing machines. There's also a gorgeous facility high on the hill overlooking Henderson and the rest of the Valley.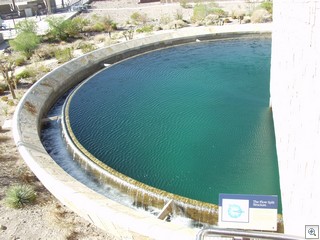 The water Authority is the single biggest customer of Nevada Power. It takes a lot of water to make electricity, and it takes a lot of electricity to pump and move and purify the water on it's way to our homes.
Solar Panels, owned by SNWA will soon be installed to lower the power bill and for overall energy conservation.
Naturally, I took lots of pictures to share with you. It's a shame that the facility no longer allows open tours for security purposes, but organized groups from schools, or boy scouts etc can still get a tour. The entire plant was laid out with well thought out graphics, shaded walking paths with small signs identifying all the water smart desert plants used in the landscape. It's truly an impressive feat of civil engineering to deliver water to 2 million people in the middle of a desert.
Posted by Jack LeVine | Currently 2 Comments »
October 3rd, 2007 Categories: Citizens Leadership Academy, Cool Stuff, Downtown Las Vegas
I had no idea of how little I knew about fire safety, or how complicated and complex it is behind the scenes at Las Vegas Fire and Rescue.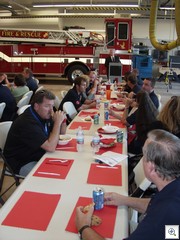 The evening started with dinner and casual conversation with the team members of Fire Station #1, which is on Bonanza and Fourth Street. They work the weirdest schedule of any that I've ever heard of. 24 hour shifts, every other day for 5 days, then 4 solid days off. There's 3 teams per station rotating thru the same schedule. Which team you're on determines which days you work.
A "hook and ladder" truck has a 7 year life expectancy and costs around $750,000. A "pumper" lasts for 4 years, and costs 350k. Ambulances are only good for 3 years before they start falling apart. One of the major achievements of the last several years is that EVERY type of equipment is identical at every fire station. That has provided huge cost savings to the city in training time, parts and maintenance, and safety for the firefighters.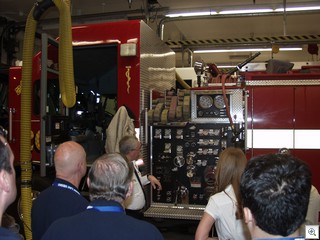 I had never been up close to a hook and ladder truck before. It's truly an amazing piece of machinery. I got to crawl around in a pump truck last month at the National Night Out event, but this was a special treat.
Similar to the Citizens Leadership Academy, there's also a "citizens fire academy", which starts in February.
Fire prevention speakers are available for ANY school, club, organization, or business. All the different education and free services are described here.
The only disappointment was that it was all on one floor, so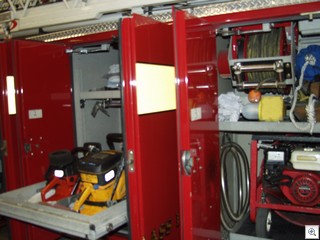 there's no pole for them to slide down.
Today Starts National Fire Prevention Week
The emphasis for this years Fire Prevention Week is on fire drills for the home.
The invention of the SMOKE DETECTOR has reduced the number of fire deaths in the US from 80,000 per year to less than 4000. City code for ALL buildings since 1989 calls for smoke detectors in every sleeping space, the hallway, and on every floor. Sadly, it's one of the things I don't see quite often in our Vintage Vegas homes.
Tim Szymanski, the director of Public Information for LVFR, who guided our tour was especially insistant that EVERY home should have a fire drill regularly, should change the batteries yearly, and test EVERY smoke detector at least twice a year.
We also visited the 911 call center, and Metro's Downtown Area Command, but I'll do a separate report on those experiences tomorrow.
Posted by Jack LeVine | Currently Comments Off on Citizens Leadership Acedemy Tours Las Vegas Fire And Rescue
September 26th, 2007 Categories: Citizens Leadership Academy, Las Vegas History
I'm honored to be one of the 25 city residents to be part of this years "Citizens Leadership Academy" It's a 2 month series of classes on the "behind the scenes" of how government works.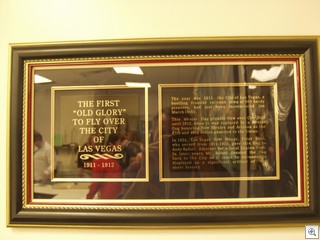 Last Night was a sleeper of sorts, since we got to look at the budget and charts and graphs numbers and details and listening to the the snoring from the audience.
The short field trip was to City Clerks Office, where at least we got to see some of the growing collection of Artifacts, Documents, Publications, etc. from the cities 100 year history.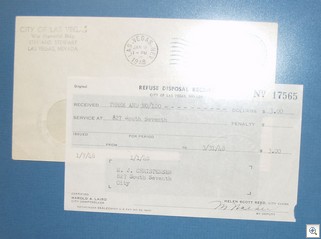 This trash bill and the official 1923 City Budget are some of many interesting his historical documents on display in the Clerks Office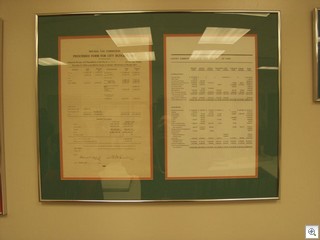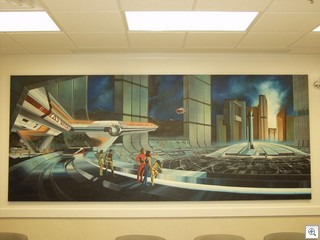 The futurist painting was done by a city employee in 1986 depicting the city in 2086. It was used as the front cover of the cities 100 year master plan.
Posted by Jack LeVine | Currently Comments Off on City of Las Vegas' Clerks Office Collecting Artifacts and Memorabilia Pertaining To City Government
September 22nd, 2007 Categories: Citizens Leadership Academy, Las Vegas Real Estate News
The Citizens Leadership Academy is an 8 week course in the workings of the City of Las Vegas Government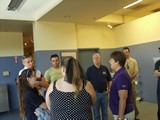 As I've reported before, I was honored to be one of the 25 Las Vegas residents who were chosen to participate this year. Saturday was the first field trip outing to the Lied Animal Shelter.
Most of my preconcieved notions as to what we were going to see was based on some of the recent media reports. Once again, it's not always a good thing to believe everything that's in the media.
Our tour guide was Terry Magnani, the Director of Community Outreach.

She's willing to give a tour to anyone who asks, and with advance notice, you can tag along on the same tour when it's frequently given to school groups, Boy Scouts, and any other organization.
Forthright answers were given to our many questions, and I felt that there was absolutely no effort to whitewash or sugarcoat any of the problems at the shelter, both prior current. All of the recommendations from the Humane Society are being implemented and followed. Mandated holding times are being adhered to. Disease Prevention if of the highest priority.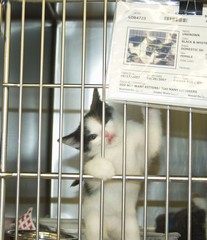 We were shocked at the numbers, and Terry explained that the 100 employees are all heartbroken that there are so many animals that come through the facility. 52000 a year! 1000 per week!  A couple of thousand get claimed by their owners. Only about 14000 of them get adopted out.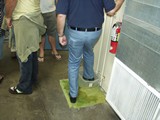 She tells us the rest are humanely put to sleep. I couldn't bring myself to finish the math.
<h3>Irresponsible Pet Owners Are The Real Culprits In The Destruction Of So Many Innocent Animals</h3>
As a dog lover, and because I'm out in the neighborhoods all the time, I've often witnessed many acts of stupidity, laziness, meanness, and insanity as to how people take care of their pets. We have a thousands and thousands of beautiful animals being put to sleep, when the truth is, most of them should never have been born in the first place. Currently, Lied's low cost spay/neuter clinic is on hold while they develop new programs and arrange for the money to help. Public awareness campaigns don't seem to make a dent in the unwanted animal population. But they keep trying.
<h3>Lied Animal Shelter is "GREEN" and environmentally friendly</h3>
The biggest surprise that I got was the "environmentally sound" green aspects of the entire campus. The adoption shelters, called Bungalows are solar powered. 86% of the massive amount of water used for cleaning is reclaimed and re-used. The bungalows are heated with radiant floor heat in the winter, and cooled with energy efficient "COOLARADOS" and computer controlled venting systems.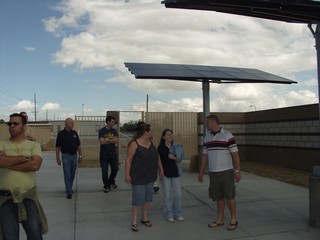 I quote from the Lied Website's green info webpage"
Architects for the expansion say they will follow guidelines established by the U.S. Green Building Council to try to achieve that agency's Leadership in Energy and Environmental Design certification for environmental responsiveness and resource efficiency.
Windom Kimsey, architect for the project for Tate, Snyder & Kimsey, said ventilation windmills will push air through the kennel floor toward the roof, eliminating heat and odors. The shaded archways, he said, will be topped with solar panels that during winter will heat the kennel floors.
"The solar panels will provide 600 kilowatts for the 44 dog bungalows and 255 kennels," he said, noting that much wattage can power about 20 households. Desert landscaping also will be utilized to save water, he said.
Bill Snyder, president of the architectural company that has operated locally for 40 years, said the design of the project kept in mind the hundreds of children who will visit the site to adopt animals.
"This will be a highly visible educational tool," Snyder said. "It will be a showcase for what the environment and conservation are all about."
<h3>Here's what I learned that I didn't know</h3>
Lied is the only totally open shelter. It handles all animals for Clark County, Las Vegas and North Las Vegas. It's a 501C3 Non-Profit Corporation.
Ferrell Cats are a huge problem in the valley. They are almost always put down, due to disease and bad temperment.
Eventually, there will be extended-stay adoption center, veterinarian tech school and a dog show arena.
Posted by Jack LeVine | Currently 1 Comment »
August 23rd, 2007 Categories: Citizens Leadership Academy
Mary did a good job yesterday (in her very first published post) describing who spoke, and what we did.
I wanted to mention a few things that I learned.
One, the Mayor is a part time job! But it seems he works like I do. They say he's often in the office before 8, is the last one to leave, an has events and appearances almost every evening. I also learned that he loves momentos of his job as much as he loves being the "happiest mayor in the world"
Two: I have a face made for Radio. 🙁 but I loved being in front of the camera, wasn't nervous, and sound great on the playback. And I got a real kick out of running a camera and turning all the knobs, and wearing the fancy headset which is way cooler than my bluetooth. The control panel for a TV station is more complicated than a jumbo jet. I'd have never been a good TV production "geek".
This Saturday, I'm taking a guided tour of the Lied Animal Shelter. I sure hoping all the previous problems have been straightened out. I've got a lot of questions, and don't intend to let them sugar coat anything.
Posted by Stephen P Christmas | Currently Comments Off on Uncle Jack's Pictures and Comments From the Citizens Leadership Academy