Congratulations Topics
Welcome To Uncle Jack's Very Vintage Vegas!
Vintage Las Vegas Homes,
Historic Las Vegas Neighborhoods,
Las Vegas History,
Urban Living In Las Vegas.
If it's great, cool, fantastic, artistic, annoying, amusing, unique, or surprising.. you'll find it at VeryVintageVegas.com.
Check out what we're doing and add your two cents! Your comments & ideas are welcome. We update daily, so come back tomorrow!
Blogroll
Farmer's Insurance
Paul Hesselgesser
702-434-1230
The Hesselgesser Insurance Agency Website
Classic Las Vegas - Lynn Zook's Preservation of 20th Century Las Vegas
Curbed LA - WOW!
Mid-Century Modernist
RETRO RENOVATION - Pam's Excellent Effort At Re-creating A Retro Life
Carnival Of Real Estate - Minus Elephant Ears, But Still Mighty Tasty
Lotta Livin' - A Celebration Of Really Cool Things Mid Century
Bawld Guy Talking - Minus The Hair; Plenty Insightful
CoolnessIsTimeles - ALL "RAT PACK" ALL THE TIME!
SEE ALL OUR FAVORITES HERE

Congratulations
July 9th, 2010 Categories: Congratulations, Worst MLS Photo
Might as well bring them back. If you're a fairly new reader, you might want to check out the HUNDREDS of them that I published in a long series. The last one was just over a year ago on July 3rd, 2009.
I've been totally slammed since before the holiday weekend. I truly thought I could take 2 days off last Sunday and Monday, but the world just wouldn't let me. It also left me no time or energy to blog some more as I'd promised. This way at least I get something posted to keep you interested.
Back when we were running this series, there were only 8 photo slots for the MLS. Often there weren't any pictures at all being shown. Then they changed the rules and required at least one. Then we often got ONE and ONLY one. Then they upped it to 16 available picture slots, and eventually to 25. Now we have 3 times the opportunity to find bad pictures. This might be fun again.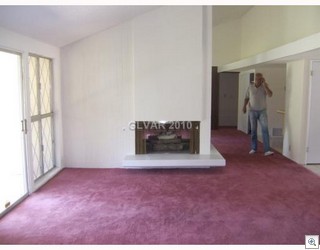 Let's start out with an easily identifiable KRISEL design home in Paradise Palms. It's a Model 8, on the golf course. It's for sale for 225,000. AND it's not a SHORT SALE or an REO.
The man in the picture isn't as easily recognizable. I still haven't decided if he's taking picture into a mirror, or if he merely stepped in front of the shot while someone else was taking the picture.
People in the pictures is just one of the dozen categories of things agents do wrong. A better angle would have been from about 5 feet to right. Then it would show that it's a peninsula fireplace separating the living room from the dining room, and would show more of the "wall of glass" with the view out to the golf course.

The only thing worse than a bad picture is no pictures at all.
Posted by Jack LeVine | Currently 4 Comments »
September 22nd, 2008 Categories: Beverly Green, Congratulations, Forest Hills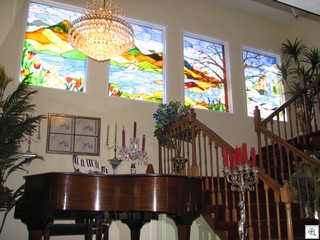 Congratulations to Alicia! She's the very excited and proud new owner of the now famous Liberace Townhouse in Forest Hills.
We closed on Friday, and I'm proud to have have represented her as well as the sellers, Ed and Ginger.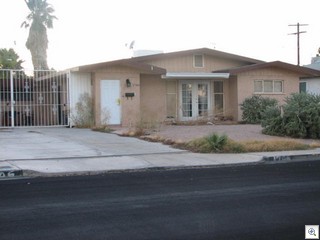 Jakes got great plans for his new digs on 6th Street. We got the pool up and running during the escrow period, and his new neighbors will be glad to know that the largest weeds in all of Downtown will be gone this week!
It was a bank owned foreclosure, and the whole deal from start to finish was smooth and without turmoil!
Posted by Jack LeVine | Currently Comments Off on Two New Vintage Las Vegas Neighbors
September 15th, 2008 Categories: Congratulations, Southridge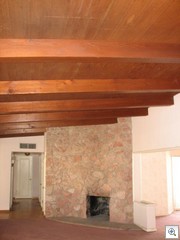 If you'll remember way back in July, I started the Fun Features Found In Foreclosures series with the mid century modern home at 704 Canosa. Harold stepped to the plate and started a very long escrow with the bank seller.
I only bring up the bank seller and the long escrow because the bank dragged their feet at every step and turn of the whole process. Harold and I want to remind you that patience is a virtue when dealing with the foreclosed homes. They took 2 weeks to give us the first counter offer, which Harold accepted. They took 10 days to return to us the signed final contract which actually allowed me to open the escrow. We were ready to close 10 days ago. It took the bank 8 days to sign off on the final paperwork from the escrow company.
That put us a full week late in closing, and Friday we got notice that the bank/seller wanted to charge the BUYER a late fee for not closing on time when the hold up was caused by the bank. 2 hours of angry phone calls later, I got them to drop the late fee demand and to authorize the closing. Of course by then, it was 4pm on Friday, so Harold finally became a homeowner today at 8am.
There's some tremendous opportunities sitting out there for those with patience and the time energy and resources to fix these homes back up once you're the owner. Rarely have I ever seen a bank owned foreclosure repo that was in move in ready condition.
Out in the suburbs, however, there are foreclosures that have never even been lived in, and and except for the weeds and dead landscape, look just like they did the day the builder delivered it to the speculator. I've got Realtor friends who are just as busy as I am selling practically new homes for 1/2 price to people who like cookie cutter homes on tiny lots.
Harold has great plans for the property, and we'll be watching as he puts it back together. Congratulations.
Posted by Jack LeVine | Currently 2 Comments »
August 12th, 2008 Categories: Congratulations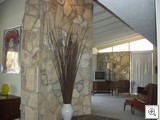 Meg moped and whined, but consistently kept looking for a great mid century modern home. The whining was because her dream house had gotten away from her. Actually she started looking about a week too late. Karl and Lorraine were already in contract for the mid mod on 14th Street when Meg found it on line, visited VeryVintageVegas for the first time and called me to see it. I showed it to her anyway, even though it was already under contract.
Heartbroken is a mild word to use to describe what she felt. Would there ever be another that would make her forget it? We scoured Downtown, and Paradise Palms and McNeil and even ventured to Henderson once.
One of the fallouts of the whole foreclosure, lending crisis that we've suffered the last year is that most of the most interesting homes aren't on the market. The sellers are just waiting it out. But occassionally……something very special pops up. I've always got my nose to the ground looking for them.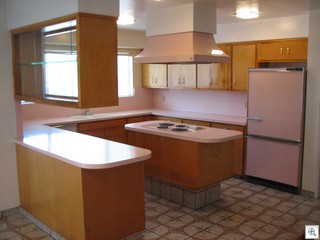 July 4th weekend, I posted a story called "You Never Know What Will Pop Up". Dean Martin's cousin's house on 6th street had been put into the MLS at 3 in the morning. I was there at 9:15, camera in hand. Meg was the first client I called, and she saw it on July 4th and 5th and 6th and was in contract to buy it on the 7th.
Meg's getting her keys today. That she hasn't had a heart attack from over excitement during the last month of escrow is a miracle in itself. If she's going to have one, it will be around 5pm when I let her in.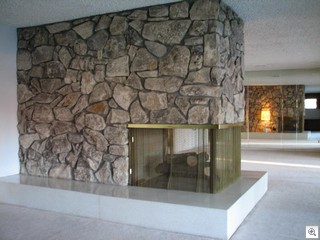 There's hidden treasure, architecturally and design wise behind many a front door in Vintage Vegas. I've been trying to show some of them to you in the "Fun Features Found In Foreclosures" series that we've been running. I try to see 5 or more listings a day in order to "know the inventory".
Even when great homes pop up that aren't my listings, I'm trying to use them to educate , and to present them to you. For example there's a real sweetheart mid century modern home that I mentioned last week, that no one has grabbed yet.
Anyway, Congratulations Meg, and as my russian grandfather said to me the day I bought my first home…."WEAR IT IN GOOD HEALTH!"
Posted by Jack LeVine | Currently 4 Comments »