Cool Stuff Topics
Welcome To Uncle Jack's Very Vintage Vegas!
Vintage Las Vegas Homes,
Historic Las Vegas Neighborhoods,
Las Vegas History,
Urban Living In Las Vegas.
If it's great, cool, fantastic, artistic, annoying, amusing, unique, or surprising.. you'll find it at VeryVintageVegas.com.
Check out what we're doing and add your two cents! Your comments & ideas are welcome. We update daily, so come back tomorrow!
Blogroll
Farmer's Insurance
Paul Hesselgesser
702-434-1230
The Hesselgesser Insurance Agency Website
Classic Las Vegas - Lynn Zook's Preservation of 20th Century Las Vegas
Curbed LA - WOW!
Mid-Century Modernist
RETRO RENOVATION - Pam's Excellent Effort At Re-creating A Retro Life
Carnival Of Real Estate - Minus Elephant Ears, But Still Mighty Tasty
Lotta Livin' - A Celebration Of Really Cool Things Mid Century
Bawld Guy Talking - Minus The Hair; Plenty Insightful
CoolnessIsTimeles - ALL "RAT PACK" ALL THE TIME!
SEE ALL OUR FAVORITES HERE

Cool Stuff
July 15th, 2008 Categories: ART, Cool Stuff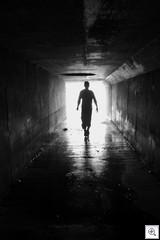 As part of the month-long Beneath the Neon: The Exhibition, the Contemporary Arts Collective is hosting a panel discussion about life, death and art in the underground flood channels of Las Vegas.

The discussion will be moderated by local artist and curator Brian Paco Alvarez and panelists will include Matthew O'Brien, author of Beneath the Neon: Life and Death in the Tunnels of Las Vegas; "Ruckoh," a graffiti artist who paints in the tunnels; Gary, a pencil-portrait artist who has lived in the tunnels for several years; and Billy, who moved out recently and is transitioning off the streets.
The panel discussion will start at 6 p.m. July 17 at the Arts Factory. After the discussion, Beneath the Neon: The Exhibition will be open to the public and O'Brien will sign copies of his book. Part of the proceeds from book sales will go to the CAC.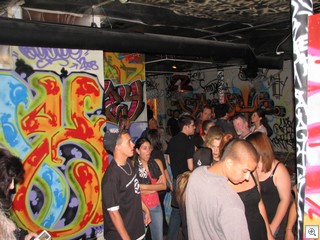 Beneath the Neon: The Exhibition provides locals and tourists the ability to explore the underground flood channels of Vegas through the eyes of Brian Paco Alvarez, who re-created the storm drains in the CAC's gallery using water elements, gravel, debris and graffiti. The comprehensive exhibit includes artifacts, video with footage from O'Brien's adventures in the tunnels, and black-and-white photography by Danny Mollohan.
About The Contemporary Arts Collective
Established in 1989, the Contemporary Arts Collective began as an extension of the University of Nevada, Las Vegas Department of Fine Arts, providing a venue for students to share ideas, concepts and to exhibit their work. In 1993, the CAC became a nonprofit organization to further expand the promotion of contemporary art through outstanding exhibitions featuring both local and national artists and educational programs. Located in the heart of the Las Vegas Arts District, the CAC is dedicated to promoting contemporary art through avant-garde exhibitions and educational programs within the local arts community. The CAC is funded in part by the Nevada Arts Council, Nevada Community Foundation, the Arts Factory and benefactors, patrons and CAC members.
The Contemporary Arts Collective is located in the Arts Factory at 101 E. Charleston Blvd., Ste. 101. For membership or additional information, call 702-382-3886 or visit www.lasvegascac.org
Posted by Jack LeVine | Currently Comments Off on Beneath The Neon: The Exhibition – Panel Discussion
March 5th, 2008 Categories: Cool Stuff, Events, Fremont Street Experience

Celebrate St. Patrick's Day Weekend at Fremont Street Experience

LAS VEGAS – March 5, 2008 – Las Vegas' legendary Fremont Street Experience will be the place to celebrate St. Patrick's Day when a weekend of live entertainment kicks off on Saturday, March 15.

St. Patrick's Day Weekend at the Fremont Street Experience brings three days of free concerts with Whiskey Galore and Wild Celts. The performance schedule is as follows: Saturday, March 15, Wild Celts , 6-8 pm, 3rd Street Stage; Whiskey Galore, 9-11 pm, 3rd Street Stage; Sunday, March 16, Whiskey Galore, 8-11 pm, 3rd Street Stage; Monday, March 17, Whiskey Galore, 8-11 pm, 3rd Street Stage.

Whiskey Galore formed in 1997 as the result of friendship and a deep passion for Celtic music. Since then the band has been delighting audiences with their unrivaled mix of raw and technical talent, producing lively Celtic tunes with pipes, drums, Irish flute, bodhran, djembe, guitar and other instruments. Based out of Bakersfield, CA, Whiskey Galore's signature brand of spirited Celtic sound has entertained fans in various venues throughout California and Nevada.

Click below the fold to read more
Posted by Stephen P Christmas | Currently Comments Off on
February 12th, 2008 Categories: Atomic Age Alliance, Cool Stuff, Las Vegas History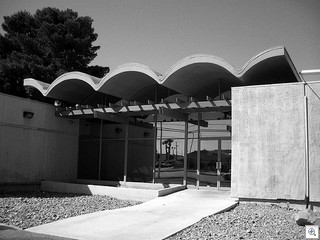 The monthly meeting of the Atomic Age Alliance will be Wednesday 2/13/2008 at the Italian American Club just east of the Burger King on Sahara Ave and Eastern.
This should be a lot of fun, as we'll get to do a flashlight tour of the Federated Employees of Nevada building which the Atomic Age Alliance was instrumental in helping to save from the bulldozer.
It's literally in the parking lot of the Italian American Club. The tour will be during the meet and greet portion of the meeting at 7pm, and then the business meeting will follow at 7:30 to approximately 9pm.
If you've thought about getting involved in the preservation of Vintage Vegas, this is a great place to start. If you complain about not knowing anyone, then I recommend coming out and meeting most of the movers and shakers in the Vintage Vegas Preservation Movement.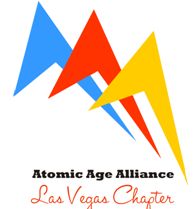 United across the miles, we have a stronger voice for the preservation of our Mid 20th Century heritage! The Atomic Age Alliance is a volunteer organization dedicated to celebrating historic Mid Century Modernism and Atomic Age design, signage, architecture, culture and business through ongoing community advocacy, activism and educational programs.
We have alliances with the Los Angeles Conservancy Modern Committee, Palm Springs Preservation Foundation and Modern Committee, Classic Las Vegas, Recent Past Preservation Network, Doo Wop Preservation League, Kansas City Modern Committee, and Portland Modern Committee Join Globally – Act Locally.
Since VVV has readers all over America, If you know of any other modernist preservation groups that we should be aligned with, please send an email or post a comment with their contact information or web address.

There's a ton of information on modernism awaiting you if you'll check out some of the other organization websites that we've linked to above. We're just late in getting started, but what do you expect from the "newist" city in America.
Posted by Jack LeVine | Currently 1 Comment »
February 4th, 2008 Categories: Cool Stuff, Downtown Businesses
It seems we all found some cool new things and places this weekend Mary Joy wrote up a review of a favorite new place of hers, check it out! – Steve
I hope all of our readers had a great time on Superbowl Sunday. I sure did. One of my friends had invited me to a Superbowl party but got sick at the last minute. So after he called, I contacted Susan Dean and she and I went to the Coachman's Inn, 3240 S. Eastern Ave. The new owners, longtime local attorney Bucky Buchanan and Chip Lightman were putting on a great party with a free barbeque buffet and free beer.
We were greeted by the manager, Ray Mackaly who gave us raffle tickets and showed us to one of the last remaining tables. I won the second raffle held just after the game started and my prizes were a Superbowl XL11 t-shirt and a program. Later on Susan also won a t-shirt. We got completely full with one trip through the buffet. They even came to the tables with more beer in pitchers for those who wanted it. Of course their usual bill of fare was also available.
Posted by Stephen P Christmas | Currently Comments Off on Congrats Giants, Congrats Coachman's
January 3rd, 2008 Categories: Cool Stuff, Historic Preservation, Housing Styles, Humor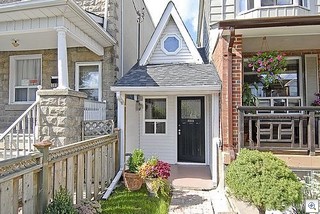 Actually, this picture is from Toronto, and it's the smallest home for sale there.
Mark T. sent me a picture, and thanks to google, I found all kinds of stories about it.
Thought you'd get a laugh out of it also.
Toronto's Smallest House the website
Other Bloggers Have covered it. with lots of pictures.
Posted by Jack LeVine | Currently 1 Comment »
December 17th, 2007 Categories: Cool Stuff

Send us an e-mail and include your address. You'll get a couple VeryVintageVegas window stickers for your car, your golf cart, or your Ducati windshield. (Now also available for boats & small water craft) Let your neighbors know you 'get it' & you'd rather keep your pink tile bathroom, thank you very much!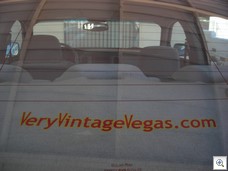 They're static cling, so your Rolls won't retain any residue. They measure about 9 inches by 1 inch.
Get some!
Posted by Stephen P Christmas | Currently Comments Off on Want To Show Off Your Vintage Vegas Pride?
November 13th, 2007 Categories: Cool Stuff, Culture, Downtown Businesses, Downtown Las Vegas, Events, Fremont East Entertainment District
Rock The Block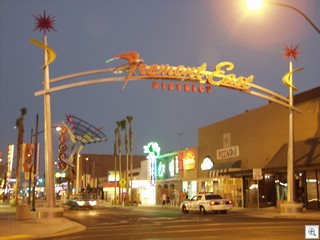 Rock The Block Music Festival All Day Saturday in the Fremont East Entertainment District
Inventory Clearance At The World Market Center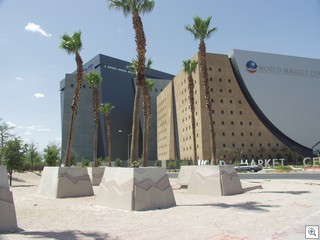 Open To The Public. Worth the $10 admission just to see the buildings. Proceeds benefit the Nevada Aids Project. NOV. 16 – 17
The Las Vegas Design Center at World Market Center holds a pre-market inventory clearance sale, organized by The California Central Nevada chapter of American Society of Interior Designers, 9 a.m.-5 p.m., at Las Vegas Design Center, 495 S. Grand Central Parkway. Cost: $10, with proceeds benefiting the Nevada Aids Project, Habitat for Humanity Las Vegas and Opportunity Village. Info: 599-3093.
Posted by Jack LeVine | Currently 1 Comment »
November 11th, 2007 Categories: Cool Stuff, Culture, Downtown Las Vegas, Events, Historic Preservation, Las Vegas History, Las Vegas Real Estate News, Mid Century Modern, Moonlight Mid Mod Bus Tour
Morelli House Was Final Stop On The Moon Light Bus Tour Of Mid Century Modern Las Vegas – Part 7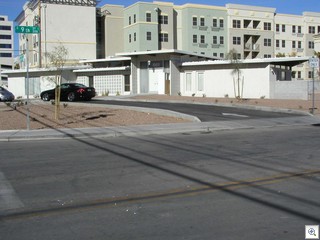 We've been reporting all week on our midnite bus tour of the historic mid century modern heritage of Las Vegas. The tour was sponsored by the Atomic Age Alliance and the City of Las Vegas Department Of Cultural Affairs. We especially want to thank Richard Hooker for organizing it and MaryMargaret and Cary Stratton for guiding it. We were honored and privileged to have Chris Nichols narrate, with special commentary from Alan Hess.
Our final stop on the tour was at the Morelli House. It was built on the Desert Inn Golf Course in 1959 by Antonio Morelli, the fabled orchestra director of The Sands. It was moved to the corner of 9th and Bridger and now serves as the offices of the Junior League of Las Vegas.
Junior League Of Las Vegas Shows The Morelli House To The Public With Vintage Fashion Show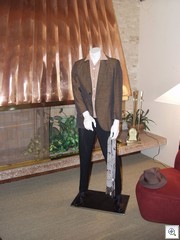 And yesterday, many of you dropped in on the Junior League's fall open house.
Diane Bush and Steven Baskin showed their collection of vintage clothing from the late 50's and early 60's.
If I've ever been called anything, fashionable is not a word that's ever been used. I really got off on a lot of what I saw so I'm meeting with Diane later today with a few trusted clothes hound friends to put together some vintage wardrobe for me. Should be fun and I'll report on it later.
In the meanwhile, here's some of the fashion you missed if you didn't stop in yesterday at the Morelli House.
Posted by Jack LeVine | Currently 3 Comments »
November 10th, 2007 Categories: Cool Stuff, Everywhere We Look, Las Vegas Real Estate News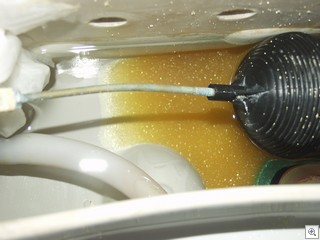 We seem to be playing guessing games this week. I've got a $10 gift card from Rejavenate, our favorite independant coffee shop/art gallery in all of Las Vegas to anyone who guesses what this stuff in the toilet tank is (or how it got there). Give me a call, send me an email, or post it in the comments. First one to guess wins.
If I've already told you the story personally, you're not eligible. I'll tell the rest of the story by Wednesday.
Posted by Jack LeVine | Currently 3 Comments »
November 9th, 2007 Categories: Architecture, Cool Stuff, Events, Fremont St., Historic Preservation, Mid Century Modern, Moonlight Mid Mod Bus Tour
Moonlight Bus Tour Of Mid Mod Las Vegas – Part 6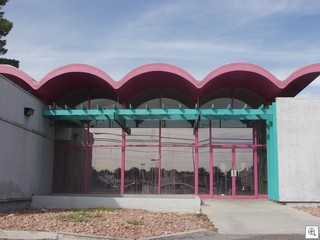 After a surprise midnite cocktail party at the "Caddy Shack", MaryMargaret's fantastic Paradise Palms time capsule of mid century modernism, we headed over to Sahara Ave. MM pointed out a building the preservationists are trying to save. So far, the current owner has agreed to build onto the existing structure to create his new strip mall. Hopefully, he'll make the new parts match the historic mid mod building.
Lower Fremont Street, before it becomes Boulder Highway, holds several examples of the "space age" architecture that was common in Mid Century Modern commercial buildings.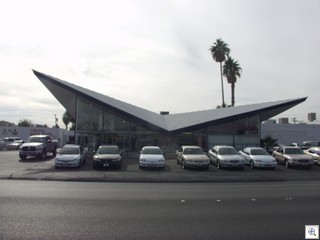 This is the Findley Auto Dealership. I'm reminded of a bank building back in Columbus, Ohio, which I thought was so cool when I was a little kid. My brother's going to take a picture of it and send it to me. Watch for it, I'll do a post on it the minute I get it it.
Many buildings like this and the Concha Motel Lobby dotted Fremont, Boulder, Charleston, Sahara and Las Vegas Blvd. All too many are now lost to the bulldozer. Fortunately, the La Concha has been saved and sits in storage awaiting it's new life as the the new home of the Neon Museum.
PS: The best way to ever get to see MaryMargaret's "CaddyShack" is to join the Atomic Age Alliance, and get involved in our efforts to save historic Las Vegas Architecture.
Posted by Jack LeVine | Currently 1 Comment »
November 6th, 2007 Categories: Cool Stuff, Culture, Events, Las Vegas History
Funeral for Robert Goullet Is Open to the Public
http://classiclasvegas.squarespace.com/classic-las-vegas-blog/
_____________________________________________________________
Frazier Hall Preservation Meeting At UNLV
There will be a meeting with University Regent Mark Alden regarding Frazier Hall to be held Friday, November 9th at the TAM Alumni Center on the campus of the University of Nevada, Las Vegas. The meeting will begin promptly at 5PM the meeting will be for approximately 30 minutes.
If you have any questions please feel free to contact Brian Paco Alvarez at 280-3498.
___________________________________________________________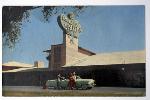 Review Journal Article About Vintage Postcards
__________________________________________________________
Best piece of morphing software I've ever seen. Well worth 2 minutes of time wasting.
Reminder: Mayor Goodman at Downtown Cocktail Room TODAY (Tuesday) at 6pm. Stop on by.
__________________________________________________________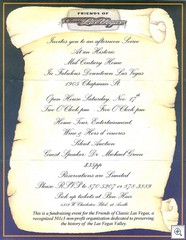 Just got an invitation to a Friends of Classic Las Vegas fundraiser at the vintage Vegas former home of Jackie Gaughan, the casino Mogul.
________________________________________________________
Modernism Week Coming To Las Vegas In October 2008
(did I ever mention that there's going to be a "Modernism Week" here in Las Vegas NEXT October? Huge event! World Wide Publicity etc etc.
If you want to get involved, then read this email from Josh.
Josh emailed me this:
Hello Everyone! Its time for another Mondo Lounge Modernism Week Planning meeting…
Tomorrow, Wednesday Nov 7th,
Mary Margaret and Cary will be hosting the meeting at their swinging pad on:

Lots has transpired since our last meeting.  Some of our subcommittees have already begun meeting and planning.  Looking forward to sharing their developments as well as setting some new agendas for the coming weeks.Very Important
A planning committee usergroup has been established at LottaLiving.com
I highly recommend going through all the active/pertinent topics and selecting the "watch this topic feature" in lower left hand corner of the thread.Select a topic of interest, scroll all the way down the page, and click "Watch this topic for replies"… that way you will automatically receive email updates every time there is a reply posted to a thread.
See you all tomorrow!
____________________________________________________________
Posted by Jack LeVine | Currently Comments Off on This And That And The Other
November 3rd, 2007 Categories: Architecture, Cool Stuff, Culture, Downtown Businesses, Events, Historic Preservation, Las Vegas History, Las Vegas Real Estate News, Mid Century Modern, Moonlight Mid Mod Bus Tour, The Las Vegas Strip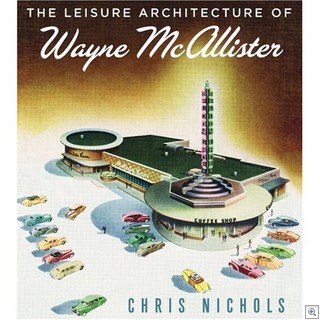 Chris Nichols author of  "The Leisure Architecture of Wayne McAllister" was a featured speaker yesterday at the Vegas Valley Book Festival. He also graciously conducted the tour along with MaryMargaret from the Atomic Age Alliance.
The Wiki entry on McAllister can fill you in on his life and work and influence in the creation of the strip. His work was a major topic of the tour. He designed the Desert Inn, The El Cortez, The Sands, The Fremont and his first work in Las Vegas, the El Rancho Vegas.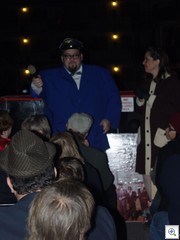 The mood on the double decker, open air bus shifted repeatedly from joy for the buildings remaining, to sadness for the treasures that have been lost. Both were pointed out along the way.
The most prominent emotion displayed by those on the tour was determination to save what is left and preserve it for the future.

Our first leg was a drive down Las Vegas Blvd on the way to one of the Icon Businesses of Vintage Vegas. The Golden Steer Steak House is on Sahara, just west of the strip.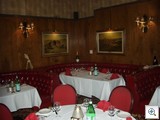 It's been there since 1958, and is one of the best remaining examples of what Chris and Alan Hess call the "Red Booth" period of fine dining in America.
Tomorrow, I'll publish the second installment. I didn't attend First Friday last night, so instead of our usual week of First Friday Posts, we'll give you a sampling of what we saw on the bus tour.
Posted by Jack LeVine | Currently Comments Off on Moonlight Tour of The Mid Century Modern Heritage of Las Vegas
November 1st, 2007 Categories: Architecture, Cool Stuff, Culture, Decorating Tips, Events, First Friday, Las Vegas History, Las Vegas Real Estate News, Mid Century Modern
This is my own response to the travel and leisure article, the LV Sun response from Kristen Peterson, and Paco's letter to the editor.
Tonight from 6–8 is the Opening reception for the Vegas Valley Book Festival
Tonight from 6:30–0 is the regular monthly history series from Classic Las Vegas.
Tonight from 6–8 is the opening reception for the new show at the Contemporary Arts Gallery.
Tomorrow Night is First Friday.
After 1st Friday, we're going on the bus tour of downtown's historic Mid Mod buildings (sold out, sorry).
I haven't published yet the notice for the Nevada Ballet Theater Their winter season started in October.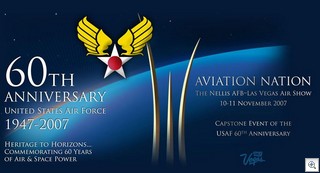 AVIATION NATION Week long celebration of the 60th Anniversary of the USAF
The City of Las Vegas Department of Cultural Affairs November and December newsletter is here.
Clark County Parks and Recreation Calendar of Events is HERE
I try to do my part in promoting art history and culture. Of course we're promoting the Vintage Vegas Neighborhoods and homes, and the urban core lifestyle, also. We're down here living it and working it, and enjoying it.
We invite you to give it a try, even for a single event nevertheless living it. .
Posted by Jack LeVine | Currently Comments Off on A Very Busy Time For Culture, Art And History In Vintage Las Vegas
October 29th, 2007 Categories: Cool Stuff, Events, Las Vegas History, Paradise Crest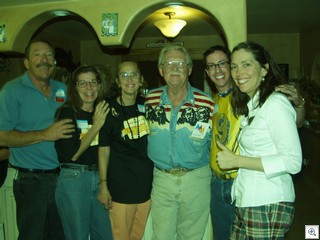 I was certainly flattered by the number of VVV readers who sought me out to say hello while I was directing traffic on one of the very narrow staircases up to the 3rd floor rooftop level. I was real busy all day, and my feet still hurt, but it was an amazing experience not only for me, but for the approximately 7000 people who took advantage of this once a year event.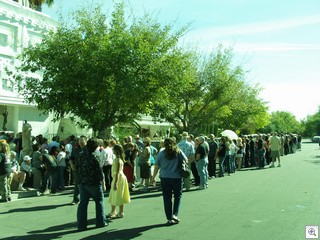 Below the fold are some more pictures we did manage to take during the event.
Posted by Jack LeVine | Currently 1 Comment »
October 29th, 2007 Categories: Cool Stuff, Decorating Tips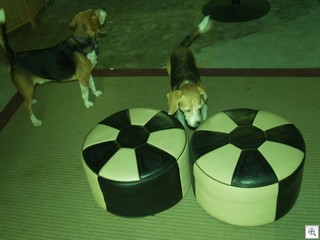 We had a surprise delivery Saturday from the UPS man. As Jack was MLS-ing away for a client, I jumped up & got the door. It was a huge air compressor box shipped to Jack LeVine from Port Orange Florida. The name was one neither of us recognized and after opening the box we find two beautiful vintage Ottomans.
We scoured all of our databases to figure out who Len *last name omitted* was so we could figure out who to thank & why they sent this great gift with no note. After having no luck in our various databases for two days, Jack resorted to calling the number listed for the person shipping them today. She told Jack they were bought as a gift from his sister, Catherine. Jack doesn't have a sister named Catherine, and dug for more info as I was scratching my head trying to think of a close VeryVintageVegas friend or client named Catherine. He was told the last name was 'Christmas', and I smacked my forehead remembering last week my sister had asked for my office address. (It's hard to get any kind of UPS, Fed-EX or USPS package delivered @ L'Octaine, as it is such a secure Urban dwelling complex.)
It turns out this was an e-bay auction won and shipped from Florida as an apartment warming gift by my mother & sister! They'll match my low to the ground black circular chair, my round dinette set, and my low, round black stool perfectly! The middle section will also match the octagonal design of the beautiful vintage wall clock that Jack got me from Modify, as a house warming gift. It turns out calling the E bay Seller was worth the dial for a few reasons. We found out the Ottomans were vintage from the 60's and came to Florida from Germany. Either way, I'm ecstatic to have an aesthetic place to prop my feet up at the end of a long day helping Jack promote the Urban Core of Las Vegas, and helping our readers finance their Vintage Vegas home purchases! While I was sad to see Jack's disappointment that they weren't for him (it was supposed to be addressed to Steve Christmas c/o Jack LeVine; I'm still overjoyed at the great vintage surprise!) Thanks mom & sis, you know me too well!
Posted by Stephen P Christmas | Currently Comments Off on The Ottoman Mystery