Crestwood Topics
Welcome To Uncle Jack's Very Vintage Vegas!
Vintage Las Vegas Homes,
Historic Las Vegas Neighborhoods,
Las Vegas History,
Urban Living In Las Vegas.
If it's great, cool, fantastic, artistic, annoying, amusing, unique, or surprising.. you'll find it at VeryVintageVegas.com.
Check out what we're doing and add your two cents! Your comments & ideas are welcome. We update daily, so come back tomorrow!
Blogroll
Farmer's Insurance
Paul Hesselgesser
702-434-1230
The Hesselgesser Insurance Agency Website
Classic Las Vegas - Lynn Zook's Preservation of 20th Century Las Vegas
Curbed LA - WOW!
Mid-Century Modernist
RETRO RENOVATION - Pam's Excellent Effort At Re-creating A Retro Life
Carnival Of Real Estate - Minus Elephant Ears, But Still Mighty Tasty
Lotta Livin' - A Celebration Of Really Cool Things Mid Century
Bawld Guy Talking - Minus The Hair; Plenty Insightful
CoolnessIsTimeles - ALL "RAT PACK" ALL THE TIME!
SEE ALL OUR FAVORITES HERE

Crestwood
March 24th, 2008 Categories: Crestwood, Las Vegas Real Estate News, OUR LISTINGS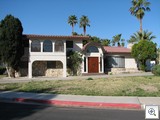 Thanks to all of you who stopped by the open house at 1700 Chapman. 8 readers who I've never met before stopped by to say hello, as well a lot of friends.. About 10 people from the neighborhoods dropped in when they saw the signs, just because they were curious.

One thing that really made my day was that most of the folks who saw the house really appreciated the original bathrooms, and everyone loved the kitchen, the doors, the hardware and the yard and pool. Only 1 of the approximately 20 people said they'd "have to rip out all 3 bathrooms" to make them look like one of those new homes in the suburbs.
When I showed some of the details in the post on Saturday, I didn't have a close up of the inlaid wood mosaic accents in the kitchen counters, but I grabbed a good picture during the open house.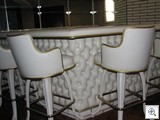 One of the other great retro features that everyone liked was the tufted leather bar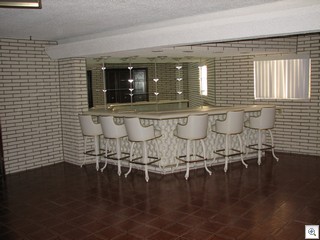 and matching barstools in the what we're calling the "Elvis Game Room". The entertainment space in this home is terrific.
The flyer which shows all the great retro themes of this home is now in our GALLERY OF FEATURED HOMES, which is always in the left hand column.
While you're looking thru them, who do you know that's thinking of buying or selling in the historic pre 1970's Las Vegas?
Your referrals are always appreciated!
Posted by Jack LeVine | Currently 3 Comments »
March 22nd, 2008 Categories: Crestwood, Las Vegas Real Estate News, OUR LISTINGS
While Steve's busy building the brochure for our gallery of featured properties, I thought I'd share some of the finer details that make 1700 Chapman Ave. so special. We put it into the MLS today at $595,000. We priced is at slightly less per square foot than what 1701 15th and 1908 Chapman Sold for. In it's own unique ways it's just as special if not more so.
Original Antique Doors And Hardware That Have Been Lovingly Preserved Are Hard To Find Even In Vintage Las Vegas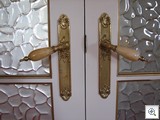 Every door in the home makes a statement. The interior doors are opaque french glass with antique hardware.
Untouched Retro Bathrooms Are The Hottest Selling Feature In The Historic Neighborhoods Of Las Vegas.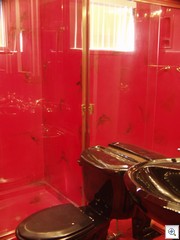 No one's ever seen a bathroom like this before except in Vintage Vegas. It's only one of the 3 retro bathrooms.
There's a matching jetted tub in what we're calling the "Liberace Suite".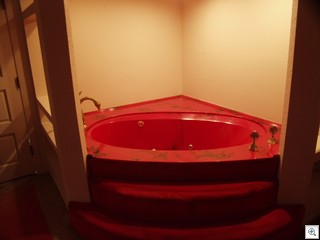 Inlaid Mosaic Inserts In The Counter Tops Are A Custom Feature Rarely Found In ANY Home For Sale In Las Vegas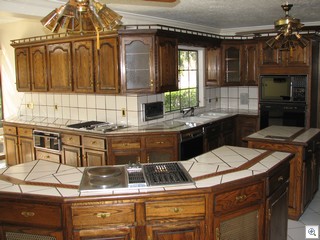 Counter space like this is truly a rarity even in the biggest of homes.
This is truly a custom one of a kind kitchen.
I'll be holding an open house on Easter Sunday from 2:30 to 5pm.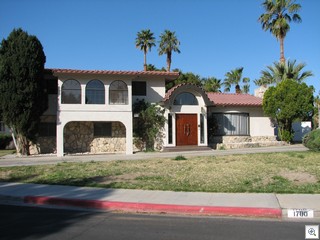 YOU'RE INVITED to stop by and say hi, whether you're in the market or not. I love meeting my readers, or having an opportunity to say hi again.
Until they're gone, we still have some VeryVintageVegas car window stickers. You're welcome to stop by and grab one of the last of them.
Oh, by the way, this is the same home where the estate sale was held last weekend. It's on the corner of Oakey and Chapman, just east of Maryland Parkway.
Posted by Jack LeVine | Currently 3 Comments »
January 23rd, 2008 Categories: Crestwood, Housing Styles, Mid Century Modern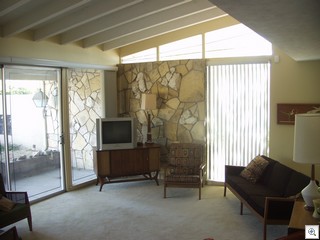 How do you let lots of natural light into a room, and still maintain some privacy? The modernist architects that were responsible for the "mid-century modern" home that we talk about so frequently here at VeryVintageVegas solved the problem with "Clear Story" Windows. Since the ceilings were vaulted, and the roofs so often flat, or low pitched, it was easy to add windows above the normal wall space.
In modern usage we find the term spelled "clerestory" as well as "clearstory" and even "overstory". In the mid mod homes, an excellent definition is:
rows of windows above eye level that allow light into a space. In modern architecture, clerestories provide light without distractions of a view or compromising privacy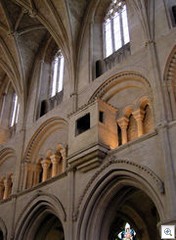 I never really connected the high-in-the-wall windows of modernism with the ancient architecture of Gothic cathedrals. In fact, according to this article in wikepedia, the use of clear story windows dates back clear to the Egyptians.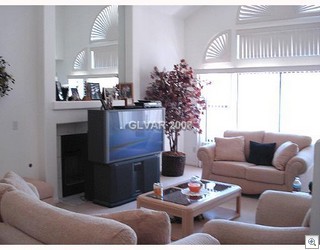 A big complaint that I get all the time about our suburban cookie cutter homes, is that the windows are so large that you lose all the wall space for furniture. Yesterday's Worst MLS Photo was a good example of the windows ruining a room. The windows above are an example of clear story windows, as they might be used in a more suburban 2000's home.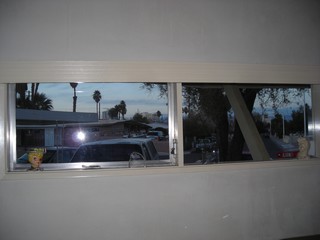 Modernist homes, however were built for desert living often had wide, thin windows set high in the walls to let in light, allow for furniture below them, and privacy within the room, and minimal direct sunlight.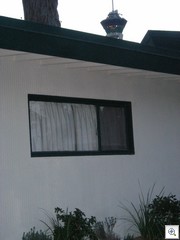 Now you know what to call high windows in a tall room.
Posted by Jack LeVine | Currently 3 Comments »