Downtown Businesses Topics
Welcome To Uncle Jack's Very Vintage Vegas!
Vintage Las Vegas Homes,
Historic Las Vegas Neighborhoods,
Las Vegas History,
Urban Living In Las Vegas.
If it's great, cool, fantastic, artistic, annoying, amusing, unique, or surprising.. you'll find it at VeryVintageVegas.com.
Check out what we're doing and add your two cents! Your comments & ideas are welcome. We update daily, so come back tomorrow!
Blogroll
Farmer's Insurance
Paul Hesselgesser
702-434-1230
The Hesselgesser Insurance Agency Website
Classic Las Vegas - Lynn Zook's Preservation of 20th Century Las Vegas
Curbed LA - WOW!
Mid-Century Modernist
RETRO RENOVATION - Pam's Excellent Effort At Re-creating A Retro Life
Carnival Of Real Estate - Minus Elephant Ears, But Still Mighty Tasty
Lotta Livin' - A Celebration Of Really Cool Things Mid Century
Bawld Guy Talking - Minus The Hair; Plenty Insightful
CoolnessIsTimeles - ALL "RAT PACK" ALL THE TIME!
SEE ALL OUR FAVORITES HERE

Downtown Businesses
November 30th, 2010 Categories: Downtown Businesses, Downtown Las Vegas

I've been hearing rumors for a while that there was a deal cooking that would save the Las Vegas City Hall from the wrecking ball. Now it's confirmed enough that the city has made the announcement. City Hall was designed by the Architectural firm of Zick and Sharp, who were the premiere local architects of modern commercial and office buildings during the 50's and 60's. The 2009 modernism bus tour focused on the existing buildings of Zick and Sharp, including City Hall.
When it was first announced that they wanted to tear it down for a new hotel and stadium complex, we had held some preliminary meetings to start a protest campaign. Assuming this actually takes place, we won't have to expend a lot of energy to preserve the largest existing Zick and Sharp building in Las Vegas. Let's all keep our fingers crossed, not only for preserving a great Mid Mod Building
Zappos Headquarters Eyes Moving Into Las Vegas City Hall
In what would be a major economic boost, Zappos.com, Inc. is looking to relocate its corporate headquarters to downtown Las Vegas on the current City Hall site.
The Resort Gaming Group (RGG), wholly owned by founder and CEO Andrew Donner, made an unsolicited offer to the city of Las Vegas to buy the site and about seven surrounding acres earlier this year with the intent of developing it as a corporate campus for Zappos.
Such a move is expected to bring an initial 1,000 jobs into the downtown area. Zappos.com is a leader in online clothing and footwear sales by way of an unparalleled focus on customer service. Zappos is known as having a fun and family-type culture with a focus on employee happiness. Highlighting Zappos' accomplishments is inclusion in Fortune Magazine's "100 Best Companies To Work For" list for 2009 and 2010.
"This will be a game changer for Southern Nevada," said Mayor Oscar B. Goodman."This move will bring about a critical mass of creative persons to the inner core of Las Vegas in addition to causing a significant shot in the arm for the economy and for new jobs."
City leaders have noted the importance of keeping local businesses excited about being in Las Vegas. "Having Zappos in the Las Vegas area is vital to diversifying our economy beyond gaming," said City Manager Betsy Fretwell. "This move will also encourage similar companies to look at Las Vegas as a potential site for corporate headquarters."
The city had already made plans to relocate City Hall to another downtown location with a timeline to vacate the current facility in 2012. Zappos hoped to capitalize on the city's move, expressing an interest in being in a downtown environment with room to grow. The current City Hall campus and nearby city-owned properties comprise approximately 17 acres.
Read the entire story at The City of Las Vegas Redevelopment Agency Website.
Posted by Jack LeVine | Currently 2 Comments »
July 31st, 2009 Categories: Downtown Businesses, Huntridge
I've been talking up the Huntridge Diner for a few months now, ever since Derek Washington took me there for lunch. I never put it on VeryVintageVegas before. I've had many a great burger and cheesesteak sandwich. Between the Channel 8 coverage, and this post, maybe we can get him up to the numbers that Joel Holffman, the owner needs to keep it going.
I happened to catch the report live, but this morning 5 of you emailed me the link before I had a chance to find it myself. Regular reader Tracey Brown gets the tip of the hat for being first.
Head over for lunch. I don't think you'll be disappointed. The Huntridge Diner is located in the Huntridge Pharmacy (which is a "mom and pop" operation as well,) at the SW corner of Maryland Parkway and Charleston.
Here's the text of Paula Francis' report. The VIDEO is on the Channel 8 Website
CLASSIC DINER OPENS IN TOUGH TIME:
A local man who says retirement was driving him crazy admits he may be even crazier to open a new restaurant in the middle of a recession. But after resurrecting the old Huntridge Diner, he's just hoping the retro restaurant's colorful past will help it survive long enough to have a future.
It's 50's and 60's decor, music, and milkshakes are definitely a blast from the past. If the historic Huntridge Diner can hang on long enough, it's future could be as bright and shiny as its new facelift.
Just like the music, the old-fashioned milkshake machines are shaking again and the burgers, ground from fresh round daily, are sizzling on the grill. "I make everything the moment they ask for it," said Chef Moses Cruz.
The historic diner, located inside the old Huntridge Drugstore at east Charleston and Maryland Parkway is back in business, much to the delight of old time Las Vegans like Mayor Oscar Goodman and young new regulars like Chris Turner — who can spot a good thing even if he wasn't even born yet the first time it came around. "It looks like it would have 50 years ago. It's cool," he said.
"This fountain behind me is 40-years-old. You just don't see places like these anymore," said restaurant operator Joel Holffman.
Its bright red booths, shiny counter tops and freshly painted walls are adorned with 50's and 60's memorabilia. In fact, Hoffman says all that's missing here is a steady stream of customers. "It's frustrating! If the place was dirty, I could understand it. Or if the food wasn't good, I could understand it," he said. "Our prices — $6.95 for a fresh grilled hamburger or philly steak, fries and a soda."
But like the historic Huntridge Theater directly across the street, which remains closed for now, the Huntride Diner went out of business for a while as well. "I remember going to the Huntridge next door when it was a movie theater. I saw Woodstock there. Wow, that was 40 years ago," said customer Brian Babbitt.
Hoffman wonders if folks, like long-time resident Brian Babbitt, just haven't realized the historic restaurant is back in business and better than ever. "If they come in once, they'll be back," he said.
Hoffman says he only needs 50 customers a day to turn a profit. But right now he's only averaging 10 to 12. He says word of mouth will have to start traveling faster if the restaurant is going to survive the recession.
Posted by Jack LeVine | Currently 7 Comments »
December 15th, 2008 Categories: ART, Downtown Businesses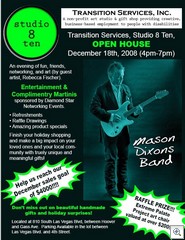 The holiday open house for Studio 10 is Thursday from 4 to 7 pm. All the information about this terrific non-profit is in the invitation. Click on it for a larger version.
I'm hoping you'll stop by there on your way to our VVV readers meet up at Frankies, which is from 6 to 8 pm the same evening.
810 Las Vegas Blvd. 4–7 PM on Thursday 12/18
Posted by Jack LeVine | Currently Comments Off on Studio 8 Ten – A Non-Profit Art Studio And Gift Provides Employment For The Disabled
November 4th, 2008 Categories: Downtown Businesses
I've always loved Tiki! It was a all the rage in the 50's and 60's. A few months ago, I wrote about some of our famous Tiki homes in the historic neighborhoods and about one of the most famous Tiki Bars in the world that was torn down in Columbus Ohio where I grew up.
It looks like we'll get another chance to fall in love with polynesian themed cocktail lounges once again.
City Life reports:
On Dec. 4, Frankie's Bar and Cocktail Lounge (1712 W. Charleston Blvd.) becomes Frankie's Tiki Room. This has been Double Down Saloon proprietor Moss's new project since January, and he's got the support and participation of tiki-culture icons and artists like Bosko. Frankie's promises to be an authentic tiki room, the first since the Venetian shuttered the original Venus club (unless you count tourist trap Trader Vic's, and we doubt Moss does), that will still honor the original bar in name and neon.
Posted by Jack LeVine | Currently 5 Comments »
September 27th, 2008 Categories: ART, Downtown Businesses, Downtown Las Vegas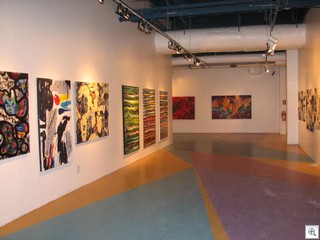 We attended the opening reception on Thursday at the the newly relocated Southern Nevada Museum Of Fine Art. It's now on the 2nd floor of Neonopolis at the entry to the Fremont Street Experience.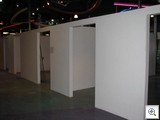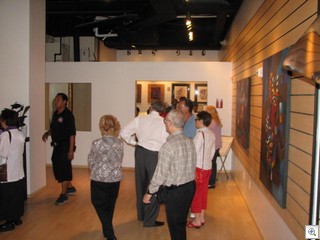 The gallery space is enourmous and friendly, but the highlight will be the dozens of artist work spaces. All of them are now rented and the artists will be taking occupancy soon.
What was once the food court is now another fine addition to the evergrowing downtown arts scene.
There's big changes happening at Neonopis. Telemundo will have a broadcast studio, several new restaurants, 2 or 3 of the movie theatres are being transformed into performing arts space.
Joe Palermo, the executive director of the non-profit organization told me that the goal is to create an entire complex of art entertainment, theatre, and fine dining. So far, they're off to a great start.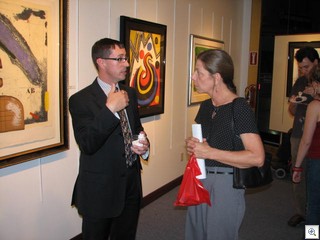 Make a point to stop in. Once all the various artist tenants are working it should be an exciting experience everytime you visit.
Posted by Jack LeVine | Currently 5 Comments »
August 21st, 2008 Categories: Downtown Businesses, Downtown Las Vegas
got their picture taken in front of the million dollar horseshoe at Binions. The coffee shop at Binion's was my father's favorite place to bring our out of town friends.
Binion's Gambling Hall & Hotel Unveils a New $1 Million Display
LAS VEGAS – August 21, 2008 – In keeping with the storied tradition of the Binion's legacy, Binion's Gambling Hall & Hotel has unveiled a new version of the famed $1 Million Display that, over the last five decades, has brought millions of visitors for a chance to pose with $1 million.
"The million dollar display is a major component of the Binion's legacy and a piece of Las Vegas history remembered and loved by locals and visitors alike. Reintroducing the display with a modern look is part of our strategy to preserve tradition while refreshing the Binion's brand for today's market," said Tim Lager, general manager of Binion's Gambling Hall & Hotel.
Binion's new $1 Million Display holds exactly one million dollars and is structured in a pyramid design of acrylic glass boxes filled with cash denominations ranging from ones to one hundred dollar bills. The display is set up on a poker table, evoking the nostalgia of the Binion's poker heritage and the days when Benny Binion would present stacks of cash to poker tournament winners.
The new display is only one of many changes taking place at Binion's during the remodeling and refurbishment of the legendary property. Since the acquisition of Binion's by TLC Casino Enterprises in March 2008, the property has improved its gaming odds on blackjack and craps, added new table games, reconfigured the casino floor, implemented a new poker comp policy offering players $2 per hour of live play and is nearing one hundred percent completion to Ticket In Ticket Out technology on all slot and video poker machines. More projects are expected to come online through the end of 2008 and early 2009.
The $1 Million Display is located in the Binion's casino near the Club Binion's Booth. Guests who join Club Binion's receive $25 in slot play or table game non-negotiable chips for just $20 plus a free photo with the $1 million. The $1 Million Display is open from 10 a.m. to 10 p.m. daily. Photo subjects must be 21 or older.
About Binion's Gambling Hall & Hotel
Binion's has been making Las Vegas history since 1951 when Texas gambler, Benny Binion, bought the property at 128 Fremont Street. Benny was passionate about giving players excitement, good odds and friendly service. Fremont Street has changed dramatically since the days of Benny Binion but his enthusiasm still remains at the historic casino and has been picked up by the current owner, TLC Casino Enterprises, who purchased the property in March 2008. Renovations to the gaming areas, public areas and all 366 hotel rooms are in progress. The property has 80,000 square feet of gaming space with 850 slot and video poker machines, 47 table games and the World Famous Poker Room. For more information or to make a room reservation, go to
www.binions.com
<
http://www.binions.com
> or call 800-937-6537.
Ownership
In March 2008, Binion's Gambling Hall & Hotel was acquired by TLC Casino Enterprises, a privately held gaming company located in Las Vegas, Nevada. TLC Casino Enterprises also owns and operates the Four Queens Hotel & Casino. Both properties are in close proximity and are situated on the world-famous Fremont Street Experience in downtown Las Vegas.
Posted by Jack LeVine | Currently Comments Off on Every Friend Of The Family Who Ever Came To Las Vegas……
August 1st, 2008 Categories: ART, Downtown Businesses, Downtown Las Vegas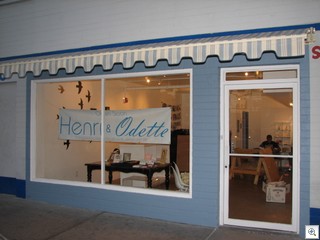 We welcome a new and much needed type of business to downtown Las Vegas. An art gallery in the business and government district. With hundreds of new residents about to move into Juhl and Streamline, there'll be a lot more foot traffic and living space to decorate.
Henri & Odette have their grand opening during First Friday. They're technically not in the Arts District, but they're just around the corner on Carson between Las Vegas Blvd and Carson.
Odette, who's previously had her gallery in the Arts Factory is stepping it up a notch to create "A Metropolitan Location For Art, Style, Design and Life".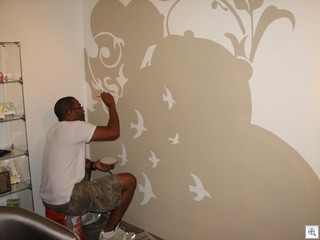 I caught them in the act of putting the finishing touches on their new space while I was leaving the Downtown Cocktail Room.
Caesar Garcia is the artist for their first show, which is called "Language".
Henri & Odette have created a bright, exciting new storefront for downtown.
Stop in and say hello.
Posted by Jack LeVine | Currently Comments Off on A Welcome Addition To Downtown Las Vegas
July 31st, 2008 Categories: ART, Downtown Businesses, Downtown Las Vegas, First Friday
How in the world did July slip by so quickly?
It's time once again for First Friday, in the Downtown Las Vegas Arts District.
Get yourself out of the house on Friday Night and see what's happening. You'll be glad you did!
Here's the link to the calendar of events. There's plenty happening, and something for everyone.
Tonight, (THURSDAY) at the Thursday Before Preview:
The Contemporary Arts Collective, (freshly re-painted and looking like a gallery again) invites you to the opening party and artist's discussion for their new show: 'Painting Physical Presence' – Paintings by Erik Gecas and Ayako Ono
The Opening Reception is 6–9PM
There are several new exhibits opening in the Arts Factory the same night:
Justin Favela presents photo/mixed media collage work from UNLV in the common area gallery
TRIFECTA presents 'Right/Left Behind You' by Casey Weldon 
Mark Diederichsen and Steven Spann open their galleries for a preview reception. 
Lost Vegas and Retro Vegas will be open the same 6–9 pm for your vintage shopping delight.
Posted by Jack LeVine | Currently Comments Off on First Friday and The Thursday Before In The Downtown Las Vegas Arts District
June 6th, 2008 Categories: ART, Arts District, Downtown Businesses, Downtown Las Vegas, First Friday
The first public airing of the new Documentary about the creation and development of the First Friday Art Event in Downtown Las Vegas will be this Sunday on Channel 1 and Cox Channel 19.
I saw the first cut, and am hoping that the segment with me still made the final cut.
On Sunday 6/15 @ 4:00 PM Channel One and Cox Cable Channel 19
The First 4 Years of First Friday: A Documentary examining the
people and economic forces that created this monthly
phenomenon.
First Friday has revitalized one urban neighborhood and has
provided a cultural and artistic heart to the Entertainment
Capitol of the World. The documentary, directed by Marlene J.
Adrian and produced by Women of Diversity Productions, Inc.,
includes interviews of local artists, gallery and restaurant
owners, retailers, civic leaders, performers, vendors, sponsors,
founders and others involved with First Friday.
It explores the evolution of this event and the people and forces that prepared
the way and peers into the possibilities for surrounding area.
Marlene J. Adrian states that this "art festival began with only
200 attendees and now exceeds 10,000. This event has
impacted not only the businesses and people residing in that
neighborhood, but the city of Las Vegas itself. This organic
movement and its overflow needed to be documented for the
benefit of all Las Vegans."

.
Posted by Jack LeVine | Currently Comments Off on Documentary Film: The First 4 Years Of First Friday
June 4th, 2008 Categories: Decorating Tips, Downtown Businesses, Downtown Las Vegas, First Friday, Mid Century Modern
About 5 years ago I went to a garage sale at a "cookie cutter" home in Green Valley. There was this gorgeous pink and chrome 50's dinette set with a sticky note on the table that said "900". I had a good chuckle over the price tag, but started negotiating for it.
The lady wouldn't budge below 700 and I passed.
2 years later I was out showing homes to a client. We pulled up to the next house on the list, and I realized it was the same house where the table had been for sale. While opening the lockbox, I casually told him the story of the HOT PINK AND CHROME 50's Dinette.
The house was vacant, but when we went into the garage, the only thing in it was a lawnmower and a gorgeous 50's pink and chrome dinette set with a yellow sticky note on the table that said "900".
I joked that if he bought this house, I'd "take the dinette set as a tip". He said "yuch!, you can have it". By the end of the day we were writing an offer on that house, and he didn't object at all if I included the gorgeous 50's pink and chrome dinette set along with the washer,dryer and fridge which he did want to have included in the deal.
That's how I came to have a hot pink dinette in my kitchen.
Everyone who's ever seen it (at least everyone who appreciates such things) thought it was fabulous. At various times over the last year or two, Mark and Bill, and Ben thought it was FAB.
They called the other day. They begged me to sell it to them so that they could put it into the pink metal cabinet kitchen that's the centerpiece of their new store which is called:

YES, it's the same hot pink kitchen that we mentioned a few months ago.
If you want to see the HOT PINK 50's CHROME DINETTE SET, all you have to do is visit their store. I was there yesterday, and it's just full of retro everything (including my dinette set).
There's a "soft opening" on Thursday from 6–9 pm, and the GRAND OPENING is during First Friday from 6–10 pm.
"RETRO VEGAS" is at 1211 S. Main Street in the Arts District.
I'm missing my dinette set already. even though I replaced it with a similar yellow dinette set that that had been the office conference table.
I might just have to go and buy it back.
Posted by Jack LeVine | Currently 2 Comments »
June 3rd, 2008 Categories: Downtown Businesses, Downtown Las Vegas
Well, at least for some of the parties and special events.
One of our sources for the vintage clothing that you'll see me and Mary Joy and Pam wearing to the events comes from our friend Diane Bush.
She's opening a new store
The store is called "LOST VEGAS" and it's in the Arts Factory.
She'll be featuring vintage clothing for men and women, plus old vintage vegas momentos, as well as new Vegas themed household wares. Its on the ground floor, smack in the middle of the Arts Factory.
Hours: 6-9 First Friday, and the Thursday night before, (6pm-10pm) and sometimes the following Saturday 10am-5pm. For more info people can call 234-3269 .

Posted by Jack LeVine | Currently 2 Comments »
May 9th, 2008 Categories: Downtown Businesses, Downtown Las Vegas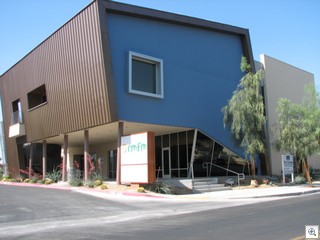 Because I was at the Wolfson Lofts several times these last few weeks, I took the opportunity to do some driving around. There's lots of new buildings, and some very creative architecture.
The Medical District includes UMC and Valley Hospitals, and lots of doctors offices, labs, the Clark County Health Department, outpatient procedure centers etc.
The Medical District is one of many districts that have been designated by the city. We discuss the arts district a lot at VVV, but there's also the Fremont East Entertainment District, the Casino District, which is Fremont Street Experience, the Business and Government District, The Cultural Corridor among others. We'll try to do more coverage of each of these in the future.
Commercial Real Estate doesn't have to look Mediterranean, and it doesn't have to look like a strip mall.
Posted by Jack LeVine | Currently Comments Off on The Medical District Of Downtown Las Vegas Has Some Great Post Modern Architecture
April 21st, 2008 Categories: ART, Arts District, Downtown Businesses, Downtown Las Vegas, Lawyer's Row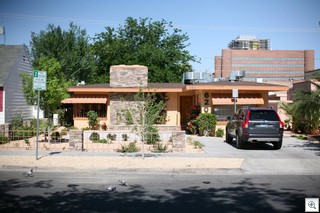 Michelle Quinn, The forrmer director of the Godt-Cleary Gallery has opened shop in "lawyer's row". Once again, Kristen Peterson of The Las Vegas Sun tells the story.
More good press for the new downtown that we love so much.
If you've never driven thru "lawyer's row" you're in for a pleasant surprise.
You'll find it on the north side of Charleston East of Las Vegas Blvd. Technically, its part of the "Las Vegas High School Historic Neighborhood". Most of the homes on 6th, 7th and 8th streets are now commercial. From 9th to 11th, the neighborhood is still transistioning to Commercial.
We mentioned the area a few weeks ago when we showed one of my favorite little apartment buildings on 11th Street.
Posted by Jack LeVine | Currently Comments Off on "Lawyer's Row" In Downtown Las Vegas Is Now Part Of The Arts Scene As Well
April 17th, 2008 Categories: Downtown Businesses, Downtown Las Vegas
See what life is like in downtown Las Vegas on the
Downtown Urban Living Tour
Friday, May 2nd, from 6:00 pm to 9:30 pm, in conjunction with First Friday. Join us at the Celebrity Nightclub for live music, drink specials and a brief tour orientation where you will receive everything you need to participate in the event!
Enjoy the complimentary wine tasting and live music at juhl, Newport Lofts and Streamline Tower, then take a ride on our exclusive guided bus tour
which transports you to First Friday, Union Park, The Entertainment District, The Fremont Street Experience and the latest hot spots of Downtown Las Vegas. Receive exclusive deals from Hogs & Heifers, Triple George Grill, Tinocos and other popular neighborhood restaurants, galleries, bars and nightclubs.
Experience Downtown Vegas like you never have before. RSVP to the juhl Info Center at 702.853.1853
Posted by Jack LeVine | Currently 2 Comments »
April 2nd, 2008 Categories: Downtown Businesses, Downtown Las Vegas, Historic Preservation, Mid Century Modern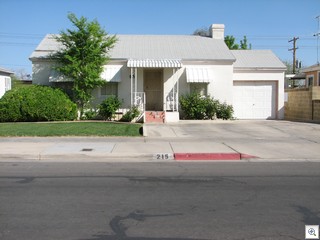 North of Charleston and East of Las Vegas Blvd is where you'll find "Lawyer's Row". This was the far edge of Las Vegas in the 1920's and 30's. Las Vegas High School, which is now the Las Vegas Academy is the cornerstone of the area. Cute bungalows, and cottages have been rezoned and turned into professional space. Most of the rezoning has happened on 6th, 7th and 8th Street.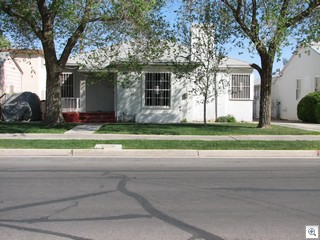 9th to 11th Street still has residential homes, duplexes and 4 plexes and some mid sized apartment complexes. Most are very nicely kept up. The whole area of Lawyers Row, and the Las Vegas Academy Historic Neighborhood makes a very worthwhile sightseeing trip.
Someday, I imagine the big money guys will want to tear these homes down in favor of McOffices. (office buildings that look like McMansions. Lynn Zook and I both hate them, and there's already several on 6th and 7th streets.
Small Apartment Buildings In Downtown Las Vegas Make Great Real Estate Investments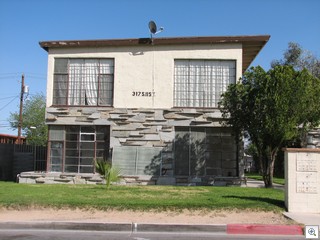 One of my favorite small apartment buildings seems to be going thru a remodel on the interior. The stonework and low pitched roof design is classic postwar mid century modern. Obviously, this is 311 s. 11th Street.
All photos on VeryVintageVegas are clickable thumbnails if you'd like to see a larger image to study the details.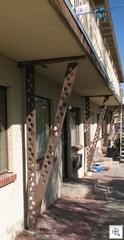 The upper balconies on the side of the building are held up with diagonal 2×6's with evenly spaced holes that really make the mid–mod design a true winner in my book.
Peeking thru the windows, I found original metal cabinets, wall heaters and I love the aluminum frame floor to ceiling windows. We'll keep our eye on it and watch how it progresses. Hopefully they'll catch up on the paint, window glazing and getting the address off of the front of the building.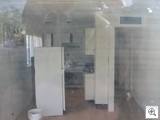 Buildings like these can make great investments.
Posted by Jack LeVine | Currently 1 Comment »