Forest Hills Topics
Welcome To Uncle Jack's Very Vintage Vegas!
Vintage Las Vegas Homes,
Historic Las Vegas Neighborhoods,
Las Vegas History,
Urban Living In Las Vegas.
If it's great, cool, fantastic, artistic, annoying, amusing, unique, or surprising.. you'll find it at VeryVintageVegas.com.
Check out what we're doing and add your two cents! Your comments & ideas are welcome. We update daily, so come back tomorrow!
Blogroll
Farmer's Insurance
Paul Hesselgesser
702-434-1230
The Hesselgesser Insurance Agency Website
Classic Las Vegas - Lynn Zook's Preservation of 20th Century Las Vegas
Curbed LA - WOW!
Mid-Century Modernist
RETRO RENOVATION - Pam's Excellent Effort At Re-creating A Retro Life
Carnival Of Real Estate - Minus Elephant Ears, But Still Mighty Tasty
Lotta Livin' - A Celebration Of Really Cool Things Mid Century
Bawld Guy Talking - Minus The Hair; Plenty Insightful
CoolnessIsTimeles - ALL "RAT PACK" ALL THE TIME!
SEE ALL OUR FAVORITES HERE

Forest Hills
September 22nd, 2008 Categories: Beverly Green, Congratulations, Forest Hills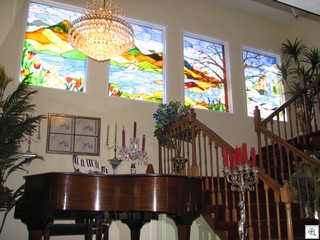 Congratulations to Alicia! She's the very excited and proud new owner of the now famous Liberace Townhouse in Forest Hills.
We closed on Friday, and I'm proud to have have represented her as well as the sellers, Ed and Ginger.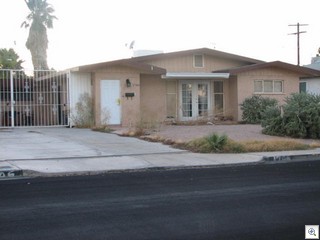 Jakes got great plans for his new digs on 6th Street. We got the pool up and running during the escrow period, and his new neighbors will be glad to know that the largest weeds in all of Downtown will be gone this week!
It was a bank owned foreclosure, and the whole deal from start to finish was smooth and without turmoil!
Posted by Jack LeVine | Currently Comments Off on Two New Vintage Las Vegas Neighbors
August 4th, 2008 Categories: Forest Hills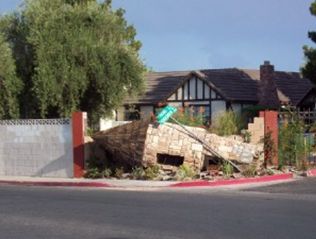 I received several reports over the weekend that the entry gate tower at Forest Hills got smashed up.
At first no one knew how or when, and we thought it had to have been malicious vandalism, but it turned out that that the culprit was the Republic Services trash truck, in a a game of chicken with the pool cleaning service truck. Both have insurance and it will get rebuilt.
Of course, Murphy had to show up this weekend, since I'm leaving right now to go do the inspection for the Liberace Townhouse in Forest Hills. It went to contract last week.
If YOU see anything that I should know about or that needs to be researched or that might make a good post…..don't hesitate to call, email or send a picture.
Posted by Jack LeVine | Currently 2 Comments »
May 26th, 2008 Categories: Forest Hills, Las Vegas History, OUR LISTINGS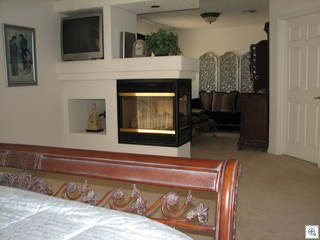 All the pictures are now posted in the Featured Properties Section in the left Column. What I didn't tell you on Friday was that it's priced at only $280,000. I have a feeling from some of the comments, that you expected a much bigger price tag than that. Sorry if I misled you.
Forest Hills is one of the hidden treasures of Vintage Vegas. That's were Susan from Spokane will be moving into next week once we get her deal closed. She bought a stunning 1 story townhome, partly because of the community landscape with it's giant trees, and hanging shrubbery.

There's 2300 sf of gorgeous living space. All the furnishings can be bought separately. The Tiki themed patio is one of the largest in the complex, and it's right beside the community pool and spa.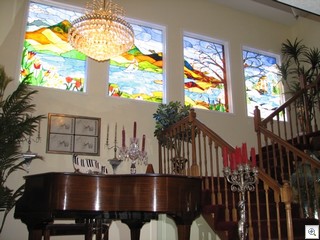 I don't want you to get the impression that it's ALL about the Stained Glass Mural. It's also about the piano shaped platform for the baby grand piano, and the sunken tub under the mirrored ceiling and chandelier in the master bathroom. It's about the formal dining room that could seat 12, and the stone fireplace which is bordered by more stained glass windows.
It's about affordable elegance that I can't duplicate for you anywhere else in Vintage Vegas.
I'll let the rest of the pictures do the rest of the talking. Take a look.
Posted by Jack LeVine | Currently Comments Off on More About The Liberace Townhouse That's For Sale In Forest Hills
April 3rd, 2008 Categories: Forest Hills, Las Vegas Real Estate News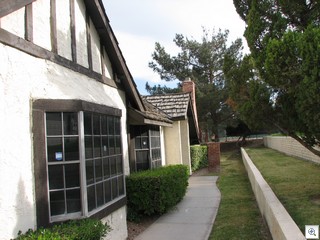 We looked at a few bank owned repos in the fabulous Liberace Designed Forest Hills Townhome Community.
Forest Hills
Neither of them had pictures, of course, so we didn't know what to expect. They were both the SAME basic floor plan of a really nice unit that Susan is considering.
When all is said and done, she'd have to spend more money to end up with a property that's as nice as the already well priced, extremely nice one that's not a foreclosure.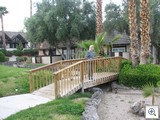 Both could be brought back to a "rentable condition" for considerably less than you'd have to spend to make it into a "dream home", and that's why they're a bargain. This is true of most of the bank owned REO properties, especially in Vintage Vegas.
Out in the suburbs, you can find some pretty decent and even almost new foreclosures at 2005 prices.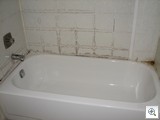 We went thru various stages of shock, awe, disappointment, hysterical laughter and stunned silence.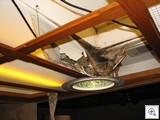 If you've got a LOT of cash, (since these 2 can't be financed) and a lot of energy time and money after the close, then these 2 could be terrific deals. Forest Hills is one of my favorite townhouse communities, and will have a very strong comeback shortly as the foreclosure crisis grinds to an end.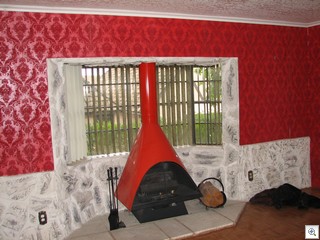 Both are 2305 square foot single story townhomes with 2 car garages. One is still way over priced at 209,000, and the other one is only 189,000.
Actually, the red crushed velvet wallpaper in the master bed room of the cheaper one is pretty darn retro, but the red fireplace in the master bedroom really screwed up the room, unless you're going to run a whore house. This is the hysterically funny room, BTW.
Dana Erlich, a Keller Williams Agent In Santa Monica says it real well in her Email Report:
But let me warn you: chasing foreclosures and short sales is NOT for the faint of heart. I can hold your hand through the process. But you cannot be in a hurry to close on your property, and more importantly, you cannot be emotionally attached to the outcome.

You see, the banks are overwhelmed. You need to be willing to move at their pace. It's called "wait-then-hurry-up". And if you are thick skinned, are buying mainly for investment rather than seeking your dream home, let's find you a foreclosure!
There's some amazing investment opportunities just waiting for the right buyer. But we don't recommend it as a way to find a DREAM HOME.
And most importantly, many of the "dream homes" are now priced at 2006 prices as well. Check some of them out yourself. You can search the MLS all on your own, and you'll quickly see what I mean.
Posted by Jack LeVine | Currently 3 Comments »
October 22nd, 2007 Categories: Architecture, ART, Forest Hills, Housing Styles, Las Vegas History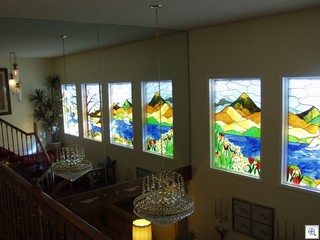 This is a VVV exclusive, as the story hasn't been told anywhere else. I heard from a friend that Liberace had designed, but never lived in one of the Tudor Townhomes in Forest Hills. I dug a little deeper, and got introduced to the owners, who graciously allowed the first look at the newly restored home.
According to my sources, though unverified, Liberace was on the original board of the association, helped with the design and architecture of the complex, and then rebuilt the model home to his own specs. There's a all kinds of discrepancies and inaccuracies between the assessors records and the Review Journal Story that I've posted below.
Liberace sold the property to Millie Kaufman in 1982, but I see no sign of Millie having sold it back to Liberace, yet his estate was the seller of the property in 1987. This sale is where our story actually begins.
Liberace died on February 4, 1987. In the spring of that year, there was an auction. The current owners say the estate held the auction, but the RJ says Millie held the auction.

At the Auction, the treasures of the property were sold off separately. The 4 stained glass windows and a gold cherub statue were bought by a lady from California. She had them crated up, and a little piece of Las Vegas History disappeared from sight.

Earlier this year, the current owners received a phone call from the lady who bought the stained glass at the auction. She had never even unpacked them, and wanted to know if the current owners would want them back. The current owners were as shocked and pleased as can be.
This summer, the 4 stained glass panels were re-installed right where Liberace put them in the first place. Besides a few close friends of the owners, I was the first person to see them, and was allowed to share this story with my VVV readers.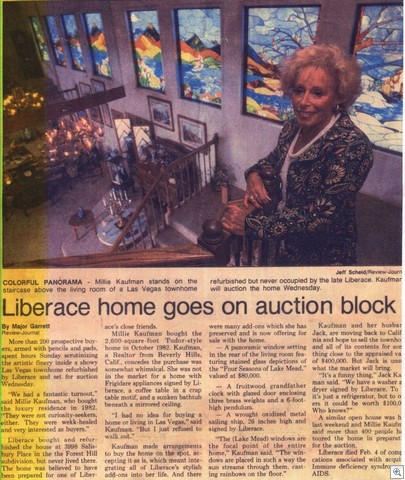 Individual Photos of each of the stained glass panels are below the fold
Posted by Jack LeVine | Currently 3 Comments »