Fremont East Entertainment District Topics
Welcome To Uncle Jack's Very Vintage Vegas!
Vintage Las Vegas Homes,
Historic Las Vegas Neighborhoods,
Las Vegas History,
Urban Living In Las Vegas.
If it's great, cool, fantastic, artistic, annoying, amusing, unique, or surprising.. you'll find it at VeryVintageVegas.com.
Check out what we're doing and add your two cents! Your comments & ideas are welcome. We update daily, so come back tomorrow!
Blogroll
Farmer's Insurance
Paul Hesselgesser
702-434-1230
The Hesselgesser Insurance Agency Website
Classic Las Vegas - Lynn Zook's Preservation of 20th Century Las Vegas
Curbed LA - WOW!
Mid-Century Modernist
RETRO RENOVATION - Pam's Excellent Effort At Re-creating A Retro Life
Carnival Of Real Estate - Minus Elephant Ears, But Still Mighty Tasty
Lotta Livin' - A Celebration Of Really Cool Things Mid Century
Bawld Guy Talking - Minus The Hair; Plenty Insightful
CoolnessIsTimeles - ALL "RAT PACK" ALL THE TIME!
SEE ALL OUR FAVORITES HERE

Fremont East Entertainment District
September 30th, 2010 Categories: Fremont East Entertainment District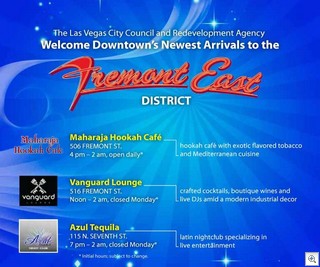 We're going to check them out after First Friday In The Downtown Las Vegas Arts District.
Las Vegas Mayor Oscar B. Goodman and Ward 5 Councilman Ricki Y. Barlow welcomed three new businesses to the Fremont East District in downtown Las Vegas on the evening of Wednesday, Sept. 29. The elected officials cut ribbons at the Maharaja Hookah Cafe, the Vanguard Lounge and Azul Tequila.

The Maharaja Hookah Cafe, located at 506 Fremont St. on the northeast corner of Las Vegas Boulevard and Fremont Street, features a variety of flavored tobacco and Mediterranean cuisine.

Two doors down, at 516 Fremont St., is the newly opened Vanguard Lounge. Here, boutique wines and specialty cocktails are served amid a modern industrial decor. Live DJs and outside seating are also offered.

Nearby, Azul Tequila at 115 N. Seventh St. is a Latin nightclub specializing in live entertainment.

The Fremont East District offers an eclectic mixture of bars, clubs and cafes along Fremont Street from Las Vagas Boulevard to Eighth Street. The district continues one block north of Fremont Street to Ogden Avenue and one block south to Carson Avenue.

The Fremont East District was created in 2002 by the Las Vegas Redevelopment Agency as part of the city of Las Vegas' efforts to revitalize the downtown area.
Posted by Jack LeVine | Currently Comments Off on Three New Nightclubs Open in Downtown Las Vegas' Fremont East Entertaiment District
May 29th, 2009 Categories: Fremont East Entertainment District
I was going to spend the week telling you more about the fabulous "Summer of 69: Vegas or Bust" extravaganza that's happening EVERY SINGLE NIGHT this summer. Naturally, my week got away from me so I'm just getting to it in time to invite you to join the fun this weekend.
One of the many reasons you should spend an evening or 20 at the Fremont Street Experience is to see the "Psychedelic Ride: A Hippie Bus Street Party." The show plays for free every night at the foot of Fremont Street between the Golden Gate Hotel and the Vegas Club. Show times are 8:15, 9:15 and 10:15.
The hippie bus was painted by iconic artist John Van Hamersveld. He's best known for the cover album art for The Beatles Magical Mystery Tour, as well as hundreds of other album and event graphics during the golden age of flower power. I had a chance to meet him at the Press Party Unveiling of the bus last Friday. He lives in LA and is totally a MID MOD fanatic as well.
There 10 more major event concerts coming up. Rare Earth and Bill Haley's Comets are next on June 6th. Check the Fremont Street Experience website for dates, but you can be sure I'll be telling you about them,
Here's a little video clip of the "psychedelic Ride: A Hippie Bus Street Party" that I did last Saturday after the Blood Sweat and Tears Concert.
There's also the Fremont Street Experience light show that we affectionately call VivaVision (you know I loVe capital V's). All the rock anthem shows rotate thru the summer. You really must see them all.
Posted by Jack LeVine | Currently 1 Comment »
April 25th, 2009 Categories: Downtown Las Vegas, Fremont East Entertainment District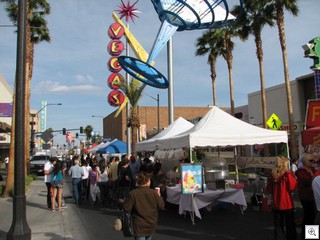 Friday night was the soft opening and test run of the new Farmer's Market in Downtown Las Vegas. The Farmer's Market will be from 4 pm to 8 pm every Friday night thru the end of October.
I stopped in to the Farmer's Market around 5pm and was happy to see a small enthusiastic crowd. I didn't stay long enough to see if an after work rush would happen.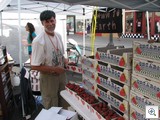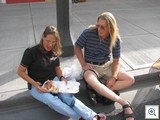 Next Friday, which is also FIRST FRIDAY will be the official grand opening launch of the Downtown Las Vegas Farmers Market, and I sincerely hope it will become part of your regular Friday evening routine.
4 to 8 pm every Friday till the end of October in the Fremont Street East Entertainment District of Downtown Las Vegas.
Posted by Jack LeVine | Currently 5 Comments »
March 10th, 2009 Categories: Downtown Las Vegas, Fremont East Entertainment District, Fremont St.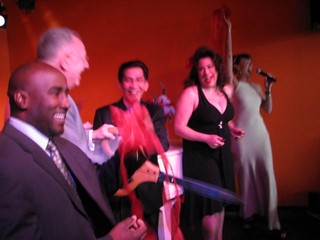 Last night was the grand opening party. Mayor Goodman and Councilman Ricky Barlow were on hand to do the ribbon cutting honors.
The Owner, Ming, in the center, operated the original (and still going strong) Don't Tell Mama in New York City, for many years. It's been a huge success there.
The newly open Las Vegas version is destined to be the new Downtown Las Vegas hotspot for everyone who isn't into Techno/HipHop/BoomBoomBoom music.
There's more pictures on my Facebook Page, (you'll have to log in) but you can tell we were having a great time just from these!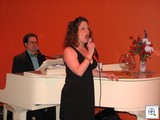 Don't Tell Mama is at 517 Fremont Street in the Fremont East Entertainment District of Downtown Las Vegas
Posted by Jack LeVine | Currently Comments Off on Don't Tell Mama Grand Opening In Fremont Street Entertainment District Of Downtown Las Vegas
March 8th, 2009 Categories: Fremont East Entertainment District

We've got a new venue on Fremont Street!
Don't Tell Mama is a piano bar. The grand opening is this Monday 2/9/2009. Doors open at 7pm. to the public.
I went there last week with MaryMargaret and Cary Stratton, and had a great time. They've been open doing a dry run for the last 10 days while they worked out the kinks. Now they're ready for business.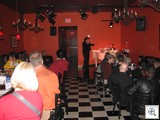 Don't Tell Mama is in the Fremont Street East Entertainment District. They're next to the beauty bar at 517 E. Fremont.
I think you'll have a great time, whenever you go. The entire staff is made up of professional singers and musicians. They're doing the show tunes and the standards. You can sing along, and there's open mic opportunities if you're not bashful.

I'd put these pictures up on facebook last week, but hadn't gotten around to writing about it here.
Posted by Jack LeVine | Currently 1 Comment »
February 22nd, 2008 Categories: Downtown Businesses, Fremont East Entertainment District
More than just the best Philly Cheese Steak in Vegas! But, try to tell me that.. I'm hooked on the Philly! This cool independent pizza shop near the corner of Fremont & Las Vegas Blvd, has exactly the vibe you'd get if you stumbled into any given pizza shop in NY or Philly. But we don't just dine out because a place has great 'urban grub-vibe appeal'… everything on the menu I've had is amazing! The pizza sizes are true to East Coast measurements (meaning a 'small' pizza dwarfs those offered by national chains), and I haven't stepped in the joint once to leave disappointed.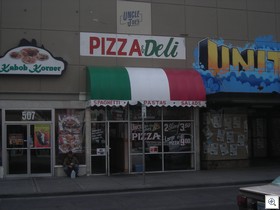 Beyond the amazing food, small shops near Fremont such as Uncle Joe's, truly embody the diversity of foot traffic you'd hope to find in a downtown coming of age. Maybe it takes me back to the state of mind I used to take for granted while living in Ann Arbor, MI on U of M's eclectically diverse campus. What ever it is, the positive energy of everyone here and the quality food at a good price have won me over big time. Besides that, it's just close & convenient.
More on this restaurant, including their menu (available for carry out, dine in, and delivery) will soon be located in the 'Downtown Restaurants' link in our links section. Keep up the kitchen love Joe!
Posted by Stephen P Christmas | Currently Comments Off on Uncle Joe's Pizza On Fremont
December 14th, 2007 Categories: Downtown Las Vegas, Events, Fremont East Entertainment District
While Jack, Pam, Paco, Susan & I enjoyed a rather intimate Lo-Pro at our favorite bar Downtown Cocktail Room last night, the Fremont music flyer fairy was hard at work. Upon finally leaving I came back to my car, parked on Carson to find evidence that things are indeed alive & kicking downtown.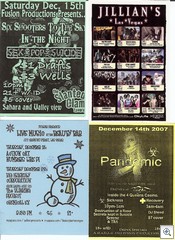 While we're happy to see things going strong and regular pedestrian traffic in the Entertainment District picking up, we're getting word there are some great things picking up steam a little further South as well.
The Aruba Hotel located just South of Charleston on 1215 Las Vegas Blvd. S. has had a recent change in management and the Club Aruba and Thunderbird Lounge venues in this vintage hotel have some interesting events taking place.
Wednesdays at the Aruba (Tropical) are now becoming the staple Latin night in the area, and packing the house weekly. The monthly First Friday after party is apparently one of the hottest downtown.
Every Friday (except the first) they host a Swing Dance night with free lessons from 8–9pm and then just full on swingin' starts around 10 pm.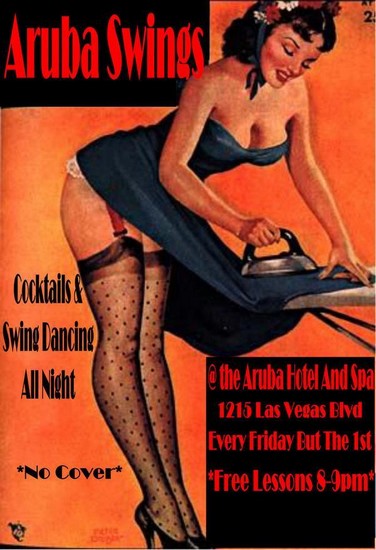 There's also a larger block of free Swing lessons from 6–8pm on Sundays in the Thunderbird Lounge.
You can check out the Aruba Swings Myspace for more info.
There's word this vintage and versatile venue may soon see some more exciting changes in January & we'll keep you up to date as the late night debauchery develops!
As a downtown resident living closer to the Arts District than Fremont, I'm very excited to see some great things going on in the area that are very accessible to those of us in the Huntridge/John S. Park/18 b/ & L'Octaine areas(yes, we get to be our own area). I hope you stop in check out the cool vintage vibe in the Aruba. Oh… everything at the bar is buy one get one until 6pm every day.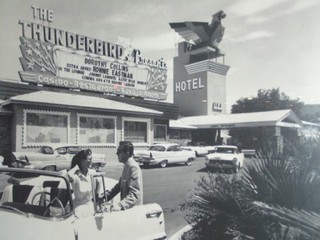 Too bad it's right on the way home from work, huh?
Posted by Stephen P Christmas | Currently 2 Comments »
December 7th, 2007 Categories: Downtown Las Vegas, Fremont East Entertainment District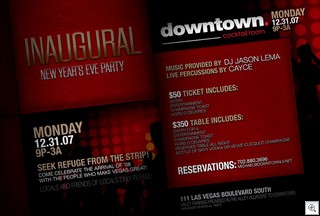 Our favorite downtown hangout, The Downtown Cocktail Room is hosting a "locals only" New Years Eve Party. Reservations Required.
If you want to go out, and still avoid all the locals, this might just be the ticket!
Posted by Jack LeVine | Currently Comments Off on A New Years Eve Venue Just For Downtown Locals
November 13th, 2007 Categories: Cool Stuff, Culture, Downtown Businesses, Downtown Las Vegas, Events, Fremont East Entertainment District
Rock The Block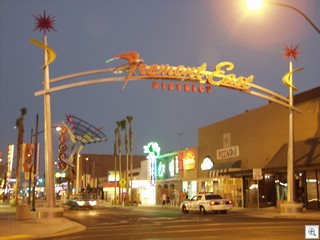 Rock The Block Music Festival All Day Saturday in the Fremont East Entertainment District
Inventory Clearance At The World Market Center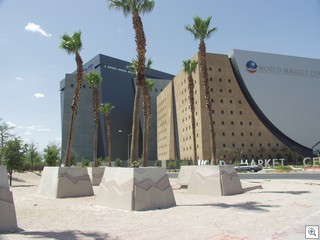 Open To The Public. Worth the $10 admission just to see the buildings. Proceeds benefit the Nevada Aids Project. NOV. 16 – 17
The Las Vegas Design Center at World Market Center holds a pre-market inventory clearance sale, organized by The California Central Nevada chapter of American Society of Interior Designers, 9 a.m.-5 p.m., at Las Vegas Design Center, 495 S. Grand Central Parkway. Cost: $10, with proceeds benefiting the Nevada Aids Project, Habitat for Humanity Las Vegas and Opportunity Village. Info: 599-3093.
Posted by Jack LeVine | Currently 1 Comment »
November 5th, 2007 Categories: Downtown Businesses, Downtown Las Vegas, Events, Fremont East Entertainment District, Las Vegas Real Estate News
Mayor Oscar Goodman will be at the Downtown Cocktail Room (111 S. Las Vegas Blvd) Tuesday 11/6 at 6pm. It's a great opportunity to meet him, say hello and say whatever!
I'd love to see a lot of my readers and the Vintage Vegas Residents stop by and let him know what we think of the new Urbanism of Las Vegas.
Posted by Jack LeVine | Currently Comments Off on Hot Off The Presses Insider News
September 28th, 2007 Categories: Cool Stuff, Downtown Businesses, Downtown Las Vegas, Events, Fremont East Entertainment District
It just got better. Let's talk about LoPro at Downtown Cocktail Room for a minute. I love it. Thursdays from 4–8, my favorite happy hour goes down at 111 S. Las Vegas Blvd. There's a valet. Sometimes the valet's busy running around doing his job. Sometimes I'm impatient & just drive through the alley & park on 6th between Carson & Fremont, throw a few quarters in the meter, & head right in for a basil mojito (custom delicious brilliance developed by George the bartender).
Sometimes those quick lil' b*****d's in the parking enforcement golf carts beat me back my vehicle. (OK, sometimes I'm just having too much fun or too many mojitos to remember i need to re-deposit coins) My point is this: there's nothing cool about coming out of the bar, or where ever you may be and finding a $20 ticket that would have cost you a quarter to prevent between the hours of 8AM & 8PM.
I mean, come on this is Vegas! By 8PM we're pretty much doing our thing & running around with a pocket of loose change racing vindictive golf cart drivers is not my thing. I suppose we could drive down to any of the tourist traps South of Sahara & park for free in a luxurious structure designed to funnel the crowds & their wallets directly to the slot machines. Of course gambling's not my thing either (thank G-d). I want that gritty, down to earth urban vibe in my day & evening. I'd rather pay $20 twice a month for my lack of recollection that 'we have to do that in this part of town.'
This may still be the case on the extended lunch meeting, or other such mid-day recreation. However, with LoPro starting at four, and most meters I've encountered near the hot new Fremont East having a 2 hour time limit wouldn't it be great if Mr. Goodman (who I met at LoPro a few months back) could make it a bit easier for those of us who get lost in the sultry ambiance of mojitos, maroon, bamboo & leather? Well, I'm happy to report that someone in his crew must have gotten the message.
Wednesday evening after pulling up behind Beauty Bar & unloading my Dj rig for our fundraiser I thought I could just pull out of the alley an set up car camp on Sixth St. Convenient right? No, to my initial dismay every meter on the street was bagged up un-usable. I pulled around the corner and managed to scope a spot in front of the Western Union on Carson where the teller was kind enough to make change of a few dollars for me. While depositing my first 1.5 hours worth I stopped with a perplexed look on my face. This particular meter's sticker was laughing at me displaying hours of operation 8AM–6PM! No way! Sweet I found the 'lucky meter!'
I jogged down the street a bit, and no wait am I in heaven? Every meter on Carson was now shined up with a new 'hours of operation' sticker displaying operating hours of 8AM-6PM! That's right, despite the two hour limit, if you've got two bucks in change lodged in your seat or console, you can now deposit 2 hours worth of time, arrive for the first sips of LoPro, and stay as long as you like. With no nasty $20 hang over payable to the City of Las Vegas! Good move parking enforcement guys! It looks like most of the meters around the Fremont East Entertainment District have already or will soon change to 8–6, but double check, I'm not paying your ticket.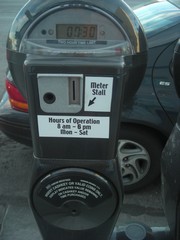 I snapped this pic yesterday as I was on my way to LoPro once again, where I caught up with Amy & Candice from Vurb. These two lovely ladies hinted that there may be a very cool Vurb Magazine party coming soon. I'm sure they'll let you know about it soon, especially if you're staying up to date with their hot new web site. Of course, we'll post info on the event as soon as they give us the go ahead!
Posted by Stephen P Christmas | Currently Comments Off on Downtown Las Vegas Parking
September 27th, 2007 Categories: Downtown Las Vegas, Events, Fremont East Entertainment District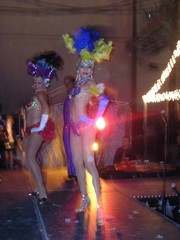 Last night's fundraiser at Beauty Bar for Toms Shoes was a huge success! All of the sponsors from VeryVintageVegas.com, Zia Record Exchange, Buffalo Exchange, Tru Talent Management, Workmans, Chinese Laundry & Action Party Rental were all there, along with a good crowd of Downtown locals & friends. We raised over $500.00 dollars to be donated to S. African children!
The event was one of a kind, celebrating the birthday of our friend Lolita Bush & her graduation from IDT. What really made it amazing was the collaboration of so many different artists & performers.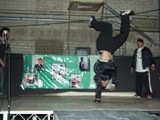 There were break dancers from two local b-boy groups; Uncommon Alliance and Knucklehead Zoo.
We tried our best to capture some of the amazing feats these urban tumblers were pulling off, but I've yet to find a shutter speed that can keep up with their quickness. You can experience the fancy footwork of Uncommon Alliance for your self on most First Fridays. They usually set up their gig on Main St. South of Charleston Blvd.
There were live music and vocal acts from local artists

as well as all sorts of DJ performances from DJ Duwop, a local staple of Las Vegas hip-hop scene, two amazing disc Jocks from L.A., Matter & Balance.

They are actually not just two amazing DJ's that perform together, but also an amazing couple!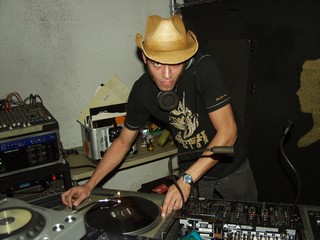 Then, of course, I was there for the DJ battle. That was great fun, but as I'm not a scratch or battle DJ, I was incredibly happy that I was given a chance to spin my records in a style that was a bit more akin to the usual sort of DJ set that I get to do.
Posted by Stephen P Christmas | Currently 1 Comment »
September 24th, 2007 Categories: Downtown Las Vegas, Events, Fremont East Entertainment District
In a breakthrough collaboration of artists, musicians, designers and small businesses in Downtown Las Vegas, Lolita Bush has managed to pull together an amazing fund raising event. With artists & DJ's traveling from as far away as Los Angeles, Detroit, & New York, this event promises to be the 'do not miss party' for September. You'll read about the event on pg. 39 of the current City Life, but you can also visit our Artists, Beneficiary, and Sponsors for more in depth info today by clicking the flyer!
Jack LeVine and VeryVintageVegas.com is just one of the local small businesses behind the effort to raise funds for Toms Shoes; a company that last year put 50,000 pairs of shoes on the feet of impoverished children in Argentina, & this year will be making a drop in South Africa. I (as DJ XMS) and DJ Duwop will be representing Las Vegas in the DJ battle vs. Matter & Balance from L.A. Whether you want to come dance, support the cause, or just play your chance to win prizes & raffles, or the 'Best Golden Dressed' contest, please come out and join us @ Beauty Bar on Fremont st., Wednesday, Sept. 26th from 7pm to the wee hours of the morning.
Posted by Stephen P Christmas | Currently Comments Off on Reminder Invite To Las Vegas Beauty Bar's Fundraiser Wednesday Night