Mortgage Topics
Welcome To Uncle Jack's Very Vintage Vegas!
Vintage Las Vegas Homes,
Historic Las Vegas Neighborhoods,
Las Vegas History,
Urban Living In Las Vegas.
If it's great, cool, fantastic, artistic, annoying, amusing, unique, or surprising.. you'll find it at VeryVintageVegas.com.
Check out what we're doing and add your two cents! Your comments & ideas are welcome. We update daily, so come back tomorrow!
Blogroll
Farmer's Insurance
Paul Hesselgesser
702-434-1230
The Hesselgesser Insurance Agency Website
Classic Las Vegas - Lynn Zook's Preservation of 20th Century Las Vegas
Curbed LA - WOW!
Mid-Century Modernist
RETRO RENOVATION - Pam's Excellent Effort At Re-creating A Retro Life
Carnival Of Real Estate - Minus Elephant Ears, But Still Mighty Tasty
Lotta Livin' - A Celebration Of Really Cool Things Mid Century
Bawld Guy Talking - Minus The Hair; Plenty Insightful
CoolnessIsTimeles - ALL "RAT PACK" ALL THE TIME!
SEE ALL OUR FAVORITES HERE

Mortgage
July 24th, 2009 Categories: Mortgage
The foreclosure crisis isn't over, by any means. The face of it has changed dramatically, however. Much (almost half) of the current inventory that's for sale are what we call short sales. These are people who have given up on trying to stay in their homes. Most of them now are not in that position because they bought at the top of the market. They're about to lose their homes because of job lay-offs or the effect on the economy on them.
If there's any chance of staying in the home, then every effort should be taken to do so. If you or someone you know is in trouble, their first effort should be to try to stay in the house. Hope Now was instituted a year ago, but is really just gearing up now.
Here's a much easier opportunity to try to work something out. A 2 day Hope Now event at the Aliante Station Casino, today and tomorrow.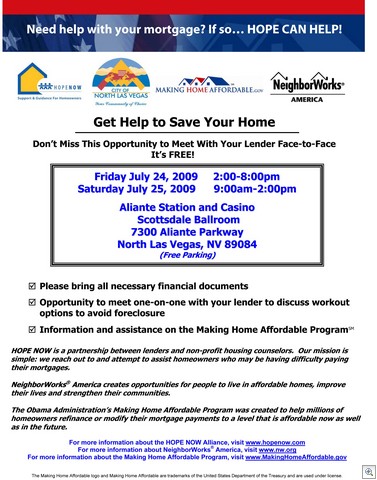 I
When all efforts to modify or buy more time have been exhausted, then the lender will probably want you to try to "Short Sale" it. That means finding a buyer at current prices, and having the lender accept less than what they're owed.
There's three good reasons to Short Sale Your Home.
First, the hit to the credit of the homeowner is much less severe than the credit score hit for a foreclosure or bankruptcy.
Second: The bank doesn't want the property back. They'll get more of the original principal back (and get it back sooner) than they'll get if the bank has to be the seller after the foreclosure sale.
Third: It's more likely that the seller will sell to a qualified, owner occupied buyer. Hopefully the new buyer will live in the home instead of renting it out; they'll water the lawn and trees; they'll paint and fix up; and they'll generally help to bring back the look of the neighborhood.
I've been listing and selling and closing short sales all this year. The banks are cooperating. Most of the deals are actually closing now. A year ago, the banks weren't cooperating and the deals weren't closing and we were avoiding short sales like the plague. But things are different now.
If you or someone you know has gotten to the stage of needing to short sale their home, please give me a call or send me an email. I'm here to help.
Posted by Jack LeVine | Currently Comments Off
May 13th, 2009 Categories: Market Conditions, Mortgage
This could be HUGE! Saving for the downpayment to buy a home can be one of the biggest struggles for those who have decent credit, provable income and little or no savings. "Zero Down" is one of the concepts that got us into trouble in the first place during the bubble days, but this is different. This is stimulus money being put to good use as a down payment instead of being received after the closing.
Yesterday at the National Association of Realtors mid year conference, Shaun Donahue, The HUD Secretary announce that they will be allowing the First Time Home Buyer Tax Credit to be used as a down payment.
"We all want to enable FHA consumers to access the tax credit funds when they close on their home loans so that the cash can be used as a down payment," Donovan said.
HousingWire.com describes the process:
Home buyers qualifying for Federal Housing Administration-insured mortgages may soon use the new first-time home buyer $8,000 tax credit as a down payment, US Department of Housing and Urban Development secretary Shaun Donovan said today.

The process of applying the tax credit toward down payment, called 'monetization' in the industry, allows for FHA-qualified borrowers to use the tax credit to obtain a government-insured mortgage.

Donovan's announcement came at a National Association of Realtors legislative summit this morning, although HUD's details on the initiative aren't scheduled for official release until next week. The initiative will allow FHA-approved lenders to monetize the tax credit through short-term bridge loans, letting borrowers access the funds at the closing table.
This could change the home buying time schedule for a lot of first timers who are currently saving up a downpayment. We'll have to wait till next week until they release the details. In the meanwhile, don't stop squirreling away your money. Even if you can buy for what's essentially zero down, you'll still want to have as much money as you can for the fix up, redecorating or what have you that comes with home ownership.
Posted by Jack LeVine | Currently 4 Comments »
July 18th, 2008 Categories: Market Conditions, Mortgage
If there's any one thing that I'm not…it's a statistician. Sometimes 2 plus 2 equals 4 however. I just make sure I don't get all my information from Wall Street.
RISMEDIA, July 14, 2008-Amidst the gloom on Wall Street about housing someone forgot to check the stats. The National Association of Realtors® has now reported four straight months of rising housing prices, but it seems no one is listening.
According to NAR statistics, the median home price has fallen from a high of $230,200 in July 2006 to a low in February 2008 at $195,600, a drop of 15%. Since February, however, it has risen steadily every month. By May the index (which will be revised on July 24) had risen to $208,600, up $13,000 and a full 6.6%. Another indicator, the mean home price (otherwise known as the average home price), has also shown strength and has risen from a low of $242,000 also in February of this year to $253,100, a rise of $11,100 or 4.5%. It, too, has risen every month since February of this year.
We've been talking about foreclosures since they account for a big chunk of the inventory. I've actually gotten more leads and people starting their home search with the foreclosures. The fantasy of 1/2 price housing is very exciting. The reality is a little different. Many realize quickly that by the time you buy them, fix them up and make something of them that they might be better off buying a non-foreclosure in the first place.
It's a little different out in the suburbs where so many of the bank owned homes are relatively new, and have mostly cosmetics to deal with. In Vintage Vegas, many of the bank owned homes are truly broken down houses. I'm always on the hunt for the best HOUSE at the best price. But it scares me when someone without the resources or money AFTER THE CLOSING wants to by a "fixer-upper". That's what I call a big mistake!
The banks who own the foreclosures know this. That's why we're seeing the spread between list price and sale price on the foreclosure shrinking dramatically. I've been writing lots of offers on the foreclosures, (and getting some of the accepted). The banks are not jumping on any old offer that comes along. They're stacking the offers, and trying to get a bidding war going. If that approach doesn't work for them, then they'll counter back a few thousand less than their list price.
We're seeing the regular first time home buyer or sideline buyer jumping back into the water. The numbers have ALREADY shifted as the article I quoted above from RISMEDIA notes.
Posted by Jack LeVine | Currently 1 Comment »
July 2nd, 2008 Categories: Las Vegas Real Estate News, Market Conditions, Mortgage
I don't manage rental property, so I rarely advertise or even think about them. Yesterday at 3pm, we made the decision to take 3212 Brazos off of the market and rent it out instead. The seller had gone as low as he was willing and able to go in trying to sell it.
I changed the flyer on VVV to reflect the rental status, and posted the flyer on Craig's List. The first call came 3 minutes later. and then another and then another. 11 calls by 6pm when I went to show the property to 4 of the callers.
3 of them want it. Almost every person I talked to had the same story to tell of rentals that they call on being already gone in a matter of hours.
I explained to them that there's a huge shortage of rentals because so much of what was once rental inventory is now foreclosure inventory. Many of the previous owners who have lost their homes to foreclosure, or are about to, have caused an unusually high amount of people looking to rent again. 4 of the 11 calls yesterday were from people in foreclosure who know they'll have to be out of their home in the next few weeks.
I saw a banner on an apartment complex yesterday that said "FORECLOSURE FORGIVENESS". They're having a heyday filling their units with people who's credit was now ruined because of the foreclosure mess.
Rents have risen 25% in the last year as a result. A year ago, the seller on Brazos and I talked about 1000 to 1100 a month. Yesterday we put it out at 1300 a month and look at the response we got.
I'm not sure where it will balance out, as most of the people I'm currently selling homes to right now are giving up on being tenants and are buying their first homes. The investors who normally buy property to rent out are being hit really hard by the lenders and are having to put down 20% or more, and even then at interest rates at about 8%. There's not a lot of investors buying at the moment.
In the meanwhile, it's a landlords market. If you've been renting for a long time, you might want to put the upcoming rent increase that you are probably going to be hit with into the equation. Between the tax deductions, and the drastically reduced prices for homes, it's probably time to start thinking about owning instead of renting.
Posted by Jack LeVine | Currently 1 Comment »
June 20th, 2008 Categories: Las Vegas Real Estate News, Mortgage
Vintage Vegas was especially hard hit by the alleged Mortgage Fraud scheme by the owners of Distinctive Realty.
5th Place, 6th Street, 16th Street, 8th Place, Cochran, several in McNeil and several in Paradise Palms all had homes sell in 05 and 06 where the deals looked fishy to me. There were at least a dozen homes that I'm aware of, and there were probably plenty more in Vintage Vegas. I guess I was lucky to have never have never been involved in a transaction with them.
The problem with mortgage fraud and inflated appraisals is that it helped to bring the "suburban foreclosure crisis" back into Vintage Vegas. We were all fooled by the prices that homes were selling for. Where the suburban crisis was caused by rampant speculation, we were unknowingly plagued by rampant thievery.
Just as all home values in a neighborhood are affected by a foreclosure, we were misled as to the value of homes based on sales that were involved in the conspiracy.
The other problem with mortgage fraud is that it helped fuel the frenzy of 05 and 06, and the subsequent "reversal" of fortunes that we're experiencing today.
I think life sentences are in order.
Posted by Jack LeVine | Currently 1 Comment »
June 10th, 2008 Categories: Las Vegas Real Estate News, Mortgage
We did the walk thru yesterday at my 1400 Manzanita listing. I met the buyer for the first time, and she raised an interesting point. I'm paraphrasing a little but basically she said:
"I've been reading VeryVintageVegas regularly, and YOU SCARED ME TO DEATH with the horror stories of some of the recent closings that you've had". She turned to the sellers and told them "don't you dare try to extort more money at the end".
We all had a good laugh, but it got me thinking.
I'm trying to ENCOURAGE my readership to buy a house. The last thing I want is to be scaring you off. Yes, it's a challenge in many cases to get the loan process finalized these days, but it's well worth the effort and the frustration if things do go crazy.
Home ownership is still the best path to accumulating personal wealth; having the peace of mind that comes with stable affordable payments; pride of ownership; tax deductions; and what will soon be the norm again, which is slow stable yearly increases in the value of the home.
Even the people I talk to who bought in '05 and '06 with sub prime loans and are now in foreclosure ask me the same question. "When will my credit be good enough again to buy another home". Answer: 1 to 2 years.
I just looked back at the 14 closings that I've done this year. 8 of them were smooth as can be. Manzanita looks like it's going to be the 9th smooth one. The other 6 were fraught with twists and turns and roadblocks. But we did get thru them. Some closed a little late, some caused some real panic for all involved. But ALL of them eventually closed.
There's still 6 transactions on the board that's waiting to close. One of them is having some challenges, and that's related to the source of the buyer's down payment money. It's not the bank or the appraisal or any of the things that have caused problems on the tough deals. We even have a plan for the problem one, and I'm not afraid that the deal will die, it will just be delayed while waiting for an extra paycheck.
The other day, at the end of the rant, I told you that:
THERE'S A MORAL TO THESE STORIES!

Even though buyers are now buying and the sellers are now selling (at no where even close to what they'd have gotten 2 years ago), the BANKS AND LENDERS ARE STILL MAKING IT HARD TO BORROW.

Whether you're one of the many people I'm working with, or one of the very many who haven't contacted me yet, but are reading along while you get ready to…

YOU'VE GOT TO HAVE YOUR DUCKS IN A ROW. You've got to have thick skin. You've got to have a backup plan in place ahead of your moving date in case things like this happen to you. We're eventually getting the deals closed, but contract dates and moving truck dates mean NOTHING TO THE BANKS.
The best way to avoid as much of the potential problems as possible is to be working with a truly experienced, dedicated and full time team of real estate and lending professionals. We'll not only do everything possible in advance so that problems don't arise, we'll work diligently, ethically and intelligently to solve any problems that do come up.
We'd like you to choose us as your team. We'd even like you to refer someone to us that you know. Give us a call or send us an email, and we'll get to work for you.
Tomorrow SHOULD be the closing on Manzanita. So far, not a single whack-a-mole has popped up, and I don't expect any. Congratulations to another new Vintage Vegas resident.
Posted by Jack LeVine | Currently Comments Off
June 9th, 2008 Categories: Las Vegas Real Estate News, Market Conditions, Mortgage
Diane Olick covers the housing market at CNBC. This is the report she did this morning covering the April "under contract" numbers according to The National Association of Realtors.
NAR reports a 6.3% jump in homes going to contract. "Contracts have picked up notably". In the west, the number was 8.3%. The affordability index is expected to rise 15% this year.
This certainly backs up the anecdotal evidence that I've been presenting based just on my little one man Real Estate Practice. The numbers in my office are equally exciting. In the geographic areas of Vintage Vegas, we're seeing the number of homes under contract hitting the 20% number compared to the number of listings. All last winter the ratio of homes under contract to homes for sale hovered between 8 and 10%.
Of course if you'll listen closely to her report, you'll notice that she mentions that lending standards are as tight as can be, which translates to:
It's a buyer's market — IF YOU CAN GET A LOAN!
Yes, money is available to buy a home, but you've still got to prove your income, show reasonably good credit, and make a down payment. There is one way however, using FHA loans, and seller contributions that you can become a homeowner with less than $1000. out of pocket. Of course, as with all aspects of life, the more money you have, the better off you are.
If it's saving up the money for a down payment that's stopping you from grabbing one of the bargains, then let us show you how it works.
If it's your credit that's holding you back, let show you how to fix it.
What's missing in the mortgage market right now are loans for the tip earners, and the multiple income families where only one of them has credit that's good enough. When those loans become available, there will be an avalanche of buyers hitting the market. However if you've got real good credit, and a real good down payment, there's still some loans where they won't look at your income.
In any case, if you're wondering what to do, I suggest that you call me or one of the lenders that I recommend. We'll help get you on the RIGHT road.
Posted by Jack LeVine | Currently Comments Off
May 30th, 2008 Categories: Las Vegas Real Estate News, Market Conditions, Mortgage
The underwriter leaned back in her chair. Her thoughts weren't on the stack of files in front of her. She was worried about losing her home. She bought it two years ago, you see. In July, as a matter of fact.
Back then, everyone you talked to was an expert on Real Estate. Many of them even had a real estate license. Some actually were experts. Some were just real experienced, and some had gotten their license a few months before to make some easy bucks helping their parents buy two or 3 "investment flips" with their home equity loan against the house in California. There was NO DISCUSSION going on anywhere about what happens if the "bubble bursts".
It wasn't hard to find someone whose cousin's friend's brother made a killing with a house flip. He bought it in the beginning of 2005 and sold it 6 or 8 months later, with a pretty hundred grand profit. It was a funny story because it was true. It was humorous to think about a house getting multiple offers on the first day of the listing. We heard a story such as that just about every single day.
Our underwriter…remember her? Her rate adjusts next month. Business hasn't been so good lately, and they've cut her hours. When she bought said house, she was lucky enough to be the high bidder. There were either 5 or 6 people competing with her. It only cost her $14,000 over the list price. That was a bargain. She'd heard of people paying 20 or 30,000 dollars more than the seller wanted. And to think, she didn't have to put up any money upfront!
She's in the mortgage business. She's the one who gets the final say so over whether someone gets a loan or not. She's not dumb. Things haven't quite worked out the way she planned it two years ago.
Her sister, the waitress with a real estate license, hasn't sold a house since she sold the house in question to our underwriter. The waitress/realtor told her that her house wasn't worth enough to be able to refinance, now-a-days. Bummer. She's been trying to get some underwriter at some mortgage company somewhere to make her a new loan. It's not happening, and she's scared. She knows why. She's an underwriter, after all.
SHE'S ALSO VERY ANGRY, and feels so helpless. She wants a way to get even. She wants to get back at the world for being so cruel to her and her family.
The slap on the head idea came in an instant. A little inner voice caused the following plan to get launched:
I've got a dozen files on my desk that I have to look at today. Screw them all!
"I'll nip pick every single letter of every single word of every piece of paper in those files.

"I'll question everything! I'll make the buyer and loan officers write up explanation letters about that 128 dollar deposit in their checking account 4 months ago."

"I'll find dozens of things in this dozen files that I can play mean about."

"I'll make the realtors draw up addendums and make them run around getting them signed by all parties stating that:

"the pillow shams and bed spread that match the bedroom carpet and drapes are OF NO VALUE TO THE SELLER, and the fact that they are left at the property does not constitute a contribution by the seller towards the buyer's closing costs. Furthermore, All prior references to said bedspread and pillow shams in the original offer as well as all subsequent counter offers and addendums are hereby nullified".

"I'll tell my assistant to tell the loan processor to tell the loan officer to tell the realtors who will then tell the buyers and sellers and moving companies and escrow officers and utility companies that the file is "NEXT IN LINE TO BE THE TOP FOLDER ON MY DESK". In reality, I'm going to have my assistant start that rumor about each of those stupid dozen files that are on my desk

I'm going to lie to them and keep them dangling. I'm going to make them all pay for the misery I'm going thru. I'm going to PROMISE that I will respond to something before I go to lunch. I'll remember it on my way home from work.
"That oughta teach'm!" our darling underwriter said to herself as she sat up straight and got back to work. She grabbed the next folder in the stack….
The Realtor who's folder she grabbed was up late one evening. He was just typing his little heart out while pondering why this file hasn't come out of underwriting yet. They've met every stupid little condition after ridiculous stipulation. All the BIG IMPORTANT THINGS were taken care of weeks ago. Big important things such as great income, excellent credit, 20%down payment, job security, excellent savings beyond what was needed to buy a home. The Appraisal. Those kinds of things. We keep giving and giving. And waiting and waiting. And our f#*%%@ underwriter keeps stalling and stalling. If we don't get an answer in the morning, no one has quite figured out what to do with the furniture. It's on a truck on its way to Las Vegas.
He thinks to himself, How could this be happening? Why? Why? Why?
Maybe our Realtor let his imagination get away from him a little. But he's willing to make a bet he's not far off. He can't think of any better way to exlain it.
Posted by Jack LeVine | Currently 1 Comment »
May 21st, 2008 Categories: Las Vegas Real Estate News, Mortgage
The good news:
Every agent I talk to is selling more homes. The April numbers from GLVAR (Greater Las Vegas Association Of Realtors showed for the first time since 2005 an increase of same month compared to a year ago sales for April '08 over April '07.
Foreclosure filings fell in April compared to previous months. New Bank Owned Listings also fell.
The doom and gloom and end of the world headlines and news reports seemed to have slowed to a trickle. They were a sunammi during the last half of 2007 and the first 2 months of 2008.
One major bank just took off the "declining market" down payment premium that applied to Fannie and Freddie loans. The rest of the banks are expected to follow suite this week.
FHA slightly lowered the upfront mortgage insurance rate for borrowers with excellent credit scores.
The ever optimistic, and in the recent past overly optimistic National Association of Realtors now says:
Realtors Expect Home Sales And Prices To Pick Up

05-16-2008 7:30 AM

(Washington, DC) — Las Vegas could see both home sales and prices going up during the second half of the year. That's the prediction from chief economist Lawrence Yun with the National Association of Realtors. Yun says the recovery will depend on the market, but he believes Vegas, along with Phoenix and Miami, could see home prices go up as much as 50 percent over the next five years. Yun believes middle American cities that have been stable over the past few years, such as Cincinnati and Milwaukee, will see home price gains of 20 to 30 percent by 2013. He also believes with the sub prime mortgage market drying up, the housing market will "strengthen" and see a "steady uptick" in the coming months. The NAR says the nation is poised for a home sale gain due to large supplies and low interest rates.
The BAD NEWS?
It's a buyer's market IF YOU CAN GET A LOAN.
It's still the lending industry that's the problem. The guidelines and loan programs are still changing EVERY day. The underwriters are NIT PICKING the loans. A good example is a loan officer got asked to have the buyer document a 120. deposit into their checking account. It was just loose change, and cash and a 100. win on a video poker machine at the 7–11. How do you document that kind of triviality?
Here's another good example of the silliness of going "absolutely" by the book. I'm involved in this particular sale. FHA requires 2 years of rent history. The buyer will have been in the same apartment for 2 years NEXT MONTH. His old apartment complex got sold, and the new company doesn't have any records of the old company. We've only got 1 year and 11 months of documentation. The Underwriter refuses to make an exception, so the whole deal is suspended for another month until the current apartment's 2 years can be documented.
Now that we're selling homes again, especially the "NOT BANK OWNED" homes, we're struggling with the appraisals. For example, we got the appraisal to come in on one of my deals. I was expecting to get loan docs today. Instead we got notice from the underwriter that she's QUESTIONING the appraisal! She sent a note back that says she wants to see:
"Comparable properties sold within ONE HALF MILE and No more than 3 months old"
Six months and 1 mile are the generally accepted rule. But sales have been so sparse for the last 6 months that there's hardly anything to work with.
This issue will relieve itself in a month or two once we get some of these new sales closed, but in the meanwhile, it's a trap that we have to watch for. The sale price is 21% less than the home would have sold for 2 years ago. The deal makes sense to the seller, the buyer, the agents and the loan officer. But the underwriter holds all the cards.
My broker reminded me the other day that the definition of an "ARMS LENGTH TRANSACTION" has now been modified. It used to be "what a willing buyer and seller agree to". Now it's "what a willing buyer and seller agree to, AND the bank will loan on". In this case we're already negotiating between the buyer and seller on the "what if" the appraisal review" cuts the value. Everyone's packed and ready to move at the end of the month. We'll see how it plays out.
A friend of mine is in contract to buy a bank owned repo. By definition, the bank should have clean title since everything else got wiped out in the trustee sale. I don't know the exact details, but somehow, 2 different title companies can't provide title insurance as there's still a cloud on the title that the previous owner has to clear. Another trap that shouldn't be there. (BTW, if she cancels, there's a terrific deal in Paradise Palms begging for someone who can wait out the cleaning up of the title work).
The Bottom Line:
We're writing all those new deals with 45 to 60 day escrows instead of the normal 30. Why? So that we have plenty of time for appraisal reviews and rewrites, stupid trivial documentation requests and all the other now inevitable delays.
So, we're at the bottom of the market now. It'll probably be flat for awhile, so the "we're waiting for the bottom" buyers will be out in force. And most importantly, we'll now be able to start telling sellers what their home is REALLY worth.
Posted by Jack LeVine | Currently 1 Comment »
April 25th, 2008 Categories: Las Vegas Real Estate News, Mortgage
This is part 3 of the series I started on Tuesday. RAVE # 1 And RANT #2 aren't far below, but linking to my own writing is good for that stupid SEO stuff I ranted about yesterday.
Recovery In The Las Vegas Housing Market IS Possible If The Banks Would Stop Being Obstructionists
The very banks that were the instruments of the "bubble" are being the BIGGEST OBSTRUCTIONISTS in allowing us to pull out of the "housing slump".
There I said it.
Yes, there are a lot of other guilty parties. Most of them crashed and burned already, as in the speculators and those involved in corruption or fraud. Not enough of them are in jail yet. A lot of the "good times" Realtors and Loan Officers from a few years ago are waiting tables, selling cars or dealing cards again.
But this rant is about the banks and lending institutions. The federal government (that be us) has released gazillions, give or a take a few, of dollars into the system so that the banks can LOAN AGAIN!
And the BANKS AREN'T DOING IT. Lending FREELY is what got us into the mess, so I'm not advocating that. What I am advocating is THAT THEY NOT KILL DEALS BY TELLING THE APPRAISERS TO BE ULTRA CONSERVATIVE. Nice houses on nice streets, in nice neighborhoods that are not crappy short sales or foreclosures are exactly that!
They are very often not Crappy,
They are NOT Short sales
The seller is not a bank who's desperate to get a home off their books.
The Buyer can afford what they agreed to pay on a monthly basis, based on their credit, income, and downpayment.
The buyer and seller agree that the value is equal to both parties. In other words, there's an ARMS LENGTH TRANSACTION.
Here's an example of what I mean.
The buyer and seller agreed to a price, based on supply, demand, condition and timing. The buyer perceived it to be the best house for their needs, and at a price they can afford COMPARED TO ALL THE OTHER HOMES FOR SALE THAT THEY COULD HAVE CHOSEN. The seller is being freed up from the property to buy a different property.
The home is particularly nice, is meticulously landscaped, and on a very nice street in a very nice neighborhood.
The Realtor(s) involved (yes, I'm one of them) boldly make the case that an appraisal that's 30,000 below what BUYER and THE SELLER agree is a fair price for that particular house, is lacking ANY COMMON SENSE, LOGIC, or REASONABLENESS.
That's the REAL rant.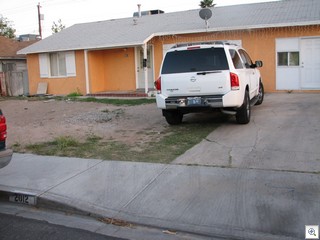 Remember the description of the property that I used above?
HERE'S A PICTURE OF THE PROPERTY NEXT DOOR TO THE COMP THAT WAS USED IN THE LOWBALL APPRAISAL.
Much of the rest of the street looks the same way as this house.
I ask you? Does this look like "particularly nice", "meticulously landscaped", "on a very nice street" in a "very nice neighborhood"?
I don't think so, either. But the appraiser says that the "nice" house is worth the same as the comp he used. Yes, it was the same square footage, mainly because of the crappy GARAGE CONVERSION.
I'm really trying to not disclose the subject property unless the current buyer an seller let me. I know that they both read what I write on a regular basis. If they give me permission, I'll update this post to show the actual addresses and photos of the comp as well as the subject property. One of the other comps is on a similarly bad street in what I call the "undiscovered" neighborhoods of Vintage Vegas.
Even The BUYER agreed that the comps that were used were unfair, and not "Comparable". That's what the abbreviation "Comp" stands for. The buyer asked the lender for an "appraisal review". The bank and the appraiser ate up 10 days only to come back to us and tell us that they stand by their appraisal, EVEN though a house that was 700 square feet smaller closed for MORE THAN THE APPRAISAL only 3 weeks ago.
The bank says their hands are tied by their rules. They're allowed to go with the review number, BUT, it has to be by the same appraiser that did it in the first place. Gee, I can just imagine the poor appraiser willingly admitting that he screwed up, or willing putting is livelihood at risk by going against the banks demand for "ultra conservative" appraisals.
The Banks are DEMANDING that the appraisers be ultra conservative. The banks rules won't allow a second opinion. The bank won't allow the Realtors to educate the appraisers about local niche pockets of Real Estate such as Vintage Vegas. This is not unique to this one bank. I'm hearing similar stories about all the banks.
2 years ago, the banks were DEMANDING that the appraisers come in at the rocket fueled increasing sales prices. Can you say MASSIVE PROFITS from making massive amounts of new loans? The same way they have OVER corrected on the lending standards, they've OVER corrected on their appraisal standards. The bank now refuses to do the loan except at the lowball, ignorant, illogical, and unfairly low value that the appraiser put on it.
There's money to loan again, but the banks don't really want to do it. If they would ease up just a little, so that tip employees could get loans again, so that arms length transactions between intelligent, qualified buyers and sellers can get through, then we could work our way out of the "housing slump". Price HAVE come down to affordable levels, and buyers want to buy now, if the banks would only start to lend again.
Hopefully very soon, there will be a different lender and a different appraiser involved. Hopefully there will be by the time you read this. And hopefully eventually, there will be a happy buyer, seller, Realtor, and neighbors again.
Real Estate Right Now Is A Roller Coaster of Drama that's on the deck of a cruise ship that's bouncing along through choppy waters. GOOD SEASONED Real Estate Agents like myself are ready and able to help you get safely back in your bed in your OWN HOME.
Saturday, In Part 4, I'm going to RANT about the other thing the banks are doing that are making things worse. Stay tuned.
UPDATE: I wrote this piece on Tuesday. But by the time I was ready to publish it:
There's a new lender that's a mortgage BROKER, instead of a bank. There's a new appraiser. Even without seeing the house, the new appraiser says "no problem" with the original sales price. That was my position from the get go.
We're back on schedule, everyone's nerves are calmed, and the market is starting to stabilize.
Mortgage Brokers are an entirely different animal than actual banks. Mortgage Brokers have hundreds of sources of loans, and are willing, able and actually WANT to make loans.
And anyone who's thinking of using a bank with a stage coach logo ought to think twice, if you really, actually, intend to get a loan to buy a house, now that they're affordable again.
Posted by Jack LeVine | Currently 4 Comments »
April 24th, 2008 Categories: Las Vegas Real Estate News, Mortgage
Channel 8 Reports, we pass it along.
I just came from a house that wasn't trashed by the previous owner. It was trashed by kids in the neighborhood.
My client Frank has had an all cash offer on the property since February 7th. We've never heard a word from the agent or the bank. The bank's holding out to see if they get a better offer. Now Frank has lowered his offer to reflect the new damage.
I haven't personally run into the circumstance described in the channel 8 piece, but there's a whole lot more foreclosures in the suburbs as there is in Vintage Vegas.
The banks and their games are the subject of tomorrow and Saturday's RANTS.
Posted by Jack LeVine | Currently 1 Comment »
April 22nd, 2008 Categories: Buyers, Las Vegas Real Estate News, Mortgage
Lets start with The Rave.
There's a pioneering ripple of people who are trying to buy a home right NOW. Each of them is in their own personal step along the process. Each and everyone of them that I can think of are among these 3 different types of buyers and each has a personal reason to buy.
Group One is the investor. They're not looking for a home to live in. They'll probably make a lot of money doing it. At least they're willing to bet on it.
Group Two are the people who are selling or renting out their old home in order to buy a different home. They're the sellers who took or are taking their lumps involving the loss of previously perceived wealth. Renting any place to live would never be a first or even a next to last option. Their lives will be better in the new home.
Group Three first started thinking about buying a home about 4 or 5 years ago. For whatever reason, they never ended up buying. And MOST importantly, they never gave up thinking or feeling for a moment that home ownership is good for them and their family. That is, as long as they don't do anything stupid like their cousin or co-worker did. Prices have come down to where they can afford to buy again, and they don't want to wait much longer. They're really looking forward to become owners instead of renters.
So My RAVE and a pat on the back is for the early pioneers who are bravely wading into the water. They're the ones who've noticed that the "24 Hour News Cycle" has gone from DOOM, GLOOM and ARMAGEDDON to merely just GLOOM.
No, I didn't forget the rants
They're already written, and I'll post them on Thursday, Friday and Saturday, right after our regularly scheduled WMLSPOTD and the DMCMBWD (Decorative Mid Century Modern Block Wall Design). You'll have to crawl over them to get to the pictures.
Posted by Jack LeVine | Currently 5 Comments »
April 10th, 2008 Categories: Las Vegas Real Estate News, Mortgage
The other day, in the liar, liar, pants on fire post, I was talking about investment property, and the idea of real estate as a "get rich quick scheme".
But if you're buying a home to live in, then there is a way to get into a home for only about $500. out of pocket.
FHA allows the seller to pay up to 6% total of the sales price toward the buyers closing costs and down payment. The closing costs part of it is pretty standard and is done all the time. The other 3% however, is actually a donation to a non-profit organization, who in turn, makes a GRANT gift back to the buyer to use as a down payment.
There are several of these "down payment assistance programs" with Nehemiah being the most famous. Others that I aware of of include Ameridream and now a new one that came into my radar last night as a result of a report on Channel 8 about the FUTURES program.
The trick is…. the seller has to be willing, the sale price of the property including the seller's contribution has to be able to appraise, the buyer has to fully qualify for the FHA loan, the sales price has to be within the FHA limits of 413,000, and it takes a little more time than if you don't do it this way.
It's really the only almost zero down way to buy a home right now, and with FHA rates at LESS THAN 5.5% (subject to daily and sometimes hourly fluxuation, of course).
There's some really motivated sellers now who are would be happy to "donate" if it would get their home sold. With prices that are now affordable to most buyers, maybe this is the "deal" you've been waiting for?
Many of my listings are willing to assist with the down payment. There's thousands of others, also, though the banks and their repos are not as anxious to give up another 6% when they've already taken such a well deserved beating.
Ruth Sertic, At Vision Mortgage, who I've worked with for 13 years is one of the most knowledgable, and focused FHA lenders I've ever met. She's done lots of these downpayment assistance loans, and can tell you quickly if you'll qualify. She can be reached at 278–7269 or I can put her in touch with you.
Posted by Jack LeVine | Currently 1 Comment »
April 8th, 2008 Categories: Buyers, Las Vegas Real Estate News, Market Conditions, Mortgage
The BalwdGuy says it best:
Liar Liar Pants On Fire! and just for fun, watch the video he uses to make the point. Someone we all know and love got pretty chunky.
I'm here to tell you in plain English — In real estate you'll get rich with a lot of hard work, some anxiety, a lot of capital, a ton of paperwork, and risk. There will be ups and downs. But in the end, if you're not greedy, and you follow the principles of investment physics and the physics of economics — Lord willin' and the creek don't rise — you will become wealthy and live to experience a magnificently abundant retirement.

You'll get rich alright — but you'll do it slowly.

Those who tell you otherwise?

Liar! Liar! Pants on fire!
Bawld Guy specializes in investment real estate. He hasn't sold a dream house or a house to live in for over 100 years. If you want quick and easy real estate investment course that's based IN REALITY, I suggest you read the investment physics and physics of economics posts and a thousand other good ones on BALWDGUYTALKING.
AND, you've probably seen the infomercial running for one of the several REAL ESTATE AUCTIONS. They show pretty pictures of the few prettiest of properties. Buried in the fine print is that if you win a bid at the auction…
It's not subject to your ability to get a loan. You'd better have that 110% locked down.
It's "AS IS" with NO OPPORTUNITY for an inspection and no "OUT CLAUSES" what-so-ever!
If you don't have a game plan when you go to the auction, you'll probably get burned.
If you ever learn anything, please learn this. Owning a home to live in is NOT the same as real estate investing.
Posted by Jack LeVine | Currently 2 Comments »
April 7th, 2008 Categories: Buyers, Las Vegas Real Estate News, Mortgage
I got a call Sunday from a home buyer who I had showed one of my listings to a few months ago. She was in tears. She wanted to know if I could step in and fix all the problems with a transaction she entered into with a cocktail waitress/Realtor she knew from work.
The Waitress/Realtor works during the day. The lender she recommended is a blackjack dealer on graveyard, and tends to sleep during the day when her kids are at school. She was told she didn't need an inspection. She was told that she had to offer the list price to be sure she got the home. No one returns her calls. No one is looking out for her interests.
The last conversation she had with the dealer/lender was that she was still looking for a loan program that would accept her credit scores, even though she generated a pre-approval letter. She was told that she might need more down payment than she has. That was a week ago.
She gave notice to her landlord that she would be moving on April 15th. Now she's not sure if she can get a loan, and the landlord says she has to move, as they've got new tenants lined up already.
There's 5 or 6 problems going on at the same time, and she's not gotten any help in solving them. All of those issues should have been addressed up front, with back up plans in place for each of them. Unfortunately, there's nothing I can do.
Things do go wrong in real estate transactions. Lending guidelines change. Defects with the property get discovered in the inspection/due diligence phase. Buyers and sellers get nervous and anxious. People don't do their jobs in a timely fashion. Family emergencies happen to even the most conscientious and dedicated lenders and agents. But all of this was avoidable.
I attended one of the Hot Pink Mamas "business mixers" the other night, and jokingly introduced myself to everyone as the "last agent in town who's still working full time as a Realtor". Of course that's not true, but it sometimes feels like it. Every day I'm confronted with things such as calling on a listing with a question and the call never gets returned. A buyer says they're approved for a loan and they're not…they're really only prequalifed which is another whole thing. Any agent who'd publish one of our infamous worst MLS photo of the day, is probably just as sloppy with their contracts and their follow thru. You can fire your agent right up to the moment you enter a contract. Then you're stuck with them for better or for worse.
Kris Berg, who has been called the "Erma Bombeck of Real Estate Bloggers" begs the question very pointedly:
For the home buyer, you will in fact be dealing with two sellers. One is obvious; he has a home he would like you to purchase. The other "seller" is your real estate agent. He is selling his services to you, and once you have agreed to allow this agent you represent you, you have bought what he is selling. You inspect your other purchases before you make them – the home and even the shirt off the mark-down table at the cool surf shop. Inspect your agent before you buy!

Sellers routinely put us through interview processes which have us feeling like participants in the Iditarod and the Science Olympiad all at once. Many selling clients come to us through referrals and many require us to compete and earn their business. Why, then, have buyers come to assume that their representation needs no introduction or screening, that the first perky, warm body they find at an open house or street corner will do?
The following is from The Keller Williams Realty Website. It's a very generic list of what we're supposed to do and know and how we should act. But not all agents are the same. Buyers need to hold the agents responsible, and buyer's have an extremely self-serving obligation to choose an agent who has their act together.
WHY YOU NEED A REALTOR®
A licensed real estate professional provides much more than the service of helping you find your ideal home. Realtors® are expert negotiators with other agents, seasoned financial advisors with customers, and superb navigators around the local neighborhood. They are members of the National Association of Realtors® (NAR) and must abide by a Code of Ethics and Standards of Practice enforced by the NAR. A professional Realtor is your best resource when buying your home.

LET A REALTOR BE YOUR GUIDE
• A knowledgeable Realtor can save you endless amounts of time, money, and frustration.
• A knowledgeable Realtor knows the housing market inside and out and can help you avoid the "wild goose chase."
• A knowledgeable Realtor can help you with any home, even if it is listed elsewhere or if it is being sold directly by the owner.
• A knowledgeable Realtor knows the best lenders in the area and can help you understand the importance of being preapproved for a mortgage. He or she can also discuss down payments, closing costs, and monthly payment options that suit you.
• A knowledgeable Realtor is an excellent source for both general and specific information about the community such as schools, churches, shopping, and transportation—plus tips on home inspections and pricing.
• A knowledgeable Realtor is experienced at presenting your offer to the seller and can help you through the process of negotiating the best price. By bring objectivity to the buying transaction, he or she can point out the advantages and the disadvantages of a particular property.

And the best thing about your Realtor is that all this help normally won't cost you a cent. Generally speaking, the seller pays the commission to the Realtor.
Posted by Jack LeVine | Currently Comments Off