Mystery House Series Topics
Welcome To Uncle Jack's Very Vintage Vegas!
Vintage Las Vegas Homes,
Historic Las Vegas Neighborhoods,
Las Vegas History,
Urban Living In Las Vegas.
If it's great, cool, fantastic, artistic, annoying, amusing, unique, or surprising.. you'll find it at VeryVintageVegas.com.
Check out what we're doing and add your two cents! Your comments & ideas are welcome. We update daily, so come back tomorrow!
Blogroll
Farmer's Insurance
Paul Hesselgesser
702-434-1230
The Hesselgesser Insurance Agency Website
Classic Las Vegas - Lynn Zook's Preservation of 20th Century Las Vegas
Curbed LA - WOW!
Mid-Century Modernist
RETRO RENOVATION - Pam's Excellent Effort At Re-creating A Retro Life
Carnival Of Real Estate - Minus Elephant Ears, But Still Mighty Tasty
Lotta Livin' - A Celebration Of Really Cool Things Mid Century
Bawld Guy Talking - Minus The Hair; Plenty Insightful
CoolnessIsTimeles - ALL "RAT PACK" ALL THE TIME!
SEE ALL OUR FAVORITES HERE

Mystery House Series
August 15th, 2011 Categories: Mid Century Modern, Mystery House Series
Our Secret Mystery Historian needs our help again. Here's 3 photos that we need to identify. All of them are from either the late 50's or early 60's during the heyday of what we now call Mid Century Modern Architecture. I'm sure some of you will recognize enough clues in each picture to help us figure it out.
These photos are not for reproduction, or for use in any capacity except by express written consent from VeryVintageVegas.
If you click the thumbnails, they'll expand to a much bigger size, and may take a few extra seconds to load due to the size of the originals.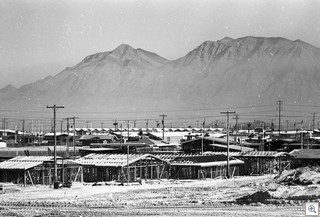 The first one is pretty easy, as it has a major element of Mid Century Modern architecture and design. It's interesting to see the asymmetrical shapes of the homes, and some of the elements of the design starting to merge. I'm also fascinated by the depth of field that causes the mountains to loom so large.
Which direction are we facing? What are the 2 non-residential buildings that are in the picture? What streets might these be?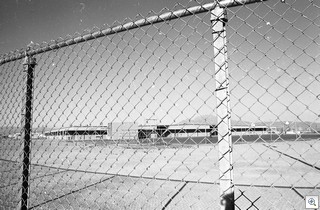 The second picture is one of our historic Mid Century Modern Schools in Las Vegas. It's not finished enough to look like any school I recognize. I wish they'd taken the photo from above the chain link fence rather than thru it, but unless someone wants to photoshop the fence away, we'll have to work with what we have.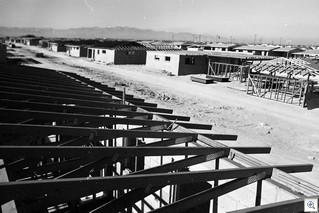 Our third picture is a mid century modern neighborhood somewhere in Central Vintage Vegas.
I'm totally baffled. The only thing I've decided for sure is that the open pathway between the homes is not the street, but is instead the area that will eventually be backyards. But I could be wrong.
These seem to be mostly ranch style homes, compared to the "desert modern" themes of the first picture.
Please use the comment button to give us your guesses, clues and observations.
If you'd like to see the other "mystery photos" that our secret historian has found over the years, they're all here in this link. This post will show up first, but keep scrolling down.
Posted by Jack LeVine | Currently 8 Comments »
March 22nd, 2010 Categories: Las Vegas History, Mid Century Modern, Mystery House Series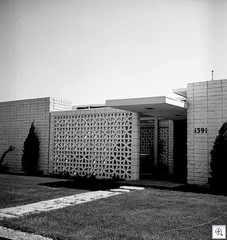 Anyone recognize this building? It would be a very cool Mid Century Modern home, but maybe it an office building? I don't have any idea.
The address is 1391.
It's one of the mystery pictures from February 1960. All of the pictures in this series are from a single roll of film that our anonymous historian dug up. Some are houses, but there's also apartment buildings, commercial buildings, and a strip hotel. I'll be sharing them all with you in the coming days, and perhaps you can help us identify the locations. The whole series will be categorized as "Mystery House Series", in the left column.
The decorative concrete block sunscreen is a fairly common pattern that we've found in Las Vegas. The blocks are a staple of Mid Century Modern architecture. . This pattern was number 44 in the series that we ran of all the various patterns that I've ever found in Las Vegas.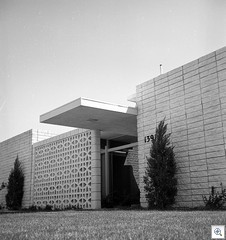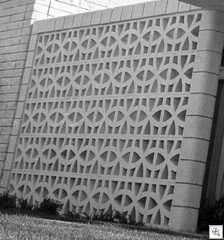 Posted by Jack LeVine | Currently 8 Comments »
March 14th, 2010 Categories: Mystery House Series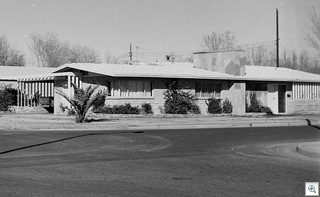 Now that we've (almost) wrapped it up on Paradise Palms, I'd promised you a new series.
I think John will recognize this. It's the only house that I recognize in the new batch of pictures that I've obtained from our anonymous Las Vegas historian. Or, I could be wrong, since it's had some changes over the years. Anyone (besides John) want to take a stab at telling me the address to this home? Send an email [email protected] or use the comments section.
The only thing on the envelope is "February, 1960".
Our anonymous Las Vegas Historian dug them up. He provided a different batch that we published at least a year ago.
I just spent an hour trying to find some of them in the old archives. I hadn't categorized them, and even I'm baffled. I tried all kinds of keywords in the "search field" that's in the left column. No luck. I did have a good time revisiting some of the posts that came up under the various keywords that I tried. So that's another mystery. Where on the 3 years of blog archive are they?
This time, I created a new category called "Mystery House Series". I'll make sure to assign a category to all of these as I publish them. If any of you can find some of the old ones, send me the date or the link.
Posted by Jack LeVine | Currently 1 Comment »
March 9th, 2009 Categories: Las Vegas History, Mid Century Modern, Mystery House Series
UPDATE: Monday 11am.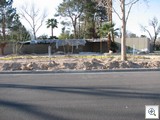 Regular Reader Caroline Smith was the first to identify this home. It's the "Cashman House" from 1959 on the corner of Birch and Waldman in the Scotch 80's. The property is the back yard neighbor of Mayor Oscar Goodman's home at Birch and Bannie. The Cashman Family were among the very first residents of Las Vegas, arriving in 1904. You've heard the Cashman name before. Cashman Cadillac/Buick, Cashman Equipment, Cashman Avenue.
Then, to my surprise, the current owner of the property, Gerry Shear also commented that
"As the owner of this wonderful home I can assure all that it is in the process of a masterful restoration."
I love hearing words such as "masterful restoration". I've been watching the progress on this home for several months now, and last night I had printed an 8×10 of the photo below, and was going to go leave it on the doorstep, and tell the owner about VVV. Turns out I don't have to do that.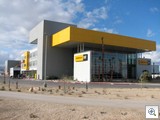 The property was built in 1959 by Jim Jr. and Mary Cashman. Jim Jr. passed away a few years ago, but Mary is still running the family businesses, and has just opened an extraordinary facility for Cashman Equipment on St. Rose Parkway in the south end of the valley. Curt Carlson of SHarchitecture, the architect and lover of Mid Century Modern designed the building. You can tell that it sprang from the minds of two people (Mary and Curt) who never lost their modernist roots.
I have a folder of pictures from the new facility that I'll need to hunt up. I'll post them tomorrow.
There's a terrific biography of James Cashman SR. in the "First 100" series.
(below is this post as it appeared Saturday)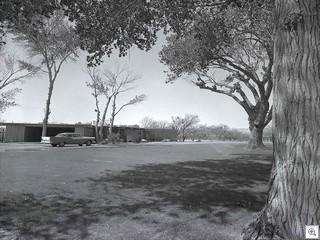 Here's another mystery photo from the 1950's. It's also unmarked, and not dated.
I think I know which house it is, but I'm not going to tell.
Anyone want to take a stab at figuring it out?
It's interesting how big the foreground trees are, compared to the age of the house.
click on the photo to see a bigger version.
Posted by Jack LeVine | Currently 8 Comments »