Bel Air Topics
Welcome To Uncle Jack's Very Vintage Vegas!
Vintage Las Vegas Homes,
Historic Las Vegas Neighborhoods,
Las Vegas History,
Urban Living In Las Vegas.
If it's great, cool, fantastic, artistic, annoying, amusing, unique, or surprising.. you'll find it at VeryVintageVegas.com.
Check out what we're doing and add your two cents! Your comments & ideas are welcome. We update daily, so come back tomorrow!
Blogroll
Farmer's Insurance
Paul Hesselgesser
702-434-1230
The Hesselgesser Insurance Agency Website
Classic Las Vegas - Lynn Zook's Preservation of 20th Century Las Vegas
Curbed LA - WOW!
Mid-Century Modernist
RETRO RENOVATION - Pam's Excellent Effort At Re-creating A Retro Life
Carnival Of Real Estate - Minus Elephant Ears, But Still Mighty Tasty
Lotta Livin' - A Celebration Of Really Cool Things Mid Century
Bawld Guy Talking - Minus The Hair; Plenty Insightful
CoolnessIsTimeles - ALL "RAT PACK" ALL THE TIME!
SEE ALL OUR FAVORITES HERE

Bel Air
May 2nd, 2008 Categories: Bel Air, Housing Styles, Mid Century Modern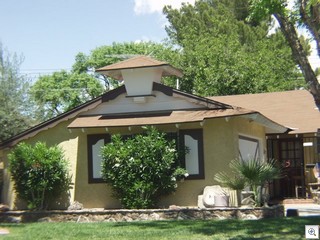 Heidi Swank, one of the very active preservationists and a UNLV Professor in the Sociology Department posted this comment on an old post about Cinderella Ranches. I thought it was a good question that certainly stumped me. Anyone know?
Heidi's Comment:

I believe these Cinderella Homes are a later version of homes made by an architect named Mellenthin. Mellenthin houses often have the birdhouse features but also often have vaulted ceilings and those nice criss-crosses in the windows. However, they do not have the low low overhangs shown in two of the pictures above.

I am trying to figure out if our house is a Mellenthin house. If anyone knows anything more about Mellenthin houses please post it. I am having a hard time finding much information.

Thanks.
Posted by Jack LeVine | Currently 3 Comments »
March 11th, 2008 Categories: Bel Air, Las Vegas Real Estate News, Scotch 80's
Even though I got behind in my usual posting routine, I was still out showing homes, getting 3 deals into escrow, showing off our historic neighborhoods to prospective buyers, and all the other fun stuff I do everyday. Here's a collection of pictures I took. Each of them was intended to be a post of it's own, but that won't happen, so I'll give them to you as potpourri.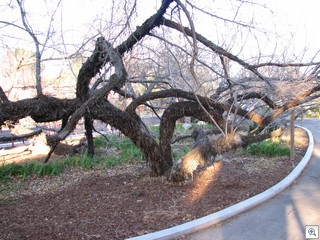 Anyone know the name for these great trees that are in many of the yards in Scotch 80's?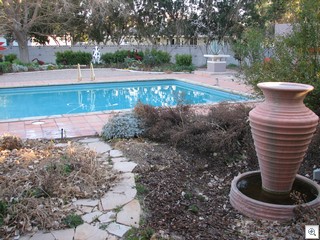 I stopped in to see my friend Aaron Schave's listing on Waldman. Great house, and just under a million dollars!
All the lots in Scotch 80's are a minimum of 1/2 acre.
You don't find yards like this in the suburbs!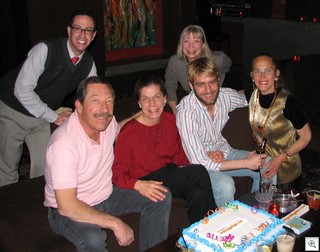 A lot of our friends and many of the regulars of the Thursday LO PRO Mixer at the Downtown Cocktail Room stopped by last week for the VeryVintageVegas 1st birthday party. Pictured here just before we destroyed the cake, is the whole team that helps me keep track of the goings on in Vintage Vegas.
In the back is our cultural historian Brian Paco Alvarez, and our Grammar and Spelling editor, Susan Dean. That's me on left with our community activism editor Pam Hartley, Steve Christmas, who's our in house lender, and graphics editor, and on the far right is our fashion editor, and the best dressed woman in all of Vintage Las Vegas, Mary Alderman.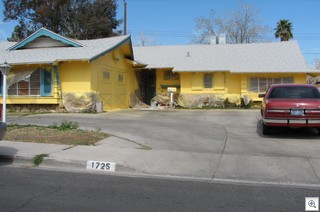 Our listing at 1720 Bracken went to contract quickly this week. Across the street from it, the house is getting some new color. We're anxious to see what trim color is used for the accent.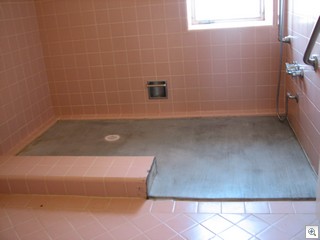 One of the many things we loved about 1720 Bracken is the pristinely preserved pink step down shower tub. We found a similar one in McNeil the other day that wasn't so "pristinely" preserved.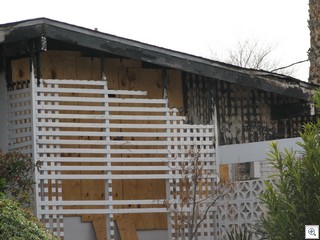 A fire did a real number on this Paradise Palms Mid Mod. It's on Desert Inn just west of Eastern Ave. Since it was one of the last homes on Desert Inn that was still residentially occupied, I had great hopes that some small business owner who "gets it" would maintain the architectural integrity when converting it to his or her fabulous office digs.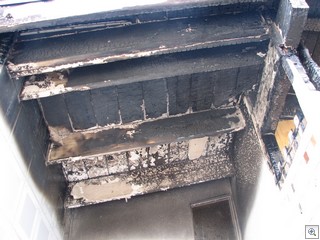 I don't know the story of how the fire started, or how extensive the interior damage is. Any one know?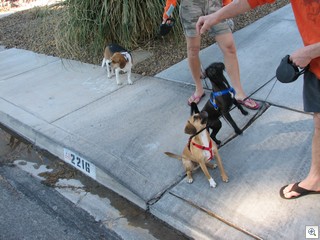 We showed a great new listing on Geronimo in Paradise Palms and ran into a "gaggle of puggles" while we were there. Pugs and Beagles seem to be a popular mix of designer dog that we've heard about, but these were the first ones we've met.
Very Cute!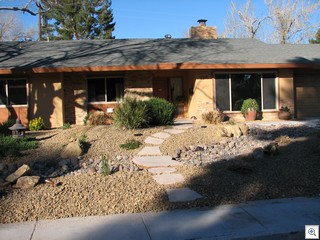 And the home on Geronimo that I'm talking about has been beautifully redone in and out, and is priced at 413,000. Since the market has shifted, and real buyers looking for NICE homes are back out shopping, this is one you might want to consider. I know of a whole lot of them, that might be perfect for you.
You did know that your competition is already out looking for the best homes, didn't you? Give me a call or drop me an email, and I'll fill you in.
Posted by Jack LeVine | Currently 3 Comments »
February 15th, 2008 Categories: Bel Air, Home Repair and Remodel, Housing Styles, John S Park Historic Neighborhood, Las Vegas History, Las Vegas Real Estate News
There's 3 things you can do with the classic 50's or 60's homes of Las Vegas
First, you can keep it all original, and relish the authenticity.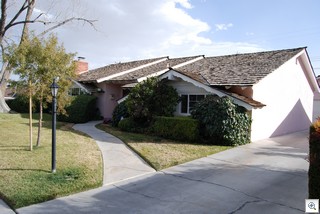 We've been selected to represent the sellers and market one that falls into this category. 1720 Bracken is the most authentic, untouched, (though much loved) Cinderella Ranch we've ever seen.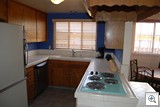 From the classic pink tile bathrooms, to the original turquoise oven and stovetop, to the scrolled facia boards and kitchen cabinets, it's all original. Even the shake roof was replaced in 1992 and should have 30 more years of life in it.

All of the photos of this pristinely preserved classic can be seen in the gallery which is in our left column.
So many of our readers "get it", I know there's one of you out there who will "have to have it".
The second thing you can do to one of our historic homes is to butcher it with inappropriate "remudeling". There's lots of those available all over Very Vintage Vegas, and they're easy to spot if you just search the mls. Bad room additions, HD/Lowes cheap cabinets and lighting, painting over, or even worse, tearing out natural brick or stone are all things I see way too often.
Urban Chic Is All The Rave In Remodeling Historic Homes
And the THIRD thing, of course, is to keep the finest of the original elements, and apply your artistry, "green" sensiblity as well as some creativity and flair to make it cool, chic, and hip.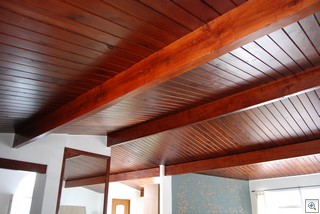 That pretty well describes our other new listing at 807 Oakey, in the John S. Park Historic Neighborhood.
In order to save the original 1955 tongue and groove beamed ceilings, the entire home was lifted off of it's foundation, and the entire foundation and slab was replaced in 2001.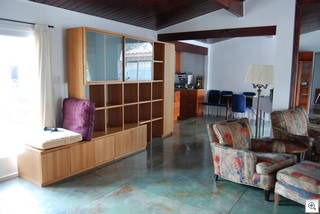 Every single bit of cement, plumbing, electric, heat and cooling, windows, doors and cabinetry were all replaced. Huge effort and expense went into fully insulated both interior and exterior walls, as well as the ceiling. All Permits were pulled, and The City of Las Vegas now considers it to be effectively a 2001 home.
The pictures in the gallery are incredible, but even they don't do justice to this stunning creation in the art of the new urban chic.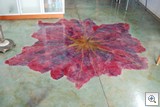 If you love stained concrete flooring, beamed ceilings and urban chic as much as I do, you'll want to consider this fabulous home. There's more photos in the gallery.
Give me a call if you'd like to see it person.
Posted by Jack LeVine | Currently 4 Comments »
September 30th, 2007 Categories: Architecture, Bel Air, Enchanted Village, Housing Styles, Las Verdes, McNeil, Mid Century Modern
There's over 600 posts that we've done sitting on our "old" blog which you can access here, or in the link in the Archive Section in the left column.
From our Archives, May 9, 2007
Yes, the ranch home was a version of the modernist movement of the 50's and 60's. To get away from the boxy flat faced look, some architects got the idea to add some ornamentation to the fronts. Scroll work facia boards, extended awnings, and roof ornamentation got added to give the homes a very unique look. Inside is ranch ranch ranch….but outside became the fairy tale home.
We've found them scattered thru out Vintage Vegas. There's a wonderful pocket in the yet to be discovered neighborhood of Las Verdes on the west side, as well as many sprinkled like gumdrops thru McNeil.
There's 2 whole subdivisions of them, one on the east side called Belaire. They're easy to find on Oakey, and for a few streets north of Oakey between 17th Street and Eastern. Most of them are very well kept, but we do occasionally find one that's a real fixer.
The other west side, undiscovered neighborhood is off of Arville, just south of Sahara. They even named the subdivision "Enchanted Village". There are streets named after lots of our favorite childhood fairy tale stories. You could live on Hansel or Greta Streets, Thumbelina Circle, Lilliput, King Midas and my favorite…Cinderella Lane!
Posted by Jack LeVine | Currently 7 Comments »