Classic Las Vegas Topics
Welcome To Uncle Jack's Very Vintage Vegas!
Vintage Las Vegas Homes,
Historic Las Vegas Neighborhoods,
Las Vegas History,
Urban Living In Las Vegas.
If it's great, cool, fantastic, artistic, annoying, amusing, unique, or surprising.. you'll find it at VeryVintageVegas.com.
Check out what we're doing and add your two cents! Your comments & ideas are welcome. We update daily, so come back tomorrow!
Blogroll
Farmer's Insurance
Paul Hesselgesser
702-434-1230
The Hesselgesser Insurance Agency Website
Classic Las Vegas - Lynn Zook's Preservation of 20th Century Las Vegas
Curbed LA - WOW!
Mid-Century Modernist
RETRO RENOVATION - Pam's Excellent Effort At Re-creating A Retro Life
Carnival Of Real Estate - Minus Elephant Ears, But Still Mighty Tasty
Lotta Livin' - A Celebration Of Really Cool Things Mid Century
Bawld Guy Talking - Minus The Hair; Plenty Insightful
CoolnessIsTimeles - ALL "RAT PACK" ALL THE TIME!
SEE ALL OUR FAVORITES HERE

Classic Las Vegas
August 25th, 2009 Categories: Classic Las Vegas, Las Vegas History, Mid Century Modern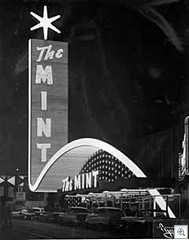 VeryVintageVegas is pleased to be one of the sponsors of the "Zick and Sharp" Panel discussion and Bus Tour on OCTOBER 3rd. Zick and Sharp were the most prolific mid century modern architects of Las Vegas.
We started documenting their body of work last year after discovering a CD presentation that was made to the school board by Walter's daughters. They were trying to get a school named after him. We joined that bandwagon, but got sidetracked and never finished the research for that series. Now we're back on it and incorporating it into the upcoming panel discussion and bus tour.
Among the work that we've already explored and discussed has been Maude Frazier Hall (gone now); The POD SCHOOLS; and Nevada Savings. There's plenty more that we'll be covering and Classic Las Vegas and VeryVintageVegas hope that you can join us on October 3rd.
The un–official announcement is out and the plans are in place (except for a way to RSVP and pay for the bus tour – We'll open the registration next week. Space will be limited for the bus tour, but abundant for the panel discussion).
From The Classic Las Vegas history blog:
Beyond The Mint:" Walter Zick and Mid-Century Las Vegas

If all Walter Zick and partner Harris Sharpe ever designed was the Mint Hotel and it's beautiful neon sign that would be enough.

But Walter Zick designed much more than just the most beloved, lost neon sign of Las Vegas. He designed a variety of commercial buildings, mainly banks, schools and residential homes.

A lot of his architecture is still standing which is really amazing considering the reputation Las Vegas has with preserving history.

As noted here earlier this year, we became much more aware of Walter Zick's architectural contribution to the Las Vegas Valley when we got a disc from Jack LeVine over at VeryVintageVegas that had been put together by Zick's daughters in hopes of having a school in the Valley named after their father.

While the School District turned down the daughters, we came up with an idea and working with the Nevada State Museum, Las Vegas and Nevada Humanities, we received a grant to do a program centered around Walter Zick and his mid-century architecture.

On October 3rd we will have a panel discussion at the State Museum on the work of Walter Zick. Confirmed panelists include our favorite mid-century author and historian, Alan Hess, Assemblage Studios' architect, Eric Strain, Karen Zick Goff and her sister, Claire and neon designer, Brian "Buzz" Leming.

Following the discussion, there will be an afternoon bus tour of some of Zick's still-standing architecture. The final stop on the tour will be the Morelli House. Though Zick did not design the Morelli House, it's mid-century architecture makes it a perfect place to have a small reception before returning to the State Museum.

We are currently working out the bus route, which we hope will include a few stops so that we can see the interiors of some of the buildings. Once we have all the details worked out, we will post them here.

Seating for the bus tour is limited and reservations will be necessary. Once we have the reservation number working, we will post that as well.

So, subscribe to this blog because you are not going to want to miss this. If you ever wondered what happened to mid-century modern Las Vegas or how it came to be, this is the program for you. If, like me, you've always appreciated how modern our Valley truly was, you won't want to miss this program.

It's going to be historic, fact-filled and lots of fun.

So, stay tuned.

This program made possible by Nevada Humanities and the Nevada State Museum and the generous donations of VeryVintageVegas, the Friends of Classic Las Vegas, Brian "Paco" Alvarez and the Junior League of Las Vegas.
Posted by Jack LeVine | Currently 1 Comment »
August 7th, 2008 Categories: Classic Las Vegas, Las Vegas History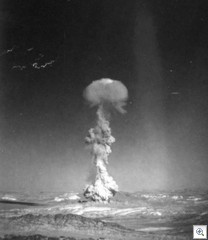 In the Shadow of the Bomb
UPDATE: State Senator and Congressional Candidate Dina Titus has been added to the panel.
Thursday, August 7th
We look back at the years of nuclear testing at the Nevada Test Site with nuclear scientists and workers as well as those who watched the early morning blasts from Las Vegas.
An engrossing evening of history and memories from two men who worked at the Nevada Test Site, scientists Al O'Donnell and Roger Staley.
Sen. Richard Bryan was a young teenager growing up in Las Vegas during the above ground testing years and he will talk about waking up in the early morning hours to experience the detonations.
Nate Schwartz owned a bar "Prospector's Headquarters" that was a supply store for uranium miners.
So come and learn about the history of above-ground testing and living in the shadow of the bomb.
Thursday, August 7th
Las Vegas Springs Preserve
7:00 pm
$12 admission
We hope to see you there!
Classic Las Vegas Blog also has the stories about the death of two very important players in Las Vegas's recent history. Robert Maheu , "Howard Hughes right hand man" and Fredric Apcar, one of the legendary showroom producers at the Dunes Hotel.
If there's any other blog about Las Vegas (besides VVV, of course) that's a must read, it's Classic Las Vegas.
Posted by Jack LeVine | Currently 1 Comment »
July 11th, 2008 Categories: Classic Las Vegas, Historic Preservation, Mid Century Modern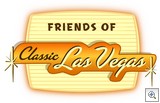 One of my favorite organizations is "Friends Of Classic Las Vegas". They're all about the people who made Las Vegas. They sponsor panel discussions every month, but there's also the business meeting side of it. Their monthly business meeting will be this Sunday July 13, 2008 2 pm at the Morelli House. Usually they meet in members homes, but this month in preparation for their 1 year anniversary The Morelli House will be the venue.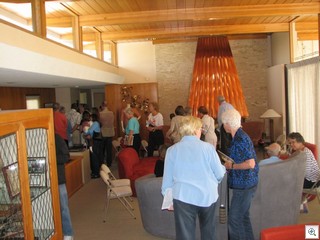 There will be a tour of the property, which is in my opinion the crown jewel of historic preservation in Las Vegas.
To find out more about the meeting or about the Morelli House, visit the friends of Classic Las Vegas Blog
From my point of view, if you want to learn about classic desert living modernism, there's no better place to get started than at the Morelli House. I've covered it many times on VVV for a Variety of reasons and there's plenty of pictures if you'll click here to see all the VeryVintageVegas posts where I've mentioned it or explicitly talked about it.
If you'd like to check out FOCLV or just see the Morelli House, we hope you'll come out on Sunday.
Posted by Jack LeVine | Currently Comments Off on Friends Of Classic Las Vegas To Meet At The Morelli House
April 18th, 2008 Categories: Classic Las Vegas, Las Vegas History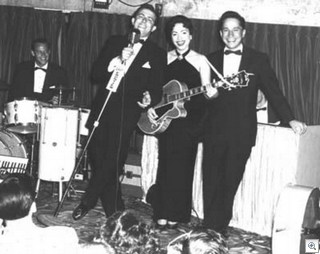 Lynn Zook from Classic Las Vegas tells us there's a star-studded tribute and fundraiser this Sunday for legendary lounge performer Norman Kaye.
This Sunday, April 20th, a bevy of Classic Las Vegas Entertainers including Nelson Sardelli, Pete Barbutti and Charlie Callas will join with Clint Holmes, the Las Vegas Tenors and Jimmy Hopper to perform at a fundraiser for Las Vegas Lounge Icon, Norman Kaye.

Kaye, along with his sister Mary and friend Frankie Ross, were the Mary Kaye Trio. They, along with the Treniers, revolutionized the lounge scene on the Las Vegas Strip in the post-WWII War era.

Norman Kaye suffered a stroke a few years back and is still dealing with its debilitating effects.
There's more history and photos at the Classic Las Vegas History Blog
Posted by Jack LeVine | Currently 1 Comment »
April 1st, 2008 Categories: Classic Las Vegas, First Friday, Las Vegas History
There's 2 events this week that you should know about.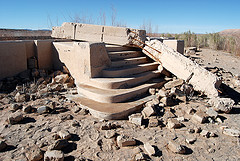 Our friends at Classic Las Vegas hold a monthly roundtable discussion and presentation about Las Vegas History. The next event will be this Thursday, April 3, at the Springs Preserve.
This Month's topic is ST. THOMAS the small town that got covered over when Lake Mead started to fill up after the building of Hoover Dam.
Lynn Zook will be moderating "The Past Resurfaces" at 7pm. Admission is 12.00.
If you've never visited the Springs Preserve, it's spectacular, and you could go a couple of hours early and do some exploring before the event starts.
First Friday In The Arts District Of Downtown Las Vegas
It's time again for the biggest street party and art event in Las Vegas. All the galleries, antiques stores, bars, restaurants and venues will be packed from 6 to 10pm on Friday April 4.
Visit the First Friday Website for a complete list of venues, performers, and events.
Posted by Jack LeVine | Currently Comments Off on Las Vegas History Event and First Friday In The Arts District
February 13th, 2008 Categories: Classic Las Vegas, Las Vegas History

One of the other organizations that we belong to is Classic Las Vegas. They also have a blog, where Lynn Zook has posted some terrific advertisements from Las Vegas Publications. These ads seem to be from the 40's and 50's.
On of them is for a new housing tract from 1948. But you'll have to go there to see them.
I'm not even making the one I borrowed (with full attribution) into a thumbnail. I think you'll also be interested in most of what's at either the Classic Las Vegas Website, OR the Classic Las Vegas Blog
Posted by Jack LeVine | Currently Comments Off on Classic Ads From Las Vegas's Past – From The Classic Las Vegas Blog
January 11th, 2008 Categories: Classic Las Vegas, Las Vegas History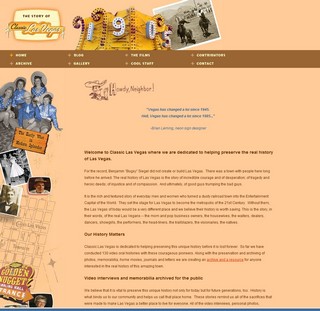 We forgot to mention that Classic Las Vegas, will be holding it's monthly meeting this Sunday 1/13/2008 2 PM. The meeting will be in the Auditorium of the Nevada State Museum, which is in Lorenzi Park 700 Twin Lakes Drive. (Washington Ave. west of Rancho).
Refreshments will be served. I'll go anywhere for a cookie!
Classic Las Vegas is into preserving the memories of early Las Vegas. They're very much into meeting anyone who has stories to tell about life in Las Vegas pre 1970.
We're working with Lynn Zook, the founder to do a series of roundtable discussions regarding housing in Las Vegas in the early days. It's one of the topics for the meeting on Sunday.
Lynn blogs regularly on history topics, and recently published an article on the things, buildings, homes that we lost in the last year.
Posted by Jack LeVine | Currently Comments Off on Classic Las Vegas Monthly Meeting This Sunday At Nevada State Museum