Downtown Businesses Topics
Welcome To Uncle Jack's Very Vintage Vegas!
Vintage Las Vegas Homes,
Historic Las Vegas Neighborhoods,
Las Vegas History,
Urban Living In Las Vegas.
If it's great, cool, fantastic, artistic, annoying, amusing, unique, or surprising.. you'll find it at VeryVintageVegas.com.
Check out what we're doing and add your two cents! Your comments & ideas are welcome. We update daily, so come back tomorrow!
Blogroll
Farmer's Insurance
Paul Hesselgesser
702-434-1230
The Hesselgesser Insurance Agency Website
Classic Las Vegas - Lynn Zook's Preservation of 20th Century Las Vegas
Curbed LA - WOW!
Mid-Century Modernist
RETRO RENOVATION - Pam's Excellent Effort At Re-creating A Retro Life
Carnival Of Real Estate - Minus Elephant Ears, But Still Mighty Tasty
Lotta Livin' - A Celebration Of Really Cool Things Mid Century
Bawld Guy Talking - Minus The Hair; Plenty Insightful
CoolnessIsTimeles - ALL "RAT PACK" ALL THE TIME!
SEE ALL OUR FAVORITES HERE

Downtown Businesses
February 22nd, 2008 Categories: Downtown Businesses, Fremont East Entertainment District
More than just the best Philly Cheese Steak in Vegas! But, try to tell me that.. I'm hooked on the Philly! This cool independent pizza shop near the corner of Fremont & Las Vegas Blvd, has exactly the vibe you'd get if you stumbled into any given pizza shop in NY or Philly. But we don't just dine out because a place has great 'urban grub-vibe appeal'… everything on the menu I've had is amazing! The pizza sizes are true to East Coast measurements (meaning a 'small' pizza dwarfs those offered by national chains), and I haven't stepped in the joint once to leave disappointed.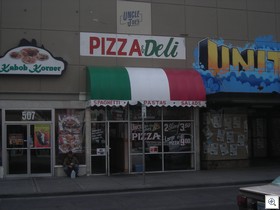 Beyond the amazing food, small shops near Fremont such as Uncle Joe's, truly embody the diversity of foot traffic you'd hope to find in a downtown coming of age. Maybe it takes me back to the state of mind I used to take for granted while living in Ann Arbor, MI on U of M's eclectically diverse campus. What ever it is, the positive energy of everyone here and the quality food at a good price have won me over big time. Besides that, it's just close & convenient.
More on this restaurant, including their menu (available for carry out, dine in, and delivery) will soon be located in the 'Downtown Restaurants' link in our links section. Keep up the kitchen love Joe!
Posted by Stephen P Christmas | Currently Comments Off on Uncle Joe's Pizza On Fremont
February 9th, 2008 Categories: Downtown Businesses, Downtown Las Vegas, Las Vegas History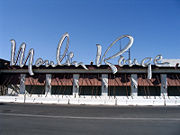 From yesterday's Review Journal: "Moulin Rouge gets help, Developer found to help revival of Bonanza Road hotel"
Wikipedia's got some good history of the Moulin Rouge:
The Moulin Rouge opened on May 24, 1955, built at a cost of $3.5 million. It was the first integrated hotel casino in Las Vegas, perhaps in the nation. Until that time almost all of the casinos on The Strip were totally segregated—off limits to blacks unless they were the entertainment or labor force.
The hotel was located in west Las Vegas, where the black population was forced to live. West Las Vegas was bounded by Washington Avenue on the north, Bonanza Road on the south, H Street on the west, and A Street on the east.
It was during this era that Will Max Schwartz saw the need for an integrated hotel. Will, along with other investors, including boxing great Joe Louis, built and opened the Moulin Rouge at 900 W. Bonanza Road. This placed it in a prime location between the predominantly white area of the strip and the largely black west side. The complex itself consisted of two stuccoed buildings that housed the hotel, the casino, and a theater. The exterior had the hotel's name in stylized cursive writing and murals depicting dancing and fancy cars. The sign was designed by Betty Willis, creator of the "Welcome to Las Vegas" sign on the south end of the strip.
Read the rest of the Wikepedia entry.
Posted by Jack LeVine | Currently Comments Off on Moulin Rouge, The Historic West Las Vegas Hotel and Casino Obtains New Funding For Restoration
February 9th, 2008 Categories: ART, Downtown Businesses, Downtown Las Vegas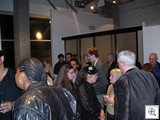 Congratualtion to Naomi Arens of Dust Gallery. Their new gallery space is now open in the Soho Lofts building at Charleston and Las Vegas Blvd.

About 200 attended last nights grand opening. Many notable and well known people attended. We ran into Paul Murad, author of "The Manhattenization of Las Vegas", Architect Steven JacksonMichael Cornwaite from the Downtown Coctail Room, local artist Steven Spann, and writers Erica Griffin, Matt Kellerman.

The whole VVV team, Pam, Mary Joy (stunning as always) Paco, Steve, Phil, Susan and naturally, yours truly, Uncle Jack were there as well. Our group had mexican at Dona Maria's next door afterwards. Great Mexican, and too many margaritas.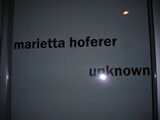 Marietta Hoferer's "Unknown" series on display was an understated white on white series of works done entirely with packing tape on paper. The space itself is 2 stories tall, and exactly the kind of gallery needed to become one of the new anchors of the Arts District.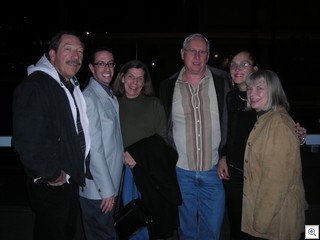 Downtown is alive and kicking. We'll always be announcing events such as this, and we invite you to come out and enjoy the new urban living in Las Vegas.
Posted by Jack LeVine | Currently Comments Off on Dust Gallery Opening Demonstrates The Continual Improvement Of The Downtown Las Vegas Arts District
February 4th, 2008 Categories: Cool Stuff, Downtown Businesses
It seems we all found some cool new things and places this weekend Mary Joy wrote up a review of a favorite new place of hers, check it out! – Steve
I hope all of our readers had a great time on Superbowl Sunday. I sure did. One of my friends had invited me to a Superbowl party but got sick at the last minute. So after he called, I contacted Susan Dean and she and I went to the Coachman's Inn, 3240 S. Eastern Ave. The new owners, longtime local attorney Bucky Buchanan and Chip Lightman were putting on a great party with a free barbeque buffet and free beer.
We were greeted by the manager, Ray Mackaly who gave us raffle tickets and showed us to one of the last remaining tables. I won the second raffle held just after the game started and my prizes were a Superbowl XL11 t-shirt and a program. Later on Susan also won a t-shirt. We got completely full with one trip through the buffet. They even came to the tables with more beer in pitchers for those who wanted it. Of course their usual bill of fare was also available.
Posted by Stephen P Christmas | Currently Comments Off on Congrats Giants, Congrats Coachman's
February 4th, 2008 Categories: Culture, Downtown Businesses
And if you haven't been in yet, you're missing one of the tastier authentic ethnic cuisine spots tucked downtown. It's the Island Flavors Cafe at 300 E. Charleston two blocks West. of Las Vegas Blvd. Paco, our friend Patrick & I all stopped in while walking back to L'Octaine from the First Friday festivities.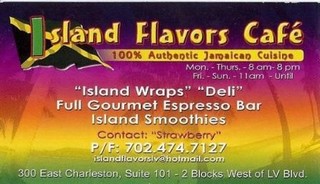 The Marley playing in the background is pretty much what you'd expect from a place serving Jamaican Cuisine, but the Jerk Chicken was better than any I've tasted to date. Decent prices make it even easier to come stop by for something new & local if you haven't been yet. This downtown spot is VVV approved!
Posted by Stephen P Christmas | Currently Comments Off on You Drive By Every Day
January 2nd, 2008 Categories: ART, Downtown Businesses, Downtown Las Vegas, First Friday
After missing last month's First Friday, I'm anxiously awaiting Friday Night, January 4th for the first First Friday of the year. The complete program of events is on the First Friday Website.
The Contemporary Arts Collective is holding a pre-opening party for their new show EXTRA.ORDINARY on Thursday Evening from 6–9 pm. Several of the other Galleries in the Arts Factory will also be open for Thursday night if you want to check out the art without the crowds.
The Fallout Gallery at 1551 S. Commerce is a gallery we haven't visited yet, and I'll be making a point to stop in for their show of new art lamps.
We're also anxious to see "Peeping Todd -Select Treasures from the Burlesque Hall of Fame" which is showing at Atomic Todd next door to Fallout at 1541 S. Commerce.
We've heard a rumor that the new facade on the building across the street from L'Octaine on Las Vegas Blvd is also going to be a gallery, and we've reported before that Dust is moving from Main Street to the ground floor of SOHO Lofts in a month or so.
Should be a great First Friday. If you run into me, or Steve, Pam, Mary or Paco, please don't hesitate to grab us by the sleave and say hello. Of course we may be bundled up so warmly that we may not be recognizable.
And We'll still have to wait another month for the new Aerial Gallery Display along LVBS featuring Ivan Brunetti's "Thirst" which was reported on this morning in the Las Vegas Sun
Posted by Jack LeVine | Currently Comments Off on New Openings, New Galleries Are Showcased At First Friday
December 24th, 2007 Categories: ART, Arts District, Downtown Businesses, Downtown Las Vegas
Our Downtown neighbor, past client, and favorite reporter Joe Schoenmann published two articles this week in the Las Vegas Sun that are worth mentioning.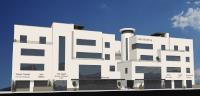 First, he tells us of a new development in the arts district that matches our wish list of what we'd like to see a lot more of. Work Space lofts in an real and viable art community.
Quoting from the article: "Now the owner of S2 and Jack Gallery is about to do something he says will help the downtown Arts District turn the corner. With investors, he's planning to pour $27.1 million into Vegas Moderne, which will include museum, gallery and live-work-sell space for artists. He expects to take renderings to the city Planning Commission and City Council in February."
Todays Sun has a report by Joe on some new additions to the neon museum among other projects.
More art is on the way, outdoors. The City Council on Wednesday approved plans to refurbish two vintage neon signs, the Binion's Horseshoe rotating sign and the Silver Slipper shoe sign, both of which will be erected on Las Vegas Boulevard next year.
Also, in the Sun this week, Kristen Peterson tells us that Dust Gallery is moving north of Charleston, and will be on the ground floor of the Soho Loft tower. We love the subtle crack she makes on the REI neon fiasco, "As REI Neon/Warburg Pincus continues to toy with downtown tenants and property owners, some businesses are packing up and leaving."
Posted by Jack LeVine | Currently 1 Comment »
November 13th, 2007 Categories: Cool Stuff, Culture, Downtown Businesses, Downtown Las Vegas, Events, Fremont East Entertainment District
Rock The Block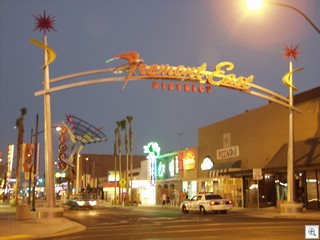 Rock The Block Music Festival All Day Saturday in the Fremont East Entertainment District
Inventory Clearance At The World Market Center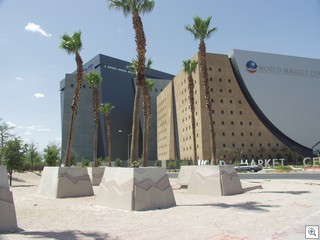 Open To The Public. Worth the $10 admission just to see the buildings. Proceeds benefit the Nevada Aids Project. NOV. 16 – 17
The Las Vegas Design Center at World Market Center holds a pre-market inventory clearance sale, organized by The California Central Nevada chapter of American Society of Interior Designers, 9 a.m.-5 p.m., at Las Vegas Design Center, 495 S. Grand Central Parkway. Cost: $10, with proceeds benefiting the Nevada Aids Project, Habitat for Humanity Las Vegas and Opportunity Village. Info: 599-3093.
Posted by Jack LeVine | Currently 1 Comment »
November 12th, 2007 Categories: ART, Downtown Businesses, Downtown Las Vegas
Enough about history for the moment. Let's talk about LIVE Theatre! Yes, in Las Vegas!

In an effort to bring locals together and to thank those taking action in the community, New American Theatre Project would like to offer 1/2 off tickets for yourself and any one guest to our 5th production, BASH by Neil LaBute. These $10 tickets can be used for any Thursday at 8:00p.m. or Sunday at 2:00p.m. performance. Visit the New American Theatre Project Website For More Information
So, pass this along, share with your friends and coworkers, and come out together to experience live theatre and the great feeling of being part of a community.
Please R.S.V.P. to this address with name, what show date, and tix #.
Thank you!
Will Sturdivant
Associate Artistic Director
New American Theatre Project
Posted by Jack LeVine | Currently Comments Off on Community Activist Appreciation Offer From New American Theatre Project
November 5th, 2007 Categories: Downtown Businesses, Downtown Las Vegas, Events, Fremont East Entertainment District, Las Vegas Real Estate News
Mayor Oscar Goodman will be at the Downtown Cocktail Room (111 S. Las Vegas Blvd) Tuesday 11/6 at 6pm. It's a great opportunity to meet him, say hello and say whatever!
I'd love to see a lot of my readers and the Vintage Vegas Residents stop by and let him know what we think of the new Urbanism of Las Vegas.
Posted by Jack LeVine | Currently Comments Off on Hot Off The Presses Insider News
November 5th, 2007 Categories: Architecture, Downtown Businesses, Downtown Las Vegas, Events, Historic Preservation, Las Vegas History, Las Vegas Real Estate News, Mid Century Modern, Moonlight Mid Mod Bus Tour
As I mentioned in part one, the first leg of the tour took us to some of the terrific motor hotels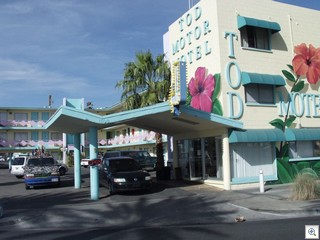 of the mid 1900's. Las Vegas still has a huge inventory of existing ones. The preservationists among us would like to see them saved.
The Todd Motor Motel is one of the best examples of where the owners have embraced what they have and are proud of it instead of embarrassed by them. The pictures I took from the open air bus  didn't come out very well, so I went back on Sunday to grab a better shot.
Notice, the folded roof carport, the diamond shaped railings, and the wonderful colors.
You'll also see that I found the "urban landscape" van in the parking lot. I got some great shots of it in the daylight. All the previous pictures I had were done at night. He's added dozens of new buildings since I saw it last.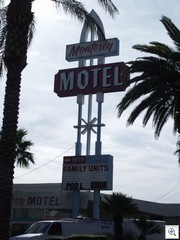 A lot of the discussion was about the terrific signage that was a major design element of the modernist commercial school. Also on Las Vegas Blvd, MM pointed out the space ship design on the Monterey Motel Sign. Take a drive for yourself along Fremont/Boulder Highway, and Las Vegas Blvd. You'll see many great examples that still remain of the neon monuments of Vintage Vegas
Also, on the same stretch of the strip between Charleston and Sahara, you'll find the recently closed "Garden of Love" wedding chapel. This terrific example of mid-mod restaurant design could become endangered now. It's definitely on our watch list.
If you're interested in helping to save these and other endangered examples of modernism, then check out the Atomic Age Alliance. AAA has published a book that was the basis for the tour we took. It's a fundraising vehicle for group, and I highly recommend it. It's called  Mondo Vegas, Touring Mid Century Modern Las Vegas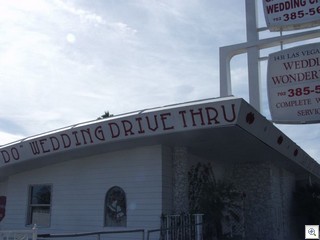 and it will help you find all the great buildings and neighborhoods.
Posted by Jack LeVine | Currently 1 Comment »
November 3rd, 2007 Categories: Architecture, Cool Stuff, Culture, Downtown Businesses, Events, Historic Preservation, Las Vegas History, Las Vegas Real Estate News, Mid Century Modern, Moonlight Mid Mod Bus Tour, The Las Vegas Strip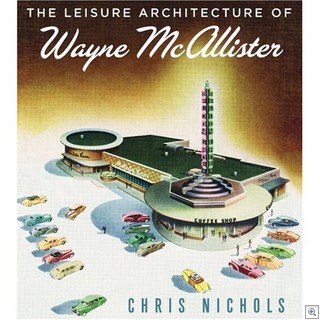 Chris Nichols author of  "The Leisure Architecture of Wayne McAllister" was a featured speaker yesterday at the Vegas Valley Book Festival. He also graciously conducted the tour along with MaryMargaret from the Atomic Age Alliance.
The Wiki entry on McAllister can fill you in on his life and work and influence in the creation of the strip. His work was a major topic of the tour. He designed the Desert Inn, The El Cortez, The Sands, The Fremont and his first work in Las Vegas, the El Rancho Vegas.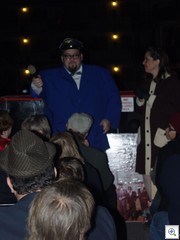 The mood on the double decker, open air bus shifted repeatedly from joy for the buildings remaining, to sadness for the treasures that have been lost. Both were pointed out along the way.
The most prominent emotion displayed by those on the tour was determination to save what is left and preserve it for the future.

Our first leg was a drive down Las Vegas Blvd on the way to one of the Icon Businesses of Vintage Vegas. The Golden Steer Steak House is on Sahara, just west of the strip.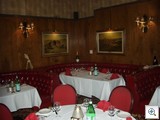 It's been there since 1958, and is one of the best remaining examples of what Chris and Alan Hess call the "Red Booth" period of fine dining in America.
Tomorrow, I'll publish the second installment. I didn't attend First Friday last night, so instead of our usual week of First Friday Posts, we'll give you a sampling of what we saw on the bus tour.
Posted by Jack LeVine | Currently Comments Off on Moonlight Tour of The Mid Century Modern Heritage of Las Vegas
October 30th, 2007 Categories: Decorating Tips, Downtown Businesses, Downtown Las Vegas, Events, First Friday, Las Vegas History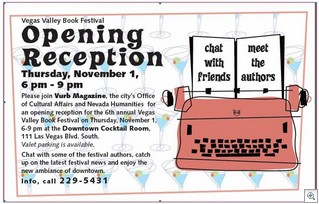 We invite you to join us at the Opening Reception this Thursday 10/1 6–9 PM at the Downtown Cocktail Room.
Here's The original press release and information on the various events.
Authors, poets, journalists, and artists will participate in the sixth annual Vegas Valley Book Festival, on Friday and Saturday, Nov. 2 and 3. The two day event, sponsored by the city of Las Vegas Office of Cultural Affairs and Nevada Humanities, includes a full schedule of readings, book signings, panel discussions, children's programming, writing workshops, and spoken word performances, concluding with a closing keynote address by acclaimed author Sarah Vowell, sponsored by the Las Vegas Review Journal.
Posted by Jack LeVine | Currently Comments Off on Sixth Annual Vegas Valley Book Festival Is This Weekend
October 26th, 2007 Categories: ART, Downtown Businesses, Downtown Las Vegas, Events, First Friday, Las Vegas Real Estate News, Soho Lofts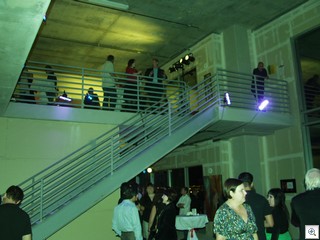 About 200 ardent supporters of First Friday came out to socialize. Most of the best known artist, gallery and shop owners were there. David Figler, a downtown resident and KNPR commentator MC'd the event.
The 2 story penthouse loft of Soho Lofts was a great venue for a party. You'll see from the pictures it's in what we call "gray shell" condition, ready for the finishing decor.
Grocery Stores, and REI and the fate of the Arts District, and of course First Friday were the hot topics of the conversations I had with Tony Bondi, my best friend and travel agent Terry Wilsey, Denise Duarte and Marlene Adrian. We ran into Steve Ligouri, Marty Walsh, Phil Hagen, Amy Schmidt and Kristin from Vurb Magazine, Cindy Funkhouser, Naomi Arin, Stephen Jackson the architect, and many others.
Posted by Jack LeVine | Currently Comments Off on First Friday Fundraiser Is Huge Success
October 25th, 2007 Categories: Citizens Leadership Academy, Downtown Businesses, Downtown Las Vegas, Juhl, Las Vegas Real Estate News
One of our readers raises a question that I posed to the Business and Development Folks at the Citizens Leadership Academy just last week.
Jack,
I was curious if you have heard where the people that are living downtown in all those beautiful lofts, condo's etc. are going to grocery shop? I live in McNeil and would love to think they may bring a Whole Foods to the center of town. What do you know…?
By the way I am the mother of the two brothers who own Lovebird Apparel!
Sincerely,
Suzan Benett
First Suzan, I've plugged your son's really great collection of art as apparel several times. You should be real proud of them.
As to the groceries, it's really a chicken and egg question of what comes first. RDA (Las Vegas Redevelopment Agency).
For the longest time, no one in the "specialty"grocery industry wanted to believe that that people like you would drive past a Smiths at Rancho and Charleston for example, or that the 1000's of us who live east of the strip would drive past the Albertsons to get to a Whole Foods or a Trader Joe's or a Sunflower Market.
According to our discussion with Scott Adams, the director of RDA, "it's one of our highest priorities". He told me they've had ongoing, practically begging conversations and presentations to every major and minor chain in the country to get a store located in or adjacent to the Arts District.
He says he has one truly interested party that would satisfy us, though he was absolutely unwilling to name names. He believes that by the time Juhl opens for occupancy, that there will be one. I argued that the demand was already there. I get this question from people on both the east and west side of Vintage Vegas all the time.
So the bottom line answer is hold tight, it's coming eventually.
Posted by Jack LeVine | Currently 10 Comments »